Power shift as Vietnam President Nguyen Xuan Phuc quits
Vietnam's President Nguyen Xuan Phuc has announced he is stepping down, sparking a potential power shift among the communist-ruled country's leaders.
The move had been widely rumoured and follows the departure of two deputy prime ministers who served under him.
Mr Phuc, a former prime minister, had held the post of president since 2021.
The president's resignation requires approval from the National Assembly, which will hold an extraordinary vote on Wednesday that is expected to be a formality.
A party statement praised Mr Phuc's leadership but said he was politically responsible for violations and the wrongdoing of numerous officials under him.
As well as the two deputy prime ministers who resigned earlier this month, two ministers and other officials are facing criminal charges.
"As he was well aware of his responsibilities to the Party and the people, Phuc filed a request to resign from his positions and retire," the statement said.
But hard-line General Secretary Nguyen Phu Trong, who was given an unprecedented third term at last year's party congress, appears to be consolidating his authority by ousting senior officials seen as more pro-Western and pro-business.
Officially this is all happening in the name of fighting corruption, a big problem in Vietnam, but it's indicative of a power struggle at the top of the party which permits no challenges to its monopoly on power.
It's unlikely to change Vietnam's overall trajectory, with the emphasis still on encouraging foreign investment to keep up the breakneck pace of economic growth, and on steering a delicate diplomatic path between China and the United States.
But the likely rise now of more security-focused officials to the top of the party will be bad news for human rights and for those few Vietnamese brave enough to criticise the party.
Mr Phuc, 69, served as prime minister from 2016 until April 2021, when he was elected president – one of the "four pillars" at the top of Vietnamese politics.
The Communist Party's general secretary is the most powerful of the four posts, although the president also holds significant authority. The other two are the prime minister and the chairman of the National Assembly.
Nguyen Phu Trong, the current party general secretary and the country's most powerful politician, is leading the anti-corruption drive.
The party has reported that in 2022 alone, 539 party members were prosecuted or "disciplined" for corruption and "deliberate wrongdoings", including ministers, top officials and diplomats.
Police also investigated 453 corruption cases, a 50% increase from the previous year in the country, which has one of Asia's fastest growing economies.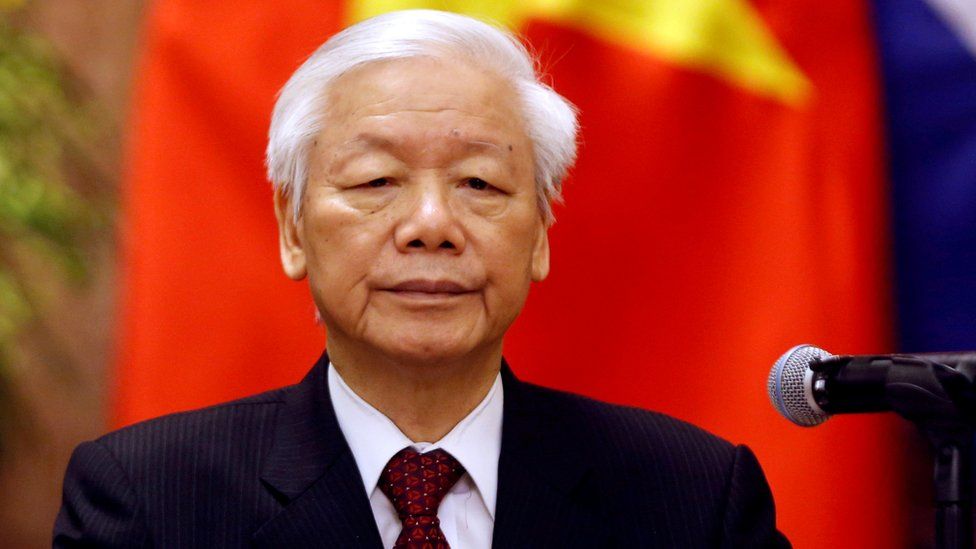 Reports say Mr Trong may now combine his post with Mr Phuc's.
This move would be temporary, it is suggested, and would mean power is less divided among the country's leaders – but could also lead to an increase in authoritarianism.
In a second potential scenario being talked about, another member of the party's top decision-making body, the Politburo, could be promoted to replace Mr Phuc as president.
Petr Pavel: Polyglot, war hero, and the new Czech president – Euronews
Ex-general Petr Pavel has won another gritty campaign — this time at the ballot box.
The bearded 61-year-old, a decorated veteran who took part in a high-stakes peacekeeping mission in the Balkans and represented his country as a top-tier NATO general, was voted Czech president on Saturday, beating billionaire ex-prime minister Andrej Babiš.
With the ballots from 97% of almost 15,000 polling stations counted by the Czech Statistics Office, Pavel had 57.8% of the vote compared with 42.2% for Babiš.
Though Czech presidents wield little day-to-day power, Pavel will have influence over foreign policy and government opinion, as well as the power to appoint prime ministers, constitutional judges and central bankers.
True to his military past, he has vowed to bring "order" to the Czech Republic, a 10 million-strong EU and NATO member, hammered by record inflation and economic turmoil due to the Ukraine war.
"I can't ignore the fact that people here increasingly feel chaos, disorder and uncertainty. That the state has somehow ceased to function," Pavel said on his campaign website.
"We need to change this," he added. "We need to play by the rules, which will be valid for everyone alike. We need a general sweep."
From Communist to war hero
Following in his father's footsteps, Pavel underwent a military education in former Czechoslovakia, which was then ruled by Moscow-backed communists.
He joined the Communist Party, like his billionaire rival Babiš, and soon rose through the army ranks, studying to become an intelligence agent for the oppressive regime.
Critics fault him for his communist past, though Pavel has defended himself by saying party membership was "normal" in his family and called it a "mistake".
When the Iron Curtain crumbled in 1989, Pavel chucked out his party ID but went ahead with the intelligence course.
Amid the conflict in the former Yugoslavia, Pavel — trained as an elite paratrooper and holding the rank of Lieutenant Colonel at the time — helped evacuate French troops stuck in the midst of combat between Croats and ethnic Serb paramilitaries in Croatia, earning him the French Military Cross for bravery.
"We got into several tense situations and he always managed them with deliberation and calm," said retired Czech general Aleš Opata, who served with Pavel.
He later studied at military training schools in Britain, gaining a master's from King's College London.
After his country joined NATO in 1999, Pavel soon climbed through the alliance's ranks, becoming its top military official in 2015.
With a chest full of decorations, he retired in 2018.
What are his political views?
Pavel ran as an independent and was the strongest of the three candidates backed by the liberal-conservative coalition SPOLU of now-former President Miloš Zeman.
He has argued for better redistribution of wealth and greater taxation of the rich while also supporting progressive policies on issues such as same-sex marriage and euthanasia.
Positioning himself as a counterweight to populism, Pavel anchors the Czech Republic in NATO and wants to align his country with the European Union.
"The main issue at stake is whether chaos and populism will continue to rein or we return to observing rules… and we will be a reliable country for our allies," he said after narrowly winning the first election round.
A staunch supporter of Ukraine, Pavel's political rivals have alleged he would drag the country into a war with Russia.
"I know what war is about and I certainly don't wish it on anyone," said Pavel. "The first thing I would do is try to keep the country as far away from war as possible."
Often sporting jeans and a leather jacket, Pavel is a polyglot, speaking Czech, English, French and Russian, and loves motorcycling.
He holds a concealed weapon licence, allowing him to carry a firearm, and he is married to a fellow soldier, Eva Pavlová.
Canadian and American Politics
THIS SURVEY EXPLORES CANADIANS' AND AMERICANS' PERSPECTIVES ON CANADIAN AND AMERICAN POLITICS.
Our latest North American Tracker explores Canadians' and Americans' perspectives on Canadian and American politics.
It examines Canadians' federal voting intentions and Americans' approval of President Joe Biden and Vice-President Kamala Harris.
Download the report for the full results.
This survey was conducted in collaboration with the Association for Canadian Studies (ACS) and published in the Canadian Press. This series of surveys is available on Leger's website.
Would you like to be the first to receive these results? Subscribe to our newsletter now.
---
CANADIAN POLITICS
The Conservatives and Liberals are tied: if a federal election were held today, 34% of Canadian decided voters would vote for Pierre Poilievre's CPC and the same proportion would vote for Justin Trudeau's LPC.
AMERICAN POLITICS
42% of Americans approve of the way Joe Biden is handling his job as president.
40% of Americans approve of the way Kamala Harris is handling her job as vice-president.
---
METHODOLOGY
This web survey was conducted from January 20 to 22, 2023, with 1,554 Canadians and 1,005 Americans, 18 years of age or older, randomly recruited from LEO's online panel.
A margin of error cannot be associated with a non-probability sample in a panel survey. For comparison, a probability sample of 1,554 respondents would have a margin of error of ±2.49%, 19 times out of 20, while a probability sample of 1,005 respondents would have a margin of error of ±3.09%, 19 times out of 20.
THIS REPORT CONTAINS THE RESULTS FOR THE FOLLOWING QUESTIONS AND MORE!
If federal elections were held today, for which political party would you be most likely to vote?  Would it be for…?
Overall, do you approve or disapprove of the way Joe Biden is handling his job as president?
Overall, do you approve or disapprove of the way Kamala Harris is handling her job as vice president?​
Legault won't celebrate 25 years in politics
Premier François Legault does not intend to celebrate his 25-year political career this year.
He became Minister of Industry in Lucien Bouchard's PQ government on Sept. 23, 1998, but was elected on Nov. 30 of the same year as the representative for L'Assomption, the riding in which he is still a member.
In a news conference on Friday at the end of a caucus meeting of his party's elected officials in a Laval hotel, the CAQ leader said that neither he nor his party had any intention of celebrating this anniversary.
"I don't like these things," he said.
He pointed out that he is still younger than the former dean of the National Assembly, François Gendron. And smiling, he alluded to the U.S. President.
"I'm quite a bit younger than Mr. Biden, apart from that!" he said.
Legault is 65 years old, while the President is 80.
However, Legault is now the dean of the House. According to recent data, he has served as an elected official for 20 years, 6 months, and 27 days so far.
The premier was quick to add, however, that he has taken a break from politics.
He resigned on June 24, 2009 as a member of the Parti Québécois (PQ), then in opposition. But he was elected as an MNA and leader of the then-new Coalition Avenir Quebec (CAQ) on Sept. 4, 2012.
This report by The Canadian Press was first published in French on Jan. 27, 2023.