'We Are Blood' Org to Give Away NVIDIA GEForce RTX 3080 GPU For Free–Here's How You Can Win – Tech Times
We Are Blood, a popular blood bank in Central Texas since 1951, is now launching an unusual promotion for donors.
To encourage more participants in the blood-letting project, the organization will be giving away NVIDIA GEFORCE RTX 3080 for the person who will win the promo that would run for a month.
We Are Blood Org Promotion Involves NVIDIA GPU Giveaway
(Photo : NVIDIA )
NVIDIA GEForce RTX 3080 GPU
According to a report by Texas News Today, We Are Blood's VP of Community Engagement, Nick Canedo, said that one of his colleagues arrived with an interesting idea of giving a GPU in exchange for blood donation.
The trend of the graphics cards in the market is not going well this year.
Amid the pandemic and the continuous global chip shortage, many users have been struggling to find an ideal GPU for their job.
For instance, Daniel Carr, who works as a video editor and content creator, is searching for a high-spec GPU for his computer.
Currently, the 37-year old was only using an old NVIDIA GTX 1080, which will not suffice for his job, that's why he needs another GPU that could handle all the activities on his PC.
According to Carr, he could easily export videos from his computer, yet it still takes him a long time to carry out the operation. When he was asked about a simple explanation on GPU upgrade, he likened the case to upgrading a Corolla car to Corvette.
Carr was aware that the chip shortage is still happening at the moment. The video game streamer knew that the prices of GPUs were affected by the inflation caused by high demand.
He tried to search for some GPUs on eBay, but the products appeared to be overpriced due to the scalpers selling them.
When Carr learned about the event that We Are Blood launched, he did not hesitate to make an entry by donating his blood for a chance to bag a graphics card.
How to Win NVIDIA GEFORCE RTX 3080 From We Are Blood?
(Photo : We Are Blood )
We Are Blood promotion for blood donors
It's unusual for a blood donation drive to consider gifting a GPU to the respective donor of the promotion.
What made We Are Blood unique is the idea that it would encourage many people to join the project given an in-demand reward for many users.
"This would access the gamer community, younger donors, tech communities, and those are members we really need right now," Canedo said.
To join the promotion, you can arrange an appointment with We Are Blood by visiting its official website at weareblood.org.
Upon your arrival at the donation site, do not forget to mention the RTX 3080 giveaway to an organization representative. This would guarantee that the winner of the promotion knows using the said computer hardware.
According to Spectrum Local News, the promo will run until the end of the month.
So far, We Are Blood said that it has now over 700 participants listed for the GPU giveaway.
Read Also: NVIDIA RTX 3060: Internet Cafes to First Receive Supplies As Chip Industry Recovers
What's Special About NVIDIA GeForce RTX 3080
Back in April, the RTX 3080 stocks were available in Currys, B&H Photo, Best Buy, Amazon, Newegg, and Office Max.
At that time, the GPU series was hard to obtain since many scalpers fastly bought the orders in bulk. Right now, the chip makers are slowly recovering from the impact of chip shortage, but we have yet to see a stable trend in the supplies.
Last month, the next-gen lineup of GPU, RTX 3080 Super and RTX 3070 were reportedly coming in 2022. According to the leaker on Twitter, the cards are set to come first in laptops.
Related Article: RTX 4090 is Leaked to Launch on Q4 2022–TSMC 5nm, 12 GPC, and MORE Rumored Specs
This article is owned by Tech Times
Written by Joseph Henry
ⓒ 2021 TECHTIMES.com All rights reserved. Do not reproduce without permission.
Forgot to Pre-Order Your iPhone 13 or 13 Pro? Apple Store Pickup Remains an Option for Launch Day – MacRumors
iPhone 13 and iPhone 13 Pro pre-orders began last Friday at 5:00 a.m. Pacific Time, and soon after, shipping estimates for select models began slipping to late September or early October for some models.

If you weren't prepared to get up at an early hour or you haven't got round to pre-ordering for another reason, there's still a chance to get an ‌iPhone 13‌ mini, ‌iPhone 13‌, ‌iPhone 13 Pro‌, or ‌iPhone 13 Pro‌ Max in your hands when they launch on Friday.
In the United States and other countries that have Apple retail stores, such as Canada, the United Kingdom, and Australia, many ‌iPhone 13‌ models are still available for in-store pickup on Friday, September 24.
Even if a particular iPhone model isn't estimated to be delivered on launch day, it's still possible to reserve some versions for in-store pickup.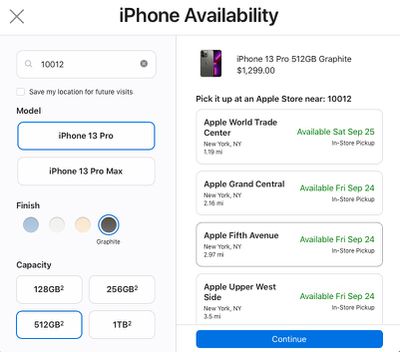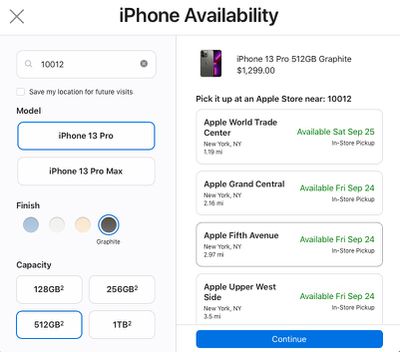 An ‌iPhone 13 Pro‌ in Silver with 128GB of storage, for example, is currently estimated to ship in 4-5 weeks on Apple's online store. However, the device is available for pickup on September 24 at multiple retail stores in several countries.
Once you proceed to the checkout and click the blue "Checkout" button, select "I'll pick it up," then choose a store location, pickup date, and an available 15-minute check-in window from the options.
If you will be picking up the ‌iPhone‌ personally, enter your phone number. If someone else will be arranging the pickup, enter his or her contact information. The person making the pickup must be carrying a valid photo ID.
Then, proceed with the checkout process as usual. Once payment has been made, wait until you receive a pickup notification email or text message by September 24 before picking up the ‌iPhone‌. If you don't receive one, call the store.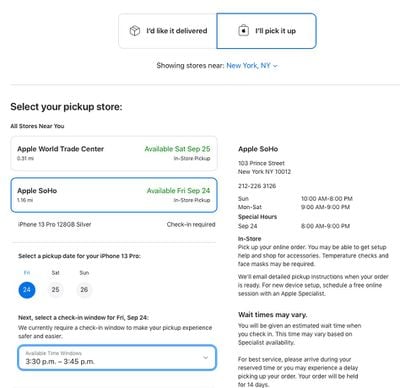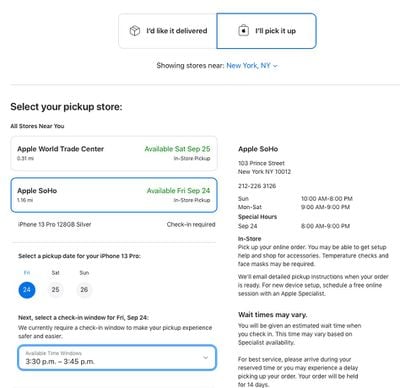 Since the ‌iPhone‌ is paid for ahead of time, the store will hold the device in its back room until you arrive. Your order will be held for 14 days.
Of course, another option is to simply wait until Friday and walk into an Apple store, preferably right when they open. You may have to wait in line, but the queues have typically been shorter in recent years. Note that temperature checks and face masks may be required.
You can use the pickup tool on Apple's website on launch day to check if stores in your local area have stock, or call the store directly.
All in all, there are still a few days to ensure you get your new ‌iPhone‌ on launch day, even if you missed the pre-order rush. Just make sure to select which color, storage, and carrier combinations are still available for pick-up by September 24.
iOS 15 now available with new FaceTime features and Focus notifications – MobileSyrup
iOS 15 is here, so saddle up your iPhone and start downloading the latest update to try out all of the new features. This year's update is overall pretty bland, especially compared to the new hotness that is Material You over on Android, but it's a worthwhile update nonetheless.
Below I highlight a few of my favourite new features and what I like about them based on a few weeks I've spent with the latest iOS 15 beta, but before that, let's go over how to install the update. As with all iOS updates, simply navigate to your Settings app, open the 'General' section and select 'Software update.'
The update is compatible with smartphones as old as the iPhone 6s and the iPhone SE.
What is this new Focus mode?
The most noticeable iOS 15 update is the new look for notifications. This time around, the app icon with each notification is larger to make it easier to see at-a-glance which app is begging for your attention.
Beyond that subtle visual flourish, there's a new 'Focus' button within Settings and Control Center (the menu that allows you to change screen brightness and play/pause music playback). When you open this, it shows you a few new notification filters that can block preset apps during specific times. You need to set this up on your own, but once activated, it can be useful for blocking social notifications during work hours and work notifications during social hours.
FaceTime invites Windows and Android to the party
Perhaps the part of iOS 15 that will be used the most is a new FaceTime feature that allows users to set up chatrooms that you can invite people to with a link. This is just like how Zoom, Google Meet and Teams all work, putting FaceTime on slightly more level footing with those competitors. It also allows FaceTime users to invite Android and Windows users for the first time.
To be clear, non-Apple users can only be invited to a FaceTime chat; they can't start one.
On top of all this, Apple has also added some new layouts to Facetime to make it easier to see everyone in a chat at once.
The new iMessage updates take a bit to get used to
One of the more subtle updates that's come with iOS 15 is a new form of iMessage. For the most part, the app looks the same, but now, when you send or receive multiple photos, they get stacked in the chat instead of all displayed at once.
This looks nicer, but you can easily mistake it for just a single photo if you just glance at it.
One of the more exciting updates that seems cool but might not catch on is the new 'Shared with you' sections within Safari and Photos. In each of these sections, you can see links or pictures that people have sent you via iMessage, so you can quickly open them or check them out later.
Copy text from anywhere
One of the sleeper updates added in iOS 15 is the ability to copy text from pretty much anything.
Within the Photos app, you can click on a little icon in the bottom right of each picture to copy text from within the photo. If you're in Safari, you can tap and hold onto text in images and, in pretty much every case, the phone will be able to copy it accurately.
You can also highlight phone numbers to instantly call them or addresses to get directions in Maps.
Spotlight search is the real way to get around your iPhone in 2021
If you're not already utilizing the power of Spotlight Search on iPhone, you should really start with iOS 15.
When you pull down on the home screen in the new update, you can search for pretty much anything now. This includes the web, your photos, contacts and messages, among many other sources. You can even now use it from the iOS lock screen.
Auto translate
The iOS translate app can automatically detect when a person is speaking and will begin translation immediately. Since you can also select text in images and other things in iOS 15, you can also translate them quite easily.
This isn't the new Safari iWanted
When Apple first revealed iOS 15 and its other software updates earlier this summer, it planned to revamp the look of Safari on all of them. While I was really excited about these visual changes, the world, apparently, was not.
The first version of iOS 15 safari was a simple bubble that floated at the bottom of the screen. If you tapped on the bubble, you could search using Google. There was also a three-dot menu and a button to see all your open tabs. Swiping across the bubble also allowed users to jump through all their open tabs quickly. This functionality, thankfully, is still in iOS 15.
The search bubble didn't last, and instead, Apple replaced it with a much more accessible and technical-looking bottom navbar. While this version might not look as nice, it's likely going to be a lot easier for people to adapt to.
Apple Prompts Pre-Order Customers to 'Get Ready' for New iPhone 13 With iCloud Syncing and Trade-Ins – MacRumors
iPhone users who have pre-ordered an iPhone 13 model are seeing a new prompt in the Settings app that walks through the steps of preparing for a new device.

Tapping on this prompt encourages users to make sure that iCloud syncing is enabled for all of their apps for a complete ‌iCloud‌ backup, offering up an option to turn on syncing for any app that doesn't have it on.
The feature also explains how to use an existing ‌iPhone‌ to set up a new ‌iPhone‌ for a quick sign in process, and it offers up details on finding out how much an existing ‌iPhone‌ is worth for trade-in purposes.
Apple is likely showing this information based on Apple ID, so many customers who pre-ordered an ‌iPhone‌ may be seeing the new popup. For those who want to get rid of it, just tapping through the prompts should be enough to get it to disappear.
Top Stories
Update: As of 5:30 a.m. Pacific Time, the "Expired Pre-Order" issue appears to have been fixed for many Apple customers. Some Apple customers who went through the pre-approval steps to purchase a new iPhone 13 on Apple's website or Apple Store app are seeing the message "Your iPhone pre-order has expired" when subsequently checking their order status page.
Apple customers can use the…
Following the announcement of the iPhone 13 mini, iPhone 13, iPhone 13 Pro, and iPhone 13 Pro Max, Apple is allowing customers to get ready for pre-orders, which are set to take place on Friday, September 17 at 5:00 a.m. Pacific Time.
Existing and new iPhone Upgrade Program members can use the Apple Store app on the iPhone or Apple's website to go through all of the pre-approval steps to get …
Apple is now accepting pre-orders for the iPhone 13, iPhone 13 mini, iPhone 13 Pro, and iPhone 13 Pro Max through its online storefront and through the Apple Store app.
Pre-orders are available in more than 30 countries and regions around the world. Those who used the "Get Ready" feature to prepare for pre-orders will just need to hit a button to get their orders in.
This year's iPhones…
Apple's online store is down ahead of iPhone 13 mini, iPhone 13, iPhone 13 Pro, and iPhone 13 Pro Max pre-orders, which are set to begin at 5:00 a.m. Pacific Time in the United States.
"You're… early," reads the Apple Store message when attempting to visit the U.S. website. "Pre-order begins at 5:00 a.m. PDT. Enjoy the extra sleep." Apple used to do new device pre-orders at 12:01 a.m….
Apple has started shipping out iPhone 13, iPhone 13 mini, iPhone 13 Pro, and iPhone 13 Pro Max orders to customers who pre-ordered one of the new devices on Friday, September 17.
Many orders will still say "Preparing to Ship" in Apple's ordering system and will continue to do so until later this week, but customers in the United States who are receiving their devices through UPS can use the U…
While it has been many years since Apple stopped providing first weekend sales numbers for new iPhones, Morgan Stanley analyst Katy Huberty today said that iPhone 13 Pro pre-orders are "off to a promising start" with "strong early demand."
Huberty based her opinion off of Apple's delivery estimates for iPhones, which she has been tracking for many years. Shortly after pre-orders began last…
iPhone 13, iPhone 13 mini, iPhone 13 Pro, and iPhone 13 Pro Max pre-orders went live on Apple.com earlier today, and now you can also pre-order the newest Apple smartphones across many carriers and retailers in the United States. Carriers typically offer numerous deals and bonuses to ordering through them instead of Apple, and that's no different for the iPhone 13 launch.
Note: MacRumors is an …
Coinciding with the start of iPhone 13 and iPhone 13 Pro pre-orders, Apple today started offering 0% financing for an extended 24 months on new iPhone purchases in Canada through financing partner PayBright, up from six months previously.
For example, customers with approved credit can now pay for the iPhone 13 Pro with 128GB of storage for 24 equal monthly payments of $58.29, with zero…
iPhone 13 and iPhone 13 Pro pre-orders started today, and while many customers have successfully placed their pre-orders, some have experienced issues when attempting to complete their purchase with an Apple Card or Apple Pay.
Some customers have turned to Twitter to express their frustration with the pre-ordering process, sharing screenshots of errors that they received, such as "there was…
Apple today held its annual iPhone-centric event, introducing the iPhone 13 mini, iPhone 13, iPhone 13 Pro, and iPhone 13 Pro Max. We also got a look at the new Apple Watch Series 7 and were surprised with the new ninth-generation low-cost iPad and the iPad mini 6.
Subscribe to the MacRumors YouTube channel for more videos. It took Apple an hour and twenty minutes to introduce the new devices …