Western News – McIntosh exhibit buzzes with colourful fusion of art, science – Western News
It's been said that Earth without art is just, "Eh." And that our world, without insects, would fall apart.
In the current McIntosh Gallery exhibit, Insect as Idea, art and insects converge to paint a poignant picture of the beauty in biodiversity.
The show "is a fusion of art and science," said gallery curator Helen Gregory. "It examines insects within a multi-species framework, considering the role that they play throughout ecological systems, while also touching on the historical aspects of colonization."
The idea of the exhibit was originally conceived by visual arts professor and director of museum and curatorial studies, Kirsty Robertson. Gregory collaborated with Nina Zitani, curator of the Zoological Collections in Western's department of biology, to bring Robertson's vision to life.
Global specimens
Central to the show's theme is a display of insect specimens in historical Riker mounts, from a larger collection Zitani oversees and uses in her research and teaching. Zitani is hoping this public debut of the specimens will spark appreciation and awe, and for some visitors, a changed perspective.
"Insects have this reputation for being gross, ugly and disgusting," she said. "But here's an opportunity, through these museum specimens from Western's collection, to see their beauty. Each Riker mount alone is beautiful, but when you put them all together like this, it really makes an impact. I also hope people will come away appreciating the diversity of insects. They are the most diverse organisms on earth."
This slideshow requires JavaScript.
With some mounts dating back to 1928, the display features approximately 600 species from around the world, including those from south American rainforests, India, southeast Asia, north America and Africa. Among them, an endangered Himalayan species, which speaks to one of the show's underlying messages.
"Insects in this case are treated as an indicator of ecological health, as measured by insect biodiversity, which, of course, sadly, is on the decline," Gregory said.
Ecological artists
The exhibit also features contemporary artists whose practices have a strong focus on ecology, biodiversity, the environment and Indigenous worldviews. The works include a vibrant painting by Christi Belcourt, who intertwines bees, birds, strawberries, and other native plants to underscore the interconnectedness of living things within the natural world.
With his signature sense of whimsy, Jude Griebel takes inspiration from the sub-genre of Victorian art called, 'anthropomorphic illustration.' Through it, he imagines a tiny entomological protest against the current ecological crisis.
Artist Jennifer Murphy combines images culled from old nature books to create composite forms highlighting the complexity of ecological relationships.
Works by Carl Beam, Catherine Chalmers, Andrea Cooper, Aganetha Dyck, The Institute of Queer Ecology, and Amy Youngs round out the diverse and colourful exhibit.
"I love the broad appeal of this show," Gregory said. "Anybody who's interested in contemporary art will enjoy it. And, at the same time, there will be a lot of interest from lepidopterists."
Gregory and Zitani will be joined by some of the artists on Thursday, May 12, for a virtual discussion on how their work has been influenced by environmental issues and multi-species ecologies.
Register here to attend.
***
Insect as Idea runs through June 18, Monday to Friday, 10 a.m. to 5 p.m. Saturday, 12 p.m. to 4 p.m. Plan your visit.
Memorial University to Unveil Street Art Wall at St. John's Campus – VOCM
Memorial University is unveiling a legal street art wall at their St. John's campus.
The launch for the street wall will take place tomorrow from 1 to 2 p.m.
The wall, located on the east side of the campus near MUN Daycare, is open to all artists of all levels of skill. Between sunrise and sunset, artists can tag and paint the wall any day of the week.
Nature is an Artist explores relationship betwee art and nature – MorinvilleNews.com
Nature is an Artist was released last week and is available wherever books are sold.
by Stephen Dafoe
Sturgeon County's intergovernmental advisor Jennifer Lavallee has published her first children's picture book.
Vancouver's Greystone Books released Nature is an Artist, written by Lavallee and illustrated by Argentinian artist Natalia Colombo, on May 17.
The book looks at the various art forms children can find in the natural world surrounding them and follows a group of children exploring nature and discovering an art show in front of them. They are inspired to create works of art, recreating what they have seen in nature.
Although Nature is an Artist is Lavallee's first published picture book, it is far from her first published work. The author has previously written articles for local newspapers and magazines, including Morinville Online. She has also written for national publications and many of Lavallee's short stories have appeared in anthologies.
"Those have been more adult-focused stories, Lavallee said of her short story work. "This is my first professional publication in the world of children's literature," and that is where I am focusing all my efforts. That's really where my passion is."
Lavallee explained that when she was trying to determine the direction of her writing, it dawned on her that children's writing was a great pairing to where her interests were.
"I'm an adult, but I still read middle-grade books and YA [young adult] and that kind of literature," she said. "So it just kind of clicked – yeah, I should be focusing my attention here."
Lavallee recently spent the day at École Morinville Public School reading her new book to students. Children were surprised to learn that an adult enjoyed books written for children.
"I said absolutely I do because I think there is something so very special about pairing really beautiful illustrations [with words]," Lavallee said. "When you look at illustrations in picture books, you can find some really special artwork. Pairing that with beautiful text; it reminds me of magic, kind of, and it's almost like comfort food."
Lavallee said she has always been someone who loves fairy tales and someone who loves to watch classic children's movies over and over again. Films like the adaptation of William Golden's Princess Bride, Hook and Peter Pan have helped form her current writing path.
"I've always just been in that space," she said of her interests and the types of books she wants to write, paraphrasing author Toni Morrison's quotation – 'If there's a book that you want to read, but it hasn't been written yet, then you must write it.'
But writing a children's book is challenging for the mother of three, balancing full-time employment with Sturgeon County, completing graduate school, and taking care of her family.
From the initial idea in the author's mind, writing the manuscript, then being able to drive to Chapters and take the book off the shelf, was a four-year journey.
"It takes a long time. There are not even 500 words in here," Lavallee said of the new book, adding that just finalizing the text with the publisher is a lengthy process. "It has to be exactly right, and the thing about this book is it's a rhyming book. Not only do you have to find the right words, but the right rhyming words to match the story you are trying to tell. It was about a year to finalize the text."
Working with Buenos Aires-based illustrator Natalia Colombo was also an exciting experience for Lavallee, which also took a year.
"This is her twenty-third book, so that was a neat experience. Most people think I drew the pictures, but I wish I could draw," Lavallee laughed. "The illustrations are what makes picture books pop, and I'm so pleased with how it came out. It's very bright and cheerful."
Great art is significant for Lavallee's book, which is about the artistic beauty found in nature.
"You can go into nature and see things that are like fine works of art," Lavallee said. "A sunset is like a beautiful painting, or a rainbow is like stained glass. The point of it is to inspire young readers to see themselves as artists, but in the context of also having respect for nature, and wanting to get out into the environment and the natural world. It's the pairing of those two."
Lavallee said Nature is an Artist is perfectly aligned to the existing curriculum, lending itself to simple crafts based on the content of the book.
"Some of those things that you need to learn in the younger years about artistic styles are all interwoven into the story," Lavallee explained.
The author worked with the publisher to create some free downloadable companion guides to the book for parents and teachers.
Nature is an Artist is available wherever books are sold, including Chapters and Amazon. It retails for $22.95 per copy.
Lavallee has written a sequel to the new book and hopes to see it published in the future. She is also working on a longer chapter book aimed at middle grades.
The author is also doing workshops at the upcoming St. Albert Children's Festival.
Click here for more local news
Click here to visit author's website
Contest open to young artists; art grads needed more than ever – SooToday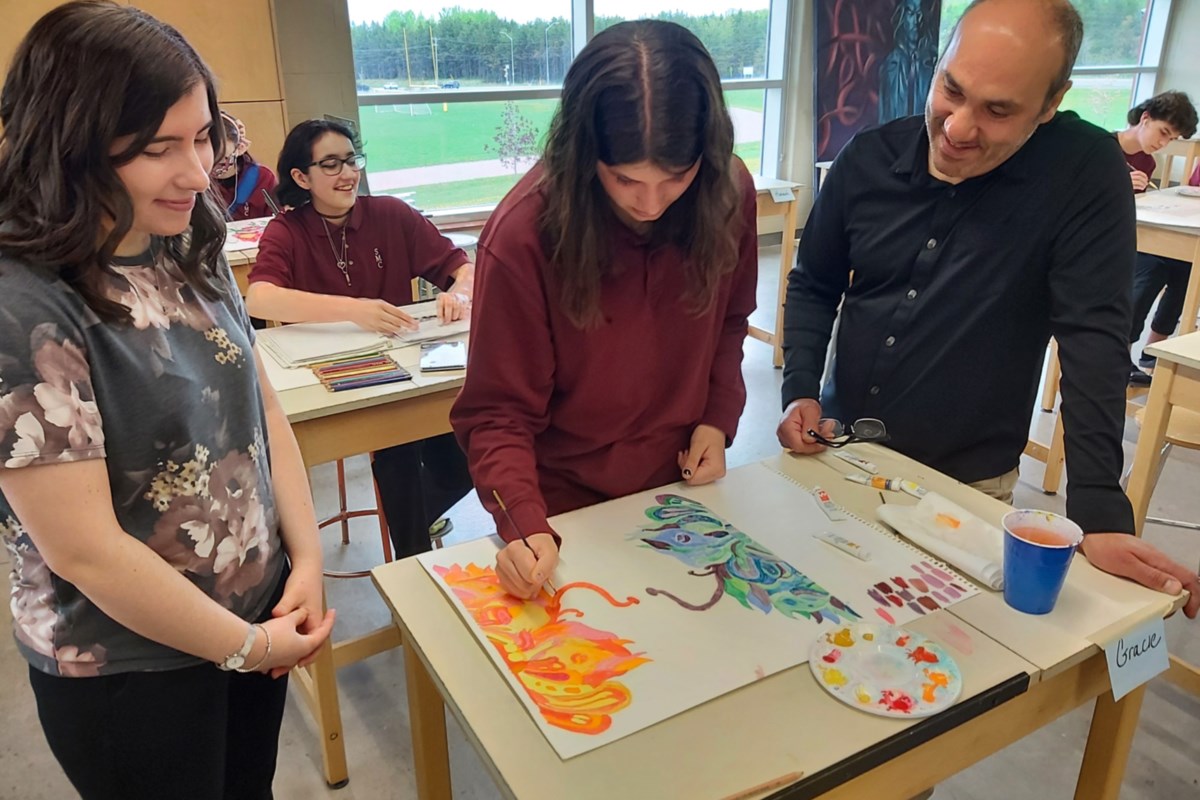 Art students in Grades 6, 7 and 8 are invited to submit samples of their work to be included in a separate exhibition and contest within the annual St. Mary's College art show to be held at the Second Line East high school beginning at 7 p.m. Tuesday, June 14.
Students have until 3 p.m. Thursday, June 9 to submit their drawings, painting or digital art work with their identification and contact information in person at SMC's main office.
While the SMC art show is an annual event – featuring work by artists from Grades 9 to 12 and including not only visual art but also musical and dance performances in one night – this year marks the first show and contest for students in Grades 6 to 8.
The contest is the brainchild of Adriano DiCerbo, SMC art teacher and Samantha Lance, an SMC graduate now pursuing a career as an art show curator in Toronto.
"Adriano approached me with this idea. He wanted to get the ball rolling on this and try to attract kids' attention to this. We came up with the title Spring Back To Life, to get students to think about what inspires you about this new season?" Lance said.
That includes:
What images of spring best represent your personal connection to this season?
What moments of spring do you cherish?
Are there certain aspects of spring (flowers, plants, landscapes, animals) that hold a special place in your heart?
The contest poster has been designed and will be sent out soon to parents and teachers across the H-SCDSB system.
DiCerbo hopes word will get out to art students in Grades 6 to 8 students in other school boards.
Students and parents can contact DiCerbo by email
Lance will judge the Grades 6 to 8 art show.
"I first got immersed in visual arts in Grade 10 with Mr. DiCerbo's class and then I started helping with the arts festivals from Grade 10 to 12 and I realized, while curating the work, that art is what I wanted to do as a career," Lance said.
Lance graduated from SMC in 2017 and went on to study art for four years at Toronto's Ontario College of Art & Design – OCAD University.
There she earned her Bachelor of Fine Arts, specializing in Criticism and Curatorial Practice, learning how to organize art shows at galleries, museums, art shows and festivals.
She plans to attend the University of Toronto in September to begin a Master of Curatorial Studies program.
At OCAD, she was inspired by the work of many artists including Vincent Van Gogh, American photographer Nicolas Bruno and Christian painter Akiane Kramarik.
"After I graduated from high school I came back to help curate the arts festival at SMC. Every year it was nice to see the work and the talent students brought to the table," Lance said.
"I appreciate art history and love looking at the different types of media people bring into their art. When I go for my Masters in Toronto I want to support local, national and international artists by showcasing their art," Lance said, adding she'll always enjoy keeping in touch with the Sault arts scene.
Admission to the June 14 SMC art show is free for kids, $10 for adults.
Proceeds from admission go to Tumaini Afrika, a Sault Ste. Marie-based, non-registered group of volunteers dedicated to working with children and women in Kenya in such spheres as education and nutrition.
"After COVID, everybody needs this art show," Lance said.
Both Lance and her high school art mentor DiCerbo spoke of the importance of art and art education for kids despite the heavy emphasis on science, technology, engineering and math in schools.
"Art speaks when words can't," Lance said.
"Art gives anyone – students, young and old – to speak about their background, their culture and their response to everything that's happening in the world in their own way, it gives them that freedom to do that. That's so critical, to express yourself, and to have that confidence."
As for exposing younger students to art at an early age, Lance smiled "if we nurture this at the beginning in younger students we could be fostering the next Monet or Van Gogh."
"I believe in having a well-rounded education. Yes, science and math, but the arts as well," DiCerbo said.
"That enables students to have creative skills, critical thinking skills and they need those opportunities to be self expressive. It's an incredibly valuable skill for the 21st Century, more than we realize. It helps us to connect with nature and each other. An arts festival is a celebration of when we come together and celebrate creativity."
"There are jobs out there for creative people," DiCerbo said.
"They're just not as visible as the teacher, the doctor, the dentist. There are so many creative people behind the scenes working in traditional and digital media, architectural studies, the business world needs creative thinkers. They're needed."
"Imagine Paris without the Eiffel Tower. What if the Mona Lisa vanished? It's priceless. These are iconic pieces of art that help define who we are. The Group of Seven helps define who we are. Filmmakers, musicians give us a sense of identity and belonging. How can we possibly take that out of our world? We need more of that particularly during these times more than ever before," DiCerbo said.
"Hopefully we get a lot of submissions," Lance said.
"We're not expecting students to donate a huge painting or drawing, but it'll be exciting to see what comes in."
Lance said she hopes it will be an encouragement for kids to start building a portfolio and consider a career in art.
It's late in the school year but kids can submit work they've done earlier in the current school year.
Prizes of $100, $75 and $50 will be awarded to first, second and third place winners in the Grade 6-8 show and competition.