3 Ways to Get Free Publicity and Media Mentions for Your Business – Entrepreneur
Getting media mentions builds credibility, increases your favorable exposure online and adds extra luster to your brand.
January
30, 2020
4 min read
Opinions expressed by Entrepreneur contributors are their own.
Regardless of your title, industry or territory, most of us could use more positive exposure. Getting media mentions builds credibility, increases your favorable exposure online and adds extra luster to your brand. Who wouldn't want these benefits?
Related: 4 Easy Ways to Get Publicity for Your Business
For those seeking more visibility and exposure, there are three simple, surefire ways to secure coverage that will elevate you above the competition:
1. Write an article
Writing an article is a great way for an entrepreneur to demonstrate expertise while also keeping in control of the message. The article topic could pertain to an industry trend or news story, share a how-to approach, or discuss a fresh perspective on a problem. Take a cue from major bestsellers and employ grandiose, attention-getting titles like Think and Grow Rich, The Seven Habits of Highly Effective People and The Five Love Languages — and be sure to deliver the information and insights that can help your audience. Think of your piece as a solution to a burning problem. It could also clarify a major misconception, or provide a futuristic outlook on the industry. Your article should be informative, factual, and include relevant statistics and lively examples. Conclude with takeaways for the reader.
Related: 7 Ways to Generate Publicity Without Spending a Cent
2. Be an expert source
Being an expert source is a win-win: you help a journalist while also showcasing your knowledge and insights in your field, in the form of being quoted. For stories on major current events, news germane to your industry and other topics like business best practices, journalists seek sources to provide commentary to add dimension to their articles. Being a source will increase awareness of you and your company. Define what expertise you have — whether it's entrepreneurship, real estate development or debt relief — and contact relevant journalists who write about this topic to offer your comments. Always aim to be helpful, informative and never pushy. Sign yourself up as a source on expert sites like HARO (Help a Reporter Out).
Related: Positive Publicity Boosts Your Startup's Chance for Success
3. Get your company featured
Whether you run a corporation, small business, or solo practice, we all want to stand out against the competition as the superior option. What makes your company different could be your story, a unique aspect of your service, or a novel product. For example, I worked with a Christmas company whose owner had converted religions because he was so smitten with the Christmas holiday. Even if you don't think your background is noteworthy, most entrepreneurs have a great story to tell. Local print and online news outlets who publish resident and business profiles are a great place to start to share what's new and interesting about your firm. Have ready any memorable customer stories or cases to demonstrate the value you are bringing.
Important note: Unless you are working directly with a publication for inclusion in sponsored or native content, NEVER pay a third party or writer to be included in an editorial article. This is against most reputable publications' policies, and your mention — and money — will disappear.
The power of positive media mentions
The need for positive exposure in an increasingly saturated marketplace has never been stronger. With a little creativity and effort, you may use these tactics to spark journalist interest, earn positive media coverage and increase visibility amongst the public, prospective clients, investors and other target audiences. For those who are short on time, a public relations professional can do the heavy lifting to position you as an expert, secure top-tier opportunities on your behalf, and even create effective talking points so you know exactly what to say and do in a media interview. Building awareness of your brand and establishing yourself as an expert in the public eye is a powerful way to support business development, improve sales and ensure long-term success.
What Western media got wrong by claiming Iran abolished its morality police
Over the weekend, news spread in numerous reputable media outlets that the Islamic Republic of Iran had dismantled its controversial morality police.
Wikipedia even changed its entry, with the edited text suggesting the force had officially been disbanded.
But these reports all rested on a vague statement made by one Iranian official, one who in the same breath said his department is not responsible for the morality police.
Not only is it unconfirmed that the morality police have been disbanded, but statements by officials since have made it clear that sharia law — and its restrictions on women's dress — will continue to be enforced.
The morality police came under the scrutiny of Western media as of Sept. 16, the day 22-year-old Iranian-Kurdish woman Mahsa Amini died after being detained by officers for not wearing her hijab properly.
The circumstances of Amini's death, and the force's involvement, have since triggered protests against the police and the Iranian regime that have swept across the country and the world.
What did media outlets claim? 
On Sunday, multiple credible media outlets, including the New York Times and the Wall Street Journal, led with the headline that the morality police had officially been abolished.
The New York Times for instance, reported it as being an "apparent victory for feminists."
Who did the claim come from?
The original claim came from a vague comment made by one regime official — someone who is not in charge of Iran's morality police.
At a press conference, Iranian Attorney General Mohammad Jafar Montazeri was asked why the morality police, which in Persian is called Gasht-e-ershad, has not been seen on the streets in recent days.
Montazeri said the following: "The morality police has nothing to do with the judiciary system. The same source that created it in the past — from that same source it has been shut down. Of course, the judiciary system will continue its surveillance of social behaviours across society."
While reports suggest the morality police is not seen prominently on the streets, the regime has continued its violent crackdown on Iranian protesters. It has employed multiple military forces, including members of the country's Islamic Revolutionary Guard Corps (IRGC) and its plainclothes agents, to brutally crack down on protesters. According to one human rights group, 500 Iranians have been killed, including at least 60 children — and more than 18,000 people have been detained.
What does that tell us?
The top prosecutor's comments include a few important points the media should have taken into consideration.
Firstly, the attorney general admitted the morality police does not fall under the purview of the country's judiciary. And he also did not specify who exactly allegedly shut down the morality police — or when and how it was shut down. Instead, his comments were "vague and non-transparent," as BBC Persian reported early on.
Notably, Montazeri said the enforcement of the country's Islamic sharia laws would continue by means of "social surveillance" — demonstrating that whether the morality police exists or not, Iranian women will still be subjected to the same punitive legal system dictating the Islamic dress code.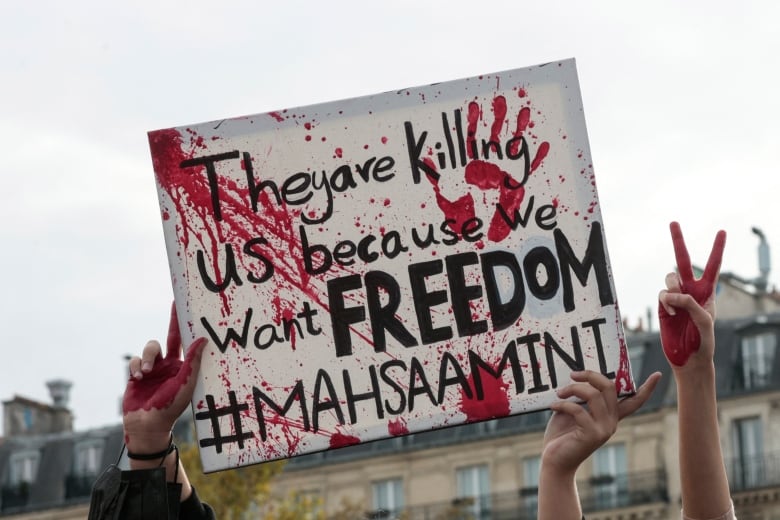 Has the regime made false claims about the morality police before? 
Yes. Late in 2017, IRGC Brig. Gen. Hossein Rahimi, who also heads the Greater Tehran police, claimed that Iranian women would no longer be jailed for not wearing the hijab. Rahimi said women would instead receive lessons to "reform their behaviour."
But in 2018, police in Tehran arrested 29 women for taking part in the "White Wednesdays" campaign, where women across Iran protested the mandatory hijab by climbing onto telecom boxes, taking off their headscarves and waving them on a stick.
A number of these women and their mothers are still imprisoned.
And while the morality police is the arms-length body that physically enforces the Islamic dress code, the country's strict mandatory hijab law — which came into effect in 1979 — remains in place.
What has the Islamic Republic said since the press conference?
Iranian state media forcefully pushed back on the top prosecutor's comments, insisting it is the Ministry of Interior that oversees the morality police — not the judiciary.
Montazeri was also quoted in Iranian state media rebuking reporting by the international media, saying that "no official authority in the Islamic Republic of Iran has confirmed the closure of the morality police."
Three more anti-government protesters have been sentenced to death in Iran, bringing the total to five. It's a toll human rights groups fear the regime will now expand to quell the movement.
Why did media outlets mischaracterize this vague claim?
Iranians on social media quickly expressed their dismay at the way international media reported the news, many suggesting it stems from an inherent misunderstanding of what the protests in Iran stand for.
"I think it simply underscores that the global community wants a neat resolution to this story and is not realizing that the Iranian people want a full overhaul of the system — not just the morality police,"  Gissou Nia, an Iranian-American human rights lawyer at the Atlantic Council told CBC News.
And Western institutions, including the media, have had a poor understanding of the Iranian regime for a long time, said Iranian-Canadian human rights activist and lawyer Kaveh Shahrooz.
"Instead of listening to democracy and human rights activists, these institutions mistakenly listened to analysts who told them that Iran's regime is basically normal and can be trusted," Shahrooz said.
"Iran's regime is not normal; its official statements are often lies designed to mislead the world. Our media should not take them at their word and must exercise extra caution when reporting on Iran."
Why some Iranians say this is a diversion
Iran has seen an unprecedented wave of anti-regime protests for almost three months, beginning after Amini's death in custody.
This week, protesters organized strikes across different cities in the country.
Many activists argued on social media that Montazeri's comments were a form of misinformation and, in fact, a tactic employed by the Iranian regime to stop the ongoing protests in Iran.
"International media outlets must learn that when dictatorships like the Islamic Republic are in trouble, they spread propaganda, as the Iranian regime did in 2017 and as they did today," prominent Iranian-American activist Masih Alinejad said on Twitter. "This is their modus operandi."
Russian media report unexplained blasts at 2 military bases
KYIV, Ukraine –
Ukrainian officials reported a new barrage of Russian missile strikes across the country Monday, an attack that was anticipated as Russia seeks to disable Ukraine's energy supplies and infrastructure with the approach of winter.
Media reports referred to explosions in several parts of the country, including the cities of Odesa, Cherkasy and Kryvyi Rih. In Odesa, the local water supply company said a missile strike cut power to pumping stations, leaving the entire city without water.
"The enemy is again attacking the territory of Ukraine with missiles!" Kyrylo Tymoshenko, the deputy head of the Ukrainian president's office, wrote on Telegram.
Air raid alerts sounded across the country, and authorities urged people to take shelter.
A spokesman for the Ukrainian Air Force, Yuriy Ihnat, said Russia launched land-based missiles from southern Russia and shipborne missiles from the Caspian and Black seas. Russian strategic bombers also launched missiles, he said.
Ihnat warned the Russians could attack in several waves to make it more difficult for the Ukrainian air defences to shoot down the missiles.
Earlier Monday, Russian media reported that explosions rocked two air bases in Russia. One reportedly happened at a base that houses nuclear-capable strategic bombers that have been involved in launching strikes against Ukraine.
Neither Ukrainian nor Russian authorities immediately commented on the possible cause of the blasts.
Russian state RIA Novosti news agency said three servicemen were killed and six others injured, and a plane was damaged, early Monday when a fuel truck exploded at an air base in Ryazan, in western Russia. The base houses long-range flight tankers that serve to refuel bombers in the air.
Separately, authorities in the Saratov region along the Volga River said they were checking reports about an explosion in the area of the Engels air base, which houses Tu-95 and Tu-160 strategic bombers that have been involved in launching strikes on Ukraine. Those bombers are capable of carrying nuclear weapons.
Saratov regional governor Roman Busargin said there was no damage to civilian facilities and added that the authorities are checking whether there have been any incidents at military facilities.
Regional media reported sounds of a powerful explosion near the Engels base, and some residents were quoted as saying they saw a flash of light coming from the area.
Asked whether Russian President Vladimir Putin had been briefed about the Engels base explosion, Kremlin spokesman Dmitry Peskov said simply that the president was being regularly informed about ongoing developments.
Ukrainian President Volodymyr Zelenskyy's adviser, Mykhailo Podolyak, trolled the Russians over the drone attack on Engels, stopping short of claiming responsibility:
"The Earth is round — discovery made by Galileo. Astronomy was not studied in Kremlin, giving preference to court astrologers. If it was, they would know: if something is launched into other countries' airspace, sooner or later unknown flying objects will return to departure point," Podolyak tweeted.
Zelenskyy's office said three rocket strikes hit the president's hometown of Kryvyi Rih in south-central Ukraine, killing a factory worker and injuring three others. In the northeastern region of Kharkiv, a person was killed in strikes by S-300 missiles on civilian infrastructure in the town of Kupyansk, it said.
The war that began with Russia's invasion of Ukraine on Feb. 24 has displaced millions from their homes, killed and injured an untold number of civilians, and shaken the world economy — notably through the fallout on the prices and availability of foodstuffs, fertilizer and fuel that are key exports from Ukraine and Russia.
Western countries on Monday began imposing a US$60-per-barrel price cap and a ban on some types of Russian oil, part of new measures aimed at stepping up pressure against Moscow over the war.
The move has prompted a rejection from the Kremlin and also criticism from Zelenskyy — whose government wants the cap to be half as high.
Russian Deputy Prime Minister Alexander Novak, who is in charge of energy issues, warned in televised comments on Sunday that Russia won't sell its oil to countries that try to apply the price cap.
"We will only sell oil and oil products to the countries that will work with us on market terms, even if we have to reduce output to some extent," Novak said in televised remarks hours before the price cap came into effect.
The 27-country European bloc also imposed an embargo on Russian oil shipped by sea.
Russia, the world's No.2 oil producer, relies on the sale of oil and gas to underpin its economy, which has already come under sweeping international sanctions over President Vladimir Putin's war in Ukraine.
In recent weeks, Russia has been pounding Ukrainian infrastructure — including power plants — with military strikes and keeping an offensive going in the east, notably in and around the town of Bakhmut.
Russian forces have also been digging in near the southern city of Kherson, which was recaptured by Ukrainian forces last month after an 8-month occupation.
PBR Tries To Buck Media Trend With New Print Magazine
As media outlets and sports organizations prioritize digital, video and social media in order to engage with the highly coveted Generation Z demographic, Professional Bull Riders (PBR) is poised to buck the trend with a new print magazine.
Gold Buckle, named after PBR's world champion trophy, will launch its first-ever issue on December 9. The semiannual publication, available at newsstands everywhere for $13.99, will feature exclusive interviews and behind-the-scenes access to marquee bull riding events while also showcasing the best of Western lifestyle including travel, food, history, gear and music.
The inaugural issue includes interviews with two-time PBR world champion Jose Vitor and 'Yellowstone' star Cole Hauser, a preview of upcoming electric trucks, a feature on 10 historic working ranches, and an oral history on the founding of PBR 30 years ago.
"The Western lifestyle was once considered a regional phenomenon, but cowboy culture is no longer just home on the range," says PBR CEO and commissioner Sean Gleason. "In today's culture, it's Main Street. Western touches all parts of pop culture, entertainment and fashion. Western influences are on Broadway, in television commercials, and are pushing into the rap-infused neighborhoods of Compton and Hot 'Lanta.
"Some people may see our sport merely drafting off the success of 'Yellowstone,' and we're thrilled to have Cole Hauser on our first cover, but as PBR celebrates our 30th anniversary, we've been helping push cowboys into the mainstream for three decades."
Begun in 1992 when 20 riders from the rodeo circuit branched out to highlight bull riding as a separate entity, Professional Bull Riders now features more than 500 bull riders competing in 200+ annual events across the United States, Australia, Brazil, Canada and Mexico.
A subsidiary of Endeavor since 2015, PBR's Unleash The Beast tour and Team Series are televised on CBS, CBS Sports Network, Pluto TV, Recast and other networks around the globe reaching half a billion households in 130 countries and territories.
Off the dirt, PBR recently opened its 11th PBR Cowboy bar, in Huntsville, Ala., with five more planned to open in 2023.
"We are an ambassador, influence and catalyst expanding the Western lifestyle and cowboy culture," Gleason says. "In sports, PBR already owns the cowboy hat. With that position we can extend the brand into different areas—whether it's country cowboy bars, a new magazine, consumer product opportunities, or exciting TV and film projects on the horizon."
Launching a print publication, especially in today's digital-first landscape, will be no easy feat. Estimated revenue for periodical publishing, which includes magazines, fell by 40.5% from $40.2 billion in 2002 to $23.9 billion in 2020, according to the U.S. Census Bureau's Service Annual Survey (SAS).
Popular publications including ESPN The Magazine, Playboy and O, The Oprah Magazine ceased printing in 2020 in favor of digital, while Dotdash Meredith recently announced it will stop publishing six magazines including Entertainment Weekly, Health and InStyle.
Despite the changes in how people consume media and rising costs, 60 print magazines launched in 2020 during the height of the coronavirus pandemic.
Gold Buckle is published in partnership with a360media, the publishers of celebrity and health and fitness magazines including Men's Journal, Soap Opera Digest, Us Weekly and Woman's World. Approximately 140,000 copies per issue will be produced.
"There is always a place for high-quality publications packed with beautiful photos and great writing," says a360media president and chief media officer Doug Olson. "Nothing matches the experience of sitting down with a magazine you love. The Western lifestyle is red hot, and PBR continues to grow in popularity, attracting millions of avid fans.
"We believe the timing is perfect to launch Gold Buckle, which will serve the PBR faithful, while introducing the world of Western sports to a new and engaged audience."