65 New Cases Of COVID-19, 2 New Outbreaks In Windsor Essex As Of Friday – windsoriteDOTca News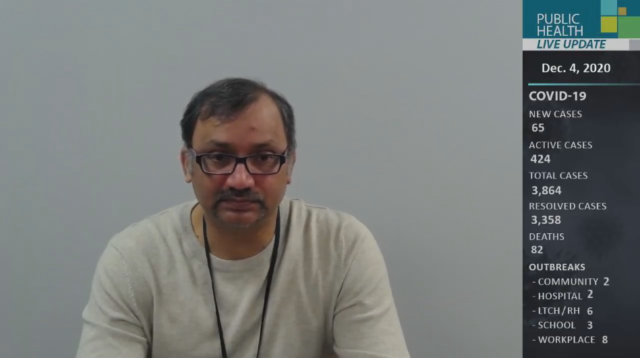 The Windsor Essex County Health Unit has announced 65 new cases of COVID-19 as of Friday, bringing the local total to 3,801.
Cases increased from 3,801 on Thursday December 3rd to 3,864 on Friday December 4th and 424 cases of COVID-19 are currently active in Windsor-Essex. They say four recent cases have been transferred to other health units.
The Health Unit says 5 cases are close contacts of confirmed cases, 2 cases are community acquired, and the origins of 58 cases are still being investigated by the Health Unit's staff.

Article Continues Below Local Sponsor Message
They say 3,358 people locally have recovered (an increase of 54 recoveries today).
There have been no additional deaths due to COVID-19 as of Friday and the local death toll stands at 82.
As of Friday, the Health Unit lists 27 hospitalizations: 20 people in acute care (3 new today), and 7 people in the ICU (2 new today) with confirmed cases of COVID-19 in Windsor Essex. Fourteen hospitalizations are listed at Windsor Regional Hospital.
Long-term Care / Retirement Home Outbreaks
As of Friday, there is one new outbreak and five long-term care/retirement homes remain under outbreak:
Chartwell St. Clair Beach (Tecumseh) has 1 resident case and 0 staff cases (new outbreak today)
Village of Aspen Lake (Windsor) has 0 resident cases and 1 staff case
Chartwell Royal Oak Residence (Kingsville) has 0 resident cases and 2 staff cases
Leamington Mennonite (Leamington) has 0 resident cases and 2 staff cases
Riverside Place (Windsor) has 17 resident cases and 3 staff cases
Iller Lodge (Essex) has 18 resident cases and 3 staff cases
Workplace Outbreaks
As of Friday, there is one new outbreak and seven other workplaces remain under outbreak:
3 outbreaks at agri-farms in Leamington
1 outbreak at a health care and social assistance workplace in Lakeshore
1 outbreak at a finance and insurance workplace in Leamington
1 outbreak at a manufacturing facility in Windsor
1 outbreak at a manufacturing facility in Kingsville (new today)
1 outbreak at a place of worship in Leamington
School Outbreaks
As of Friday, three schools remain under outbreak:
Corpus Christi Catholic Middle School – Central Park Athletics Campus
W.J. Langlois Catholic Elementary School
Frank W. Begley Public School
Community Outbreaks
As of Friday, there are two community outbreaks:
Riverplace Residence
Victoria Manor
Hospital Outbreaks
As of Friday, there are two hospital outbreaks:
Hotel-Dieu Grace Healthcare
Windsor Regional Hospital
Heavy snow hits parts of Nova Scotia Friday – CBC.ca
Parts of Nova Scotia were hit with wintry weather Friday during a system that dumped up to 25 centimetres of snow in some areas before tapering off in the evening.
RCMP spokesperson Cpl. Lisa Croteau said the RCMP has responded to accidents in areas including Lower Sackville, Fall River and Windsor.
"Everybody needs to just take it slow," she said. "When the roads can be covered in snow and ice, it can lead to collisions.
"So we're asking people to just slow down, take their time, be patient. We just want everyone to make it home at the end of the day."
Croteau said she did not know of any significant injuries that came as a result of any of the collisions.
Several Halifax Transit bus routes were on snow plans due to slippery road conditions. Updates are being posted to the Halifax Transit Twitter page.
Friday evening, a vehicle crash knocked out electricity for some Nova Scotia Power customers in Cole Harbour. At one point, more than 2,000 customers were in the dark in the Forest Hills area.
As of 10 p.m., most of the power was restored, according to the utility's outage map.
A picture posted to Nova Scotia Power's Twitter account showed a Halifax Transit bus on Merrimac Drive with a power pole on top of it.
Our crews are now on site making repairs. Stay safe on the roads, everyone. <a href="https://t.co/FLK2reD3tn">https://t.co/FLK2reD3tn</a> <a href="https://t.co/UT8hdKCeq9″>pic.twitter.com/UT8hdKCeq9</a>

&mdash;@nspowerinc
CBC meteorologist Jim Abraham said only some parts of Nova Scotia were affected by the system.
"As the sun goes down, it's clear in Digby and clear in much of Cape Breton, but in between there's this heavy band of snow that has plagued parts of southwestern and central Nova Scotia all day," said Abraham.
However, Abraham said most of the snow was supposed to taper off by about 7 p.m.
"It should end early enough that we can tidy it up before we go to bed," he said.
In a tweet, the city of Halifax said the winter parking ban will be enforced from 1-6 a.m. Saturday.
Crews continue to apply de-icing materials to streets and sidewalks across the municipality. Residents should exercise caution as winter conditions are present. An accumulation of ~5 cm is expected. Reminder the parking ban will be enforced from 1-6 a.m.: <a href="https://t.co/HvjffJEi6y">https://t.co/HvjffJEi6y</a> <a href="https://t.co/jaP0a4OgB8″>pic.twitter.com/jaP0a4OgB8</a>

&mdash;@hfxgov
MORE TOP STORIES
The New Reality: Ontario's troubled vaccine rollout, and the science behind mRNA vaccines – Global News
[unable to retrieve full-text content]
Alberta adds 12 COVID-19 deaths, falls under 10K active cases for first time since mid-November – CTV Edmonton
EDMONTON —
Alberta's active COVID-19 case count fell below 10,000 on Friday for the first time in more than two months as the province reported 643 new cases and 12 more deaths.
The deaths bring the number of coronavirus fatalities to 1,512. Active cases total 9,987, the lowest count since November 14.
Hospitalizations continue a general downward trend as the number of COVID-19 patients fell by 40, to 691. The number of patients in intensive care units fell by four to 115. It's the first time the province has had fewer than 700 coronavirus patients in hospital since Dec. 7.
The province administered 13,019 tests with a 4.97 per cent positivity rate.
More than 97,000 doses of COVID-19 vaccine have been given to Albertans.
Alberta's Chief Medical Officer of Health, Dr. Deena Hinshaw, will return for an in-person update on Monday.