A Complete Guide To The Art, Parties, And Events At Art Basel Miami Beach 20th Anniversary Week And Art Miami 2022
On the eve of Art Basel Miami Beach – this year celebrating its 20-year anniversary – I couldn't help but reflect on the major impact Art Basel has made on the city of Miami. As a native Miamian, I have watched this city grow from being known as the mecca of Cocaine Cowboys and Miami Vice to becoming an international destination for all who want to immerse themselves in a cultural melting pot that is unique to Miami, replete with cutting edge architecture, high fashion, cuisine, nightlife – and, of course, art. Buoyed in part by Art Basel choosing Miami as its only US location two decades ago, luxury brands, developers, and philanthropists have invested in building this city to where it is now- one of the most important cities in the US, if not the world. This year's edition marks the fair's largest showing yet, with nearly 300 galleries participating from all over the world, including 26 first-time participants. Art Basel Miami Beach is open to the public December 1-3, with preview days happening on November 29 and 30 for VIPs.
ART: A detailed guide of what exhibitions to see this Art Basel Miami Beach and Art Miami 2022 Edition
Amidst the glamorous parties and luxury brand special previews, there are incredible art exhibitions open across Miami. The Baer Faxt's lead consultant Vajra Kingsley offers up these tips for curating a memorable art fair experience this year… "There are different ways to experience Art Basel Miami Beach, and the key to an elevated/educational experience during such a wild time is knowing what will resonate for you personally. In my opinion, what's most interesting these days is not the big-ticket art items that are shipped in from every mega gallery, but the hidden gems like a new art nonprofit called 'Art in Common' by Curator Zoe Lukov and Cultural Producer Abby Pucker – launching with 'Boil, Toil + Trouble', a group show focusing on the mysterious, often misunderstood feminine powers of water. Also, the two must-see booths at Design Miami are Carpenters Workshop Gallery and my friends over at The Future Perfect. Another must is the New Art Dealers Alliance (NADA), a nonprofit dedicated to the cultivation, support, and advancement of new voices in contemporary art. Here are some of my favorites: 56 Henry, Embajada, M.LeBlanc, Shoot the Lobster, Nina Johnson, Kate Werble Gallery. It's about finding those individuals who are using the opportunity to take risks and showcase works that offer a new look into contemporary art." Vajra continues, "Untitled Art is also a great find. Guided by a mission to support the wider art ecosystem, this leading independent art fair takes place within the same timeframe as Art Basel Miami Beach (November 29 through December 3). Untitled offers an inclusive and collaborative platform for discovering contemporary art by emerging artists and historical figures."
"Lastly, we're kicking off the week with 'Selections from the Elizabeth Margulies Collection'. Art advisor Elizabeth Margulies is debuting her first major exhibition of her collection at the Warehouse (check the website for public hours). It's an exciting time for the next generation of collectors and artists to see themselves and be inspired in such a prolific space and we're toasting in the ABMB VIP lounge with 'Arkive' – a new decentralized museum platform building community through its collection. Arkive's mission is to curate, own, and create culture. They offer a fresh perspective on technology, and how it can support cultural communities." There are so many amazing projects – this is by no means a complete guide, but visiting these gems will absolutely take your Art Basel experience to the next level.
Craig Robins, one of the godfathers of this "new" Miami, is the founder and CEO of Dacra Development, the co-founder and co-owner of Design Miami, and the visionary developer of the Miami Design District. He singlehandedly transformed what was once a crime-ridden neighborhood to a luxury shopping destination. His vision paid off handsomely not only for his development company but for the city of Miami as a whole, while keeping true to his mission to blend art and commerce.
During this special week Craig will be opening the doors to his personal collection, The Craig Robins Collection, which is exhibited within the Miami Design District headquarters of DACRA, where it rotates on a bi-annual basis. "Two of The Same Kind" is the title of the latest display, highlighting the work of Marlene Dumas and Jana Euler, two artists whose painting and drawing practices are broadly represented in the Collection holdings.
The theme of dualism also threads through works by pop icon Andy Warhol, included as a special loan, and the recent acquisition of breakout talent Sasha Gordon. More than a hundred works on display present an expansive overview of figurative art from the last three decades, in tandem with Conceptualist masterpieces. The multifaceted Collection also features design pieces by established favorites such as Zaha Hadid, Jean Prouvé, Marc Newson and Maarten Baas. The Craig Robins Collection is comprised of contemporary art and innovative design and is open to Art Basel Miami and Design Miami VIP Cardholders.
Other notable Miami Design District Exhibitions include: LARRY GAGOSIAN & JEFFREY DEITCH PRESENT 100 YEARS (3841 NE 2nd Avenue, Suite #101) – Gagosian and Jeffrey Deitch are pleased to present 100 Years, their sixth collaborative group exhibition in the Design District during Miami Art Week. Previously staged at the Moore Building, this year's exhibition will be on view in the historic Buick Building. November 28–December 4. THE ROW'S ARES HOUSE (3925 N. Miami Avenue) – In a collaborative effort between The Alexander Team and Everyrealm, comes the launch of 'The Row," an exclusive collection of metaverse real estate featuring architecture designed by a variety of talented artists. The 30- piece collection, made up of one-of-one NFTs, will live on the Mona platform. SAATCHI YATES (35 NE 40th Street) – This November, Saatchi Yates will open a temporary gallery space in Miami, with a solo exhibition of new work by Ethiopian contemporary artist Tesfaye Urgessa to coincide with his presentation at the RUBELL MUSEUM, Miami opening December 2022. Saatchi Yates Miami is situated in the Design District, next to the INSTITUTE OF CONTEMPORARY ART (ICA) and the de la Cruz Collection. November 21 – December 21.
MDD COMMISSION: ROCK | ROLL – The Miami Design District has named architect-designer Germane Barnes winner of its eagerly anticipated Annual Design Commission. Barnes' winning installation, Rock | Roll, was designed as a celebration of the communities that have shaped Miami's one-of-a-kind, polyethnic culture, from the city's earliest foundations to today. It will be realized across the Design District's public spaces as well as a special installation at the entrance of the Design Miami.
Curated by Anava Projects, Rock | Roll marks the first time a Miami-based creative has won the highly competitive, invitation-only design commission. Conceived as a love letter to the people of Miami, Barnes' multi scale installation draws on the vibrant visual language of Miami Carnival to honor the BIPOC communities who shape this incredibly dynamic city.
One of my favorite artists exhibiting at Design Miami/ personally and professionally are The Haas Brothers, the fraternal twin duo who bring fun to art through their playful and whimsical sculptures, furniture, and now tapestries. Presented by galleryAll.
In Wynwood, Jessica Goldman Srebnick will be opening Wynwood Walls for a special commemorative mural by Shephard Fairy honoring her father Tony Goldman's legacy and 10-year anniversary of his passing. In addition, Wynwood Walls will be debuting 10 new installations for Miami Art Week 2022. Beginning Sunday, November 20, world-renowned artists will begin their murals. Visitors are welcome to watch the new murals come to life by purchasing daily tickets and all access passes on their website. Artists on site include: DASIC (Chilé), Leon Keer (Netherlands), Millo (Italy), Lelin Alves (Brazil), and Shok1 from the United Kingdom, as well as the debut of Hebru Brantley's solo show inside the GGA Gallery on November 29th.
EVENTS: Art Week Miami 2022 Parties and Events
While the focus this week in Miami will be on art, the surrounding parties and events will surely garner nearly as much attention. If you have enough energy after walking through the fairs all day, here are some of the more notable events happening all around Miami…
Monday, November 28
Event: Wynwood Walls Artist Dinner (Invite only)
Hours: 7 PM
Details: Wynwood Walls, the famed epicenter of the Wynwood Arts District known worldwide for its groundbreaking, ever-changing collection of curated art, will debut 10 new installations for Miami Art Week with a celebratory dinner hosted by the CEO of Goldman Properties, Jessica Goldman Srebnick.
Address: 266 NW 26th Street, Miami, FL 33127
Event: Rafael Lozano-Hemmer VIP preview of Pulse Topology: Monday, November 28 (Invite only)
Hours: 7:30-10:30 PM
Aerobanquets RMX mixed-reality art and culinary experience: Monday, November 28-Friday, December 4
Details: Superblue Miami and BMWi have partnered to present the immersive art installation Pulse Topology by Mexican-Canadian artist Rafael Lozano-Hemmer this November and throughout Miami Art Week 2022. Composed of 3,000 lightbulbs suspended at different heights, "Pulse Topology" creates a series of crests and valleys in an intimate landscape that visitors are invited to traverse at Superblue. Each lightbulb glimmers to the pulse of a previous participant.
Event: Alma Salgada Showcase at W Miami (Invite only)
Hours: 7-9 PM
Details: W Miami is hosting a special preview of their latest art exhibition featuring Alma Salgada on Monday, Nov. 28 at the trendy Brickell hotel's signature restaurant ADDiKT, located on the 15th floor rooftop. Curated by Bia Duarte, the installations will feature vibrant colors and graffiti-like designs inspired by the Brazilian artists' passions for florals, gardens and street art. Additionally, the artist's showcase will be available for the public to view at W Miami throughout the entire week.
Address: 485 Brickell Ave, Miami, FL 33131
Tuesday, November 29
Event: Delilah & SCOPE produced by Uncommon Entertainment and The h.wood Group
Hours: 11 AM – 8PM daily through December 4th
Details: Come swing and jive through this homage to the roaring '20s at SCOPE Miami Beach. Los Angeles based Delilah pops up in Miami as a modern-day supper club with a vintage aesthetic. Eating, drinking, and dancing converge in this luxury space as guests enjoy lounge style bottle service as the affair unfolds. Elegant yet alluring, the charm and vivacious energy of Delilah is like stepping back in time while taking in the SCOPE art show.
Events: Art Miami + CONTEXT Art Miami Opening Night
Hours: 4:30 – 10 PM
Details: Art Miami, which year-over-year has been a central component of Miami Art Week and played a major role in establishing the city of Miami as a cultural hub, is returning to Miami Art Week, along with sister fair CONTEXT Art Miami. An invitation-only VIP Preview on Tuesday, November 29, which runs through Sunday, December 4, 2022. Miami's hometown and longest running international and contemporary art fair, Art Miami will continue to showcase the most significant artworks of the 20th and 21st centuries, presented by a selection of the world's most respected galleries. CONTEXT Art Miami's 10th edition will provide the ultimate platform for mid-career, emerging and cutting-edge artists presented by new and established galleries. The combination of Art Miami and CONTEXT Art Miami will feature over 215 galleries from 17 countries, and will provide established and budding collectors the opportunity to acquire a vast array of iconic works from world renowned artists, as well as groundbreaking works from emerging artists, at the prestigious fairs. Collectors, curators, designers, museum professionals as well as art enthusiasts will discover a diverse range of art works, dynamic projects and special installations from more than 800 artists at the fairs.
Events: The Confidante Miami Beach Presents The Missing Link Artist Showcase with Rigo Leon, Muta Santiago and Funqest.
Hours: 7-9 PM
Details: The Confidante Miami Beach, Miami's iconic oceanfront oasis with retro-glam style and mid century charm, is excited to announce its 2022 Miami Art Week lineup, in partnership with renowned artists Rigo Leon, Muta Santiago and Funqest. On Tuesday, November 29th, guests are invited to watch live art demonstrations by the three artists inside 6ft x 6ft plexi-glass boxes in the Backyard and pool area. Live entertainment, passed bites & cocktails will also be provided.
Event: Giorgio Armani LOVE event (Invite Only)
Hours: 7-10 PM
Details: Giorgio Armani is unveiling the launch of Giorgio Armani "LOVE"- a project merging fashion, art, and technology.
Event: Rusty Pelican Jason Perez Art Showcase
Hours: 5-10 PM
Details: Exclusive Gallery Viewing presented by Jason Perez in the Lounge and Bar. Enjoy cocktail specials sponsored by Haig Club Scotch while viewing over 20 pieces of art for an exclusive Art Preview Party.
Address: 3201 Rickenbacker Causeway Key Biscayne, FL 33149
Event: Stone Island's 40th Anniversary Installation at RC Cola Plant (Invite only)
Hours: 11 PM – 4 AM
Details: Luxury Italian clothing brand Stone Island will celebrate its 40th anniversary by activating the RC Cola Plant in Wynwood for the opening of Art Basel with an exclusive, one-night-only installation on Tuesday, November 29th. At the cross section of fashion, art and design – Stone Island's 40th Anniversary activation will feature a hosted open bar, a spectacular light-crafted art installation, and three acts of surprise DJ talent and headliner performances throughout the evening and into the next morning. A VIP area for celebrities and notable guests will feature hosted tables and bottle service to mix and mingle amongst the luxury fashion and art industry's elite attendees.
Address: 550 NW 24th St, Miami, FL 33127
Event: nft now x mana common present "The Gateway: A Web3 Metropolis"
Hours: Tuesday, November 29 – Saturday, December 3
Opening Ceremony + Press Preview with Miami Mayor, Francis X. Suarez (Invite Only): Tuesday, November 29 | 5 p.m.-8 p.m.
VIP Opening Party (Invite Only): Tuesday, November 29 | 8 p.m.
Open to Registered Public: Wednesday, November 30 – Saturday, Dec.3 | 12 p.m.-9 p.m.
Details: The Gateway: A Web3 Metropolis is the sequel to last year's famous activation that introduced NFTs to the masses. This year, the experience is creating the first-ever web3 metropolis. Over the course of 5 days, the events will take over 12 buildings and 2 city blocks in Downtown Miami's Flagler District to unite the web3 community for a landmark experience unlike any other. The programming will feature leading artists, musicians, community partners, panels, speakers and performers. Leading brands participating include Christie's, Instagram (Meta), Porsche, FaZe Clan, RTFKT, Art Blocks, Alo Yoga, WME, MetaMask, 9dcc by gmoney and more. To register for a free ticket, visit The Gateway: A Web3 Metropolis.
Wednesday, November 30
Event: Resy and American Express Gallery Day: Featuring artist Phillip K Smith III and bites by chef Michael Solomonov
Hours: 11AM- 5PM
Details: Resy and American Express will celebrate the intersection of food, art and culture at Art Basel Miami 2022. Guests can enjoy a gallery viewing of artist Phillip K. Smith III's site-specific art installation, plus light bites and cocktails prepared by James Beard award-winning chef Michael Solomonov of Philadelphia's Zahav, Laser Wolf, and K'Far in the Faena Arts District. There is no cost to make a reservation for the exhibition-only day. Tickets HERE.
Event: Casa Del Sol Tequila & VOGUE Celebrate Colombian Designer Silvia Tcherassi (Invite Only)
Hours: 3-6PM
Details: Casa Del Sol Tequila and VOGUE 100 host a reception for Colombian fashion designer Silvia Tcherassi aboard a superyacht in Miami Beach. Tcherassi has been a leading Latin American designer for over 35 years. Expect a whos-who of Art Week fashionistas, sipping on luxury tequila.
Event: Aqua Art Miami VIP Preview (Invite only)
Hours: 3 – 10 PM
Details: Aqua Art Miami will kick off its 16th edition at the Aqua Hotel with a VIP Preview on Wednesday, November 30th before opening to the public December 1-4, 2022. The energetic preview has become the destination for influential collectors and art professionals, many of whom migrate from Aqua's sister fairs, Art Miami and CONTEXT conveniently nestled between the Venetian Causeway and the MacArthur Causeways, and Art Basel Miami Beach, which is located just a few blocks away.
Address: Aqua Hotel (1530 Collins Avenue Miami Beach, FL 33139)
Event: ATOMIKO Live Painting Event & Hand-Painted Uniform Showcase by Lucy Glaser at LPM Restaurant & Bar (Invite only)
Hours: 7-10 PM
Details: In celebration of Art Basel week, LPM Restaurant & Bar will be hosting a VIP preview featuring renowned Miami street artist, ATOMIKO, and serving LPM's signature French-Riviera passed canapés and beverages to guests. Attendees will be able to meet ATOMIK and see him live in action as he completes several, one-of-a-kind canvas paintings live at LPM Miami. Famous for his iconic orange character, the art installation will combine ATOMIK's unmistakable street-style with influences from LPM's stylish design and French Mediterranean cuisine. Additionally, the large-scale, canvases will be available for the public to view at LPM throughout the entire week and beyond. Throughout Art Week, LPM team members will also be adorned with original, hand-painted uniforms by local Miami artist, Lucy Glaser, who specializes in hand-painting clothing in a playful and maximalistic style.
Address: 1300 Brickell Bay Dr, Miami, FL 33131
Event: Alesso at LIV: Basel Kickoff
Hours: 11:30 PM – 5 AM
Details: In celebration of Art Basel week, join Alesso at LIV as he brings a pulsating performance to Miami Beach. Kickoff the week by dancing the night away to "Words," "Let Me Go," "Heroes," and more, while taking in the high-energy nightclub atmosphere.
Address: 4441 Collins Ave, Miami Beach, FL 33140
Thursday, December 1
Event: Casa Del Sol Tequila hosts reception for Mexican Artist Daniel Valero (aka Mestiz) and AGO Projects of Mexico City (Invite Only)
Hours: 12-3PM
Details: Luxury sipping tequila brand Casa Del Sol, co-founded by actress Eva Longoria, heads to the Magic City during Miami Art Week for a celebration of culture and the arts. Partnering with Mexico City based collectible design gallery AGO Projects, Casa Del Sol will host an invitation-only reception on a superyacht in Miami Beach. On view will be an installation highlighting Mexican artists with distinct and exceptional voices, including Daniel Valero, also known as Mestiz.
Event: Bootsy Bellows, VaynerX, SCOPE, Kaytranada and Kitty Ca$h produced by Uncommon Entertainment and The h.wood Group, presented by Johnny Walker with additional support from St. Jude Children's Hospital, AXE, One37PM, Coinbase, and PepsiCo (Invite only)
Hours: 9 PM – 1 AM
Details: In celebration of Art Basel week, The iconic Bootsy Bellows pop-up will return to the sands of Miami Beach for an exclusive evening in partnership with VaynerX that transport guests to the future for an unforgettable experience at the SCOPE venue on Ocean Drive. The evening will be headlined by Kaytranada with an additional set by Kitty Ca$h with additional live entertainment from some of the most reputable names in music.
Event: Bleacher Report & NBA Artist Collection VIP Opening Party
Hours: 7-10 PM
Details: Bleacher Report (B/R) is teaming up with the NBA to bring its signature Artist Merch Collection to the epicenter of the art scene – Miami Art Week – through the creation of a pop-up art gallery & sports bar featuring art installations from this collection's artist, Matt McCormick. The B/R NBA Artist Series will be full of must-see events accessible to sports fans and the VIP party kicks it all off. Through a secret tunnel at The LAB, guests will find the Fadeaway Cocktail Lounge, also designed by McCormick, which will offer free cocktails and beverages for the event. The shop will offer a rare mix of art and sports for a completely unique fan experience taking place during Miami Art Week. Matt McCormick and special guests will be popping in and out of the venue to greet fans.
Event: 1 Hotel South Beach Eternal Heart x Iridescent Atmosphere
Hours: 6:30 – 9:30 PM
Details: Diners at Beach Club will enjoy an immersive experience filled with art, entertainment, and live beats. Multimedia artwork from artist Artem Mirolevich's Eternal Heart will be on display, which explores the inner cosmos of human beings, as biological machines made to serve a higher purpose of elevating mind over body. While you dine, body painted ballerinas will emerge from his artwork for a live whimsical performance. Guests will also be able to view Iridescent Atmospheres, a series of abstract images taken around the Yucatan Peninsula by photographer Ruvan Wijesooriya through a meditative Virtual Reality experience. The images place the viewer into Ruvan's gaze into the skies, through the plants, and over the sea. The work aims to give participants a personal journey to create space between thoughts in a timeless setting. While guests experience the images as an animated journey, a tranquil soundtrack created by Gabriel Andruzzi from The Rapture will play in the background. Restaurant reservations are not required to enjoy this immersive experience.
Address: 2341 Collins Ave Miami Beach, FL 33139
Event: Fabel Miami VIP Grand Opening Party (Invite only)
Hours: 7-11 PM
Details: Fabel Miami, a new open-air rooftop restaurant and lounge by owner Matthew Rosenberg and his award-winning architecture firm, M-Rad, will host a VIP grand opening party on Thursday, December 1st. Channeling all your senses, the VIP event will feature special DJ performances, a sampling of Fabel's Mediterranean cuisine, flowing wine and cocktails, and an exclusive first look at the enchanting venue's rooftop restaurant and lounge before it opens to the public on Friday, December 2nd in Miami's Wynwood neighborhood.
Address: 50 NW 24 St., Miami, FL 33127
Event: Ocean Drive Art Of The Party at The Fontainebleau Sponsored by Wildlilly (Invite only)
Hours: 8-11 PM
Details: Ocean Drive will host Art of the Party launching the December Art Issue featuring Evan Mock + an art installation by Grif and music by DJ Crespo at The Fontainebleau Miami Beach. The poolside event will be sponsored by Wildlilly Wine, a new pinot noir and chardonnay blend that playfully twists sweet flavors like strawberries, wild cherry and vanilla bean. The simplistic and sculptural "Instagram-worthy" design of the glass bottle befits the artful blend and allows for consumers to enjoy its day-bright garnet hues.
Address: 4441 Collins Ave, Miami Beach, FL 33140
Event: Black Coffee at LIV: Basel Edition
Hours: 11:30 PM – 5 AM
Details: In celebration of Art Basel week, join Black Coffee and special guest, Alec Monopoly, at LIV as they energize Miami Beach! Guests are invited to dance the night away to the South African DJs greatest hits such as "Drive," "Turn Me On," "Ready For You," and more.
Address: 4441 Collins Ave, Miami Beach, FL 33140
Friday, December 2
Event: DoodlePutt
Hours: Friday, Dec 2 – Saturday, Dec 3 | 12pm – 10pm
Details: Doodles will be taking over Wynwood, reimagining a 20,000 sq ft complex inclusive of an outdoor lounge, live entertainment and brand new Doodles merch, the event will bring joy and delight for all ages. The "DoodlePutt" experience features a 9-hole mini-putt course that brings to life the Doodles universe.
Address: People can register and purchase tickets on-site: 2534 N Miami Ave, Wynwood, Miami
Event: The h.wood Group, MILA Lounge Miami and MËSTIZA sponsored by Grey Goose Vodka and PATRON El Alto (Invite Only)
Hours: 11:00 PM – 3 AM
Details: Los Angeles-based hospitality and lifestyle marketing company The h.wood Group is popping up at MILA Lounge to host an exclusive-access, collaborative evening during the Art Basel showcase. Together, these two cultural juggernauts will blend the worlds of culinary excellence, entertainment and the vibrant Miami nightlife scene for an unforgettable night filled with world-class hospitality in the heart of Miami Beach. The h.wood Group is bringing it's L.A. hospitality and nightlife to Miami for a limited-time pop-up at the new hotspot Mila Lounge. Sounds of the evening will be fueled by DJ-Duo MËSTIZA
Event: The Chainsmokers at LIV: Basel Edition
Hours: 11:30 PM – 5 AM
Details: In celebration of Art Basel week, join The Chainsmokers at LIV as they energize Miami Beach for the ultimate performance. Kickoff the weekend by dancing the night away to "Something Just Like This," "Closer," "Don't Let Me Down," and more.
Address: 4441 Collins Ave, Miami Beach, FL 33140
Event: Nylon House at Strawberry Moon at the Goodtime Hotel
Hours: 8 PM
Details: Invite only event l BMW and David Grutman present: Nylon House in partnership with Samsung Galaxy + E.L.F.
Address: 601 Washington Avenue
Event: BleauLive Presents THE BLOCK – Art Basel Edition at The Fontainebleau
Hours: 7 PM – 1 AM
Details: Capture Studios, Reactify, Animal Concerts, and BleauLive presents THE BLOCK – Art Basel Edition located at Fontainebleau Miami Beach on Friday, December 2, 2022. BleauLive x THE BLOCK will raise the bar, kicking-off an extraordinary weekend of art displays and installations, gaming integrations, live performances, and brand activations for an unparalleled Art Basel weekend experience! The event will be attended by an international audience of traditional and NFT art collectors, models, celebrities, and a curated selection of the crypto industry's leading influencers alongside Miami's elite.
Address: 4441 Collins Ave, Miami Beach, FL 33140
Event: Bleacher Report & NBA Unveil Pop-Up Shop & Secret Bar at Miami Art Week
Hours: ​​Thursday – Sunday, 11 AM – 7 PM (bar hours will vary)
Special Programming: Free & Open to the public
Friday, Dec. 2 @ 7:30 PM – Miami Heat Watch Party host by DJ Irie
Saturday, Dec. 3 @ 2:00 PM – World Cup Watch Party
Sunday, Dec. 4 – Closing Brunch Bar
Details: Bleacher Report (B/R) is teaming up with the NBA to bring its signature Artist Merch Collection to the epicenter of the art scene – Miami Art Week – through the creation of a pop-up art gallery & sports bar featuring art installations from this collection's artist, Matt McCormick. The B/R NBA Artist Series will be full of must-see events accessible to sports fans – and in particular Miami sports fans – throughout the weekend, including watch parties for the Miami Heat, Dolphins and the World Cup. Through a secret tunnel at The LAB, guests will find the Fadeaway Cocktail Lounge, also designed by McCormick, which will offer cocktails and free beverages throughout the weekend, for guests 21+ and while supplies last. The shop will offer a rare mix of art and sports for a completely unique fan experience taking place during Miami Art Week.
Address: The LAB Miami (400 NW 26th. St. Miami FL, 33127)
Saturday, December 3
Event: Martin Garrix at LIV: Basel Edition
Hours: 11:30 PM – 5 AM
Details: In celebration of Art Basel week, join Martin Garrix at LIV as he brings a pulsating performance to Miami Beach. Celebrate the weekend by dancing the night away to "In the Name of Love," "Scared to Be Lonely," "Summer Days," and more.
Address: 4441 Collins Ave, Miami Beach, FL 33140
Event: Joia Beach Presents: Art Hearts Fashion Pop Up at the Beach Lounge Art Week 2022 Edition
Hours: 6 PM – Midnight
Details: Joia Beach, in collaboration with Art Hearts Fashion, is celebrating Art Basel week with a party, featuring a live art showcase with silent auction, passed bites and cocktails, and beats by DJ Deroos. Experience an art gallery at the beach, while taking in the sweeping Miami views and dancing the night away to unbeatable tunes.
Address: 111 Parrot Jungle Trail, Miami, FL 33132
Event: MAXIM Art Week Party & Issue Release at Hyde Beach at SLS South Beach
Hours: 10 PM – 2 AM
Details: MAXIM Magazine will celebrate their November / December 2022 issue with an epic party during this year's Art Basel. On Saturday, December 3rd, MAXIM will transform Hyde Beach at the SLS South Beach into a chic outdoor lounge for hip Art Basel trendsetters from across the globe to enjoy. This year Maxim and Hyde Beach have partnered with Keely, the celebrated New York based artist who has created artworks and sets for the likes of Kendirck Lamar, Lauryn Hill, Gary Clark Jr., Westside Gunn, Google, Hermes and more. Keely will have installations throughout the hotel and will create a special piece inspired by the November / December Maxim cover model, Ava Max.
Address: 1701 Collins Ave Miami Beach, FL 33139
Event: The Martinez Brothers & Caleb Calloway at STORY: Basel Edition
Hours: 11 PM – 5 AM
Details: Experience the ultimate performance by The Martinez Brothers & Caleb Calloway at STORY, in celebration of Art Basel weekend. Dance the night away jamming to "PAP," "Rizzla," "Let It Go," and more.
Address:136 Collins Ave, Miami Beach, FL 33139
Event: 3rd Annual UNKNWN Courtside Classic Presented By Nike
Details: Nike 3v3 friends and family tournament with a performance and afterparty.
Address: 261 NW 26th St (Wynwood)
Sunday, December 4
Event: Deadmau5 at STORY: Basel Edition
Hours: 11 PM – 5 AM
Details: Experience the ultimate performance by Deadmau5 at STORY, as he closes off Art Basel weekend. Dance the night away jamming to "Escape," "Alive," "Take me High," and more.
Address: 136 Collins Ave, Miami Beach, FL 33139
Event: Joia Beach Presents: Art Hearts Fashion Pop Up at the Beach Lounge Art Week 2022 Edition
Hours: 6 PM – 12 AM
Details: Joia Beach, in collaboration with Art Hearts Fashion, is celebrating Art Basel week with a party, featuring a live art showcase with silent auction, passed bites and cocktails, and DJ entertainment. Experience an art gallery at the beach, while taking in the sweeping Miami views and dancing the night away to unbeatable tunes.
Address: 111 Parrot Jungle Trail, Miami, FL 33132
DINE: Where to Eat During The Miami Art Week 2022
Miami has become an international dining destination. There is a new restaurant opening every week, but these newbies are on my list.
David Grutman and Bad Bunny's new restaurant Gekkō, which recently opened in Brickell is a must-see location. Serving updated Japanese Steakhouse food and moody vibes. AVRA Miami is a wildly popular upscale Greek restaurant that has just opened in November 2022, just in time for Art Basel! This fresh seafood-focused restaurant at The Estates at Acqualina in Sunny Isles will no doubt become one of the most popular restaurants in town. Aba, the stunning Mediterranean restaurant, has just opened its doors at the Bal Harbour Shops. Aba will showcase a menu that features a fusion of rich flavors. Fabel Miami is an all-new rooftop restaurant and lounge coming to the heart of Miami's Wynwood in December 2022. Fabel will take guests on a whimsical journey through its design, gastronomy, and entertainment while celebrating the energy Miami is known for. MILA Restaurant, the rooftop dining destination, just opened its doors last week. Guests can expect, among other notable highlights, a backyard art takeover by artist Richard Orlinksi featuring some of his most exclusive pieces, fire show performances by Flow Mayhem, and beats by Lemurian.
Inspired by the old-world sophistication of Northern Italy's iconic villas and estates, Contessa is a classic yet thoroughly contemporary dining destination by MFG Co-Founders Mario Carbone, Jeff Zalaznick and Rich Torrisi. It is the Miami Design District's new neighborhood cornerstone, a two-story crown-jewel situated at the intersection of art, culture & fashion.
And among Miami's tried and true restaurants…
Located in Miami's swanky South of Fifth neighborhood, Stubborn Seed is a Michelin Starred restaurant, helmed by "Top Chef" winner Jeremy Ford. For fresh coastal cuisine with a Key West vibe, Sunset Harbour's Stiltsville Fish Bar always delivers. Hutong in Brickell offers a fresh take on Northern Chinese, while Osaka brings a taste of Nikkei to Miami. More of my favorites include, Klaw, Milos, Makoto, Cote Miami, Mandolin Aegean Bistro, Joe's Stone Crab, Il Gabbiano, Carbone, Lagniappe, Seaspice, and The Surf Club Restaurant by the amazing Chef Thomas Keller. For consistent and excellent French-Mediterranean fare, Brickell's LPM Restaurant & Bar delivers remarkable escargot, its famous Tomatini, and an unmatched cocktail menu inspired by one of the 20th century's most versatile artists, Jean Cocteau. For a party vibe worthy of Miami's best nightclubs, check out the Miami 'clubstaurants': Papi Steak, Mayami, Swan, Joia Beach, The Key Club, Komodo and Strawberry Moon.
I love this time of year in Miami, as friends from all over descend on this Magic City and take in the sun, the fun, and the art. With all that Miami has to offer, you will need much more than a week to explore it all!
Architects Embrace AI Art Generator Midjourney – Bloomberg
[unable to retrieve full-text content]
Architects Embrace AI Art Generator Midjourney Bloomberg




Source link
7 Leading Curators Predict the Defining Art Trends of 2023 – Artsy
Art
Ayanna Dozier
In 2022, we witnessed a rise in neo-surrealist art, NFTs, and textile-based art practices. These were trends that were bubbling to the surface by the end of 2021, but weren't fully realized until the spring of the following year. Now, many other styles are emerging as key genres that may have their moment this year.
Artsy spoke to seven leading curators who lent their expertise and shared their insights on which styles and themes may newly emerge or continue to garner attention in 2023. Many anticipate that the sociopolitical climate will continue to inform artists' practices, with some predicting a rise in more provocative art that critiques religion and systemic oppression.
Other curators are looking to Latin American new media practices, and are excited by how artists like Castiel Vitorino Brasileiro and Xandra Ibarra use video and installation to create immersive environments that challenge the separation between the screen and the body. Meanwhile, others are intrigued by the possibilities and questions that AI will continue to raise in relation to authorship in the art world.
All the curators expressed an overall interest in artists who push the limits of their given medium, and continue to expand upon their practices in innovative ways. Overall, there is excitement and hopeful promise that 2023 will bring about a year of artistic risks.
Larry Ossei-Mensah
Independent Curator; Co-Founder, Artnoir
New York
Portrait of Larry Ossei-Mensah by Aaron Ramsey. Courtesy of Larry Ossei-Mensah.
Larry Ossei-Mensah predicts that abstraction by artists of color will become even more prominent in 2023. The genre, Ossei-Mensah believes, is essential to shifting the public's belief that artists of color should only make representational work that is immediately legible. As an example, he pointed to the divisive reaction towards Hank Willis Thomas's recently unveiled public sculpture The Embrace (2022). Ossei-Mensah also expects that abstract masters like Mo Booker, Raymond Saunders, Howardena Pindell, Emma Amos, Atta Kwami, and Barbara Chase Riboud will receive overdue recognition in 2023 as more institutions reexamine their bodies of work in relation to the younger generation they've inspired.
Ossei-Mensah anticipates that criticism by writers of color, specifically those who engage with abstract art's relationship to cultural practice, will be particularly impactful on the art world. He cited the work of Hilton Als, Robin Givhan, Folsade Ologundudu, and Doreen St. Felix as ones to watch. Additionally, he listed the 2023 solo exhibitions of artists Chase Hall, Guadalupe Maravilla, Ming Smith, Tomashi Jackson, Frank Stewart, Amoako Boafo, Kennedy Yanko, and Anoushka Mirchandani as indicative of what's to come this year.
Hans Ulrich Obrist
Artistic Director, Serpentine Galleries
London
Portrait of Hans Ulrich Obrist by Andrew Quinn. © Andrew Quinn.
Hans Ulrich Obrist is looking towards the work of Black, Indigenous, and Latinx artists who are rethinking notions of ownership, land, and the body in relation to futurity. He is particularly excited by immersive and interactive new media art, like video games. As he explained, "Video games are to the 21st century what movies were to the 20th century, and novels to the 19th century. Today, it's much easier for artists to develop their gaming environments."
Obrist referenced the work of Gabriel Massan at the Serpentine Galleries as a key example of an artist who is "uncovering new meanings on video games and phenomenology…that invites players to activate a fantastical and disorienting world populated with Massan's digital sculptures, bespoke animation, films, camerawork, and sound developed by his collaborators," he said. Obrist situates Massan within an incredible generation of artists from Brazil, including Jota Mombaça and Ventura Profana, who use technology to reexamine futurity and a sense of place while in dialogue with decolonial thought and practice.
Adrián Villa Rojas, Yinka Shonibare, and Otobong Nkanga, as Obrist noted, are similarly starting transnational dialogues that imagine a new future for us all. "As artist Ian Cheng often told me, at the heart of his art is a desire to understand what a world is," Obrist said. "Now more than ever, the dream is to be able to possess the agency to create new worlds."
Vivian Crockett
Curator, New Museum
New York
Portrait of Vivian Crockett by Ciara Elle Bryant. Courtesy of the New Museum.
Vivian Crockett is fascinated by what will emerge in the fields of new media art, film, and photography, particularly by artists of color from Latin America. In 2022, more opportunities arose for critical reflection on Latin American art and artists, as evident at the Whitney Biennial "Quiet as It's Kept," and the Focus and Platform sections of The Armory Show. This will likely continue through 2024 as Adriano Pedrosa mounts the 60th edition of the Venice Biennale's international exhibition, becoming the first Latin American curator in its 122-year history.
When approaching Latin American art, Crockett emphasized that an understanding of the continent's political landscapes is crucial. "There is an increased acknowledgement of white supremacist logic affecting Latin American countries, both historically and in the present moment, resulting in more explicit conversations around race, class, and Indigenous struggles for autonomy," she said.
Eileen Jung
Curator, Bronx Museum
New York
Portrait of Eileen Jung. Courtesy of the Bronx Museum.
Eileen Jung predicts that land art, Indigeneity, and immersive art practices will take center stage in 2023. In particular, she pointed to artists who use conceptual art to navigate history and memory, including Firelei Báez, Chloë Bass, Maria Berrio, Andrea Chung, Joana Choumali, Sean Desiree, Abigail DeVille, Anaïs Duplan, Scherezade García, Guadalupe Maravilla, Daniel Lie, and Jodie Lyn-Kee-Chow. Jung added, "Each of these artists have unique perspectives and contributions, and through their work, they've introduced a level of newness and depth to the overall artistic zeitgeist."
Jung further elaborated that artists who provide counternarratives to the dominant historical record, and push the boundaries of their medium across abstract and figurative painting as well as sculpture, will continue to set the trends. She specifically noted the practices of Derek Fordjour, Tomashi Jackson, Sara Jimenez, Anina Major, Natalia Nakazawa, Angel Otero, Kevin Quiles Bonilla, Amina Ross, Tariku Shiferaw, Jean Shin, and Saya Woolfalk. Jung added that the critical scholarship of Lisa Lowe, Anna L. Tsing, and Saidiya Hartman will continue to inform artistic pulses.
She remains excited for new rediscoveries in 2023, like how ceramics has been in recent years. "Another area that is often overlooked are those artists who are self-taught, often labeled as 'outsider artists' (e.g., those whose work does not reflect an overt influence from the mainstream art world), and are bringing a new energy to the field," Jung wrote to Artsy.
Jesse Firestone
Curator, Montclair State Galleries
Montclair, New Jersey
Portrait of Jesse Firestone by Jenna Bascom Photography, LLC's Associate Photographer Nelson. Courtesy of Montclair State Galleries.
Jesse Firestone is on the lookout for more genre-breaking art in 2023. In particular, they point to outsider art practices—like using humor or making provocative works with unconventional material and subject matter—as big trends for the year. "I think performance artists who embrace failure while taking their work seriously, but aren't self-serious, will receive a lot more attention," they said. "There is a lot to learn from this type of work and I think people are hungry to see how we can work with imperfection, messiness, and unpredictability. 2023 is a year of embracing risk."
Firestone's attention to risk comes out of crypto art's tumultuous year in 2022. The incredibly rapid rise and subsequent fall of NFTs have demonstrated that, while artists will continue to innovate art with new technology, some trends might crash as fast and they rose. Firestone believes that artists will continue to learn from the market and reflect upon the failures of these experiences in their work. Because of the NFT crash, Firestone sees physical media art, or art that embraces the body, as major for 2023. This is work they actively support as a curator: "Ultimately I like being able to provide artists with the space to stretch, take risks, and succeed in those efforts," Firestone said.
Rachel Vera Steinberg
Curator, Smack Mellon
New York
Portrait of Rachel Vera Steinberg by Inna Svyatsky. Courtesy of Smack Mellon.
Rachel Vera Steinberg is excited for a greater number of artists to further deepen the mystery of art production across sculpture and computer-generated art. She is inspired by artists who push the boundaries of the medium they are working in, as well as the space in which they exhibit. She cited the work of Emily Clayton, Tomi Faison, and Charisse Pearlina Weston as key examples. Steinberg also anticipates more conceptually driven work in relation to text- and discourse-based art, like K Allado-McDowell's recent book Amor Cringe (2022), which was co-written with AI software.
Additionally, Steinberg predicts that last year's challenges around systemic injustice will usher in artists addressing class and social equity in the art world. "One of the most impactful trends from this past year was the proliferation of AI image generators," she said. "It's hard to forecast this as a direction, but it has the potential to further call into question images as receptacles of meaning."
Separately, Steinberg believes that more artworks inspired by religion will reach the fore in 2023. "I feel like we are entering a moment of reconsidering religion, inclusive of, but also beyond, its relationship to spirituality," she explained. "I see this formally in visual symbols and materiality: For example, in the way an artist like Tammy Nguyen incorporates metal leaf to reference illuminated manuscripts, but also in other modes of production that are trending, such as a heightened interest in metal work."
Zoé Whitley
Director, Chisenhale Gallery
London
Portrait of Zoé Whitley by James Gifford-Mead. Courtesy of Zoé Whitley.
Zoé Whitley is looking to painters who are embracing unconventional materials or pushing the limits of their painting practice to render something vibrantly different and new. "The artists who currently inspire me defy genre expectations," she said.
Furthermore, Whitley is looking forward to artists collaborating more with nonprofit organizations. She hopes that these partnerships, and their accompanying resources, will support ambitious art practices and culminate into long-running exhibitions that a greater number of viewers will be able to see and experience.
These later points are greatly influenced by Tricia Hersey's manifesto Rest is Resistance (2022) and Avery Gordon's Ghostly Matters: Haunting and the Sociological Imagination (1997), which both argue for a process of slowing down with media materials to allow for their presence to be felt, haunting the audience.
Ayanna Dozier
Ayanna Dozier is Artsy's Staff Writer.
Tom Sachs Reveals New McDonald's Public Art – HYPEBEAST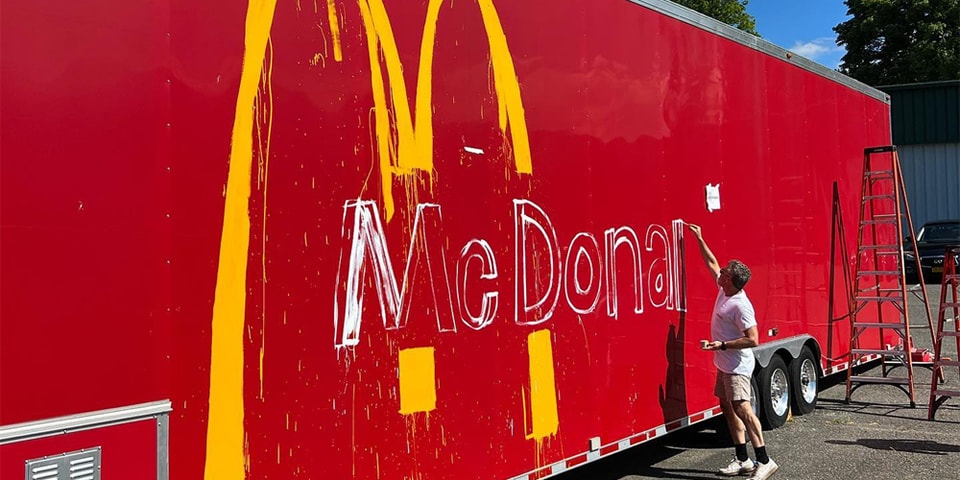 Over the weekend, contemporary visionary Tom Sachs took to Instagram to reveal a new public art piece.
Sachs is taking street art to the next level, showcasing the process of his "Enamel on Trailer" piece that he painted on the side of a red trailer in the middle of Connecticut. The post features a series of images of Sachs painting his own rendition of the McDonald's golden arches and branding. The piece includes signage on the bottom right corner of the trailer and appears to be dated in 2022. A closer look sees that Sachs finds perfection in imperfection as paint leaves streaks from the dripping.
The caption of the Instagram also showcases the dimension as well as the location of the piece — Max Power Motors in New Milford, Connecticut, and is "on display 24/7." The post also shows a Google Map zoom in on where Max Power Motors is located in the world, giving fans who might be interested or passing by, a chance to view the work.
Take a look below.
In other art news, here is an official look at Jahan Loh's Doraemon Sofubi toys.