A TV satellite is about to explode following 'irreversible' battery damage – Space.com
Following an unexplained accident, a satellite built by Boeing and operated by DirecTV is at risk of exploding in the coming weeks. To mitigate potential damage to other satellites, the U.S. government will allow the satellite TV provider to move the doomed craft to a higher orbit ahead of schedule.
The satellite, called Spaceway-1, has been orbiting some 22,000 miles (35,400 kilometers) above Earth since 2005, providing high-definition television coverage for many years before being demoted to a backup satellite. (Currently, it is not providing any coverage for customers.)
In December 2019, the craft experienced a "major anomaly" that resulted in "irreversible thermal damage" to its batteries, DirecTV officials wrote last week in a filing to the U.S. Federal Communications Commission (FCC). While Spaceway-1 has relied on its solar panels for power in recent months, the craft will soon enter its "eclipse season" — a period when the satellite hovers in Earth's shadow — and the batteries must be activated. When this season begins on Feb. 25, company representatives wrote, the damaged batteries will likely explode upon activation, destroying the satellite and putting other nearby satellites at risk.
Related: The Top 10 Greatest Explosions Ever
The satellite follows a geostationary orbit (meaning it appears to stay put over one particular part of Earth as it rotates), which is the highest orbit possible for in-use satellites. Because of the craft's high location, redirecting the craft downward — where other in-use satellites are circling — so that it may eventually burn up in the atmosphere is not a viable option. Instead, on Jan. 19, DirecTV requested that the FCC allow the company to relocate the satellite to a higher orbit known as the "graveyard orbit," roughly 185 miles (300 km) above its current path, where, hopefully, Spaceway-1 can explode in peace.
Normally, decommissioning a satellite involves releasing all of the satellite's remaining propellant — a process that can take months, depending on how much fuel is left in the tank. Spaceway-1 doesn't have months to spare; according to the FCC filing, there's only enough time to release a "nominal" amount of the satellite's remaining fuel if the craft is to be moved to that great graveyard in the sky before exploding.
The FCC approved DirecTV's request to decommission Spaceway-1 ahead of schedule and gave the company a waiver to ignore the propellant-depletion rule. According to AT&T, the parent company of DirecTV, the soon-to-explode satellite "is a backup and we do not anticipate any impacts on consumer service as we retire it."
RIP, Spaceway-1. May your broken body rust in peace in the quiet of space.
Originally published on Live Science.
NASA satellite images reveal dramatic melting in Antarctica, Report – Tdnews
NASA satellite pictures reveal the scale of "widespread melting" observed earlier this month. On February 6, weather station thermometers peaked at 18.3C (65F) degrees – about the same temperature as Los Angles, US, that day.
"I haven't seen melt ponds develop this quickly in Antarctica. You see these kinds of melt events in Alaska and Greenland, but not usually in Antarctica," said Mauri Pelto, a glaciologist at Nichols College, in a statement. Widespread surface melting was also observed by Pelto on the nearby Boydell Glacier.
Images taken by the Operational Land Imager (OLI) on Landsat 8 on February 4 and again nine days later show Eagle Island's 1.5 square kilometers (nearly 1 square mile) of snowpack saturated with meltwater (blue circles below). Climate models suggest that the area saw a peak melt of 30 millimeters (1.2 inches) on February 6. In total, Eagle Island lost 106 millimeters (4.2 inches) of ice during the warm spell.
Rapid melting is caused by sustained high temperatures significantly above freezing, an anomaly that has become more common in recent years, according to NASA. A heat map taken using the Goddard Earth Observing System (GEOS) model also clocked record temperatures above 10°C (50°F) at 2 meters (about 6.5 feet) above the ground. High temperatures seen earlier this month are caused by a combination of meteorological events, including higher bouts of pressure centered over Cape Horn that allowed warmer temperatures to build while dry, warm foehn winds likely brought with them warmer air to the continent.
This month's heatwave marks the third melt event of the Antarctic 2019-20 summer, following warm spells in November 2019 and January of this year.
"If you think about this one event in February, it isn't that significant," said Pelto. "It's more significant that these events are coming more frequently."
46000-year-old Ice Age bird has been found in Siberian permafrost – The Weather Network
Researchers are remarking at the newly discovered remains of an Ice Age bird that has been identified as a horned lark and is estimated to be 46,000-years-old.
A recently published study says that the bird was buried and frozen within the permafrost in near the village of Belaya Gora that is located in northeastern Siberia. The bird still had many of its feathers and the researchers state that it is "exceptionally well-preserved."
Experts from the Swedish Museum of Natural History tested the bird's feathers and say that there is a chance it could be an ancestor to two subspecies of lark that are alive today.
"This finding implies that the climatic changes that took place at the end of the last Ice Age led to the formation of new subspecies," said Dr. Love Dalén during an interview with CNN.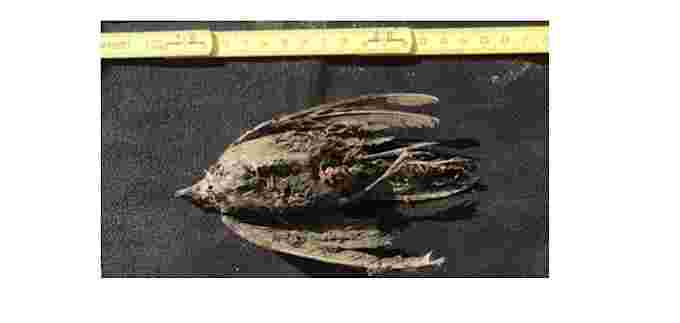 The bird carcass that was found in Siberian permafrost. Credit: Love Dalén
The study says that it is a significant finding for this body of research because it is a rare opportunity to learn more about past ecosystems and what the climatic conditions at that period of time were like. The researchers state that learning about this species habitat and their response to the changing climate will enable a better understanding of how species, populations, and communities could respond to present-day climate change.
Interestingly, the bird was found at the same site as an 18,000-year-old frozen puppy called "Dogor," which researchers are still trying to determine if the specimen is a wolf or dog. The dog was found in nearly perfect condition within the permafrost and some scientists think that this could be the oldest dog ever found.
New NASA Photos From Antarctica Reveal Shocking Levels of Ice Melt – ScienceAlert
Antarctica is supposed to be an extremely cold place. The annual mean temperature of the snow-laden continent's central area is -57 degrees Celsius (−70.6°F); even the coast averages around -10°C (14°F).
But on February 6, the weather station at Esperanza Base on the Antarctic Peninsula – the northernmost tip of the content – logged the hottest temperature ever recorded on the mainland, at 18.3°C (64.9°F).
It beat out the former record of 17.5°C, from 24 March 2015.
This latest heatwave lasted for about a week, and images of Eagle Island, taken by the Operational Land Imager on Landsat 8, have now captured a pretty depressing picture of its impact.
The tiny Eagle Island is located just off the coast of Graham Land in the Antarctic Peninsula. The record-high temperatures have resulted in a large amount of Eagle Island's ice cap melting into the sea, while areas towards the middle of the island saw melt ponds form astonishingly quickly.
"I haven't seen melt ponds develop this quickly in Antarctica," says Mauri Pelto, a glaciologist at Nichols College.
"You see these kinds of melt events in Alaska and Greenland, but not usually in Antarctica."
Pelto also notes that the source of this melt event – persistent high temperatures significantly above freezing – is not typical of Antarctic weather patterns. Nevertheless, these have become more common recently.
In total, snow pack on Eagle Island had over 10 centimetres (4 inches) of melt in the span of just a few days – between February 6 and February 11.
Air temperatures on February 9. (GEOS-5/NASA)
This isn't even the first heatwave this season, but represents the third major melt event of the 2019-2020 Southern Hemisphere summer, with both November and January also suffering from exceptionally warm weather.
"If you think about this one event in February, it isn't that significant," said Pelto.
"It's more significant that these events are coming more frequently."