Acer Spin 13: My first Chrome OS laptop – MobileSyrup
I've been a Windows user for a long time, and in 2019 for work, I started using a macOS-powered iMac. However, I've never really spent time with Chrome OS.
I primarily use Android handsets, so I figured it made sense that I finally try a Chromebook so I could have a more cohesive experience across my devices.
So when I was offered Acer's Chromebook the Spin 13, I jumped at the chance to test out the laptop.
This story is a review/guide for anyone considering buying their first Chromebook. And while reading, keep in mind that the Spin 13 I used is a premium Chromebook that costs $999.99.
The Spin style
First and foremost, the Acer Spin 13 isn't stylish, but that's not an issue across all Chromebooks. For example, Google's Pixelbook, Pixelbook Go and the Acer Chromebook Flip are great looking devices.
The laptop sports a 13.5-inch screen with a 2256 x 1504 pixel resolution. Images are clear and detailed; however, it doesn't offer the best viewing experience out there, but I didn't find this to be an issue. What I do take issue with is the thickness of the Chromebook's sizable bezels. They're unsightly and remind me of a laptop from a few years ago.
The Acer Spin 13 is also pretty big and clunky. It features a 360-degree hinge that allows users to flip the screen and use it as a tablet. Additionally, the Chromebook features a USB-A port, two USB-C ports, a micro SD port and a headphone jack. There's also a stylus hidden inside that I've barely used because I'm not an artist.
The keyboard has decent key travel and I enjoyed typing with it, which says a lot considering I spend several hours a day writing.
Thankfully, the actual experience using the laptop was better than its older appearance.
Acer's Spin 13 ran smoothly as it featured an i5-8250U processor with 8GB of RAM. I didn't experience any lag whatsoever, and everything I did with the laptop seemed to run well except for Slack's mobile app. Although, speaking to a colleague who was also using an Acer Chromebook, he didn't experience this problem with the web-based Slack app.
The Chrome experience
For anyone who never used Chrome OS, it's important to point out that I was able to get most of my work done without any issues. However, Chrome OS does have several shortcomings.
For example, you're limited to the Google Play Store, Google Chrome extensions and progressive web apps. Progressive web apps are websites that work similarly to their app version. With a progressive web app, you can create a shortcut on Chrome OS and even though it's a webpage, it'll work similarly to any other app on your device — like 'Messages for web.' You don't have access to more expansive app ecosystems available in the iOS App Store or even the Microsoft store.
I found this particularly bothersome because I use Adobe's suite of apps at work every day. I edit pictures, cut/size them and more. This is tedious with Chrome OS, and while there are ways to navigate around the issue, I prefer to use a Windows and macOS device. There are a few Lightroom apps, but these apps can't crop photos to the exact measurements I need and I'm locked to specific aspect ratios. There is a custom crop option, but it's very buggy and doesn't work well. Unfortunately, this is one of the best ways to crop images on Chrome OS using an Adobe app.
Other popular apps that you can find on Chrome OS include Spotify, Slack, YouTube, and Instagram. Additionally, apps like Messages work like a charm, allowing users to connect to their Android handset easily in the same method they would with Messages for web. The difference is that the phone connects automatically without needing to navigate to the Messages site.
It's also useful that Chrome OS can run Android apps. Some apps like Instagram are clearly just the Android variant, which becomes obvious when you expand the app to take up the entire display. That said, because it's the Android version of the app, you can actually post pictures and check your messages, unlike the web version of Instagram where you're limited to only looking at photos.
I think people who are accustomed to macOS will have no problem switching to Chrome OS. The operating systems work similarly enough that users shouldn't find the transition confusing. That said, Windows users might find it more challenging to get used to Google's desktop operating system. My mother, who has primarily used Windows PCs since Windows 95, experienced several issues when trying to use Chrome OS. It's not like she couldn't figure it out with time, but people who've grown up with Windows might need some additional time to get accustomed to the operating system.
How much should a Chromebook cost
After this experience, I can confidently say that most people would have no issue using a Chromebook once they get used to how it works. Like Windows and macOS devices, Chromebooks come in different sizes and shapes, and I think they're great for general users that like to browse the web, watch movies and YouTube videos or write in Google docs.
However, if you often have to edit photos or video, or are into gaming, you might want to reconsider getting a Chrome OS device.
And while I enjoyed using the Acer Spin 13, I don't think it's worth $999 CAD. In fact, I'm not sure any Chromebook is worth that price. While Chrome OS works well — great even — it still can't do everything a Windows or macOS device is capable of.
Anyone looking to spend that much money on a laptop would probably be better off buying a Windows or macOS computer that is able to do much more.
Asmongold calls out Blizzard after brief WoW ban: "You obviously f**ked up" – Dexerto
Asmongold was recently banned from World of Warcraft for a brief period but was quickly allowed back in the game after Blizzard overturned the initial suspension.
In a recent YouTube video, Asmongold described his banning from World of Warcraft as a "glorious day." During this video, the popular content creator began by recounting the events leading up to the moment he found out he had been banned from playing Blizzard's hit MMO.
"I go to log on to World of Warcraft and it tells me this: Blizzard account has been suspended." Jokingly, Asmon then added, "they shut me down, rightfully so." He then went on to address Blizzard directly and offer up his thanks for what he clearly believed was an error on their behalf.
"I wanna say thank you, Blizzard, this is gonna be great clickbait on YouTube. You obviously f***ed up and didn't mean to suspend me but that doesn't mean my editors aren't gonna farm this out for viewers on YouTube. Thank you, Blizzard."
He then went on to read out an email from the devs, explaining why he was banned from World of Warcraft for allegedly engaging with real money transactions (RMT). However, Asmon was quick to shut down the idea that he had done any RMT trading in the video, which appeared to be the reasoning for his banning.
Asmon then called out Blizzard for their recent string of banning players for supposedly unsubstantiated reasons or banning players and then quickly overturning the decision. He did this by reading out tweets from other content creators as well as community members who have found themselves in similar situations when playing World of Warcraft.
Following his video, the World of Warcraft community on Reddit have shown their support for the content creator as well as also voicing their disappointment at Blizzard for banning Asmongold and others and then quickly backflipping after realising it was a mistake.
For all the latest on Asmongold, check out Dexerto's full coverage here.
Samsung unveils prices for Galaxy Z Flip4 and Z Fold4 in India, details discounts and promos – GSMArena.com news – GSMArena.com
We have waited nearly a week for Samsung to unveil the prices for the new Galaxy Z foldables for the Indian market and here they are. Fans can now pre-book a Z Flip4 or Z Fold4 and score some gifts and discounts. This is a special Samsung Live promo event that starts today and ends tomorrow a midnight.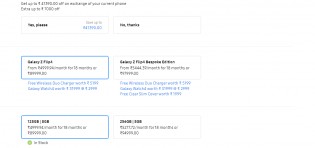 Pre-booking options for Samsung Galaxy Z Fold4 and Z Flip4
First, the prices. The table below has the breakdown by storage capacity. A couple of things to note about the Samsung Galaxy Z Flip4 – the customizable Bespoke Edition is available from Samsung Live and Samsung Exclusive Stores (and only in 256GB trim), the 512GB version is not available in the country. As for the Samsung Galaxy Z Fold4, the top 1TB model is available, but only through Samsung Live and Samsung Exclusive Stores.
Galaxy Z Fold4
256GB
512GB
1TB*
₹155,000
₹165,000
₹185,000
₹8,000 cashback or Upgrade Bonus
* 1TB variant exclusive to Samsung Live and Samsung Exclusive Stores
Galaxy Z Flip4
128GB
256GB
256GB Bespoke*
₹90,000
₹95,000
₹98,000
₹7,000 cashback or Upgrade Bonus
* Bespoke Edition exclusive to Samsung Live and Samsung Exclusive Stores
Note that these are the base prices, the two-day promo event offers some discounts. You can get ₹8,000 cashback with the pre-booking of a Z Fold4 or ₹7,000 with a Z Flip4. You will need an HDFC credit or debit card for that. Alternatively, if you are planning to trade in an old phone for credit, you will get an additional ₹8,000 or ₹7,000 towards purchasing the new foldable.
There's more – you get a free Wireless Charger Duo (normally valued at ₹5,200). The Galaxy Z Flip4 Bespoke Edition also comes with a free Slim Clear Cover (worth ₹2,000).







Some of the possible color combinations for the Galaxy Z Flip4 Bespoke Edition
For some peace of mind you ca get 1 year of Samsung Care+ at half price – ₹6,000. No Cost EMI is available for up to 24 months as well.
Finally, you can get a previous generation Galaxy watch at a hefty discount. Those who pre-book the Galaxy Z Fold4 can pick up a Galaxy Watch4 Classic (46mm, Bluetooth) for ₹3,000 (down from the MSRP of ₹35,000). If you picked the Z Flip4 instead you can grab a Watch4 Classic (42mm, Bluetooth) for ₹3,000 (down from ₹32,000).
If you prefer one of the new Galaxy Watch5 models, those are already on pre-order – here is the pricing info for them. You can pre-book one now and get a discount on the new Galaxy Buds2 Pro.
An exploration of the history of Yorkshire, the Acadians and the Mi'kmaq – Town of Sackville
An exploration of the history of Yorkshire, the Acadians and the Mi'kmaq
August 15
An exploration of the history of Yorkshire, the Acadians and the Mi'kmaq
Facilitated by Renée Belliveau, this online presentation will help us understand what impact the arrival of the Yorkshire Settlers had on the Tantramar area, both the good and the bad.
To join the presentation using the Microsoft Teams platform, type shorturl.at/kmP69 in your browser or contact m.pryde@sackville.com for the link.