All of NBA's Wednesday playoff games postponed after Bucks' Game 5 boycott – CBC.ca
All three NBA playoff games scheduled for Wednesday have been postponed, with players around the league refusing to play in their strongest statement yet against racial injustice.
Called off: games between Milwaukee and Orlando, Houston and Oklahoma City and the Los Angeles Lakers and Portland. The NBA said all three games would be rescheduled, yet did not say when.
The NBA and the NBPA today announced that in light of the Milwaukee Bucks' decision to not take the floor today for Game 5 against the Orlando Magic, today's three games – MIL-ORL, HOU-OKC and LAL-POR have been postponed. Game 5 of each series will be rescheduled.

—@NBA
The dramatic series of moves began when the Bucks — the NBA's team from Wisconsin, a state rocked in recent days by the shooting by police officers of Jacob Blake, a Black man, didn't take the floor for their playoff game against the Magic. The teams were set to begin Game 5 of their series shortly after 4 p.m., with the Bucks needing a win to advance to the second round.
Players had been discussing boycotting games in the bubble after Blake was shot by police in in Kenosha, Wis. More discussions were scheduled for Wednesday, but before that the Bucks apparently decided they would act.
Magic players and referees were on the basketball court for the game but Milwaukee never took the floor. Eventually everyone else left and the arena staff soon took the balls, towels and tags that go on player chairs back inside.
WATCH | Milwaukee Bucks boycott Game 5:
"Some things are bigger than basketball," Bucks senior vice-president Alex Lasry tweeted. "The stand taken today by the players and [the organization] shows that we're fed up. Enough is enough. Change needs to happen. I'm incredibly proud of our guys and we stand 100 per cent behind our players ready to assist and bring about real change."
There are three other playoff games scheduled Thursday. It was unclear if they would be affected. Several NBA players, including LeBron James, tweeted out messages demanding change and the Boston Celtics' official Twitter account did the same.
WATCH | Bucks, Magic players exit arena following Milwaukee's Game 5 boycott:
Demanding societal change and ending racial injustice has been a major part of the NBA's restart at Walt Disney World. The phrase "Black Lives Matter" is painted on the arena courts, players are wearing messages urging change on their jerseys and coaches are donning pins demanding racial justice as well.
"We're the ones getting killed," Los Angeles Clippers coach Doc Rivers, who is Black, said in an emotional postgame speech Tuesday night. "We're the ones getting shot. We're the ones that we're denied to live in certain communities. We've been hung. We've been shot. And all you do is keep hearing about fear. It's amazing why we keep loving this country and this country does not love us back. And it's just, it's really so sad."
The Celtics and Toronto Raptors met Tuesday to discuss boycotting Game 1 of their Eastern Conference semifinal series, which is scheduled for Thursday. Members of the National Basketball Players Association were also part of those meetings, and Miami Heat forward Andre Iguodala — a union officer — said around 2:15 p.m. that he did not believe a boycott plan had been finalized.
Bianca Andreescu to miss remainder of 2020 season – TSN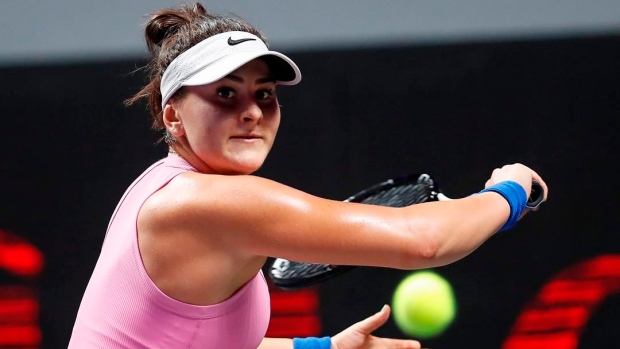 TORONTO — Bianca Andreescu says she is taking the remainder of the tennis season off to focus on her health and training.
The Canadian tennis star made the announcement Tuesday on Twitter.
The decision was expected after the 20-year-old from Mississauga, Ont., withdrew from the French Open. Outside of the last Grand Slam of 2020, there are only a handful of tournaments remaining on the WTA schedule that haven't been cancelled due to the COVID-19 pandemic.
"As hard as it was to come to this conclusion, I have so much to look forward to in 2021, including the Olympics," Andreescu said. "I want to use this time to focus my game so I can come back stronger and better than ever."
Andreescu hasn't played a competitive match since suffering a knee injury last October at the WTA Finals in China.
She also skipped the U.S. Open this month in New York, calling it a "difficult" decision. Andreescu won the 2019 U.S. Open over Serena Williams, becoming the first Canadian to win a singles Grand Slam.
Andreescu also won major events in Toronto and Indian Wells, Calif., last year as she reached No. 4 in the WTA rankings. She is currently at No. 7 despite her long period of inactivity.
The clay-court French Open, usually held in the spring, was postponed by four months due to the global pandemic.
Leylah Annie Fernandez of Laval, Que., and Eugenie Bouchard of Westmount, Que., are slated to represent Canada in women's singles at the tournament. Bouchard received a wild-card into the event.
Denis Shapovalov of Richmond Hill, Ont., Milos Raonic of Thornhill, Ont., Montreal's Felix Auger-Aliassime and Vancouver's Vasek Pospisil are Canada's players on the men's side.
The main draw begins Sunday.
NFL hands more than $1 million US in fines against 3 teams, coaches who didn't wear masks during games – CBC.ca
NFL coaches thumbed their collective, and exposed, noses at the NFL's mask mandate in Week 2.
The league responded with hefty fines of $100,000 US per coach and $250,000 per club. The first three to get fined were Denver's Vic Fangio, San Francisco's Kyle Shanahan and Seattle's Pete Carroll, according to a person with knowledge of the punishment who spoke to The Associated Press on condition of anonymity because the coaches were not identified.
The punishment was meted out a week after the NFL reminded team personnel on the sidelines about the rules for wearing face coverings during the coronavirus pandemic, lest they put the fledgling season at risk.
More coaches and clubs can expect similar punishments as the memo last week from Troy Vincent, who oversees the league's football operations, was largely ignored throughout the weekend.
Among other offenders: Patriots coach Bill Belichick and his offensive co-ordinator Josh McDaniels, Chiefs defensive co-ordinator Steve Spagnuolo, Colts coach Frank Reich and Rams coach Sean McVay.
Capping a weekend of deliberate defiance and/or desultory disobedience, Raiders coach Jon Gruden, who said last week he felt Vincent's memo was directed at him, and Saints coach Sean Payton were shown on a split screen Monday night, both of them breaking the rules.
Gruden wore his mask like a chin strap, and Payton sported his gaiter like a turtleneck.
Players exempt from face covering rules
Following the Raiders' 34-24 win over the Saints, Gruden revealed he'd had COVID-19 and apologized for violating the rules.
"I'm doing my best," Gruden said. "I've had the virus. I'm doing my best. I'm very sensitive about it. I'm calling the plays. I apologize. If I get fined, I will have to pay the fine."
The scenes were similar Sunday with head coaches and assistants apparently finding it too hard to keep their faces covered as required under the league's COVID-19 protocols with either a mask, gaiter or face shield. Players, who, like the coaches, are subject to daily COVID-19 tests, are exempt from the face covering requirements.
Some coaches such as Belichick, McDaniels and Steelers coach Mike Tomlin wore their masks or gaiters over their mouths but not noses. Others such as Carroll, Spagnuolo and Fangio wore their face coverings around their chins or necks, exposing both their mouths and noses.
In his strongly worded memo, Vincent said teams "must remain vigilant and disciplined in following the processes and protocols put in place by not only the league, union and clubs, but also by state and local governments."
Vincent added: "Becoming careless or ignoring face covering and physical distancing requirements will put the 2020 season at risk."
The rules don't apply to players, but all other individuals with bench area access, including coaches and members of the club medical staff, are required to wear face coverings at all times.
Failure to do so, Vincent warned in his memo, "will result in accountability measures being imposed against offending individuals and/or clubs. The face covering must be worn as designed so that it securely fits across the wearer's nose and mouth to prevent the transmission of the virus."
Hamlin, Michael Jordan partner on NASCAR team for Bubba Wallace – Sportsnet.ca
CHARLOTTE, N.C. — Denny Hamlin has joined Charlotte Hornets owner Michael Jordan to form a NASCAR team with Bubba Wallace as the driver, a high-profile pairing of a Black majority team owner and the only Black driver at NASCAR's top level.
The partnership was announced Monday night in co-ordinated social media posts by Jordan and Hamlin, with Wallace adding his own comment. The posts showed a picture of Jordan alongside a firesuit-clad Hamlin in a motorhome at a race track.
"Historically, NASCAR has struggled with diversity and there have been few Black owners," Jordan said in his statement. "The timing seemed perfect as NASCAR is evolving and embracing social change more and more."
Jordan becomes the first Black principal owner of a full-time Cup team since Hall of Famer Wendell Scott drove his own race car in 495 races from 1961 to 1973. Scott's 1964 victory at the Jacksonville 200 is the only win by a Black driver in Cup history.
The NBA great, who earlier this year pledged $100 million over 10 years for initiatives combating systemic racism, said the move into NASCAR is another step toward racial equality.
"I see this as a chance to educate a new audience and open more opportunities for Black people in racing," Jordan said.
Jordan joins former NBA player Brad Daugherty, a partner at JTG Daugherty Racing, as the only Black owners at NASCAR's elite Cup level.
"Michael and Bubba can be a powerful voice together, not only in our sport, but also well beyond it," Hamlin said.
Hamlin, a three-time Daytona 500 winner and a top contender for this year's Cup title, will be the minority owner of a single-car Toyota entry aligned with Joe Gibbs Racing. Hamlin has raced his entire career for Gibbs, a Hall of Fame NFL coach.
"Eleven years ago I met Michael Jordan at a then-Charlotte Bobcats game and we became fast friends," Hamlin wrote. "Not long after, I joined Jordan Brand as their first NASCAR athlete. Our friendship has grown over the years and now we are ready to take it to the next level.
"Deciding on the driver was easy — it had to be Bubba Wallace."
Wallace is the only Black driver in the Cup Series and this season used his platform to push for racial equality. The 27-year-old successfully urged NASCAR to ban the display of the Confederate flag at its events.
Wallace is winless in 105 Cup starts over four seasons, but he has six career victories in the Truck Series. He's been handcuffed by mid-level equipment driving the No. 43 for Hall of Famer Richard Petty and, until this summer, the team struggled to land sponsorship.
"Bubba has shown tremendous improvement since joining the Cup Series and we believe he's ready to take his career to a higher level," Hamlin said. "He deserves the opportunity to compete for race wins and our team will make sure he has the resources to do just that.
"Off the track, Bubba has been a loud voice for change in our sport and our country. MJ and I support him fully in those efforts and stand beside him."
There's been speculation for months that Hamlin was organizing some sort of ownership group as he expects NASCAR's business model to become more favourable for team owners when the "Next Gen" car is released in 2022. NASCAR rules prohibit a current driver from owning a team and driving for another, but Hamlin works around the policy with Jordan as the principal owner.
"Starting a race team has been something that Michael and I have talked about while playing golf together over the years, but the timing or circumstances were never really right," Hamlin said. "It just makes sense now to lay the foundation for my racing career after I'm done driving and also help an up-and-coming driver like Bubba take his career to a higher level."
Jordan became a partial owner of the Bobcats in 2006 and bought the team outright in 2010, restoring the franchise to its original Hornets name. Hamlin has been a longtime season-ticket holder with courtside seats along the visitors' bench.
Jordan dabbled in racing before with Michael Jordan Motorsports. He owned an AMA Superbike team and had one win in 10 years. Jordan has twice travelled to the NASCAR season finale to watch Hamlin race for the championship. Hamlin, who's 39, is still seeking his first title.
"Growing up in North Carolina, my parents would take my brothers, sisters and me to races, and I've been a NASCAR fan my whole life," Jordan said. "The opportunity to own my own race team in partnership with my friend, Denny Hamlin, and to have Bubba Wallace driving for us, is very exciting for me."
Wallace, who has cobbled together about $18 million in sponsorship deals since he made social equality his platform, already said he'd leave Richard Petty Motorsports at the end of the season.
"This is a unique, once-in-a-lifetime opportunity that I believe is a great fit for me at this point in my career," Wallace wrote. "I am grateful and humbled that they believe in me and I'm super pumped to begin this adventure with them."
Jordan and Hamlin purchased a charter for their team from Germain Racing that guarantees Wallace a spot in the 40-car field every week.