Apple iPhone 12 Pro Max battery life: all good except for this one thing – PhoneArena
There are two big reasons why you might want the iPhone 12 Pro Max over the other new iPhones: the bigger display and the bigger battery.
And indeed, the iPhone 12 Pro Max is equipped with a 3,687 mAh battery cell inside, the biggest of all new iPhones. In fact, here is how the iPhone 12 Max battery size compares to the size of batteries on the other iPhones in the family:
iPhone 12 Mini battery capacity: 2227 mAh
iPhone 12 / 12 Pro battery capacity: 2815 mAh
iPhone 12 Pro Max battery capacity: 3687 mAh
Such a huge battery (for iPhone standards) should result in excellent real-world battery life results, but there is no way to know this without testing. And testing we did! We ran a bunch of in-depth battery tests so you understand exactly what you can expect of the Pro Max and its bigger battery.
iPhone 12 Pro Max: YouTube Video Streaming Battery Test
Watching videos on YouTube is a favorite pastime for many, and YouTube can easily replace TV for some people, so this test is a very good indication about the battery life you can expect out of the new iPhone 12 Pro Max in real life.
So how long does it last? The 12 Pro Max scored 8 hours and 37 minutes on our YouTube video streaming battery test, just a bit less than last year's
iPhone 11 Pro
Max, which scored 8 hours and 58 minutes on the very same test. And that really is no surprise, after all, the new 12 Pro Max happens to have a smaller battery cell than its predecessor.
iPhones are traditionally not very good performers on this test, but recently some Android phones have lost ground. For example, the Note 20 Ultra did surprisingly poorly on this test, scoring just 7 hours, less than the iPhone 12 Pro Max. The earlier S20 Ultra model, however, had the iPhone beat with a score of 10 hours and 29 minutes. Don't forget that you can also add your favorite phone to this chart and see how it performed on this test, chances are high that we have tested it!
iPhone 12 Pro Max: Web Browsing Battery Test
Despite the smaller-sized battery compared to last year's iPhone 11 Pro Max, the new 12 Pro Max managed to outlast it by a small, but not insignificant margin. The new 12 Pro Max lasted an impressive 14 hours and 6 minutes on our web browsing test. This test is the lightest one that we run and it's a good representation of how your phone will hold up for just basic everyday tasks like browsing the web and scrolling around.
Interestingly, despite many Android phones having much larger batteries (the S20 Ultra features a 5,000mAh cell), the iPhone 12 Pro Max is well optimized for this kind of use and it actually lasts longer than all of those. So if you read a lot on the web and do mostly lighter workloads, the 12 Pro Max will easily impress you with its longevity.
iPhone 12 Pro Max: 3D Gaming Battery Test
If you've read our iPhone 12 and iPhone 12 Pro battery test, as well as our iPhone 12 Mini battery test, you already know that the lastest iPhones fail our 3D gaming battery benchmark spectacularly, so it won't be a surprise for you to know that the iPhone 12 Pro Max did just as poorly as the rest of the phones. The phone started to heat up unlike any other phone we have tested and the battery was melting as fast as pistachio ice cream in the summer heat. Yes, the Pro Max lasts a big longer than the other three new iPhones simply because it has a larger battery, but its score is abnormally low.
Naturally, we had to investigate! We reached out to our superhero cape and gaming gear, it was gametime! We started playing various games and we noticed the same issue replicate in some games. For example, Minecraft was melting the battery, while other games seemed unaffected by it. The popular Call of Duty Mobile ran just fine without the phone heating up and with a battery drain to the tune of about 15% an hour. That is much more reasonable, and would give the iPhone 12 Pro Max a 3D gaming battery life of more than 6 hours.
So, investigation complete: it seems that certain games are not optimized for the all-powerful new Apple A14 chip inside and run wild and free, not putting any caps on the chip and it drains the battery incredibly quickly. Fortunately, this doesn't affect all games.
Final words
If you are not a gamer, chances are that you will be impressed with the battery life on the 12 Pro Max. And if you are, you will still be fine unless you stumble upon one of those problematic games that drain the battery abnormally.
What are your impressions with the iPhone 12 Pro Max? How long does its battery last you?
Samsung begins rollout of Android 11 and One UI 3 on Galaxy S20 series in US – ZDNet
If you use one of Samsung's Galaxy S20 phones, be it the
S20, S20 Plus or S20 Ultra,

then today is a good day for you. Samsung announced on Thursday that it's officially starting the rollout of
Android 11

, which includes the company's One UI 3 interface, for those three phone models in the US.
The update includes Samsung's own improvements, such as a more minimal interface and new widgets for the home and lock screens. The new widgets add controls for things like music directly to the screen.
The camera app has also seen its share of improvements, with autofocus and auto-exposure leading the way.
Also called out by Samsung is an update to the share sheet, which you use to select an app where you want to share documents, links or photos. You can now customize the share sheet, tailoring it to your preferred apps and contacts.
Samsung is also launching Samsung Free, an app where you'll find news, games and Samsung TV Plus content on your device. This takes the place of Samsung Daily, a similar app, that can be found by swiping to the right on your home screen.
I almost always disable Samsung Daily the moment I set up a Galaxy phone, so I'm not sure renaming the feed and adding some of its own subscription services to it will entice me to leave it on, but I'm willing to give it a try.
There's no exact word on when the update will start showing up on devices. Typically carriers will release the update in waves, with unlocked devices randomly getting the update during that time.
As for other Samsung devices, the company has said that the Note 20, ZFold 2, Z Flip, Note 10, Fold and S10 series will all get the update in the "coming weeks." Based on previous release schedules, that timing can and will easily slip into months.
If you see the update on your Galaxy phone, be it an S20 or another device, leave a comment and let us know which device and carrier you have.
Alleged Xiaomi Mi 11 and Mi 11 Pro specifications surface on Weibo – Notebookcheck.net
Some Xiaomi Mi 11 and Mi 11 Pro specifications have shown up online. Both phones are tipped to come with a 1440p screen that refreshes at 120Hz. The Mi 11 Pro will allegedly support fast charging at 120W. Xiaomi is expected to unveil the Mi 11 series by the end of December 2020.
With the Xiaomi Mi 11 series' launch date drawing closer, the internet is abuzz with speculations about the phone's specifications. Xiaomi and Qualcomm have already confirmed that it will run the Snapdragon 888, so we know that for sure. However, there seems to be a lot of buzz around the Xiaomi Mi 11 series' camera and battery prowess. A table showcasing the alleged specifications of the Xiaomi Mi 11 and Mi 11 Pro's side-by-side has now surfaced on Weibo. It shouldn't be long before we know if this information is correct. Ice Universe suggests that Xiaomi plans on launching the Mi 11 series at the end of December.
It is unclear as to how many cameras both smartphones will come in total. The base Xiaomi Mi 11 is billed to ship with a 108MP Samsung ISOCELL HM3 sensor assisted by a 13MP ultra-wide-angle lens. Things begin to get murky here, as the machine translation fails to tell us the telephoto lens' megapixel count. It may also come with a hole-punch 20MP selfie camera. There appears to be a macro lens thrown in the mix, too. More details about it should emerge as time passes. The Xiaomi Mi 11 will reportedly ship with a 4,700mAh battery that can be charged at 50W via a cable, and at 30W wirelessly. Prices are expected to start at RMB 3,999 (US$610) for the base variant with 8GB of LPDDR5 RAM and 128GB of USF 3.1 storage. Other Xiaomi Mi 11 features include an under-display fingerprint scanner, NFC, and a 1440p screen with a refresh rate of 120Hz.
Moving on to the better-specced Xiaomi Mi 11 Pro (or Mi 11 Ultra according to some sources), we get what appears to be a 50MP primary sensor. However, an earlier report told us that the 50MP image is a result of 4:1 pixel billing, so we're likely looking at a 200MP sensor. It will be assisted by a 48MP ultra-wide-angle lens and a 48MP telephoto lens. Xiaomi could very well follow Huawei's path and throw in a second telephoto lens for good measure. Even the Galaxy S21 Ultra is billed to feature a similar setup, giving Xiaomi additional incentive to follow suit. Things get even more impressive when we look at the Xiaomi Mi 11 Pro's battery specifications. It will allegedly support fast charging at 120W over a cable and 80W wirelessly. Xiaomi has been working on its 100W fast charging tech for quite some time now, and it's good to see it make its way in a flagship smartphone. The Xiaomi Mi 11 Pro is expected to cost RMB 5,299 (US$807) for the same memory and storage configuration as the non-Pro variant. Information about the exact screen size is scant, but it stands to reason that the smartphone will come with a 1440p 120Hz AMOLED screen.
Xiaomi Mi 11, Mi 11 Pro specifications and images leaked – gizmochina
Xiaomi is expected to launch the Xiaomi Mi 11 series later this month. The lineup reportedly includes two handsets named the Mi 11 and Mi 11 Pro. Fresh leaks have surfaced on Weibo to reveal the specs of the two phones. Also, a couple of images have also surface to showcase the rear camera design of the Mi 11 duo. Before reading ahead, readers are advised to digest this report with a grain of salt since these leaks are not from regular leakers.
Xiaomi Mi 11 and Mi 11 Pro specifications (Unconfirmed)
The leak reveals that the Mi 11 and Mi 11 Pro will be equipped with S-AMOLED panels that offer a 120Hz refresh rate and quad HD+ resolution. The exact screen size is not mentioned in the leak. Both phones are said to be equipped with 20-megapixel front-facing cameras.
The Mi 11 could be backed by a battery of around 4,780mAh capacity and it may come with support for 50W wired charging and 30W wireless charging. The Mi 11 Pro could be coming with a smaller battery of around 4,500mAh capacity. It may support 120W wired charging and 80W wireless charging.
The leak states that Mi 11 may feature a 108-megapixel + 13-megapixel (ultrawide) + 5-megapixel (macro) triple camera setup. The Mi 11 Pro could be equipped with a 48-megapixel (OmniVision OV48C) + 20-megapixel (ultrawide) + 12-megapixel (telephoto with 2x optical zoom) triple camera setup.
The Snapdragon 888 will fuel the device with LPPDR5 RAM and UFS 3.1 storage. For security, these phones have an under-display fingerprint scanner and 2D face unlock. The other features that are available on Mi 11 duo include dual speakers, x-axis linear motor, IR blaster, and NFC. The leak states that the Mi 11 with 8 GB RAM + 128 GB storage may cost 3,999 Yuan (~$610) to 4,499 Yuan (~$686). The Pro model with the same RAM and storage may cost 5,299 Yuan (~$808) to 5,499 Yuan (~$838).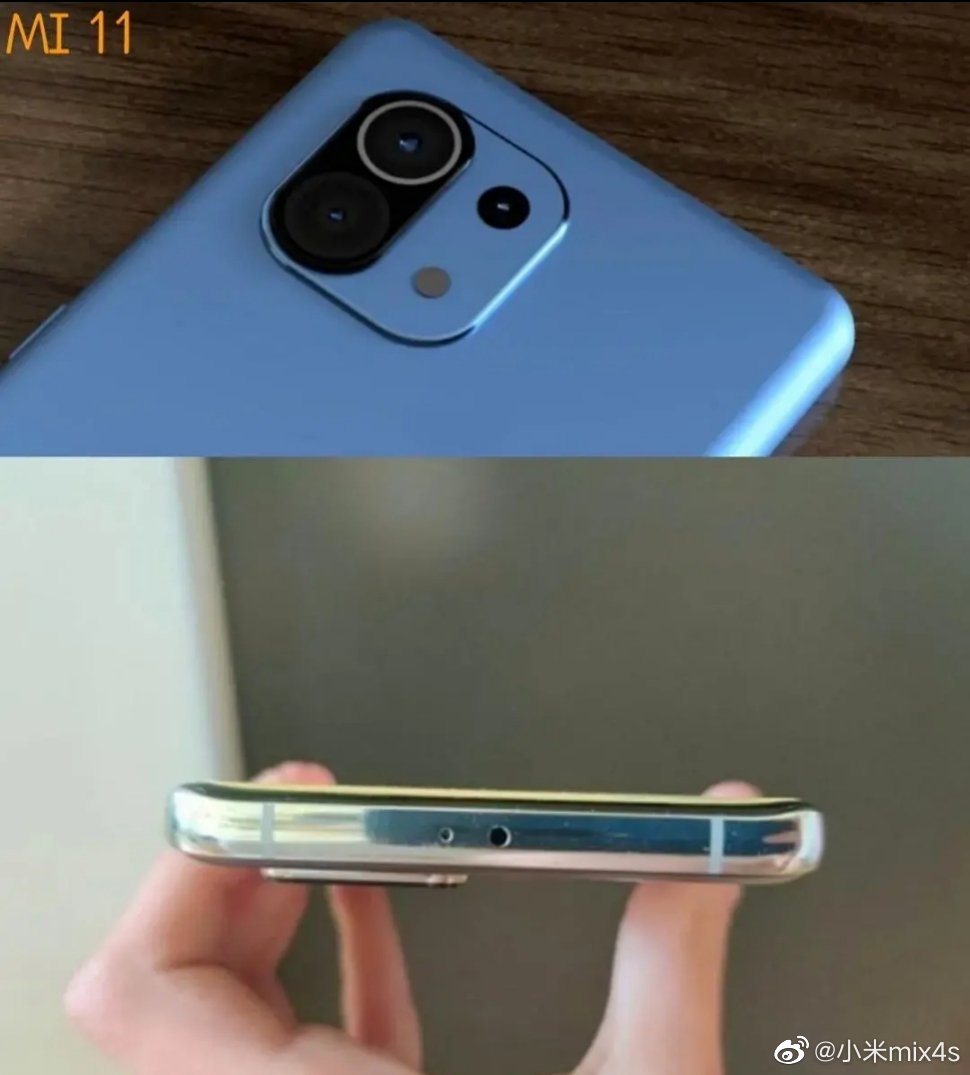 Tipster Digital Chat Station hinted today that the Mi 11 series will have a horizontal camera array. Shown above are some images that reveal that the Mi 11 duo will have a square-shaped camera module.
ALWAYS BE THE FIRST TO KNOW – FOLLOW US!