Apple Says Nearly 100 Stores Globally Have Reopened Their Doors – BNNBloomberg.ca
(Bloomberg) — Apple said nearly 100 of its stores globally have been able to open their doors to customers again.
The company said it is "focused on limiting occupancy and giving everybody lots of room," with a renewed focus on one-on-one service throughout the store.
Face coverings will be required for all employees and customers, and Apple will provide them to customers who don't bring their own.
For many stores, Apple said serving customers' needs even more effectively will mean curb‑side pick‑up and drop off.
©2020 Bloomberg L.P.
Live photos show Oppo Reno4 5G and Reno4 Pro 5G already in stores – GSMArena.com news – GSMArena.com
Coming this Friday, the Oppo Reno4 5G and Reno4 Pro 5G will bring some camera updates, faster charging and (of course) 5G connectivity. Or bring back rather, the Oppo Reno3 Pro 5G came out in December of last year followed by the Oppo Reno3 Pro (with 4G) this March.
Newly surfaced live photos of the Reno4 duo shows that the phones are already stocked in stores in China and are just waiting for the official announcement. The family resemblance is quite clear with the triple camera on the back.
However, this generation will use a curved screen on both models, previously this was reserved to the Reno3 Pro 5G. Like it, the Reno4 Pro 5G will have a 90Hz screen and will be powered by a Snapdragon 765G. Unlike it, there's a dual selfie camera punch hole on the front.
In fact, that's the easiest way to tell the Reno4 5G apart from its Pro sibling – the vanilla model has a single front camera. This time it will use the same chipset as the Pro, the aforementioned Snapdragon 765G.
A Geekbench result from the PDNM00 (one of the Pro versions) shows 12GB of RAM, though info from TENAA suggests that this would be the top spec, the base will be 8GB. Interestingly, however, the vanilla model will also be available in 8GB and 12GB configurations.
What makes the Pro the better-equipped model will be that 90Hz AMOLED screen, OIS on the 48MP camera, a 12MP module dedicated to low-light shooting and a 13MP telephoto camera. The Oppo Reno4 will also have an AMOLED screen (but at 60Hz and with a slightly smaller diagonal), a 48MP camera (no OIS), 13MP ultra wide and 2MP depth sensor. Both phones will support 65W fast charging.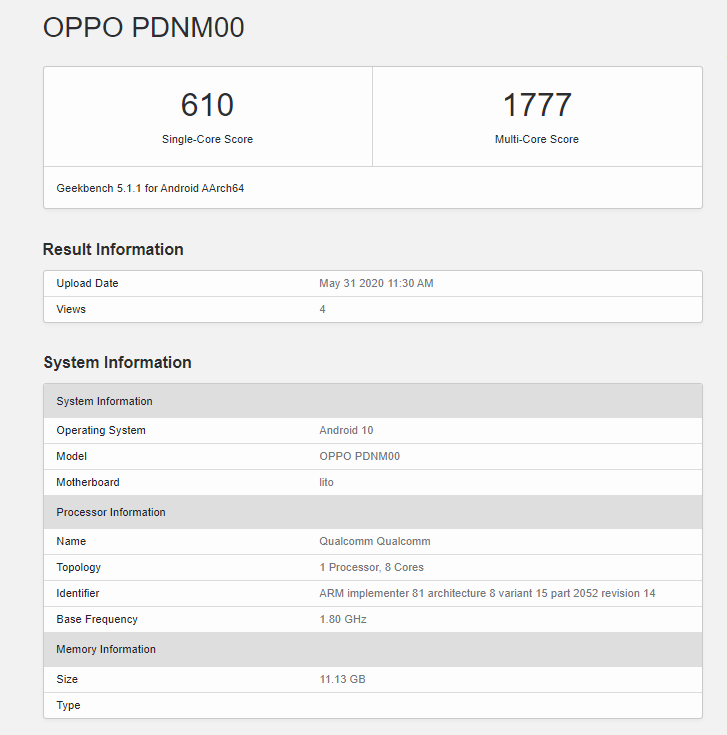 As we've seen in previous live photos and official teasers, the Reno4 and Reno4 Pro will have a different selection of colors too with the vanilla version being the more colorful one (and, thankfully, the large "Reno Glow" label will not be printed on the phone, at least not on all versions).
Source 1 (in Chinese) | Via 1 | Source 2 | Via 2
Sony says PS5 will focus on 'best possible value,' not necessarily 'lowest price' – MobileSyrup
One of the biggest uncertainties currently surrounding the PlayStation 5 is in regards to how much the next-gen console will actually cost.
While a price still has yet to be confirmed, comments made by Sony Interactive Entertainment president and CEO Jim Ryan during a recent interview with GamesIndustry.biz might help set some expectations.
According to Ryan, it's most important to Sony that the PS5 offers the "best possible value proposition," which "[doesn't] necessarily mean lowest price." This suggests that Microsoft's next-gen console, the Xbox Series X, may cost less than the PS5. However, Microsoft hasn't yet specified a price for the Series X, either, so this is still remains to be seen.
"Value is a combination of many things," said Ryan in regards to the PS5. "In our area it means games, it means number of games, depth of games, breadth of games, quality of games, price of games… all of these things and how they avail themselves of the feature set of the platform."
Ryan didn't elaborate on any of this, although he did address speculation that the COVID-19 pandemic could disrupt PlayStation's plans for the console this year.
"We, and our partners, seem to be coping really well," Ryan told GameIndustry.biz. "And so we are on track. We are going to launch this holiday and we're going to launch globally." In a separate BBC interview, Ryan also confirmed that the COVID-19 pandemic has not changed Sony's pricing plans for the PS5.
To that point, Ryan noted in the GamesIndustry.biz interview that "recent history has told us that gaming is one of the pastimes, and one of the businesses, that benefits in economically difficult times." That said, he conceded that "the historic templates, the historic models, that have applied in the past may not apply in the future," given the ever-changing global health crisis.
For now, Sony plans to hold a major digital event on June 4th to unveil a suite of PlayStation 5 games. It's unclear whether pricing or even the look of the console will be revealed during this event. However, Sony did mention that it will be the first in a series of PS5 updates over the coming weeks.
Source: GamesIndustry.biz, BBC
Buffett-backed BYD to supply EV batteries to Ford – Reuters
FILE PHOTO: Men clean a BYD electric vehicle (EV) e2 displayed during the media day for Shanghai auto show in Shanghai, China April 17, 2019. REUTERS/Aly Song/File Photo
BEIJING (Reuters) – Chinese electric vehicle (EV) maker BYD Co Ltd (002594.SZ), (1211.HK) will supply EV batteries to U.S. automaker Ford Motor Co (F.N), a document on the website of the Ministry of Industry and Information Technology showed on Monday.
Ford's China venture with Changan Automobile (000625.SZ) is seeking government approval to build a plug-in hybrid model equipped with BYD's batteries, according to the document.
This marks BYD's first-known battery supply deal with a major global automaker.
Shenzhen-based BYD, which is backed by U.S. investor Warren Buffett, said it would supply EV components including batteries and power management devices.
The Dearborn, Michigan-based automaker said last year it planned to launch more than 30 new or significantly redesigned models in China by the end of 2021, of which over a third will be electric vehicles.
Ford and BYD did not immediately respond to requests for comment.
Reporting by Yilei Sun and Brenda Goh, editing by Louise Heavens