Apple's MagSafe charger and silicone cases
Apple's MagSafe accessories have started to show up at customers' doorsteps. We take a look at a few first-party cases, as well as Apple's MagSafe charger, to see how they work.
A few readers had questions after AppleInsider posted its in-depth look on MagSafe last week. Here, we have an opportunity to answer those queries with a hands-on of Apple's own accessories.
As Apple just introduced the standard, the iPhone maker is one of the only manufacturers to currently have MagSafe products on the market. OtterBox has released a few cases, but it won't be long before countless others flood the market.
Ahead of the full launch of iPhone 12 — including November's iPhone 12 mini and iPhone 12 Pro Max debuts — we got our hands on Apple's MagSafe charger and several MagSafe-compatible silicone cases. Apple is still readying a leather sleeve, leather cases, and wallets. The wallets, big enough to house credit cards, are on sale now though they don't ship until November or December.
MagSafe charger
MagSafe for iPhone is what one would expect from a magnetic wireless charger. At first blush it looks like a scaled up version of the Apple Watch charging puck, at least the stainless steel version that comes with the higher-end models. The back of the charger sports a nice matte finish that resists fingerprints. Instead of hard plastic, the white center portion — the part that touches your phone — is soft and feels very similar to Apple's silicone cases.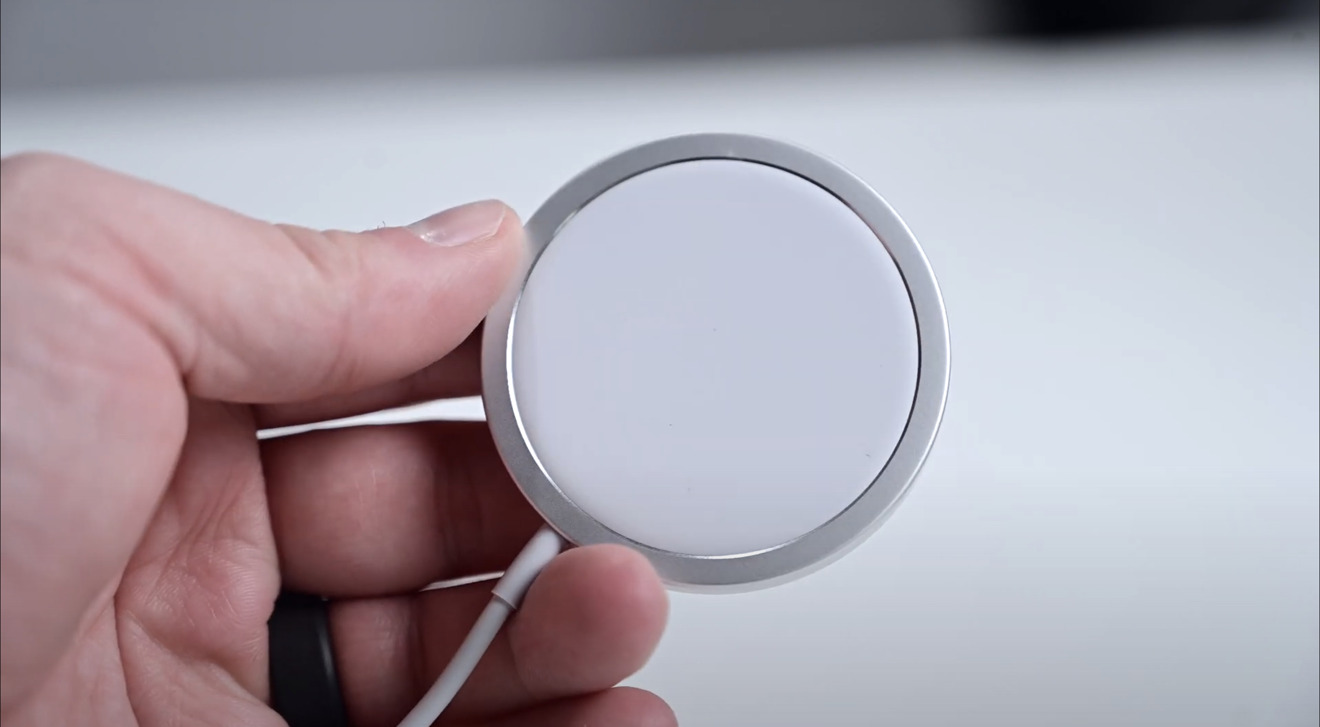 Apple MagSafe charger
A roughly three-foot USB-C cable is permanently affixed to the charging puck and should anything go bad with the cable the whole thing is bound for a landfill. If you didn't assume by the slim packaging, no power adapter is included.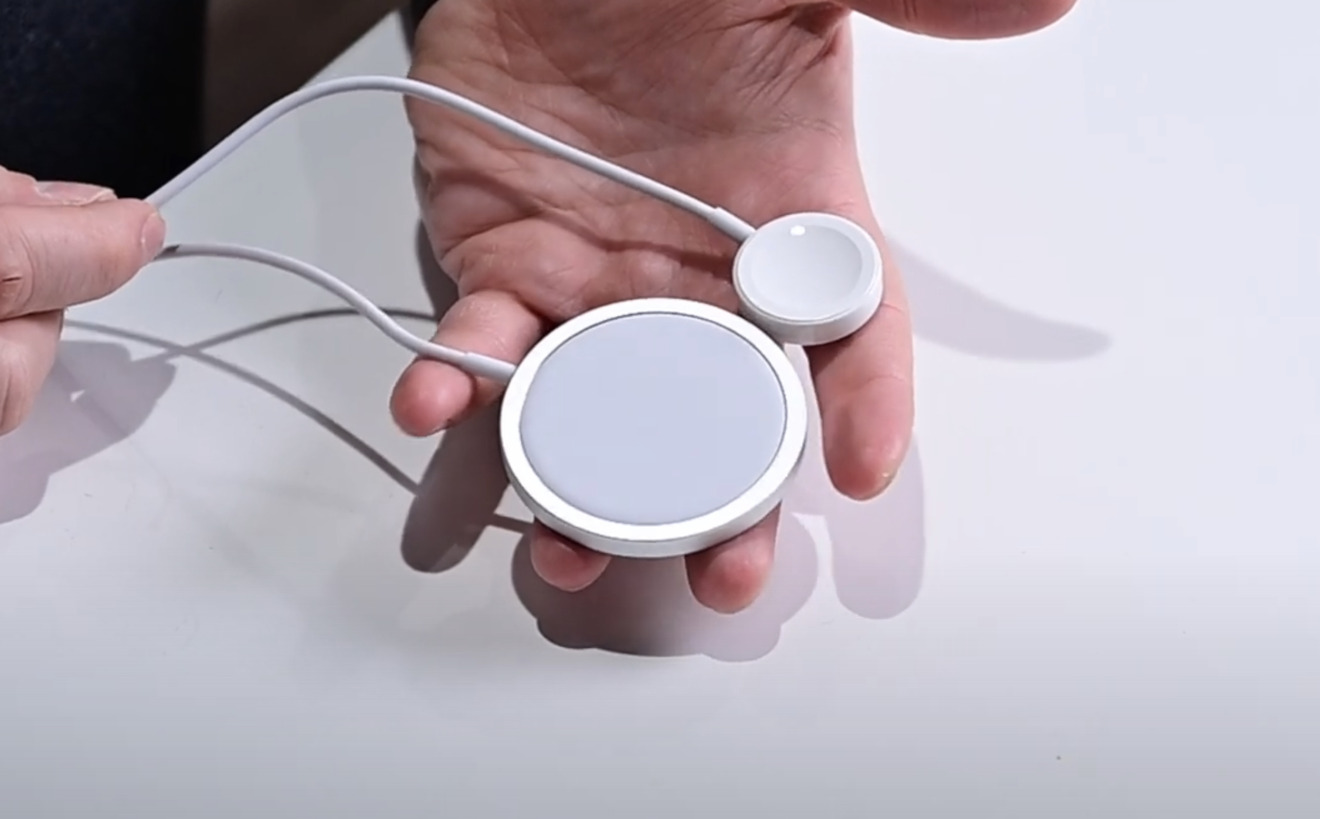 Apple MagSafe Charger versus Apple Watch charging puck
Apple says you need at least a 20W USB-C power brick for its MagSafe charger if you want the maximum 15W of wireless power. Apple does offer its own, but we prefer a few third-party choices like the Anker PowerPort Nano III.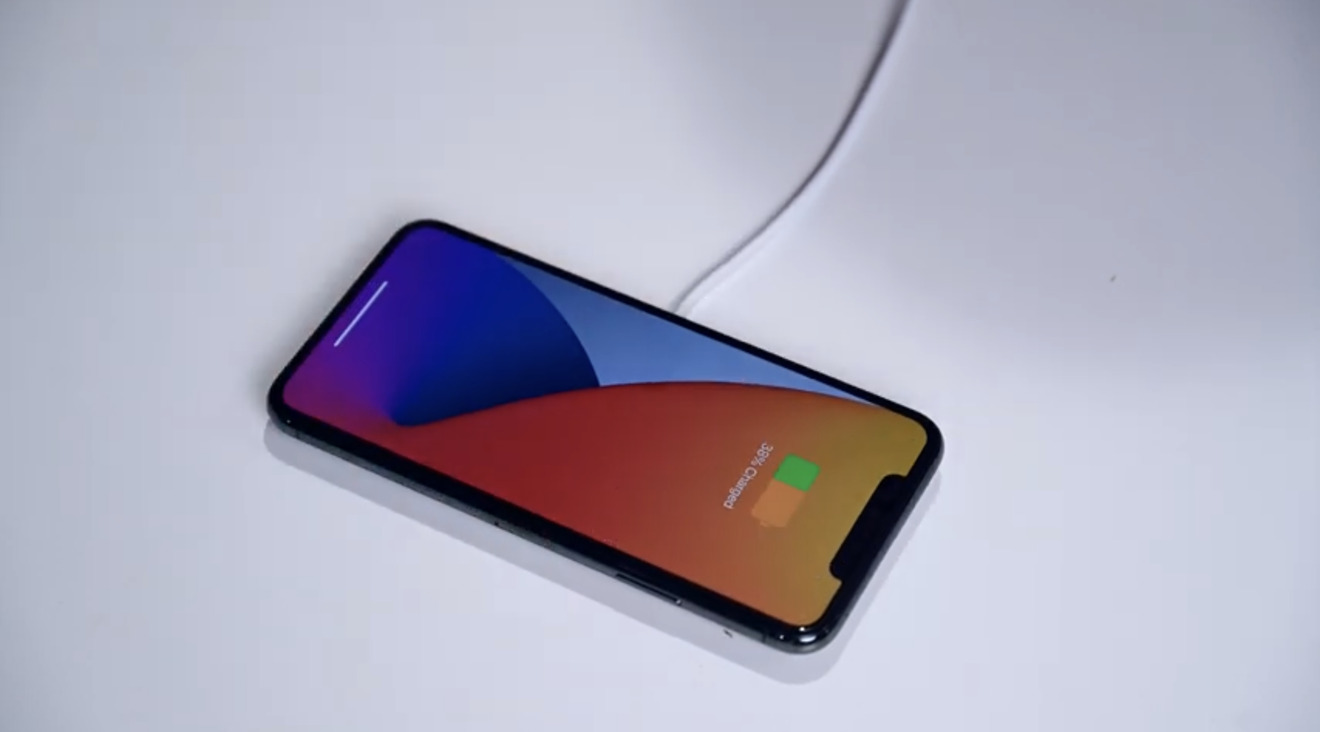 Charging iPhone 11 Pro with MagSafe charger
MagSafe is compatible with the Qi standard, which means that the iPhone 12 be juiced up by Qi chargers, while the MagSafe puck can charge Qi-enabled devices. We tested this ourselves with our AirPods Pro and our iPhone 11 Pro Max — both of which worked without issue. It even charged our Samsung devices we had in the studio.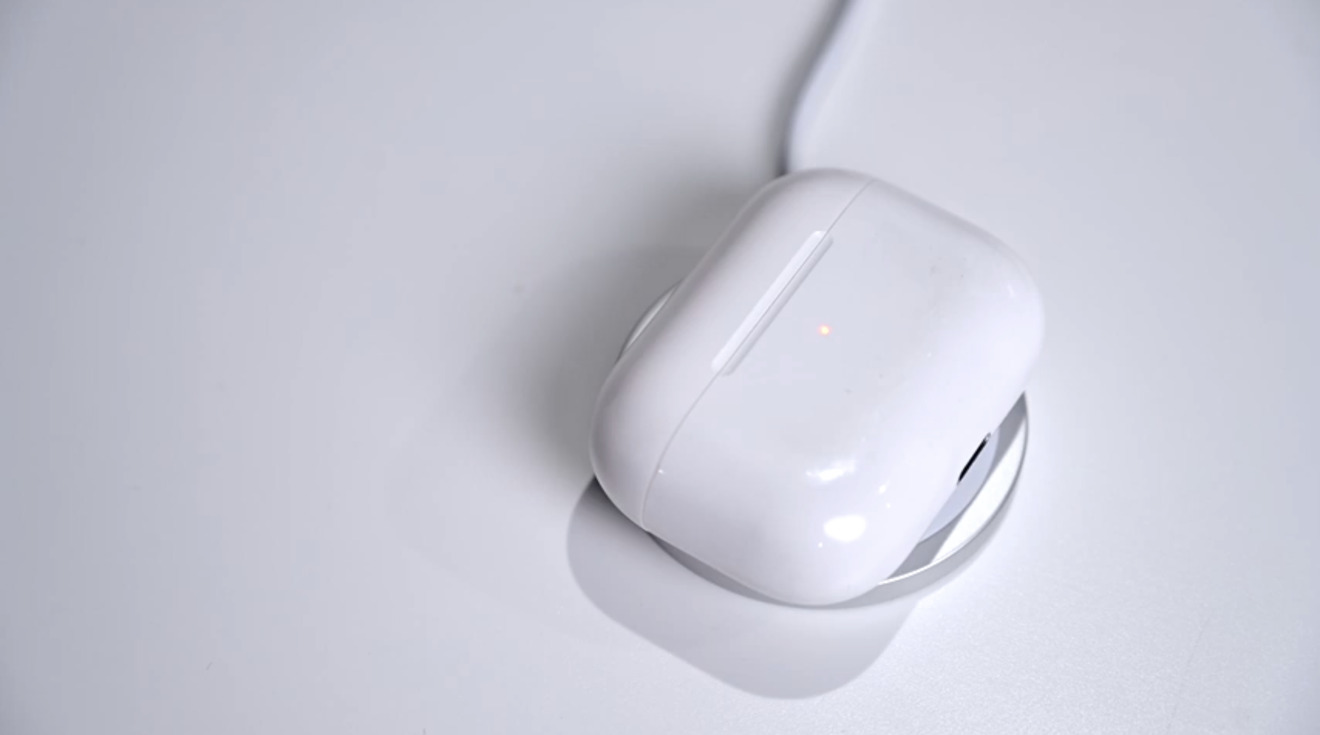 Charging AirPods Pro with MagSafe charger
When connected to a Qi phone like our iPhone 11 Pro Max, there is a slight magnetic attraction which does a decent job of keeping the puck in place. It helps align our phone better than normal Qi wireless chargers. We can even sit and use our iPhone while it charges and the puck doesn't come free. That said, it isn't a very strong attraction and easily falls off with quick motions. It wasn't designed to be useful for these phones, but rather the iPhone 12. This is just a nice benefit.
Unfortunately, it does not charge our Apple Watch. Apple Watch still uses a proprietary charging method that is based around Qi, but is not compatible.
Apple silicone MagSafe-enabled cases
The second MagSafe accessory Apple released is an upgraded version of its silicone cases. They have the same feel as before, and the same physical makeup, just a new shape. Unlike OtterBox, which simply glued a MagSafe-compatible insert into their cases and called it a day, Apple sandwiches the magnets in between the case's back panel and microfiber lining.
To designate the MagSafe location, the inside of the case has a plastic indicator that looks like a sticker. Do not try to peel it off…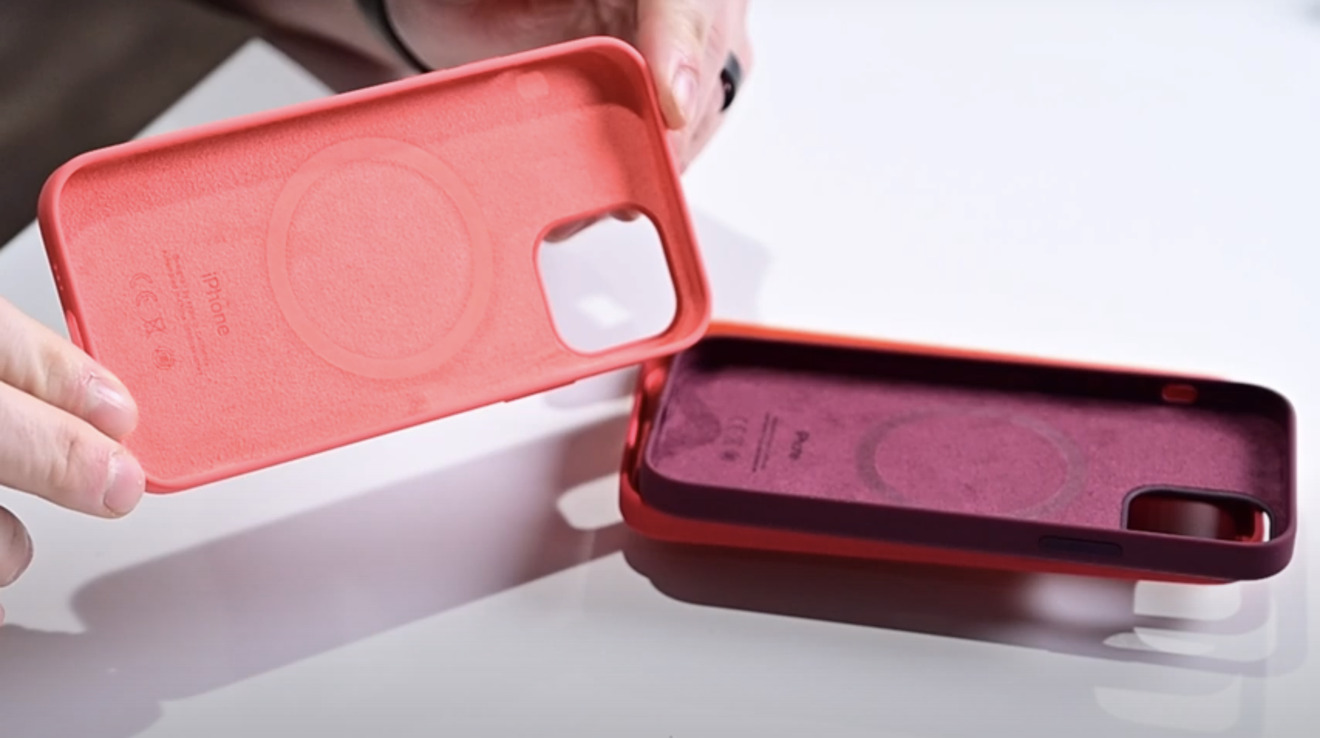 The inside of Apple's silicone cases
Aside from the ring in the center, there is an additional magnet array at in the six o'clock position which is used for alignment. The MagSafe charger doesn't utilize this piece, but it is necessary for accessories like wallets that need to be correctly orientated on the handset to function.
Since we don't have our iPhone 12 yet, we can't test charging the phone. We can, however, test connecting the MagSafe puck to our case. One of the most-asked questions was regarding the strength of MagSafe's magnets. At least to the case, the attraction is substantial but not overpowering.
When you lift your phone off the table, the charger will for sure be taken along. This can be good if you want to charge while holding your phone, but bad if you always want to disconnect as it requires two hands. Of course, there will soon be a slew of MagSafe chargers like stands, docks and other stationary designs.
We put a dummy iPhone 12 into the case and were able to let it dangle without either the phone or case coming free. A vigorous shake did break the bond. Based on early looks, it seems that there will be a slightly stronger connection when a real iPhone 12 is present.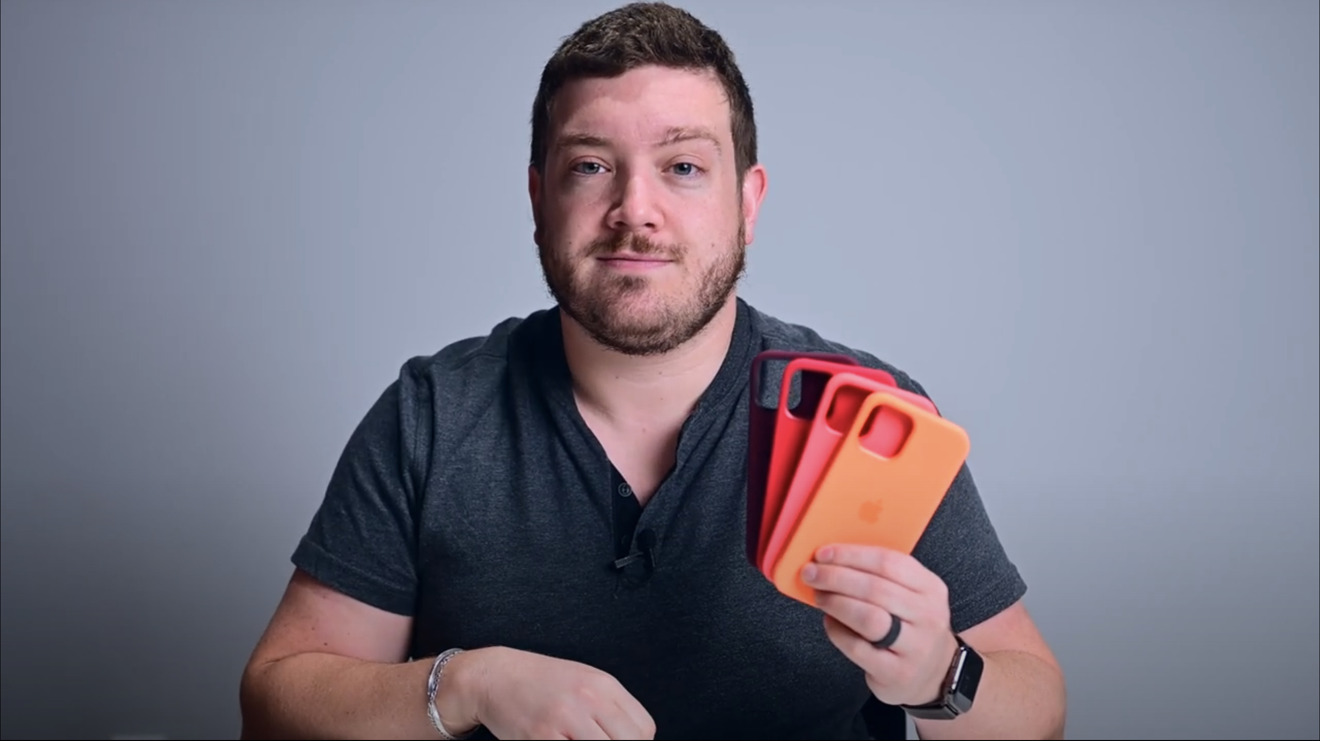 Apple's Plum, Pink Citrus, Kumquat, and Product(RED) silicone cases
Another question we heard was whether or not the puck had to be facing any certain way. The puck can, in fact, rotate but not too easily. It doesn't have a fixed orientation, but the silicone-on-silicone creates enough grip to prevent free rotation. This is great because you can have the cable positioned at any angle.
These accessories are a great first start and we will continue to test them and some other early third-party accessories in the coming days, especially when we get our hands on the new iPhone 12.
There's been some discussion as to whether or not MagSafe will be iPhone 12's killer feature, and regardless of where you stand on the matter, chances are you will eventually have some form of MagSafe accessory. From our first look, that's not a bad thing.
Source: – AppleInsider
Outbreak declared at London shawarma restaurant – BlackburnNews.com
Outbreak declared at London shawarma restaurant
Photo of the Middlesex-London Health Unit from healthunit.com
December 4, 2020 5:46pm
The local health unit has declared an outbreak at a London shawarma restaurant after six employees tested positive for COVID-19.
The Middlesex-London Health Unit announced on Friday that the outbreak had been declared at The Shish Shawarma & Grill restaurant located at 1401 Ernest Ave.
The first case was brought to the health unit's attention on Tuesday, and the health unit made the decision to close the business after another two cases emerged on Wednesday. The next three cases were reported to the health unit on Thursday.
At this time, the health unit said there was a low-risk to customers who visited the restaurant, however, health officials are still investigating whether or not the staff members were infectious.
"Any interactions between restaurant employees and patrons would have been brief and staff who interacted with customers were wearing masks, which would have reduced the possibility for COVID-19 transmission," said Dr. Alex Summers, the associate medical officer of health with the health unit, in a news release. "We will continue our investigation and work with these six people directly, determine who their close contacts are and provide the support they need to help navigate this situation."
Anyone who attended the restaurant between November 22 to December 2 is asked to monitor themselves for symptoms of COVID-19.
The health unit reported 25 new cases of COVID-19 on Friday. Since the start of the pandemic, the region has recorded a total of 1,759 COVID-19 cases and 75 deaths.
Tips on how to find the Playstation 5 and XBox Series X, the hottest items this Christmas – CTV Edmonton
OTTAWA —
One of the hottest items on many Christmas wish lists this holiday season is the Playstation 5 and Microsoft Xbox Series X consoles.
With so many people at home looking for something to do during the COVID-19 pandemic, demand is high for the latest generation gaming consoles. Getting your hands on one seems to be a game all on its own.
Salim Saikley is one of the lucky few able to purchase a new console this holiday season.
"It really feels like you're part of an elite club," said Saikley.
After weeks of trying to buy a Sony PS5 gaming console, he finally found one at an online store, "I was able to pick one up as of 6:30 a.m." He 'picked it' online, and hopes to have it delivered next week.
The new PS5's are reselling on sites like Kijiji for nearly double the retail price. Saikley does not think that is something he would have done.
"Really hard to justify a gaming console for over a thousand dollars," said Saikley.
Even though he doesn't consider himself a 'gamer', he's looking for something else to do at home during the pandemic.
"COVID for sure is a massive factor; another thing to do in the home besides projects and cooking, building projects – we're a little tired of that," said Saikley.
At retailers like The Source, which is owned by CTV News Ottawa's parent company Bell, the pandemic is helping to drive sales.
"Gaming gives us a really good opportunity to play interactively; to play with other families, and to make sure that we're keeping that social connection alive," says Andaleeb Dobson, vice-president of Merchandising and Supply Chain at The Source. "Gaming is through the roof, it's been seven years since we've had new XBox or Playstation consoles."
The hottest game consoles have been on the market for about a month. Dobson says launch day was very busy on their website, "We sold lots of consoles in less than half an hour."
Best Buy Canada says pre-orders sold out quickly, and a company spokesperson told CTV News Ottawa, "We expect that demand to last well into the new year as inventory becomes available."
Hamse Deira managed to buy three on pre-order months ago.
"Honestly, it's amazing," said Deira, who sold one and surprised his older brother with the other new console. "He was still sleeping, so I put it on his on his bed, and I just tapped him and he woke up and was freaking out; he almost knocked it off the bed!"
How to

get

one

now?
Ray runs the website and twitter feed GameDealsCanada.com.
CTV News Ottawa asked Ray for tips to find the Playstation 5 and Microsoft Xbox Series X consoles this holiday season.
"Turning on notifications for Twitter helps get the latest alerts for surprise drops, but for scheduled ones like the ones Walmart and EB Games just did, it takes speed and a lot of luck," said Ray in a Twitter message to CTV News Ottawa.
He says you'll need that luck and suggests you follow all of the retailers' social media accounts. Retailers often post when they will be releasing more consoles.
He offers other tips on his website too, including creating an account at the online store ahead of time and making sure it works. Ensure your billing address and shipping address are correct, and add a valid credit card number ahead of time.
Ray also suggests trying a stores' online app; while many are trying to log onto the website, you may have luck with your phone.
Health unit declares COVID-19 outbreak at Shish Shawarma restaurant – CBC.ca
The Middlesex London Health Unit has declared a COVID-19 outbreak at Shish Shawarma and Grill after six employees tested positive for coronavirus.
The restaurant is located at 1401 Ernest Avenue in London's south end.
The health unit was notified of an initial case on Dec. 1, and closed the restaurant the following day after being notified of two more staff cases. On Thursday the health unit was told about positive tests for three additional employees.
"Investigators are still determining whether any of the six staff members worked while they were infectious. The Health Unit has determined that there may have been a low-risk exposure for some customers," the health unit said in a statement.
Those who visited the eatery between Nov. 22 and Dec. 2 should monitor themselves for symptoms.
"We know that it raises concerns when the health unit declares a COVID-19 outbreak, especially when it's related to a restaurant, but I want to be clear that the risk of contracting the virus in a situation like this is very low. Any interactions between restaurant employees and patrons would have been brief and staff who interacted with customers were wearing masks, which would have reduced the possibility for COVID-19 transmission," said Dr. Alex Summers, the region's associate medical officer of health
"We will continue our investigation and work with these six people directly, determine who their close contacts are and provide the support they need to help navigate this situation."