Apple's new Macs could change computers as you know them – CNET
This story is part of Apple Event, our full coverage of the latest news from Apple headquarters.
Apple's expected to announce the first computers powered using chips that are more like those in an iPhone than in a typical PC. That alone is exciting to techies, but it's also a sign of what's possible to come, whether you buy a Mac or not. The iPhone maker's said it's going to change the brains of its computers over the next couple years. Starting with the computers it's likely to unveil Tuesday, Apple's going to throw its weight behind its own self-made chips.
Most people may not care about a change to a small chip in their Mac computers, but it could mean big changes for Apple and the tech industry, too. For the past 14 years, Apple's relied on Intel-made chips to power its laptop and desktop computers. Before the year's end, Apple said it will begin shipping computers with chips similar to the ones in its iPhones and iPads. Chips that Apple says are more power efficient, allowing for potentially smaller and slimmer designs, longer battery life and new technologies too.
"Our vision for the Mac has always been about embracing breakthrough innovation and having the courage to make bold changes," Apple CEO Tim Cook said when announcing the new initiative earlier this summer. He added that Apple's own chips will usher in new technologies and "industry-leading performance" from the computers. "Every time we've done this, the Mac has come out stronger and more capable," he said.
Apple declined to comment about its upcoming event.
For Apple, this moment is one that's been more than a decade in the making. The question that's nagged Apple since its co-founder Steve Jobs died in 2011 is what comes next. Jobs ushered in the Mac computer, the iMac all-in-one desktop, the iPod, iPhone and iPad. Apple's biggest product launch since is the Apple Watch, which has turned into an enormous business, outselling the entire Swiss watch industry last year by a huge margin. Still, it's not an iPhone-like dent in the universe.
By combining all its devices under the same chips and common code, Apple will be able to offer an experience that truly spans its desktops, laptops, phones and watches. Apple's already said app developers will be able to create one app and send it to all devices, with adjustments for keyboard and mouse vs finger touch and gestures.
The result may be a further blurring of the lines between what a computer is, and what it's meant to do.
The changes are already beginning with Apple's newest computer software, MacOS 11 Big Sur, which brings even more similar looks, icons and sounds from the iOS software that powers an iPhone to the computer.
"With the current Mac — it's the Mac vs the PC," said Carolina Milanesi, an analyst at Creative Strategies. "Now, if it behaves like an iPhone, I can manage it like an extension of my iOS devices."
What may come
Apple says its transition to new chips may be a little bumpy, as app developers change the way their apps are coded to work with this new machinery. In the meantime, Apple promises most of the software we all use, including web browsers, photo and movie editors from all sorts of companies and even Microsoft's popular Office suite of programs, will work on the new machines on day one.
What's likely to change more than anything is on the outside of the laptop and desktop. Apple's iPhones and iPads don't have fans to keep their chips cool. Analysts are betting that if Apple can pull off that same trick with its computers, the fans that take up space and force the laptop to be thicker might disappear.
But aside from those changes, and what-if speculation about detachable laptop-iPad hybrids, Apple watchers seem hard pressed to come up with design change ideas. (Writer's note: Apple, please bring back the MagSafe magnetic charging cables to the laptops. Pretty please.)
Another longer term play may be the integration of cellular service into these types of mobile chips. Computers with built-in cellular radios have been niche products at best, but these kinds of processors are designed to work with cellular radios. People buy connected iPads all the time — a connected MacBook Air isn't a huge leap.
While that's not likely to come out any time soon, the carriers will likely be eager to get 5G into future generation of Apple silicon-based MacBooks.
New way to pay
Apple gets more than expected performance and power efficiency out of switching to its own chips and away from ones made by Intel. It'll also be able to more closely tune its software to work with its specialized chips, for example.
Apple will also be able to manage manufacturing.
"When you control your own destiny and control your own parts, you can save money," said Bob O'Donnell, an analyst at Technalysis Research.
Generally, he said, chip prices make up at least 20% of a laptop's costs. And if Apple turns those savings into lower prices, it could attract new people who just won't pay or can't afford the company's laptops, which start at $999.
It may also spark consumer interest and spur competition from other PC makers, who have toyed with using mobile phone chips in computers so far.
But the Apple credit card could be the company's true ace up its sleeve, analysts say. Putting Macs on a two-year interest-free installment plan could get people hooked with the idea of buying a computer for about $42 a month.
"Getting the Mac into a larger population could be huge," O'Donnell said.
Either way, Apple's move is bound to make waves, both by showing us how powerful its iPhone chips are, and potentially spurring the industry to change their devices to keep up.
Samsung reportedly begins efforts to reduce market share of the Galaxy Note series – PhoneArena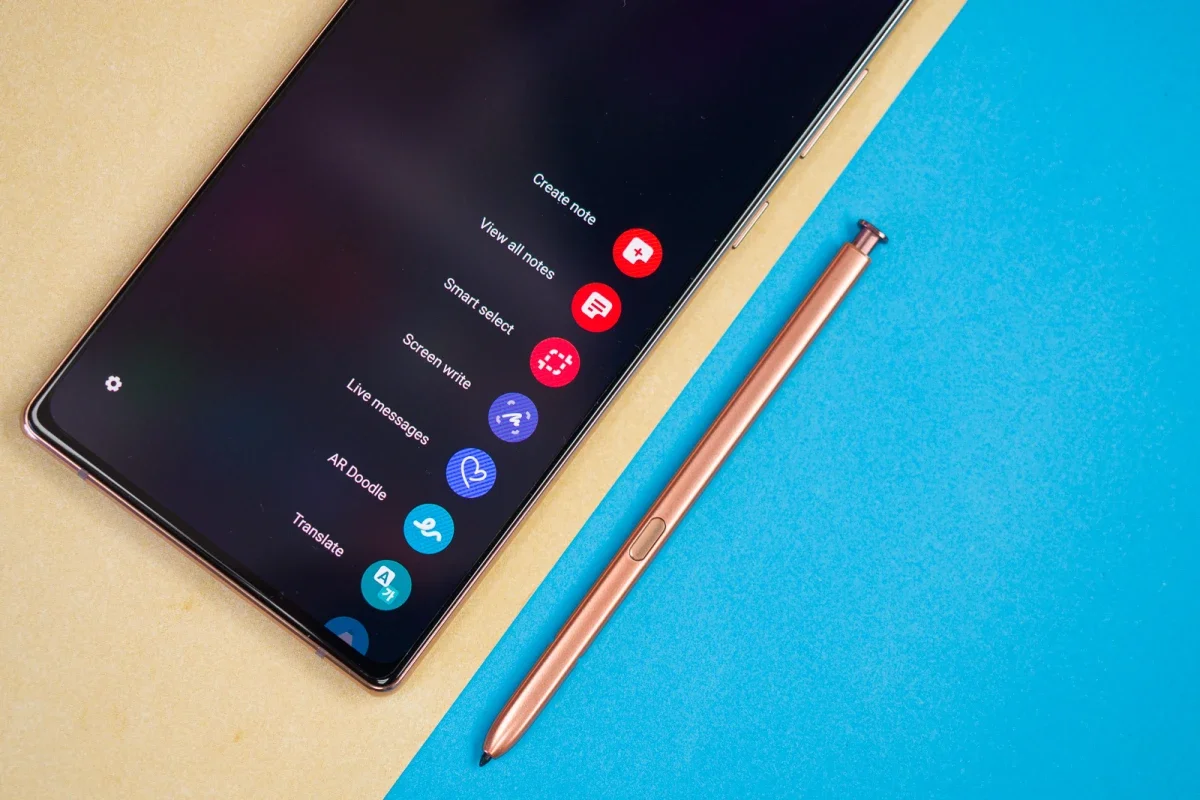 A report fresh out of South Korea has reiterated rumors that the Galaxy S21 will be released in January, and the highest-end model will support the S Pen stylus.
ET News (
translated here
) says (via leaker
cozyplanes
) that Samsung has ordered digitizers for the Galaxy S21 Ultra and mass production is set to begin soon. Digitizers are sensors that are placed beneath the display of a device to ensure stylus compatibility.
The South Korean giant is seemingly in a rush to launch the next S series flagships earlier than usual to counter Apple's first
5G-enabled
smartphone, the
iPhone 12
. The chaebol also wants to take advantage of the sanctions imposed by the US on Huawei, which has severely impacted its
capability to meet consumer demand
for its smartphones.
2021 could be the beginning of the end of the Samsung Note series
Today's report also corroborates an
earlier rumor
that said Samsung will start laying the groundwork for the replacement of the Note series with Galaxy S and Z smartphones this year. Earlier leaks had hinted that Samsung would nix the Galaxy Note lineup in 2021, but that doesn't seem to be the case.
Samsung is reportedly planning to release five foldable smartphones in 2021 and at least two of them are expected to offer
S Pen integration
. The company is reportedly considering a
new digitizer technology
for the Galaxy Z Fold 3 and is also going to increase the thickness of its display so that it's able to withstand the pressure from the stylus.
The Galaxy Note 21 will supposedly be unveiled alongside the Z Fold 3 in June. The foldable phone will likely take the center stage, and Samsung will only release one variant of the Note 21.
The idea is apparently to de-emphasize the next Note handset during the summer Unpacked event and migrate existing Note users to the Galaxy S and Z flagships. If this strategy works as intended, Samsung will likely discontinue the Galaxy Note lineup in 2022.
Cyber Monday Couch Deals: The Best Discounts To Get Right Now – Forbes
As retailers launch their Cyber Monday sales, we're seeing some amazing deals on furniture, with couches chief among them. Now is the best time to shop for a new couch to anchor your living room, whether you're looking for a major piece for the den or a pretty sofa to use as an accent piece in your home office.
Tip: Bookmark this page for the best Cyber Monday couch deals. We'll be updating it frequently as new deals go live.
In terms of savings, on average we're seeing sales hovering around 25-30% off. There are also some sites going even deeper, offering 40% off or more. And some sites are still running extended Black Friday sales to take advantage of, so you'll find those listed below as well.
Allform Couch Deals
Allform is still running their Black Friday sale. Save 20% off with the code BLACKFRIDAY20 on custom furniture, which includes sofas and sectionals, made in the USA. If you love their stuff and don't want to miss out on potential Cyber Monday couch sales, bookmark this page, as we're continually updating info as new deals hit.
---
AllModern Cyber Monday Couch Deals
There's a good selection of sofas to choose from during AllModern's Cyber Monday sale at up to 50% off. Also, Flash Deals are happening on select items for additional savings.
---
Amazon Cyber Monday Couch Deals
Amazon's Cyber Monday sale is on—and there are more sofas deals than there were for Black Friday, including this gorgeous cream leather chesterfield for a steal at $730.
---
Anthropologie Couch Deals
Anthropologie is extending their 30% off sitewide sale, so don't miss out on scoring one of their posh sofas for a discount. And, you're in luck if there's a sale item you like, because it'll be an extra 50% off.
---
Apt2B Couch Deals
Apt2B has extended their Buy More Save More Black Friday Sale. Get 20% off storewide, and online, save 25% off orders of $2,499 or more, 30% off for spending $3,999 or more, and 35% off totals of $4,999 or more. The sale includes some new items, too, like this pretty sofa.
---
Article Couch Deals
Article's extended Black Friday sale is 50% off sitewide, though just a handful of sofas are part of the sale. Their white modular Solae sofa is one of them.
---
Ballard Designs Couch Deals
Ballard isn't running any Cyber Monday deals at the moment, but their Black Friday sale is still going, with up 40% off sofas and other furniture.
---
Burrow Couch Deals
Burrow is running even better deals than they were on Black Friday—with double the discounts. Add the code DOUBLE at checkout to take advantage of savings of up to $1,000 off purchases of $5,000 or more on their custom couches.
---
Hayneedle Couch Deals
You can still get up to 50% off plus an extra 10% with the code THANKFUL at Hayneedle.
---
Inside Weather Couch Deals
Savings continue at Inside Weather, which is still running their is still offering sales across the site, which include discounts on well priced custom sofas. Get 15% off your entire purchase, plus save 20% if you spend $1,000 or more and 25% off totals of $2,000 or more.
---
Joss & Main Cyber Monday Couch Deals
There's a great selection of sofas for Joss & Main's Cyber Monday sale. Save up to 50% plus get an additional 25% off with the code SAVE25.
---
Joybird Couch Deals
Don't miss the end of Joybird's furniture sale—you can still save 35% off, but hurry as the sale ends on tonight at midnight. The Chelsea Apartment Sofa is one of their bestsellers.
---
Lulu & Georgia's Couch Deals
You can still save 25% off a good selection of attractive sofas during Lulu & Georgia's sale, with the code THANKFUL at checkout.
---
Macy's Cyber Monday Couch Deals
Macy's has launched in Cyber Specials sale across the site, and it includes a decent selection of couches with fairly deep discounts.
---
Pottery Barn Couch Deals
If you love Pottery Barn and want a new couch, today is your last chance to save up to 40% off on furniture. The Big Sur Square Arm Leather Sofa is one of their bestsellers.
---
Target Cyber Monday Couch Deals
For attractive sofas at prices that won't break the bank, Target is a go-to. Their Cyber Monday sale is live, with savings across the site, with up to 50% off furniture.
---
Wayfair Cyber Monday Couch Deals
Snag savings of up to 70% off on seating for Wayfair's Cyber Monday sale.
---
West Elm Couch Deals
West Elm is continuing their 15% off furniture sale, which includes sofas, There's also free shipping on orders over $79 with the code SAVEBIG.
---
When do Cyber Monday couch deals end?
Some retailers have special promotions and sales that end on Saturday, November 28, but others are extending sales through Cyber Monday, which falls on November 30.
Should I buy a couch now or wait until after Christmas?
Well-priced, popular items are often the first to go out of stock, so if you see something you like or if you've had your eye on a particular piece, your best bet is to buy it now. You may save a few more dollars by waiting, as prices can fluctuate on some sites, but then you run the risk of missing out.
What's considered a good deal on couches during Cyber Monday sales?
The average discount is around 25-30% off, so anything near or above that percentage is definitely a discount to take advantage of as soon as possible.
---
Black Friday and Cyber Monday Retailer Guide
Interested in shopping more Black Friday deals? Here are quick links to some of the best Black Friday sales at popular retailers right now:
Samsung's amazing Black Friday deal on the Galaxy S20 FE continues, with prices starting at just $140 – XDA Developers
If you would have told me that you could pick up the new Samsung Galaxy S20 FE for just $140, this close to its release, I wouldn't have believed you for a second. Black Friday or not, that's a huge discount on the already affordable flagship, and retailers aren't going to cut things that deep for the sake of a sale.
But, well, here we are. You can get the Galaxy S20 FE for as low as $140. How do you do that? With an eligible trade-in! Basically right now, you get extra trade-in credit with any device trade-in, which is what makes this low price possible. As to be expected, though, getting the maximum discount requires specific phones for the trade-in.
In order to knock the S20 FE all the way down to $140, you'll need to trade in either the Galaxy Note 10 Plus or the Galaxy Note 10 5G. That's not the biggest selection for the maximum discount, but at least you're more likely to have a Note 10 over some other models. A lot of Google, Samsung, and Apple models also get you really great discounts too. You can also trade in literally any iOS or Android phone (that's in good condition) for $50 off. And really, are you going to even use the old phone after grabbing the S20 FE?
The Samsung Store is also the only place that you can get the S20 FE in all six colors, including the online-only Cloud White and Cloud Orange colors! Orange is probably my favorite of the bunch, and it's pretty hard to find that one outside of the Samsung Store. But the beauty of the phone is that there's a nice color for everyone!
Looking for more Galaxy S20 FE deals? Check out what other retailers have to offer, or head over to our Black Friday phone deals round-up to see what other devices are on sale!