Art lovers: Mark your calendar for Sept. 25 and 26 – Maple Ridge News – Maple Ridge News
A tradition is returning for art lovers in Maple Ridge and Pitt Meadows, but there is a slight twist in timing – it's a fall event, at least for now.
Maple Ridge Pitt Meadows Art Studio Tour is back, but organizer and participating artist Kirk Deutschmann is calling it a "mini" version with 24 artist participating at 15 studios during a two-day period later this month – instead of around Mother's Day.
"We were not able to bring you the annual studio tour in May of 2020 but are excited to have this opportunity to offer a mini version of the tour as part of Maple Ridge Culture Days," said Deutschmann, also a tour board member.
[embedded content]
Due to the pandemic, the directors have had to cancel their annual tour for 2020 and 2021 and pivoted in order to keep with their goal of connecting people with artists in their neighbourhood.
So, people will now be able to visit local artists in their studios from 10 a.m. to 4 p.m. on Saturday and Sunday, Sept. 25 and 26.
"View and purchase their beautiful artwork and see where they create," he said, noting there is a wide variety of mediums that will be represented, including painting, sculpture, pottery, wood work, and weaving.
Being attentive to COVID safety protocols, Deutschmann said mask will be mandatory in all studios, and guests and artists alike will b asked to practise social distancing.
For those interested in participating in the self-guided tour, they can go online to www.artstudiotour.ca for more information.
.
---
Is there more to the story? Email: editor@mapleridgenews.com

Like us on Facebook and follow us on Twitter.

Here are 2 more pictures:

Potter Kerry McLaren – potter

Painter Val Wheater – painter

Artartistmaple ridgePitt Meadows
Covid-19: Art project a lightning bolt of inspiration for lockdown shielders – BBC News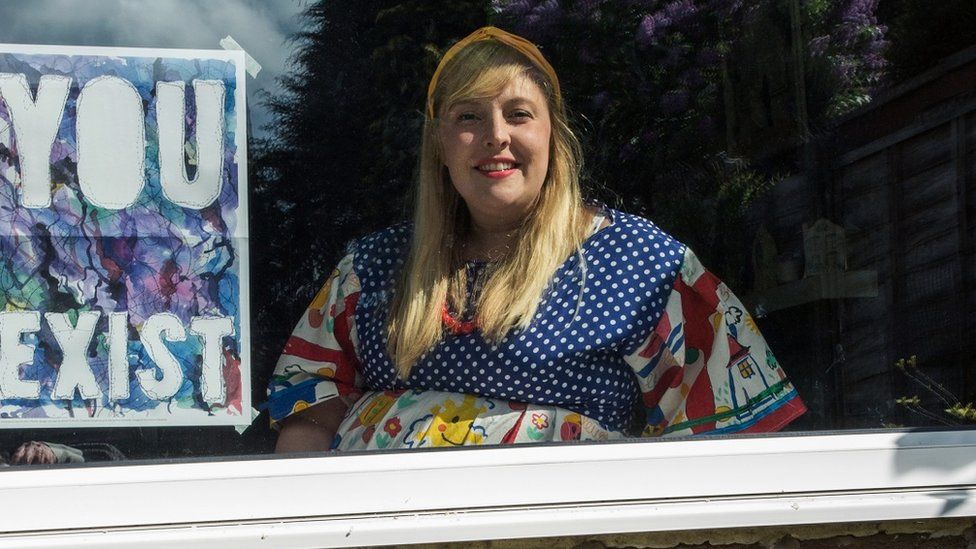 A new exhibition showcasing art submitted by people shielding from Covid-19 during the pandemic is set to tour the UK.
Art by Post: Of Home and Hope features 600 pieces made by clinically vulnerable or isolated members of the public during the pandemic.
Opening at London's Southbank Centre, it will later head to other areas such as Manchester and Sunderland.
Portraits of the artists with their work will also appear on billboards.
The project is intended to show the power of community art on health and wellbeing.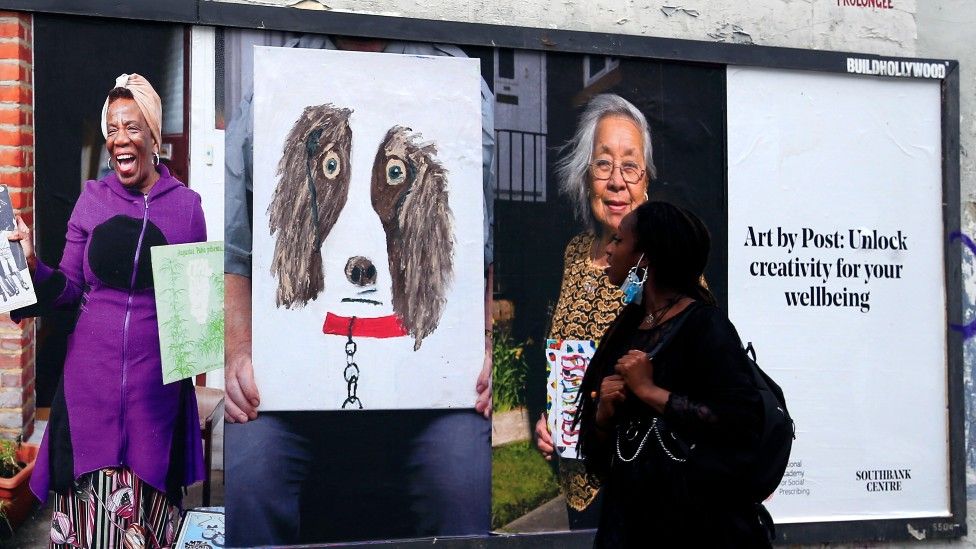 Delivered in partnership with the National Academy for Social Prescribing, the project began as a way of helping those who were clinically vulnerable to the effects of Covid-19 or who were socially isolated, including people living in care homes.
More than 4,500 people engaged with creative tasks sent out in booklets, with the help of their families, friends, neighbours and carers.
'Lightning bolt of inspiration'
The cultural activities were intended to "ease isolation, loneliness and digital exclusion" for many people across the country, according to Alexandra Brierley, director of creative learning at the Southbank Centre.
The exhibition includes drawings, paintings and poetry – divided into themes around nature, sound and movement and hope.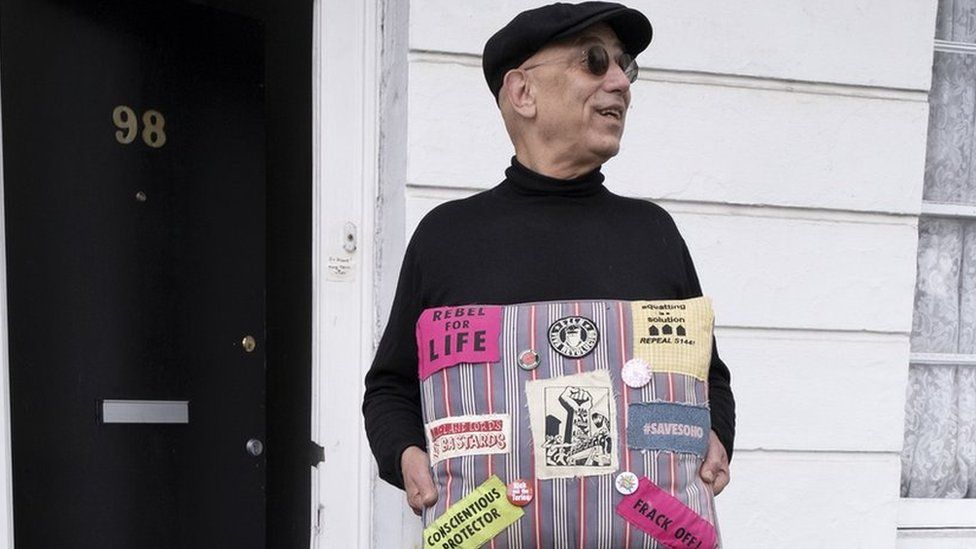 One participant, 48-year-old Luke from Devon, told the BBC: "Art by Post has been a lightning bolt of inspiration and positive creativity to my senses, making me realise the sun sometimes shines brilliantly if you work for it."
The exhibition, which opens on Monday, will also appear online for those who cannot make it to the venues.
After leaving London in October, it will head to The Mill Arts Centre and Banbury Museum & Gallery in Oxfordshire, the Arts Centre Washington in Sunderland, and The Beaney House of Art & Knowledge in Canterbury, as well as Home in Manchester and De Montfort University in Leicester, before concluding in March 2022.

BC Culture Days aims to reconnect community through art – Global News
Reconnecting through art and celebrating the cultural mosaic that makes 'Beautiful British Columbia' is at the heart of this year's BC Culture Days.
"It's really about imagining what communities look like throughout this pandemic and coming out of it," said Elana Bizovie, Rotary Centre for the Arts, community engagement and events coordinator.
"I think arts and culture is vital to that it's a reconnecting tool for everyone especially in these times it helps us remember them we are really more alike than we are different
Under the theme, Re:Imagine, events will be put on both virtually and in-person to inject a little bit of fun into the autumnal days ahead. You can do anything from whipping up an inspired meal and taking on a scavenger hunt to attending a performance by Ballet Kelowna.
The Okanagan Ballet company will return to the doors to their first in-person performance in almost 19 months and will provide the audience with a glimpse of what it takes to be a ballet dancer
"Launch is our annual informal one-hour sneak peek that we do every year and it provides audiences with a glimpse into what it is we are preparing for the upcoming season," said Simone Orlando, Ballet Kelowna's artistic director and CEO.
"It's bits and pieces of different works as well as our dancers will be on stage doing company class prior to each performance. So, the doors open half an hour before the show so the audience can come in and take a look at the daily training that we do."
One of the works being teased to the audience is one by guest choreographer, Robert Stephen.
"It's a series of solos and duets in which we and the audience get to meet each of the cast members one by one and they each represent a different style of movement and movement quality," said Stephen.
The month-long lineup of events starts on Sept. 24 and ends on Oct. 24. The Ballet Kelowna performances take place Sept. 24 and 25 at the Rotary Centre for the Arts in Kelowna.
For a full list of events happening in your neighbourhood, visit www.culturedays.ca

2:07


Okanagan artists create artwork for ICU workers at Kelowna General Hospital



© 2021 Global News, a division of Corus Entertainment Inc.
VIDEO: West Fine Art Show in-person exhibition and fundraiser draws carefully distanced crowds – Aldergrove Star – Aldergrove Star
A return to a carefully monitored in-person event by the West Fine Art Show and charitable fundraiser at the Glass House Estate Winery in Aldergrove drew a good turnout, organizer and co-founder, historical landscape painter Brian Croft, said.
"A lot of people buying, a lot of paintings coming off the walls," is how Croft summarized the three day event that wrapped up Sunday, Sept. 19.
"Sales were good."
Social distancing and other COVID precautions were being followed, with numbers carefully monitored, Croft told the Langley Advance Times.
"We watch it very closely," Croft remarked, but they were only forced to delay admission to keep numbers within limits once.
"Just for a few minutes."
Today, Sunday, was the last day of the exhibition at Glass House, 23449 0 Ave, open from 11 a.m. to 5 p.m.
Artists include Croft, Brent Cooke, Jodie Blaney, John Ferrie, Richard Brodeur, Emily Lozeron, Lorn Curry, Joyce Trygg, Jim Pescott, Ken Nash, Graham McKenzie, Felicity Holmes, Serge Dube, Alison Philpott, Drew Keilback, Judy Vanderveen, Catherine Traynor, Victor Gligor, Patricia Falck and Lizete Dureault.
Music was also provided throughout the weekend by Langley guitarist John Gilliat.
READ ALSO: Artists come together again to benefit Langley hospice
Partial proceeds from the fall event will go to support Langley Hospice Society.
Admission is free, but donations to the charity are welcome.
Last year alone, the September show raised more than $10,000 for the charity, bringing the contributions to date to more than $70,000 for hospice.
One show in early spring (which had to be held virtually this year for the first time) raises money for the Langley School District Foundation, as well as a show held in the mid to later part of May in conjunction with the Cloverdale Rodeo (which was cancelled this year) and typically benefits the CHILD Foundation.
READ ALSO: The West Fine Art Show shifts to an online-only event amid tighter health orders
More photos from the event can be viewed online.
More information about the artists can be found online at www.westart.ca.
---
Have a story tip? Email: dan.ferguson@langleyadvancetimes.com

Like us on Facebook and follow us on Twitter.

Aldergroveart exhibitCoronavirusLangley





<!– View Comments –>