Arts Everywhere for everyone – GuelphToday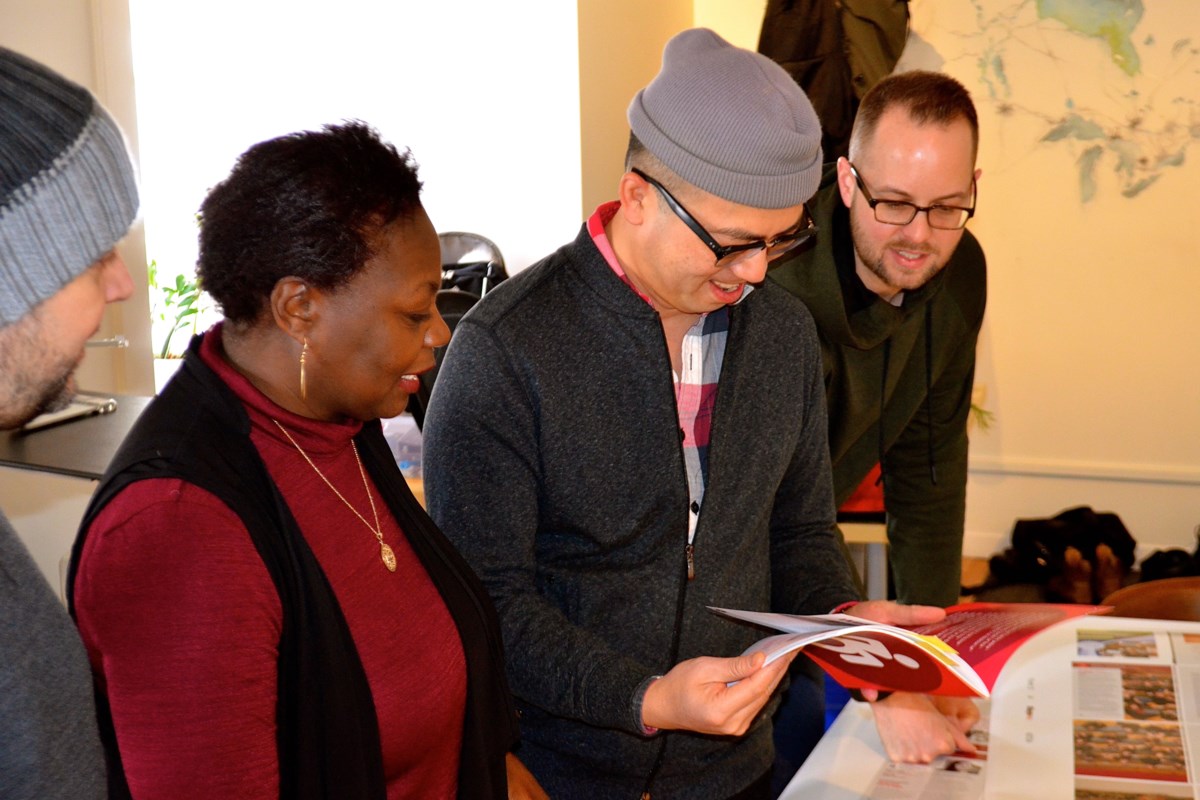 Spiritualist writer Thomas Merton wrote "Art enables us to find ourselves and lose ourselves at the same time."
Art in all its forms helps to define us culturally and expand our relationships to each other. It should, therefore, be accessible to everyone and that is why accessibility and inclusion are the central themes of the Arts Everywhere Festival this year.
"We are looking forward to a number of things and one of the main pieces is the importance of access for members of our community," said festival director and program curator, Marva Wisdom.
"We are very excited to be able to bring a festival that is intentional in how we approach access and inclusion whether individuals face barriers around economic, cultural and physical abilities, sensory or otherwise."
The festival runs from Jan. 22 to Jan. 26 and features performances, exhibits, workshops and activities that celebrate the diversity of creative expression through music, literature, ceremony, spoken word and visual arts.
"The presenters will be coming from different parts of the world, so, local and international," said Wisdom. "We really want to inspire our community and recognise the importance of the arts and the changes it can make in our society."
Those changes are reflected in the artists featured this year and in the efforts made to ensure each event is as inclusive and each venue is as accessible as possible. They even prepared an accessibility guide that among other things lists all the accessibility features of every venue in the festival.
"We have not done anything like this before," said Wisdom. "We spent a fair bit of time at the venues for what we call an embodied audit. We took photos. We had great conversations with staff members, managers and owners about access."
Festival staff and team members received accessibility training.
"We participated in a workshop from Tangled Arts and learned a lot about access and how you make events more accessible," said Wisdom. "This all came about through work over the years with Bodies in Translation and at the University of Guelph. They have been tremendously helpful in pointing the Arts Everywhere Festival along this journey."
There will be live captioning (surtitles) for many of the events as well as ASL (American Sign Language) interpretation and earphones to amplify or reduce sound.
"If you tell them you have sensitivity to certain sounds or light, if you are in a powered wheelchair and need more width or maybe you have a hearing impairment, you don't even have to share that with us, you just need to show up," said Wisdom. "If you feel more comfortable knowing ahead of time we have someone you can speak to and when you arrive we have access ambassadors that will help you navigate the entire festival."
They have even made efforts to accommodate people who experience anxiety in public or crowded spaces.
"We have relax spaces and quiet rooms because some people get over stimulated and they don't come to these events because they think it is going to be too much," said Wisdom. "People can go on our website and see the information."
Accessibility and culture of care lead Coman Poon hopes their efforts will act as a seeding initiative for growing accessibility culture and he invites other festivals to use the Access Guide for planning future events.
"It is not a proprietary document," said Poon. "It is not just for this festival. We welcome others to use it as a free tool that challenges prejudice against people with disabilities or 'able-ism'."
Poon is the point person for all accessibility inquiries and can be contacted at access@artseverywhere.ca or 647 575-4202.
The festival opens Wednesday, Jan. 22, with a free event at the Art Gallery of Guelph curated by poet, author and visual artist Taqralik Partridge.
"It is her image we are using on our poster and on the front of our program," said Wisdom. "She is going to be our featured literary artist at the event Friday night at the River Run as well."
Partridge's image of a damaged door with limited access on the side of a poorly maintained home is an apt metaphor for the challenges we face as we strive to improve access and include everyone in the conversation about something that should unite us all — art.
NBA, Bleacher Report Launch Art Series To Celebrate League's 75th Anniversary – Forbes
Throughout the past 75 years, the NBA has transcended the hardcourt, crossing over into fashion, music, art, politics, lifestyle and pop culture.
In an effort to not only celebrate the league's anniversary but also further its involvement in the art world, the NBA and Bleacher Report teamed up with five artists across a variety of disciplines and mediums to create a one-of-its-kind collaboration.
NBA 75: Artist Series features original 1-of-1 works of art, 75 exclusive artist editions and an apparel collection designed by Frank Miller, Sue Tsai, Greg Yuna, Bandulu and Hank Willis Thomas.
"Basketball has become more than just the on-court product—it melds fashion, art and lifestyle elements, and bringing that to the forefront and having artists celebrate some of our past logos, teams and designs in these different ways is representative of where we see the league at this point," says Adrienne O'Keeffe, NBA associate vice-president of global partnerships and media. "It's looking back on the past 75 years but also looking forward to what lies ahead, and we thought this really captured that intersection."
Known for his gritty noir aesthetic across comics, novels and films, Miller made three pencil-and-ink illustrations reimagining the logos of the Boston Celtics, Los Angeles Lakers and Toronto Raptors. Thomas, a conceptual artist whose themes relate to perspective, identity, commodity, media and popular culture, made a large-scale quilted NBA logo from a collection of team jerseys. Tsai, a visual artist whose bold-yet-feminine aesthetic crosses into art, fashion and pop culture, created four paintings celebrating the Chicago Bulls, New York Knicks, Brooklyn Nets and Lakers.
Prominent luxury jeweler Yuna made three pendants encrusted with precious gems of the Knicks, Lakers and 75th anniversary NBA logos featuring more than 1,200 precious gems, including 500 diamonds. Bandulu, the label founded by artist Pat Peltier known for transforming vintage clothing and sportswear into one-of-a-kind garments through custom embroidery, made three hand-embroidered tapestries honoring the Philadelphia 76ers, Miami Heat and Celtics.
"For me it was an amazing opportunity because I am a huge fan of basketball because it was my bonding thing with my family growing up," Tsai says. "My art and brand crosses over into basketball a lot, so it was the perfect opportunity to actually use NBA IP and their amazing history and fuse all of that into my artistic style while working creatively alongside some other amazing artists as well."
To complement each 1-of-1 original artwork, each artist created 75 artist editions, including numbered and hand signed giclee prints, embroidered patches, pigment prints on aluminum and printed blankets of quilt. The apparel collection, available online starting today, includes long and short sleeve T-shirts, hooded and crewneck sweatshirts, embroidered bomber jackets and sweatpants.
For Bleacher Report, NBA 75: Artist Series is another significant collaboration with the league, following successful e-commerce collaborations and collections including Space Jam, Allen Iverson World Tour, NBA Remix and Homecoming. Bleacher Report has been collaborating with the NBA on merchandise since 2019 and became an official licensee last year.
"In large part because we're a media company, people don't come to Bleacher Report and expect to see products, never mind be sold products," says Jake Cohen, Bleacher Report senior director of e-commerce. "So we want to make sure everything we do, specifically these larger collaborations and collections, tells a story, so it's not just, 'Hey, we're Bleacher Report, buy some products from us.'
"It's really important for us to be the storytellers ourselves and collaborate with all the artists. We get very involved in the creative process and it's really important for all of our work to stand apart. We want it to stand on its own and tell a story, and of course the products need to look great."
For the NBA, the collection further expands its presence in the art world following the league's exhibition at Art Basel Miami Beach in 2019 which featured never-before-seen memorabilia and video installations among the immersive experience.
"We are always trying to push the boundary and find new ways for fans to engage with the league," O'Keeffe says. "We don't just want to stay in one lane and dive deep, we want to make sure we're engaging with fans in as many ways as possible. What we've seen from our fan base is that they have an appreciation for art and we felt we would meet them and provide this product to them in a way that would be engaging and celebrate the 75th year of the league."
Artwork details/tombstones
Frank Miller
Boston Celtics
Pencil and ink on art paper
11" x 17"
Los Angeles Lakers
Pencil and ink on art paper
11" x 17"
Toronto Raptors
Pencil and ink on art paper
11" x 17"
Hank Willis Thomas
Untitled
Basketball jerseys and mixed media
2' x 4'
Greg Yuna
Diamond NBA 75th Anniversary
Pendant of gold, white diamonds, blue sapphires and rubies; 23 grams, 3.5 carats
Gold, 23 grams
White diamonds, 135 pieces, 0.9 carats
Blue sapphires, 160 pieces, 1.2 carats
Rubies, 203 pieces, 1.4 carats
Statement: This piece was created to honor the 75th anniversary of the NBA, and the design started with the logo. We wanted to bring the logo into our world. Greg and the design team began to plot out how the piece would be created and the way the stone layout would work the best. We kept this one super classic and true to the logo. The precious stones consisted of white diamonds, blue sapphires and rubies. The rubies and sapphires were carefully picked to match the tones of the color used in the logo. The piece features 498 individually hand set stones totaling 3.5 carats and is made of solid 14kt white gold.
Diamond Los Angeles Lakers
Pendant of gold, orange sapphires, amethysts and diamonds; 19 grams, 2.46 carats
Gold, 19 grams
Orange sapphires, 64 pieces, 0.5 carats
Amethysts, 163 pieces, 1.2 carats
Green diamonds, 81 pieces, 0.54 carats
Black diamonds, 18 pieces 0.2 carats
White diamonds, 6 pieces, 0.02 carats
Statement: The Diamond LA Lakers piece was about incorporating an element of LA into the famed logo. We decided to remix the classic logo by incorporating a palm tree, a symbol that has grown to be synonymous with the west coast. The edges of the piece feature polished edges to contrast with the luminous stones and bring the shape to life. The piece includes 332 handset stones ranging from colored diamonds, amethyst and sapphires.
Diamond New York Knicks
Pendant of gold, diamonds and sapphires; 36 grams , 3.29 carats
Gold, 36 grams
Black diamonds, 110 pieces, 0.75 carats
Blue diamonds, 59 pieces, 0.45 carats
Yellow diamonds, 58 pieces, 0.42 carats
Red diamonds, 51 pieces, 0.4 carats
Blue sapphires, 74 pieces, 0.52 carats
Red sapphires, 59 pieces, 0.4 carats
Orange sapphires, 42 pieces, 0.35 carats
Statement: The Diamond NY Knicks was inspired by New York City itself. The color palette, look and feel of the piece came from the sunset over the NYC skyline. There is something special to be said about a summer sunset in the city and bringing that twist to the Knicks logo. Within the basketball a nod to the NYC skyline is depicted with gradient stones to bring to life the sunset behind the shapes of the city. The piece includes 453 stones totaling 3.29 carats of diamonds and sapphires.
Sue Tsai
Los Angeles Lakers
Acrylic on canvas
30" x 30"
Statement: Sue Tsai reimagines the Lakers logo embellishing it with a floral basketball hoop. The artwork showcases the tropical botanics of Los Angeles and glamour of the city by adorning the net with crystal drops. A crystal "75" dangles to commemorate the 75th anniversary of the NBA.
New York Knicks
Acrylic on canvas
30" x 30"
Statement: Inspired by the "concrete jungle", Sue turns the iconic Knicks' secondary basketball logo into her signature flower bomb. The Rafflesia jungle flower bomb represents the power and explosiveness of the game while paying a small homage to the 88-89 Knicks "Bomb Squad". At the root is a stem mimicking a NY street sign and leaves sprouting the 7th ave and 33rd street intersection of Madison Square Garden. A concrete block NY shows the strength of the city while wall stickers pay homage to the 75 years of the NBA. A young fan waters the Knicks flower helping it to blossom and reminds us that growth has no off-season.
Chicago Bulls
Acrylic on canvas
30" x 30"
Brooklyn Nets
Acrylic on canvas
30" x 30"
Bandulu
Boston Celtics
Single needle hand embroidery on heavy weight canvas
17" x 22"
Hand-framed in studio
Philadelphia 76ers
Single needle hand embroidery on heavy weight canvas
18" x 23"
Hand-framed in studio
Miami Heat
Single needle hand embroidery on heavy weight canvas
17" x 23"
Hand-framed in studio
Statement: Bandulu celebrates the 75th anniversary of the NBA through three East Coast teams that connect authentically to the Bandulu values and community: the Boston Celtics, Philadelphia 76ers and Miami Heat. Being born in New England, being inspired by the heritage of Philly's iconic city and players, and fueled by the artistic community in Miami, Bandulu sought to tell a narrative that uplifts the East Coast. Each piece took over eight hours of meticulous hand embroidery to create a visual extension of these iconic teams' logos. Each team has a compositional twist to the way the logo comes to life through pictorial abstractions.
What Will Art Look Like in the Metaverse? – The New York Times
In the boreal forest, nature inspires art – Prince Albert Daily Herald
The outside has come inside at the Mann Art Gallery, with simultaneous displays from several artists who draw their inspiration from nature albeit in different ways.
For Ken Van Rees, it was walking through a burnt patch of forest near South End (Reindeer Lake) that caused him to wonder what he could do with charcoal and canvas.
"As I was walking through the forest, I looked down at my pants, they were light-coloured, and there were all these charcoal markings on them," said Van Rees during a reception held by the gallery on Nov. 26. "I thought, oh, maybe I could do something with this and this started this long journey of creating art from burnt forest."
Van Rees allows the forest, wind and time to do some of the work for him. He puts a canvas down in a chosen spot, puts a burned log on top and then comes back days, weeks or months later to see what has happened.
He has also set up a game camera and was interested to see the wildlife that stopped and took a sniff or walked on the canvas.
"There were all these animals looking at my artwork. There were deer, there were bears walking across my artwork. There were wolves walking around," Van Rees said.
Where most people avoid burned areas of nature and look for lush, green landscape, the fiery side of nature has a more visual appeal for him.
"Most of us prefer a green forest. That's what we like to go camping in or hiking in. For me, because I worked on forest fires when I was a teenager and I had that first experience with forest fires, it somehow resonated with me," he said.
Van Rees' art can be found at the Mann Art Gallery until January 15 and is an accompaniment to the work of well known artist Greg Hardy.
In contrast to the more muted colours in Van Rees' work, Hardy's in some cases has bursts of orange and other bright colours.
"This is a show of drawings from the La Ronge area, where I have a cabin up on an island," said Hardy.
About four years ago, Hardy was talking to the then director of the Mann gallery and agreed to a showing of his drawings.
With changes in staff at the gallery and the pandemic, it took time for the exhibition to come together, but it is now displayed.
Some of the drawings were done decades ago and some are more recent but the focus on the natural world is shared with Van Rees.
"I have an affinity for the natural world and I paint a lot of things, but I always come back to its landscape that moves me the most as subject matter," said Hardy.
Hardy's career has been established for some time and he makes it his full time occupation, sharing his time between La Ronge and his main studio near Saskatoon.
"Realistically, this is a small sampling of the drawings that I have because I draw all the time," Hardy explained. "It's primarily the landscape," he said of his decision to work in northern Saskatchewan. "We used to go up further north and do a lot of canoe trips and it had always been a dream or a hope to have a wilderness cabin at some point."
An architect from Prince Albert had the cabin available for sale and so Hardy was able to buy it.
"As soon as I saw it, I was just like this is amazing," he said. "The subject matter was all around and I knew it was going to be very positive."
Hardy paints or draws where ever he is, and mainly draws inspiration from the plains before focusing on the forest.
"This was like a 15 year concentration on Lac La Ronge and it still feels like a positive source of inspiration," he said. "But having said that, I'm shifting gears and going to go back to the plains."
He looks for good quality light when he paints and also looks for energy.
"The more dramatic the landscape the better. I feel more in tune with what's going on if there's a storm or a pending storm," Hardy explained.
"And I've always been taken with the sky, since I was a little kid."
A third display is up at the gallery for the duration of the exhibition featuring Hardy along with Van Rees.
Title 'The Secret is in the Paper', the collection was curated by collections assistant Breanne Bandur and is focused on different approaches to the treatment of paper.