Atlas V: Rocket launch creates strange lights in UK sky – BBC News
Amateur stargazers in the UK were sent rushing for their cameras by strange cone-shaped lights in the sky created by a US rocket.
Nasa launched the Atlas V, carrying the Landsat 9 satellite, at about 20:00 BST on Monday.
About two hours later it performed a reversing manoeuvre, releasing two glowing clouds of vapour.
Clear skies made for an out-of-this-world view of the stellar spectacle, visible above large parts of UK.
Photographer Simon Woodley "couldn't believe his eyes" when he snapped the launch from South Shields.
Mr Woodley was out taking photos of the moonrise when he saw the unknown bright light for "three or four minutes".
"I went through the possibilities of comet or aircraft or even a laser beam. It was only when I got home I found out what it was," he said.
Education charity UK Astronomy said the light was the rocket's deorbit burn, created as it fires its engines to commence its re-entry into Earth's atmosphere before burning up.
Astronomer and science writer Will Gater said the glowing, tear drop-shaped clouds were a result of sunlight scattering off material released into space.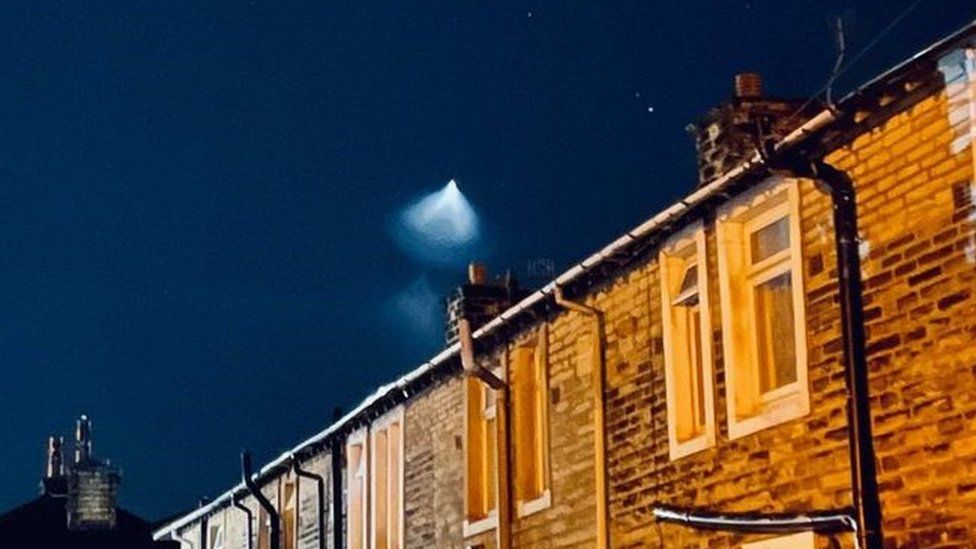 Elliott Stone, who snapped the rocket from his garden in Keighley, West Yorkshire, thought he was seeing a comet at first.
"I noticed it was travelling the wrong way, so I thought it must have been a plane with its light on," Mr Stone said.

What is the Landsat 9 satellite?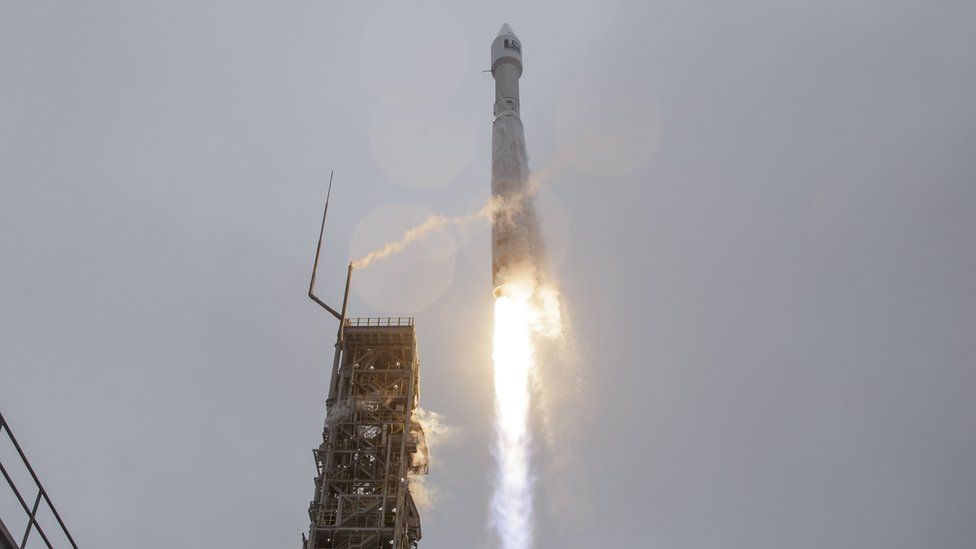 Landsat 9 is part of a satellite array photographing and measuring the Earth's surface
The first Landsat satellite launched in 1972
Designed to measure changes on Earth such as deforestation
Launched into orbit using an Atlas V rocket from Vandenberg Space Force Base in California

In Whitley Bay, Tyne and Wear, Ian Sproat was left "scrambling" to set up his camera when he saw the light above him.
"I was gobsmacked, I honestly thought it was a meteor or a comet, never did I expect to see the Landsat 9," he said.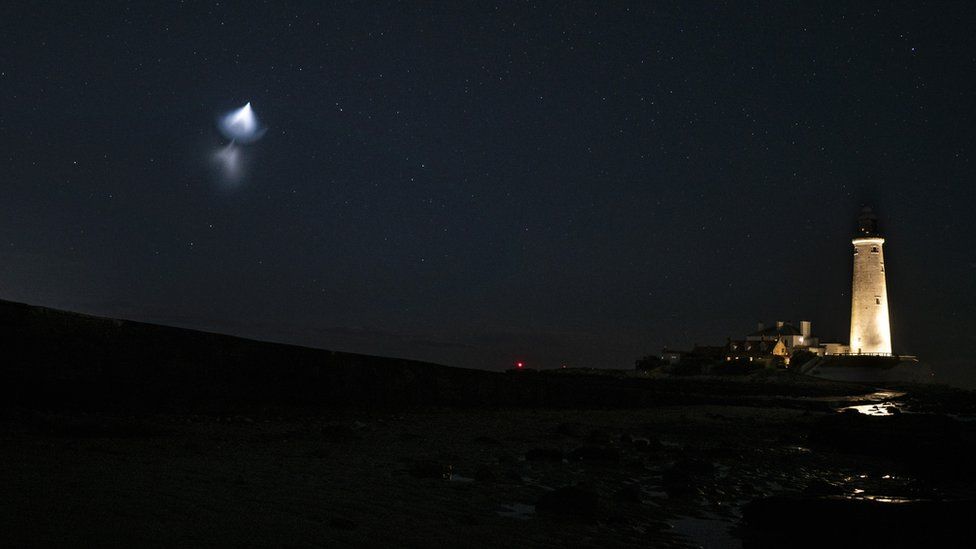 Mr Sproat only went to the spot near St Mary's Lighthouse because he thought he might be able to see the northern lights.
"When I got there and was setting up, a ball of light appeared above me," he said.
He felt "truly blessed to have witnessed this spectacular sight", he added.
Fellow astronomy enthusiast Freddy Lees snapped a photo of the rocket from Nottingham as it climbed above the tree line shortly after 22:00.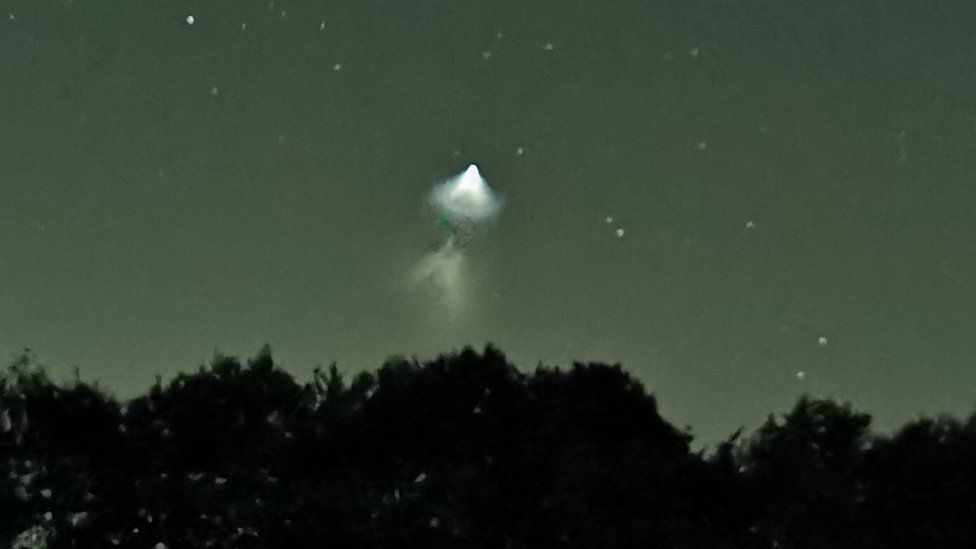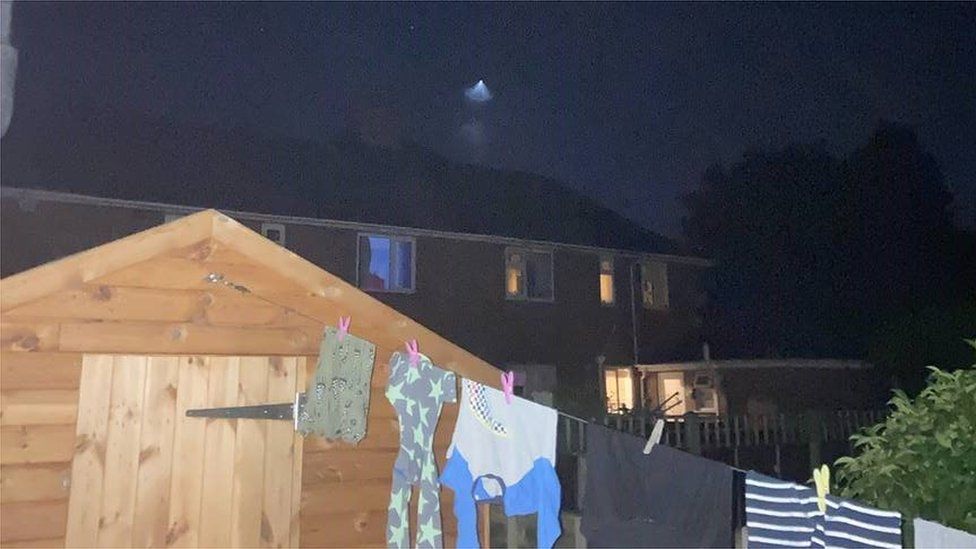 The NASA Atlas V rocket was launched from California's Vandenberg Space Force base 20:11 BST.
Visible rocket burns are rare in European skies and more often seen above Florida or California.

Rocket failure mars U.S. hypersonic weapon test as others succeed
The Pentagon 's hypersonic weapon programs suffered a setback on Thursday when a booster rocket carrying a hypersonic weapon failed, people briefed on the test result said.
The test was intended to validate aspects of one of the Pentagon's hypersonic glide vehicles in development, two of the people said.
Hypersonic glide vehicles are launched from a rocket in the upper atmosphere before gliding to a target at speeds of more than five times the speed of sound, or about 3,853 miles (6,200 kilometers) per hour.
In a separate series of tests conducted on Wednesday, the U.S. Navy and Army tested hypersonic weapon component prototypes. That test successfully "demonstrated advanced hypersonic technologies, capabilities, and prototype systems in a realistic operating environment," the Pentagon said in a statement.
The United States and its global rivals have quickened their pace to build hypersonic weapons – the next generation of arms that rob adversaries of reaction time and traditional defeat mechanisms.
U.S. President Joe Biden expressed concern on Wednesday about Chinese hypersonic missiles, days after a media report that Beijing had tested a nuclear-capable hypersonic glide weapon.
Glide bodies are different from their air-breathing hypersonic weapon cousins which use scramjet engine technology and the vehicle's high speed to forcibly compress incoming air before combustion to enable sustained flight at hypersonic speeds. An air-breathing hypersonic weapon was successfully tested in September.
Companies such as Lockheed Martin and Raytheon Technologies are working to develop the hypersonic weapon capability for the United States.
(Reporting by Mike Stone and Idrees Ali in Washington; Editing by Sandra Maler)
Patagonian fossils show Jurassic dinosaur had the herd mentality | Saltwire – SaltWire Network
By Will Dunham
(Reuters) – A vast trove of fossils unearthed in Argentina's southern Patagonia region is offering the oldest-known evidence that some dinosaurs thrived in a complex and well-organized herd structure, with adults caring for the young and sharing a communal nesting ground.
Scientists said on Thursday the fossils include more than 100 dinosaur eggs and the bones of about 80 juveniles and adults of a Jurassic Period plant-eating species called Mussaurus patagonicus, including 20 remarkably complete skeletons. The animals experienced a mass-death event, probably caused by a drought, and their bodies were subsequently buried by wind-blown dust, the researchers said.
"It is a pretty dramatic scene from 193 million years ago that was frozen in time," said paleontologist Diego Pol of the Egidio Feruglio Paleontological Museum in Trelew, Argentina, who led the research published in the journal Scientific Reports.
Mussaurus, which grew to about 20 feet (6 meters) long and about 1.5 tons, possessed a long neck and tail, with a small head. It was bipedal as an adult but newborns were quadrupedal. Mussaurus lived early in the Jurassic, the second of three periods comprising the age of dinosaurs. It was a relatively large beast for its time – much bigger than contemporaneous meat-eating dinosaurs. Dinosaurs became true giants later in the Jurassic.
"The site is one of a kind," Pol said. "It preserves a dinosaur nesting ground including delicate and tiny dinosaur skeletons as well as eggs with embryos inside. The specimens we have found showed that herd behavior was present in long-necked dinosaurs since their early history. These were social animals, and we think this may be an important factor to explain their success."
The animals were found to have been grouped by age at the time of their deaths, with hatchlings and eggs in one area while skeletons of juveniles were clustered nearby. The eggs were arranged in layers within trenches. Adults were found alone or in pairs.
This phenomenon, called "age segregation," signals a complex social structure, the researchers said, including adults that foraged for meals and cared for the young. The researchers suspect that members of the herd returned to the same spot during successive seasons to form breeding colonies.
"The young were staying with the adults at least until they reached adulthood. It could be that they stayed in the same herd after reaching adulthood, but we don't have information to corroborate that hypothesis," said paleontologist and study co-author Vincent Fernandez of the Natural History Museum in London.
Herd behavior also can protect young and vulnerable individuals from attack by predators.
"It's a strategy for the survival of a species," Fernandez said.
The oldest previous evidence for dinosaur herd behavior was from about 150 million years ago.
The nesting ground was situated on the dry margins of a lake featuring ferns and conifers in a warm but seasonal climate. The eggs are about the size of a chicken's, and the skeleton of a hatchling fits in the palm of a human hand. The adults got as heavy as a hippo.
A scanning method called high-resolution X-ray computed tomography confirmed that the embryos inside the eggs indeed were of Mussaurus.
Mussaurus was a type of dinosaur called a sauropodomorph, which represented the first great success story among herbivorous dinosaurs. Sauropodomorphs were an evolutionary forerunner to a group called sauropods known for long necks and tails and four pillar-like legs.
The largest land animals in Earth's history were the sauropod successors of sauropodomorphs, as exemplified by a later denizen of Patagonia called Argentinosaurus that reached perhaps 118 feet (36 meters) in length and upwards of 70 tons.
(Reporting by Will Dunham in Washington, Editing by Rosalba O'Brien)
Some of the world's oldest rubies linked to early life – Newswise
Newswise — While analyzing some of the world's oldest coloured gemstones, researchers from the University of Waterloo discovered carbon residue that was once ancient life, encased in a 2.5 billion-year-old ruby.
The research team, led by Chris Yakymchuk, professor of Earth and Environmental Sciences at Waterloo, set out to study the geology of rubies to better understand the conditions necessary for ruby formation. During this research in Greenland, which contains the oldest known deposits of rubies in the world, the team found a ruby sample that contained graphite, a mineral made of pure carbon. Analysis of this carbon indicates that it is a remnant of early life.
"The graphite inside this ruby is really unique. It's the first time we've seen evidence of ancient life in ruby-bearing rocks," says Yakymchuk. "The presence of graphite also gives us more clues to determine how rubies formed at this location, something that is impossible to do directly based on a ruby's colour and chemical composition."
The presence of the graphite allowed the researchers to analyze a property called isotopic composition of the carbon atoms, which measures the relative amounts of different carbon atoms. More than 98 per cent of all carbon atoms have a mass of 12 atomic mass units, but a few carbon atoms are heavier, with a mass of 13 or 14 atomic mass units.
"Living matter preferentially consists of the lighter carbon atoms because they take less energy to incorporate into cells," said Yakymchuk. "Based on the increased amount of carbon-12 in this graphite, we concluded that the carbon atoms were once ancient life, most likely dead microorganisms such as cyanobacteria."
The graphite is found in rocks older than 2.5 billion years ago, a time on the planet when oxygen was not abundant in the atmosphere, and life existed only in microorganisms and algae films.
During this study, Yakymchuk's team discovered that this graphite not only links the gemstone to ancient life but was also likely necessary for this ruby to exist at all. The graphite changed the chemistry of the surrounding rocks to create favourable conditions for ruby growth. Without it, the team's models showed that it would not have been possible to form rubies in this location.
The study, Corundum (ruby) growth during the final assembly of the Archean North Atlantic Craton, southern West Greenland, was recently published in Ore Geology Reviews. A companion study, The corundum conundrum: Constraining the compositions of fluids involved in ruby formation in metamorphic melanges of ultramafic and aluminous rocks, was published in the journal Chemical Geology in June.