Bjorn Borg loves the freedom of a speed boat and the memory of the 1980 Wimbledon final
One of the most storied rivalries in tennis will renew next week at Rogers Arena in Vancouver, as Bjorn Borg and John McEnroe face each other as captains of Team Europe and Team World at the Laver Cup. Borg has selected a team of players from Europe to face McEnroe's players from the rest of the world.
The most famous foes in men's tennis of the late 1970s and early '80s were dubbed Fire and Ice. The American lefty grew as famous for his petulant outbursts and rebellious persona as his artful shot making. The Swede was his antithesis: poker-faced and unflappable on court and with an eccentric ultrafit regimen off-court and the long flowing blond hair and stylish clothes of a rock star. Borg, often called the original tennis hipster, retired suddenly at age 26, leaving fans – and his biggest rival – to wonder what else might have been.
The Globe reached Borg, 67, at his home in Stockholm preparing for his trip to Canada. The 11-time Grand Slam champion says he still attends the world's most prestigious tournaments, still works with tennis sponsors and loves to watch great matches. His voice rings sentimental when discussing McEnroe, and the bond fortified at their famous 1980 Wimbledon final.
When and where are you happiest?
I'm happiest at home in Stockholm with my family, just staying at my place.
What is your greatest regret?
Probably not winning the U.S. Open. I was in the final four times. Maybe I had chances in a couple of those finals to win, but I did not.
What is your greatest fear?
To be sick. I want to stay healthy, to wake up in the morning and feel good. If I cannot do that, I'm scared. Not only myself, but my family, and those closest to me, to be happy and healthy, and not to be sick.
If not pro tennis, what job might you have pursued?
I'm a sports freak. When I was a young boy I played tennis and hockey. So maybe I would be playing hockey for the Canucks. My favourite sport today besides tennis is hockey. I watch the NHL and Swedish hockey. When I've been travelling in Canada or in the States, I've been to so many hockey games. I played for a long time but not any more. I was skating all the time and playing with friends. But I'm too old now.
Which talent would you most like to have?
To be able to play music when you're among friends, and you're laughing and having a great evening. If I could play an instrument that would be a lot of fun. Guitar would be nice.
What is a trait you most dislike in yourself?
I want to be more patient. I'm too eager sometimes to find out things, to do things I want to do.
What is your most treasured possession?
I'm a family man. I love my family. That's the most important thing for me. It's always been. I have a beautiful and lovely wife; she's going to come to Vancouver with me. I have two great sons. I don't feel good when I can't be together with them.
Are there any authors or books that have resonated with you?
No, but my wife [Patricia Östfeld] is writing a book right now – about my life – that will come out next year. It will be in Swedish and English. So we have a lot of nice discussions about my life. It's hard, because some things she doesn't know about, and I have to tell her something, and maybe she's not so happy with what I'm telling her. I'm happy she's doing it. We've been together for 23 years, and she knows me quite a lot.
What frustrates you?
People who are not honest. I don't like that at all.
What is your greatest extravagance?
Since I was about 20 years old, something I was always crazy about was boats. On the water, on a boat, you feel a kind of a freedom, you feel very good about yourself.
What kind of boats? Do you still own one?
Offshore speed boats. But no, not anymore. I sold my boat five years ago.
Who is a person you wish to meet?
I've been very lucky. I've met many people. I always wanted to meet John Lennon but I never had the opportunity.
What is the best gift you've ever received?
I played World Team Tennis – a team competition in the States – in 1977 and I was playing for the Cleveland Nets. Then when I went over to Wimbledon, the owner of the Cleveland Nets said to me "if you win Wimbledon I'm going to give you a Corvette." Well I did win, and he shipped a nice grey Corvette over to me, where I was living in Monte Carlo.
What is the hardest thing in tennis?
To play the important points right. That's the difference between the players ranked top 10 in the world, and ranked 150 – winning those important points. It's also tough when you play the important matches, and at Grand Slam tournaments, to handle the pressure. There are many good players – everybody can hit the forehand and backhand – but those two differences make a great player.
What do you consider your greatest achievement?
Except for my two sons, I'd say when I beat McEnroe in the 1980 Wimbledon final. That was one of the greatest matches and that meant a lot for me personally. [Borg won 1-6, 7-5, 6-3, 6-7 (16-18), 8-6].
That has been called one of the greatest tennis finals of all time. Is that your favourite match, when you look back at your career?
Yes that's probably the favourite match, maybe for both John and myself, even if he lost the match. We played a great match and people saw great tennis. That particular match helped tennis to grow, I think. Both me and John, we were very proud of that.
John McEnroe has said about your early retirement that tennis without his greatest rival wasn't as fun. What was it like for you after retiring at a young age?
After I retired, the first couple of years were great because I didn't have a schedule. I was not motivated to play tennis, and I wanted to do other things, so I was a very happy person because I could do whatever I felt like doing. With tennis for so many years I had my schedule, and I knew exactly what I would do every day. But then after those two, three years off tennis, I started to get bored because I didn't have the schedule and I was not prepared for life. I think today when people step away from sports, they are prepared. I was not. I was trying to jump to different areas of business and different things, but I didn't have one particular thing I wanted to do. But it turned out well for me anyway.
When you watch tennis today, do you see traces of your influence or the signature style that you played?
No, I think tennis has changed. It's a different tennis today than when we played. There are more players today, the competition is so much tougher, there's so many more countries today playing tennis than when we played. They hit the ball so much harder today than we did.
Now you get to compete with McEnroe again, your players against his in Vancouver?
It's nice to see John. We've been keeping in touch for many years now and we see each other one in a while, we talk on the phone. He's a very good and close friend and that will continue for many more years.
How would you describe your current state of mind?
I've been feeling good for many years. I have good people around me, I have a great family who loves me, and I love them. We have a good time, we do things together. I have no complaints.
As LeBron James enters Year 21, the theme of Lakers media day was passing the torch and sharing the load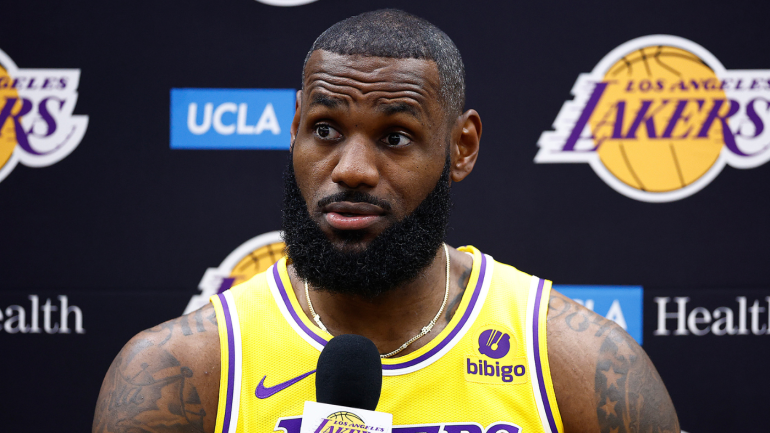 Getty Images
The budding relationship between fifth-year forward Rui Hachimura and four-time MVP LeBron James has been one of the stories of the offseason for the resurgent Los Angeles Lakers. Stories of the two working out together have become commonplace. "I call him my Daniel-san and I'm Mr. Miyagi," James joked at Lakers' media day Monday. It was an appropriate comparison not just between James and Hachimura, but the legend and his entire team.
Now that Udonis Haslem has called it a career and Andre Iguodala is seemingly headed in that direction, James is officially the NBA's oldest active player. He proved that he is still a superstar on the court last season, but aside from Anthony Davis and Taurean Prince, all of his Laker teammates are at least a decade his junior. In a perfect world, the days of James pushing for 30-point triple-doubles on a nightly basis are now over. He has a group of young teammates eager to learn from his example and lift him up when he needs it.
"I think with this team we have the most depth," new Lakers big man Christian Wood said Monday. "No team in the league has more depth than we have." This was the goal of the Lakers' offseason. Though they didn't make any particularly splashy additions, six of the seven Lakers to play at least 200 postseason minutes are back this season. Joining them are Gabe Vincent, a starter on Miami's finalist from a season ago, and Wood, one of the NBA's most dynamic scoring big men. Rounding out the new-look bench are former first-round picks Taurean Prince (29), Cam Reddish (24) and Jaxson Hayes (23). That youth-oriented approach was no accident, as Lakers coach Darvin Ham explained Friday.
"Now that we have, top-to-bottom, what we feel is a highly balanced, skilled, athletic, younger team of guys that have logged a ton of NBA minutes, we can surround both he and AD with these players who are coming in eager to contribute, eager to show that they can impact winning," Ham said. "That's gonna allow us to be able to be more efficient with his game-to-game minutes."
Managing James' minutes was difficult last season. The Lakers lacked depth on a roster depleted by the Russell Westbrook trade, and when Davis was hurt, James needed to carry a remarkable burden just to keep the Lakers afloat. He averaged 24.1 shots and 34.6 points per game between Dec. 18 and Jan. 24, Davis' longest extended absence of the season. Roughly one month later, he suffered the foot injury that hampered him for the rest of the season. It's an outcome Davis is hoping to avoid this time around.
"It's my goal every year to play 82," Davis said. Though likely unobtainable, keeping Davis on the floor will be essential to the Lakers' championship hopes this season. In fact, James might even argue that his co-star's health is more important than his own. "He is the face [of the franchise]," James said at media day. For stretches last season, he was among the NBA's best players. Between Nov. 13 and his own injury on Dec. 13, Davis averaged 32.4 points per game while doubling as the league's best defensive player.
But for the Lakers to realize their considerable potential, he'll have to sustain that dominance for longer stretches. The supporting players, who were so instrumental in lifting the Lakers from out of the top-10 in the West and into the Western Conference finals, will have to continue to benefit from James' presence as Hachimura has. The Lakers went from cellar-dweller to contender last season when they morphed from an older, star-driven roster to a younger, balanced one, and whether that means Davis stepping into James' role as the focal point of the team or the role players improving with another year in the system, the Lakers made it clear at media day that they plan to continue that transformation.
The Growing Popularity of Online Casino Apps in Canada: A Comprehensive Guide
Online casinos have surged in recent years, partly because the pandemic moved people from traditional brick-and-mortar establishments to playing from the safety of their homes and partly because technological leaps have made online gaming more engaging and immersive.
In response to the rise in online casinos, companies have invested in bringing the experience to mobile apps. Apps provide players with an accessible way to enjoy their favorite casino games—plus, there are usually more features and gameplay is more convenient.
This guide explores the benefits of online casino apps, the legal considerations surrounding gambling in Canada, the different types of casino games available on apps and future trends in the industry. If you're an online casino enthusiast looking to sample the best apps, try this list first to see if your favorite casino already has an app. Chances are, they do.
Why an app?
Smartphones have brought a level of convenience to life that is not always appreciated, especially as users become increasingly accustomed to having a tiny computer in their pocket. Ease of access to everything from email to real-time maps to e-reading devices allows for an unprecedented level of flexibility.
Online casinos are no exception. You can access a wide range of casino games while you're waiting for a bus, relaxing at home on the couch, or during a lunch break. Apps, in comparison to online casino websites, provide a user-friendly interface that is specifically designed for your phone.
Online casino and gambling regulations
It is important to understand the legal considerations and gambling regulations in Canada, or from whichever country you are partaking in online gambling. Engaging with licensed casinos is the best way to protect yourself from potential harm associated with cybercrime, scams, or other unethical practices. Reading reviews from online casino comparison sites or verifying casino licenses is recommended before playing, especially with real money.
In Canada, the legality of online gambling varies across provinces. Some provinces have their own online gambling platforms, while others rely on offshore operators. As a general rule of thumb, online gambling is legal in Canada. The legal gambling age varies by province, so it's best to check laws and regulations depending on your specific location.
Which types of games are available?
Most casino games have been adapted for mobile apps. Slot games are particularly popular because developers have been able to introduce vibrant graphics and exciting themes to the app experience. Table games such as blackjack, roulette and poker are also popular for those seeking a more strategic, reflective experience.
A lot of online casino apps also offer live dealer games, where players can interact with actual dealers and other players in real time. By leveraging a smartphone's unique features, such as vibration, these types of games played on an app can feel even more immersive and authentic.
Future trends and advanced gameplay
The online casino app industry is continuously developing, with cutting-edge innovations and trends shaping the industry's future. One emerging trend is the integration of virtual reality (VR) technology. VR technology, while still not fully mimicking physical casinos, does create a more interactive gaming environment for players.
Another trend is the improvement of mobile payment options. By incorporating a variety of payment options, such as Apple Pay and Google Pay, making deposits and withdrawals in mobile casino apps is increasingly more simple and secure. Additionally, advancements in artificial intelligence (AI) are being leveraged to enrich the gaming experience, with AI-powered chatbots providing personalized customer support.
The Wrap-Up
In today's age, apps are a normal part of our daily routine. Online casinos have successfully tapped into ever-evolving smartphone technology to create engaging and accessible entertainment options. It is as important as ever to choose reputable service providers and practice responsible gaming, but as the industry continues to innovate, more complex and engaging options are on the horizon.
Garnacho on target as United beats Crystal Palace in League Cup defence
MANCHESTER, England (AP) — Seven months after lifting the trophy, Manchester United made a successful start to its defense of the English League Cup on Tuesday by beating Crystal Palace 3-0.
Alejandro Garnacho and Casemiro fired the holders into a 2-0 first-half lead at Old Trafford and Anthony Martial added a third after the break in the third-round match.
It is now back-to-back wins for Erik ten Hag's team, which has endured a disappointing start to the season.
The dominant performance against an understrength Palace followed Saturday's narrow victory at Burnley and will give United fans hope the team has turned its form around.
"The mood is always good, but of course when you are not winning at United there is disappointment, and there is frustration, but the togetherness is always there," Ten Hag said. "We know we are not now in the position where we want to be. So we have to build up, we have to catch up and then you have to go from game to game, working on the process and working on the results. Don't get too far ahead."
The League Cup ranks fourth among English soccer's most important trophies. But Ten Hag still savored last season's success.
Victory against Newcastle in February's final at Wembley Stadium ended the club's six-year wait for a trophy and saw Ten Hag deliver silverware in his first season at the club. He went on to also reach the FA Cup final, only to lose to Manchester City, and also guided United back into the Champions League to mark an impressive campaign.
Things have not gone so well this term, with his team losing four out of five games before beating Burnley 1-0.
This latest victory was far more convincing, even if Palace benched regular starters Marc Guehi, Eberechi Eze and Joachim Anderson and was also without forward Odsonne Edouard.
Ten Hag also made changes with Bruno Fernandes, Marcus Rashford and Rasmus Hojlund on the bench and Christian Eriksen absent.
Mason Mount, however, made his first appearance since Aug. 19 after returning from an injury.
Garnacho fired United ahead in the 21st minute after converting Diogo Dalot's cutback in the box.
His low shot had too much power for Palace goalkeeper Sam Johnstone, who had only just come on as a substitute for the injured Dean Henderson.
Johnstone was tested again moments later when Dalot blasted an effort from an angle, which the keeper blocked.
He was beaten again, however, in the 27th, this time by Casemiro, who headed in Mount's corner to double United's lead.
Martial added a third 10 minutes into the second half when firing across goal after meeting Casemiro's looping ball to the far post.
United plays Palace again in the Premier League on Saturday and the Londoners showed their threat when twice forcing saves from 'keeper Andre Onana later in the match. But manager Roy Hodgson did not sound confident about securing a different outcome when the teams next meet.
"We are going to have to become a totally different team in the way we approach the game and the way we play the game," he said.
CUP UPSETS
Third-division Exeter produced a shock 1-0 win against Luton to knock the Premier League club out of the competition. Luton made 10 changes from the team that picked up its first topflight point of the season against Wolverhampton on Saturday, but the result will still go down as a big upset. Demetri Mitchell scored the winner in the 83rd, but Exeter had to see out the game with 10 men after he was sent off in the 88th.
Wolverhampton was also eliminated after throwing away a two-goal lead to lose 3-2 at second-division Ipswich. Hwang Hee-Chan and Toti Gomes had seemingly put the visitors on course for the next round after goals inside the first 15 minutes. But Omari Hutchinson, Freddie Ladapo and Jack Taylor sealed a comeback win for Ipswich.
BURNLEY ADVANCES
Burnley is still waiting for its first win in the league this season, but it is powering on in the cup after a 4-0 win against Salford City, the fourth division club co-owned by Manchester United greats including David Beckham, Ryan Giggs and Gary Neville.
Elsewhere, Middlesbrough beat Bradford 2-0 and Port Vale won 2-1 against Sutton United.
Fourth-division Mansfield beat third-division Peterborough 3-1 on penalty kicks after a 2-2 draw in regulation time. Lucas Akins' penalty to even the score in the 93rd had sent the game to a shootout.
___
James Robson is at https://twitter.com/jamesalanrobson
___
More AP soccer: https://apnews.com/hub/soccer