Pace of real estate decline finally slowing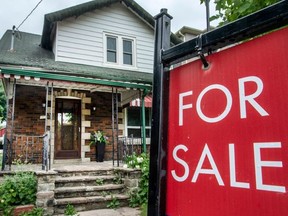 Prices will likely still fall in Toronto, but the decline has begun to slow and expectations are that prices will bottom in the spring.

 
Some areas in the GTA have done better than others.As predicted, areas outside the city where prices skyrocketed once remote work became a possibility are among the hardest hit.

Prices in Cambridge, for example, are off 22%, while London and Brantford have seen an 18% decline. Kitchener-Waterloo, Kawartha Lakes and Hamilton/Burlington have all had a 17% drop in prices.

While Toronto's decline has been 11%, prices are expected to fall further.
Toronto also saw a drop of almost half (49.3%) in numbers of home sales in October versus October 2021, while new listings were down 11.5%.
"The market downturn may be in a late stage, but it doesn't mean things are about to heat up again," said

Robert Hogue, RBC's assistant chief economist, in the report.
"We expect high — and still-rising — interest rates will continue to challenge buyers for some time. This will keep activity quiet for a while longer, even if it stabilizes near current levels."
For those on the sidelines wondering when or if to buy, a Toronto mortgage expert (who prefers not to be named) has some words of wisdom.
For starters, he prefers to keep all the gloom and doom on the down-low.  A correction notwithstanding, real estate remains a solid investment. 
So on the plus side, "with the correction have come reduced prices and reduced closing costs, especially in the GTA," the expert said.
And maybe no bidding war, a
lthough s
ome neighbourhoods have not lost value because the three rules of real estate — location, location, location — never change.
If you're wondering what the bank will lend you for a mortgage, the expert offered a useful rule of thumb: 4.2 times your salary will tell you what you qualify for.
That's provided you don't have a lot of other debt, obviously.
As for figuring out your monthly mortgage payments, calculate $6 per thousand; a $500,000 mortgage will cost $3,000 a month, for example.
The fact that a one-year mortgage is currently at the highest rate and the five-year rate is lower — an inverted yield curve — is a sign of uncertainty.
"For the first time in my career, I'm not telling people what to do. Instead, I'm telling them their options," he said.
As for that swift rise in interest rates tamping down inflation, that's working "to some extent."
The government should have started two years ago and raised rates more slowly, he explained. 
The consensus seems to be that the worst is behind us, "but we're heading into stagnation. Things will level off, but we need stability."
There's very little on the market right now, but the expert's expectation is that things will pick up after March break, when young families will start looking again in earnest.
"The banks aren't taking any chances. Anyone who thinks the banks are just giving money away — no! It's never been tougher to get credit."
Last word: focus on your debt. "I used to say, 'Continue to save.'
"Now I say, 'move from investing to getting rid of debt.'"
China's real estate crisis isn't over yet, IMF says – CNBC
[unable to retrieve full-text content]
China's real estate crisis isn't over yet, IMF says CNBC




Source link
Toronto Real Estate Prices Rise Despite Weakest January Sales Since 2009 – Better Dwelling
[unable to retrieve full-text content]
This Week's Top Stories: Canadian Real Estate Correction Only Half Over, & US Prices Slip – Better Dwelling
[unable to retrieve full-text content]
This Week's Top Stories: Canadian Real Estate Correction Only Half Over, & US Prices Slip Better Dwelling




Source link