Brazil Set for Biggest Rate Hike Since 2003 as Economy Reopens – Bloomberg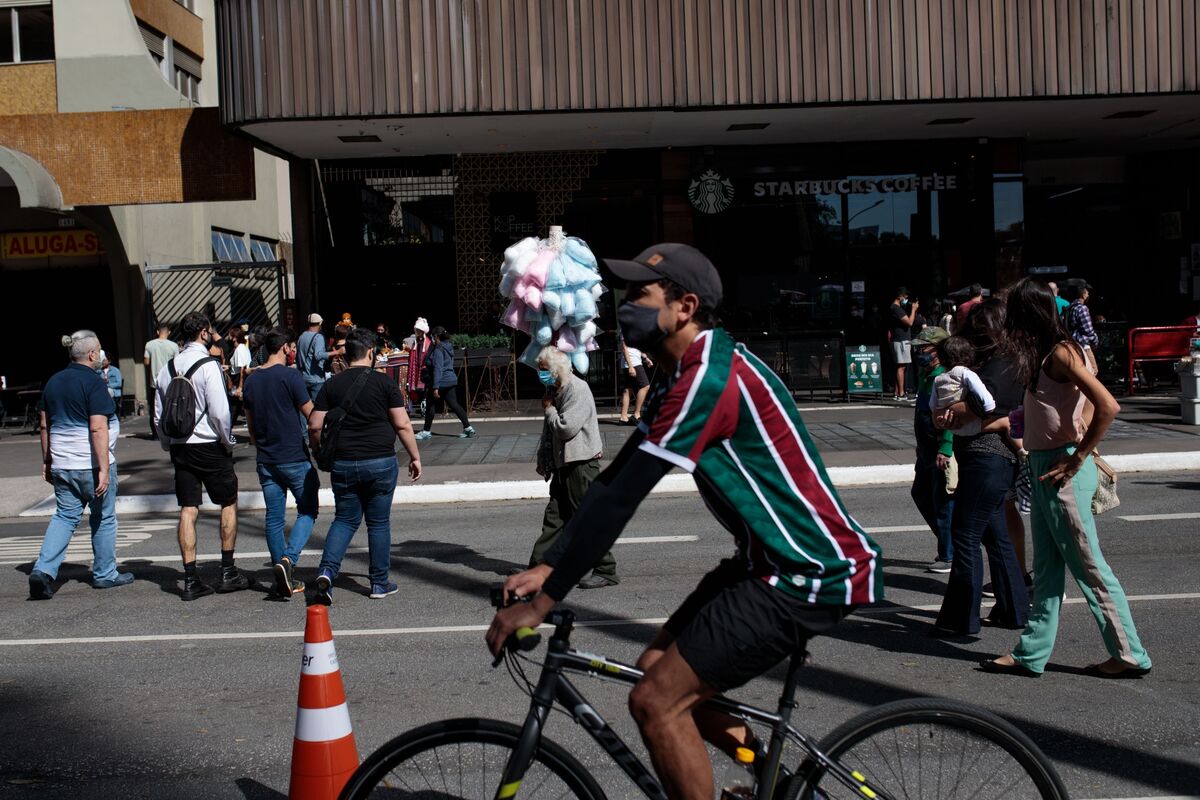 Sign up for the New Economy Daily newsletter, follow us @economics and subscribe to our podcast.
A new front is opening up in Brazil's war against inflation amid surging costs for services from airline fares to appliance repairs, sparking speculation that one of the world's most aggressive central banks may this week deliver its biggest interest rate hike in almost two decades.
Rising Energy Poses Big Inflationary Threat To U.S. Economy – Forbes
Fears about inflation are rampant in Europe where natural gas and power shortages are colliding with the onset of winter to drive energy prices to record-breaking levels. Mix in the effects of supply chain bottlenecks caused by the global pandemic and you have a dangerous cocktail of rising prices and falling purchasing power of must-have energy products.
And while the situation in the United States is not as bad, consumers and investors can't afford to be complacent. Wall Street traders are watching what's happening in Europe and anticipating inflation will continue to rise on these shores, too.
Concerns about the most recent Consumer Price Index (CPI) report put the jitters in traders that knocked the wind out of the sails of the stocks market. The year-over-year CPI rose 5.3 percent over its level last August and the core CPI is up 4 percent over the same period. That's a slight decrease from where they were in July, but it's still double the 2 percent inflation rate targeted by the Federal Reserve.
U.S. consumer prices increased at their slowest pace in six months in August, however those figures ignore the volatile food and energy components of the market. Consumers don't have the luxury of ignoring rising prices for energy commodities like crude oil, natural gas, gasoline, and diesel. The cost of energy impacts prices throughout the supply chain – from production to transportation – and those extra costs ultimately filter down to the consumer at the end of the line.
Benchmark Brent crude oil now trades above $75 a barrel, or more than 45 percent above where it started the year, and analysts warn that a tightening oil market could prompt further gains.
Average U.S. retail gasoline prices are some 50 percent higher than a year ago at $3.19 a gallon, and with crude feedstock costs rising and some refineries still constrained after Hurricane Ida, they could also move higher.
The situation is most alarming in natural gas, which many consumers rely on to power and heat their homes. At over $5 per million Btu, benchmark Henry Hub natural gas prices are more than twice as high as a year ago, at an annualized rate equal to a $109 billion increase to consumers. The Energy Information Administration (EIA) reports that working natural gas stocks are 17 percent lower than a year ago and 7 percent below the five-year average.
Gas shortages in Europe and Asia are drawing more U.S. gas abroad as exports of liquefied natural gas (LNG), exacerbating market tightness here despite America's vast gas reserves. The EIA says that natural gas exports are up 41 percent from a year ago.
The consultancy S&P Global Platts calculates that Henry Hub prices would have to increase to $10 per million Btu to provide incentive to U.S. producers to fulfill domestic natural gas demand rather supply the export market. At those price levels, which the United States experienced in 2008, would cause demand destruction in the manufacturing sector. Many manufacturers that consume large quantities of natural gas can no longer compete in the market at those prices, which results in a loss of jobs.
Low gas inventories and rising prices are a concern because the United States should now be building stocks for the winter when the heating season creates peak demand. The market is now in what's known as a "shoulder season" when demand is structurally lower because the market is in between robust summer cooling demand and peak winter heating demand.
Instead, American consumers could be facing an uncomfortable winter if natural gas prices spike at the same time as crude oil and refined products push higher while the economy continues to recover from the pandemic.
It's a dangerous prospect, particularly for lower income families who are hurt most by rising energy prices. A 50-cent-a-gallon increase in retail gasoline prices may not dent the wallet of wealthier consumers, but it can be incredibly painful for those with lower or fixed incomes.
And there's another side to inflation in energy that can squeeze consumers. Investors use commodity markets to hedge their inflation risk, meaning they buy oil and gas futures contracts to hedge against the risk of consumer prices rising across the board. This speculative buying can drive up the price of the underlying commodity for consumers.
The Biden administration is understandably worried about rising energy prices but its attempts to blame the oil and gas industry are off base and show a lack of understanding of energy markets.
President Biden recently suggested that something was amiss with gasoline prices and that the White House would examine the practices of market players for speculation. But what the White House will find is merely the forces of supply and demand at work.
Gasoline and diesel demand has returned to pre-pandemic rates in the U.S., as well as in the critical markets of Europe and China. U.S. refiners are working to supply customers both at home and abroad through exports, but Ida temporarily disrupted that effort, and roughly 25 percent of crude and natural gas production from the U.S. Gulf of Mexico were shut for about two weeks after the storm made landfall.
Ida is likely to have long ripple effects on the market for refined products, with some experts estimating at least 30 million barrels of diesel, gasoline, jet fuel and others will go unproduced due to the storm's impact on refineries.
Typically, higher energy commodity prices would call for greater supply from producers. But these are not ordinary times. Intense environmental, social and governance (ESG) demands on producers have prompted most to stop investing aggressively in growth.
While investors are largely to blame, the Biden administration has also sullied the investment climate for U.S. oil and gas producers with policies aimed at curtailing fossil fuel production to combat climate change.
The decision by Biden to cancel the Keystone XL pipeline project and attempt to halt leasing on federal lands and waters sends a stark message to the industry and its investors.
Democrats' proposed $3.5 trillion budget reconciliation — which is more than twice the combined budgets of all 50 states — would only exacerbate the inflationary pressures that are already raising prices for American families.
The bill includes several climate initiatives that would punish U.S. oil and gas producers, including a fee on methane emissions and higher taxes and royalties. These higher costs would ultimately be passed on to consumers.
U.S. energy expenditures totaled $1.2 trillion in 2019 and clocked in at a per capita rate of $3,728. This accounted for about 6 percent of gross domestic product, so rising energy prices could have a brutal effect on the economy while it continues its fragile recovery from the pandemic.
Lawmakers should look hard at Europe's energy crisis before closing the door on the U.S. oil and gas industry, because we could be next unless pragmatism prevails.
Global economy will suffer as long as rich countries don't help vaccinate poor ones, OECD warns – CBC.ca
A leading international economic watchdog urged developed countries to put more effort into providing low-income countries with coronavirus vaccines in order to ensure that the global recovery from the pandemic is more even.
In its latest assessment of the state of the global economy, the Paris-based Organization for Economic Cooperation and Development said Tuesday that the global recovery from the shock of the pandemic is faster than it anticipated a year ago. Though the global economy has more than recouped the 3.4 per cent output lost in 2020, it cautioned that the recovery is "uneven."
The OECD, which monitors and advises its 38 member countries, modestly downgraded its growth forecast for this year to 5.7 per cent from 5.8 per cent previously. For 2022, the OECD raised its forecast to 4.5 per cent from 4.4 per cent.
Among developed countries, the OECD said the U.S. economy is set to grow this year by 0.9 percentage points less than it anticipated in May, though at a still-healthy 6 per cent, while the 19-country eurozone is bouncing back by a full percentage point more than previously thought at 5.3 per cent. It left its China growth unchanged at 8.5 per cent.
Canada's economy is forecast to expand by 5.4 per cent this year, the group said. That's down from 6.1 before.
Vaccine inequality
In its report, the OECD said greater international effort should be put in to provide low-income countries with the resources they need to vaccinate their populations, both for their own and global benefits.
"Ensuring the recovery is sustained and widespread requires action on a number of fronts — from effective vaccination programs across all countries to concerted public investment strategies to build for the future," said OECD Secretary-General Mathias Cormann.
Developed countries are being urged by a number of bodies, including the World Health Organization, to share excess vaccines with poor countries who have yet to immunize their people instead of using them to provide booster shots.
Last week, for example, the British government recommended that booster shots be offered to everyone over 50, health care workers, people with underlying health conditions and those who live with people whose immune systems are compromised. Others, including the U.S., are set to follow suit in offering booster shots to certain sections of their population.
The richer nations of the world have already committed to donate hundreds of millions of jabs to poorer countries via the COVAX scheme.
The OECD also urged developed countries not to be too hasty in withdrawing the "extraordinary support" they provided their economies at the outset of the pandemic as the outlook remains uncertain and employment levels in many parts of the world have not yet recovered fully to pre-pandemic levels.
It also said current inflationary pressures in the world economy arising from the reopening of economies should start to fade from next year.
The rapid pick-up in demand this year has led to a sharp rise in key commodities such as oil and metals, as well as food. The disruption to supply chains caused by the pandemic has added to cost pressures, while shipping costs have increased sharply.
Can Industrial Policy Save The American Economy? – Forbes
As the US continues struggling with Covid-19 and economic recovery, debate is growing about the revival of "industrial policy"—government -led efforts to favor certain industries over others, in contradiction to market fundamentalist approaches. An important new forum in the Boston Review takes on these issues and is well worth your attention. For our future prosperity, these issues are more important than just arguing about deficits and taxes. (Disclosure: I've coauthored a piece in the forum.)
In the battle over President Biden's economic proposals, most commentary focuses on whether the price tag of over $3.5 trillion is too large. How much should be paid for? Which taxes should go up or down? Senator Joe Manchin (D-WV), the key Democratic vote for Senate passage of the Biden plan recently called it "the largest single spending bill in history with no regard to rising inflation, crippling debt or the inevitability of future crises."
But there's a second debate hidden behind these budget numbers—how and whether government should deliberately foster some industries and withdraw support from others. Although simple introductory economics textbooks say government intervention is always "second best" to markets, in the real world government is constantly favoring some industries over others.
So the debate is really about what type of industrial policy we are going to have, not whether it exists. The Review's forum centers on an excellent piece by economist Marianna Mazzucato and colleagues—"Industrial Policy's Comeback." They flatly (and correctly) say "market fundamentalism has failed to improve economic and social conditions," calling for "a mission-oriented approach to the economy that embraces an active role for government in spurring growth and innovation."
Mazzucato is one of our best thinkers on the complex relationships between government and the private sector. Her 2013 landmark book, The Entrepreneurial State: Debunking Public vs. Private Sector Myths showed how government investment undergirded the tech revolution, with Apple and other firms adapting technology developed and paid for by the government, often through military spending.
Economists have long known that industrial policy is central to modern economies. In 2008, Harvard's Dani Rodrik asked readers to imagine "a set of policy interventions targeted on a loosely-defined set of market imperfections…implemented by bureaucrats…and overseen by politicians" while subject to "rent-seeking by powerful groups and lobbies."
Yikes! Rodrik says those sound like good reasons that "governments should stay away from industrial policy." But he then turns the tables, saying he's not describing industrial policy. Rather, those complicated conditions hold for "long-standing areas of government intervention such as education, health, social insurance, and macroeconomic stabilization." And no one thinks we should stop those policies just because they are complicated and sometimes contentious.
So complexity, political debate, attempts to capture benefits at the costs of general prosperity, and addressing critical problems possessing lots of uncertainty characterize all modern social and economic policy. Hence Mazzucato's emphasis on developing clear "missions" for industrial policy, with government setting overall directions and goals while avoiding "excessively top-down planning by an overbearing state."
There's a lot of deep thinking and clear argument in the Boston Review forum, from a wide range of viewpoints, and I won't try to summarize it all here. Read the forum (and buy the new book the Review is publishing on this topic.)
My contribution to the forum, co-authored with my colleague (and spouse) Teresa Ghilarducci, emphasizes the central role workers and labor unions must play in any successful industrial policy. We hearken back to the great economist John Kenneth Galbraith, who after World War II focused on how the large firms needed to foster innovation and growth could be kept from purely self-interested behavior.
Galbraith's answer was in the title of his 1952 book—American Capitalism: The Concept of Countervailing Power. Without government and union countervailing power, "private decisions could and presumably would lead to the unhampered exploitation of the public."
Ghilarducci and I argue that successful industrial policy "promotes unionization and shared economic returns," not just technical innovation where the gains are captured by a narrow slice of wealthy tech and finance owners. And the politics of industrial policy mean it won't be enacted without union and popular support.
So as you follow the twists and turns of Biden's economic plan, where the cable news and commentary are dominated by spending, taxes, and deficits, spare a thought for what that money will be spent on. Senator Manchin correctly warns about "the inevitability of future crises," but those aren't mainly budgetary issues. They are structural problems that need industrial policy solutions.
Our economy faces a short and long-term crisis of innovation, climate change, and racial, gender, and economic inequality. Industrial policy is critical to building a long-term, sustainable, and equitable prosperity. I commend the Boston Review forum and book to you as a way to understand this critical issue.