Breaking news: Animal Crossing has made all the money – The A.V. Club
Video games have triumphed, yet again, over their old archnemesis, "going outside and doing things," with THR reporting that the gaming industry has, not surprisingly, boomed mightily during the COVID-19 quarantine. Specifically, people are buying games online—where else, right?—in droves, and, even more specifically, they're buying the hell out of Nintendo's Animal Crossing: New Horizon.
You may have heard about this particular title, on account of it taking over the majority of all social media and also human brains for the last two months. The island life game/brutally crushing turnip sales simulator has now, unsurprisingly, become the best-selling digital game in the Nintendo Switch library, period, per a Nielsen data report. While it's yet to come close to the physical sales of some of the console's top games, like The Legend Of Zelda: Breath Of The Wild, Animal Crossing made $3.6 million in April alone, handily beating out much-anticipated games like the Final Fantasy VII Remake and Doom Eternal.
It's still not totally clear how gaming—which is typically seen as being less susceptible to quarantine troubles than live-action film or TV, what with a lot of its work happening from behind computers—will end up weathering our current collective shutting in. Several titles—including the hotly anticipated The Last Of Us Part II—have seen delays, but the industry has been spared the wave of indefinite production shutdowns that have affected other media types. Indeed, the biggest problem being faced might be too much demand; who knows how much higher those Animal Crossing numbers would have been if Nintendo wasn't facing a sudden shortages of Switch consoles?
New release date for Call of Duty: Modern Warfare Season 4 has been leaked – PCGamesN
The rescheduled date for the next season of Call of Duty: Modern Warfare, Season 4, has been leaked. The turnover from Season 3 had been delayed so as to not overshadow or contend with the global protests surrounding racial injustice.
Through data-mining the files of Season 3, per ModernWarzone, Twitter user Geekypastimes discovered that the ending date had been altered from June 2, to June 10. This would mean the change-over will occur at what is a regular time for new Call of Duty updates, in the evening of June 9 if you're in the US, and in the morning of June 10 if you're UK and Europe.
Activision and Infinity Ward announced on Twitter that the regularly scheduled next season would be delayed indefinitely on June 2. "Right now it's time for those speaking up for inequality, justice and change to be seen and heard," the message reads. "We stand alongside you." It was expected to roll-out sometime June 3, containing several new weapons and maps, and a new operator. The Galil and Vector are believed to be headed to your arsenal, Scrapyard among the new locations, and one Captain Price to be a playable character.
In light of the current discussions about racial inequality, Infinity Ward has begun taking measures against racism in Call of Duty: Modern Warfare's multiplayer and Warzone.
Activision's choice to delay the update came among a wave of rescheduling across the industry. Sony has an imminent PlayStation 5 event that still needs to be re-dated, potentially containing some exciting Bloodborne news.
Oppo confirms a smart TV is on the roadmap as it celebrates 1 year of 5G in China – GSMArena.com news – GSMArena.com
Oppo has been rumored to be developing a smart TV at least since Christmas and we now have some concrete proof of those plans. On its official Weibo page, the company published an infographic celebrating 1 year of commercial 5G efforts in China. We thought that it was 1 November last year when that kicked off, but Oppo may have something else in mind and even so that little discrepancy is beside the point.
Down at the very bottom of the rather long image, there's a stylized depiction of a TV in a grid of pictured existing products.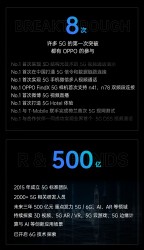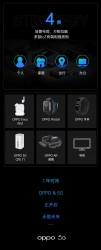 Oppo infographic chopped into more easily digestible pieces, TV in last image
Sister company Realme recently released a couple of smart TVs in India powered by Android TV and featuring Google Assistant. Priced very competitively, they could be a soak test before Oppo's own foray into the field.
Oppo unveiled a set of truly wireless earphones, the Enco W51 the other day. Alongside them, the Oppo Band made a debut as well. Both of these devices are featured there in the infographic next to the TV's placeholder, but the TV itself is yet to make an appearance.
Meanwhile, Nokia of all companies launched a smart TV as well, two days ago too. Apparently, smartphone companies can't afford to not be making TVs anymore.
Head-To-Head: Samsung Galaxy S20 Plus Vs. Apple iPhone 11 Pro Max – CRN: Technology news for channel partners and solution providers
Face Off
To see just how far smartphone features and specs have come in 2020, look no further than two of the latest phones from Apple and its top Android rival, Samsung.
We're talking about Samsung's Galaxy S20 Plus, which launched in March, and Apple's iPhone 11 Pro Max, originally released last fall.
With amazing displays, cameras and performance capabilities, both phones have a lot to offer even the most-demanding users out there.
But which of the two devices is the better fit for you? In the following slides, we compare the Samsung Galaxy S20 Plus vs Apple's iPhone 11 Pro Max on specs and price.