Canada and Botswana to co-host 2nd media freedom global conference – Radio Canada International – English Section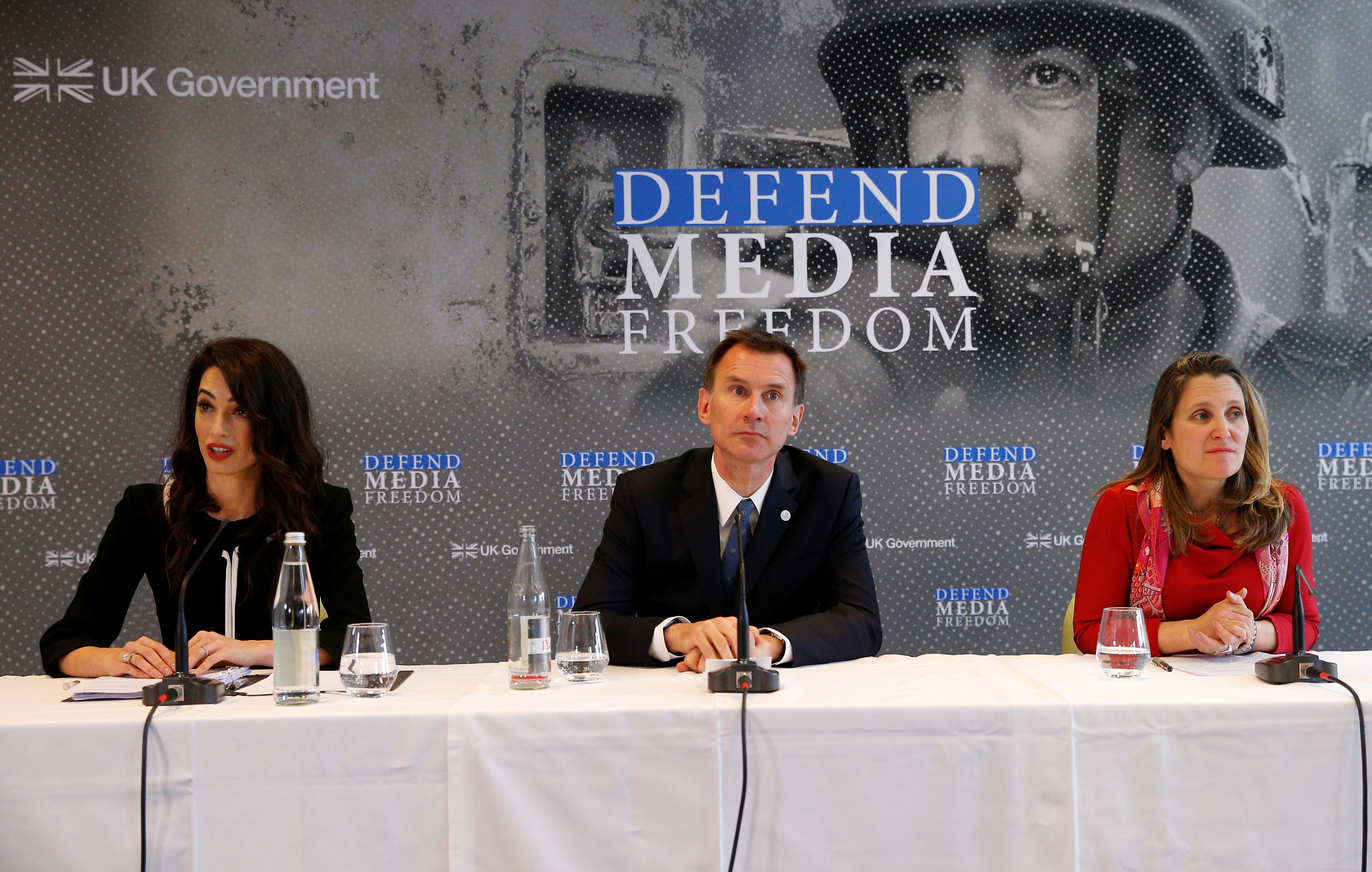 Britain's Foreign Secretary Jeremy Hunt, Canada's Foreign Minister Chrystia Freeland and human rights lawyer Amal Clooney attend a news conference on media freedom as part of the G7 Foreign Ministers' meeting in Dinard, France, Apr. 5, 2019. (Stephane Mahe/REUTERS)
Canada and Botswana are joining forces to co-host the second edition of Global Conference for Media Freedom, Foreign Affairs Minister Francois-Philippe Champagne announced Monday.
The online conference is expected to take place on Nov. 16 and will bring together representatives of traditional and digital media, civil society and various governments, Champagne said.
UN High Commissioner for Human Rights Michelle Bachelet will deliver the keynote address at the conference.
Former president of the United Kingdom Supreme Court Lord David Neuberger and noted human rights lawyer Amal Clooney will co-chair a high-level panel of legal experts on media freedom, officials at Global Affairs Canada said.
"A vibrant and free media is essential to democracy and human rights," Champagne said in a statement. "During this critical time, we must stand together to protect the freedom of media workers who pursue necessary truths, within and beyond our own borders."
Canada and the U.K. co-hosted the first Global Conference for Media Freedom in London in July 2019.
Since 2015, Canada has invested $18.2 million in programs supporting the media and the free flow of information, according to Global Affairs Canada.
Canada ranks 16th on the 2020 World Press Freedom Index, compiled by Reporters Without Borders (RSF), while Botswana is in the 39th place among the 180 countries represented in the index.
This 2020 edition of the Index suggests that the next ten years will be pivotal for press freedom because of converging crises affecting the future of journalism.
The index singles out five critical areas for the future of journalism in the next decade:
a geopolitical crisis (due to the aggressiveness of authoritarian regimes)
a technological crisis (due to a lack of democratic guarantees)
a democratic crisis (due to polarisation and repressive policies)
a crisis of trust (due to suspicion and even hatred of the media)
an economic crisis (impoverishing quality journalism)
"We are entering a decisive decade for journalism linked to crises that affect its future," RSF secretary general Christophe Deloire said in a statement.
"The coronavirus pandemic illustrates the negative factors threatening the right to reliable information, and is itself an exacerbating factor. What will freedom of information, pluralism and reliability look like in 2030? The answer to that question is being determined today."
Kyrie skips media availability, releases statement – theScore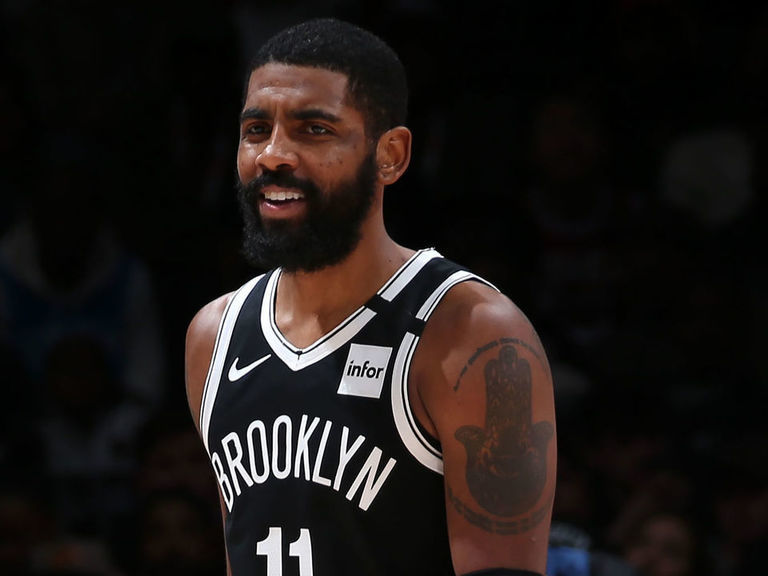 As the NBA prepares for its 2020-21 season to begin on Dec. 22, the enigmatic Kyrie Irving did not provide access to reporters on Friday as part of the Brooklyn Nets' media week.
Instead, the 28-year-old guard released a written statement "to ensure that (his) message is conveyed properly," per ESPN's Malika Andrews.
Here's Irving's statement in full:
COVID-19 has impacted us all in many ways, so I pray for the safety and health of our communities domestically and abroad. I am truly excited for the season to start and I am also praying that everyone remains safe and healthy throughout this journey.

Instead of speaking to the media today, I am issuing this statement to ensure that my message is conveyed properly.

I am committed to show up to work everyday, ready to have fun, compete, perform, and win championships alongside my teammates and colleagues in the Nets organization. My goal this season is to let my work on and off the court speak for itself.

Life hit differently this year and it requires us, it requires me, to move differently. So, this is the beginning of that change.
The league's collective bargaining agreement requires veteran players to "participate in photograph and media sessions" as early as the 22nd day prior to the first game of the regular season.
Additionally, under a section pertaining to promotional activities, the CBA states: "Upon request, the player shall consent to and make himself available for interviews by representatives of the media conducted at reasonable times."
It's unclear whether Irving's statement constitutes participation in the Nets' training camp media session or whether certain allowances have been made in regard to media availability within the amended agreement due to COVID-19.
In an injury-shortened debut season with the Nets in 2019-20, Irving averaged 27.4 points, 6.4 assists, 5.2 rebounds, and 1.4 steals per game across 20 appearances.
Conversations That Matter: The state of the media – Vancouver Sun
Article content
Jack Webster was known as the king of the airways in B.C> for close to 40 years. Since his retirement the foundation in his name has been recognizing and celebrating excellence in journalism.
This year, on Dec. 8, the awards dinner is being netcast, opening it up, for the first time, to the public.
If it was on the public agenda, Webster was there. When prisoners at the B.C. Penitentiary rioted and took hostages in 1963, they asked Webster to resolve the standoff. They asked for him because he was trusted at a time when mainstream media was believed to be fulfilling the responsibilities for the fourth estate – to step in, stand up, advocate, call out, and record the people and events of our lives.
Since Webster's retirement in 1988, the media landscape has changed dramatically. In Vancouver, for example, the major powerhouses in print, radio and TV have all seen their constituencies dwindle. Shrinking audiences meant less ad revenue, which, in turn, led to cuts in newsrooms and that leads to further reductions in audiences.
Kyrie Irving Imposes 'Media Blackout,' Won't Speak To Reporters This Season – Forbes
Kyrie Irving was tentatively scheduled to do a Zoom interview with reporters on Friday, just as Kevin Durant and his other Nets teammates have been doing in recent days.
Now it appears Irving won't speak to the media at all this season. ESPN's Brian Windhorst reported on "The Jump" that Irving will conduct a "media blackout" this season, and Irving issued this statement.
Irving, the former St. Patrick (N.J.) High School and Duke star, has had some missteps with the media in the past.
In 2017, when he was with the Cleveland Cavaliers, he claimed that the Earth was flat.
It became a major story and even NBA Commissioner Adam Silver — who, like Irving, went to Duke — was asked to offer his opinion.
"Kyrie and I went to the same college," Silver said then. "He may have taken some different courses."
Irving later ended up apologizing for his comments.
"To all the science teachers, everybody coming up to me like, `You know I've got to reteach my whole curriculum?' I'm sorry," Irving said. "I apologize. I apologize."
In October, Irving made some controversial comments about new Nets coach Steve Nash.
"I don't really see us having a head coach," Irving said on the podcast, "The ETCs With Kevin Durant." Referring to Durant, he said, "K.D. could be a head coach. I could be a head coach."
Speaking this week on a Zoom with reporters, Nash tried to diffuse the situation.
"I read what he said, and I think it was one phrase at the end of a bunch of things he said about being excited — about having me in this position and coaching — and then maybe taken to another level that seemed incredible in headlines, which is fine," Nash said. "I'm in a fortunate position where I get to coach Kevin Durant and Kyrie Irving. What we've dealt here in a short period of time with how we're going to prep and play is exciting. I'm thrilled to get to coach those guys.
"One statement that I don't think necessarily was completely — wasn't meant the way it was taken by the press, that doesn't bother me at all."
Without using the words "load management," Nash also said he would be surprised if Durant or Irving played all 72 games this season. Durant is coming off Achilles surgery, and Irving off shoulder surgery.
Through it all, Irving has continued to financially support his alma mater, now called The Patrick School. In 2018, he funded the renovation of the gym, locker room, weight room and lounge at the school.
He has also mentored younger players, like Seton Hall guard Bryce Aiken and Jonathan Kuminga, the former Patrick School star now with the G League Ignite team, and pledged $1.5 million to WNBA players forgoing last season due to coronavirus or social justice concerns.
Irving, Durant and the Nets open the preseason Dec. 13 against the Wizards and the regular season Dec. 22 at home against the Warriors.