Christopher Rufo says he's outmaneuvering 'hostile media' on critical race theory: Most people 'on our side' – Fox News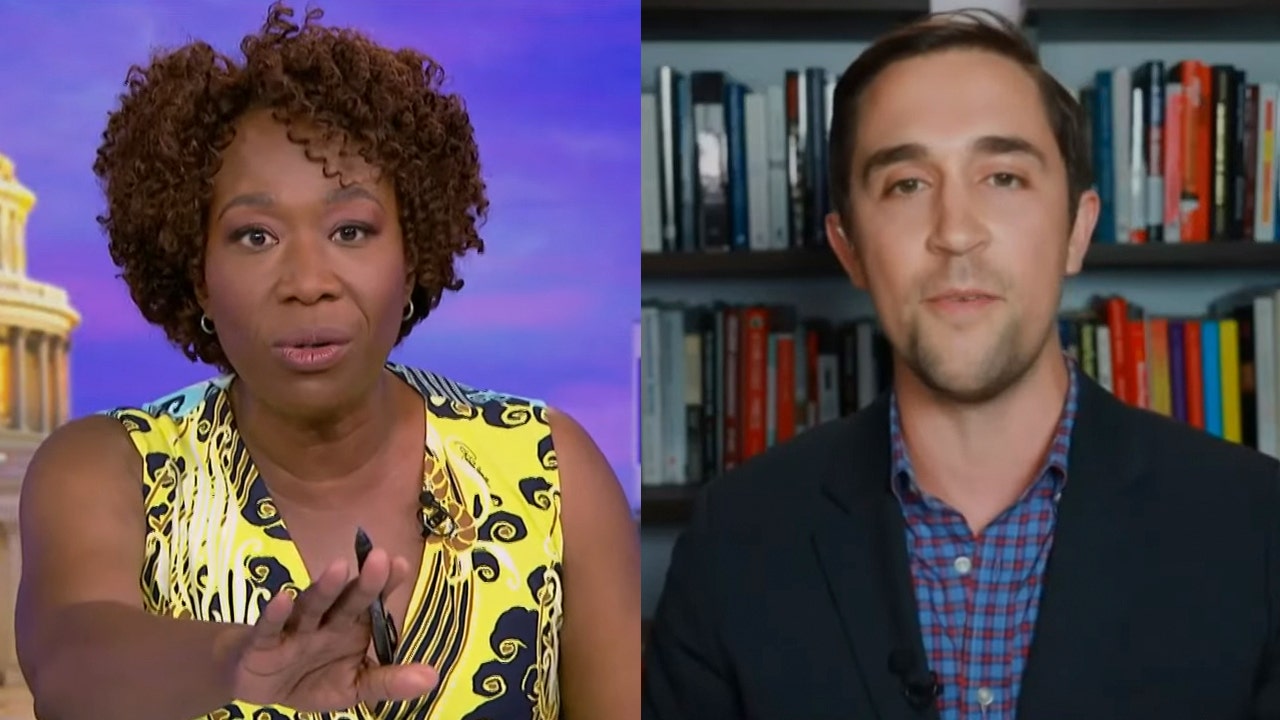 Manhattan Institute senior fellow Christopher Rufo slammed the "hostile media" over its coverage of the nationwide debate over critical race theory, as he has emerged as a prominent critic of the movement.
Appearing on Tuesday's installment of the Ruthless podcast, Rufo began by mocking the media's efforts to attack his reporting while also conceding the "bad" things about CRT.
"They have this really funny, simultaneous motion where they're attacking me with one hand but they're also retreating on the other hand," Rufo told Ruthless co-host Josh Holmes. "And I think consequently, they haven't landed any punches against me and I just keep beating them up over and over every time I release a new story."
CHRIS RUFO BLASTS JOY REID'S 'LANGUAGE GAMES' AFTER BARELY GETTING A WORD IN DURING HEATED CRT DEBATE
Rufo then ridiculed the narrative that CRT isn't being taught in schools and how the media will treat it like "Bigfoot" or "the Loch Ness Monster," but stressed that "the evidence is really clear" that it exists.
"So we've collected hundreds of examples," Rufo said of journalists reporting on CRT. "My own personal database of leaked sources is about 5,000 people would suggest that this is very widespread given that I'm only one person and, you know, people are sending this to me."
Rufo rejected the notion that he "invented" CRT as MSNBC host Joy Reid suggested during their contentious on-air exchange, telling Holmes he "explained" CRT to people in a comprehensive way.
"Parents intuitively understood something was happening in their kids' classrooms, in their workplace, in their churches, in their local institutions, but they didn't have the vocabulary to speak about it," Rugo explained.
"And it gave a lot of people confidence because these are racial issues, very hard for people to discuss, very frightening for people to discuss. And I think what I did is that I framed it, I explained it, and then I provided language for people to speak about it with confidence."
MSNBC'S JOY REID INVITES CHRISTOPHER RUFO TO DEBATE CRITICAL RACE THEORY, BARELY ALLOWS HIM TO SPEAK
When asked what he thought is the "bumper sticker slogan" of CRT, Rufo responded by first explaining that it's an "academic discipline" that declares that the US was founded on "White supremacy" which is "still rooted" in today's society and that every institution is a mechanism of "racial oppression," but concluded that its most simplistic three-word summary of CRT is that it's "race-based Marxism."
Rufo told Holmes that he was "optimistic" about the tides turning against CRT by the "grassroots revolt" from a "broad coalition" that has developed over the past year.
WASHINGTON POST ISSUES 'CLARIFICATIONS' ON STORY ABOUT CRITICAL RACE THEORY OPPONENT CHRIS RUFO
He then went on to express the joy in "engaging the other side" in the media and how he's "happy to get in the ring" against liberal adversaries.
After praising The New Yorker for publishing a "fair" profile about himself, Rufo took aim at "The ReidOut" host as well as The Washington Post, which was forced to issue "clarifications" after he hammered the paper on social media for various errors in what he described as an "atrocious hit piece" against him.
"I'm not afraid of these folks. And I think that what I've learned and what my strategy is if you're gonna with me in good faith in debate or discussion, I'm gonna to be open, I'm gonna to be willing to make concessions, willing to make arguments… [but] if you're going to come at me like that, I'm gonna come at you ten times harder," Rufo said.
CLICK HERE FOR THE FOX NEWS APP
He continued, "This is my first time going through the national media gauntlet, but it's been fun to train. I mean… it's like intellectual street fighting. I mean, you really are training for it and you're really getting out there. And I'm sure eventually I'll take some hits, I'll take some blows, but so far, I've been able to out-maneuver these folks and I think conservatives should have confidence that- especially on an issue like this, most people are on our side- that the facts and evidence and truth are also on our side. And the key virtue that's required is courage. And if you have that, you can really make a difference in today's politics."
AJ Contrast wins One World Media Award – Al Jazeera English
Al Jazeera Digital's innovation studio site highlights challenges women with disabilities face in navigating megacities.
Al Jazeera's immersive storytelling and media innovation studio, AJ Contrast, has won a top prize at the One World Media Awards in London.
One World jurors conferred the win in the Digital Media category for AJ Contrast's interactive site, Inaccessible Cities.
The project brings audiences into the experiences of three women with disabilities as they struggle to navigate their cities – Mumbai, Lagos and New York.
Winners were announced across 15 categories during a ceremony in London on June 16.
The One World Media Awards recognise excellence in unreported stories from the Global South that "break stereotypes, change the narrative and connect people across cultures".
Inaccessible Cities added the award to numerous other wins so far this year in the Drum Online, Gracie, New York Festivals and Telly Awards.
More than one billion people – 15 percent of the global population – experience some form of disability. Many live in urban areas.
[embedded content]
The Inaccessible Cities site begins with a simple question: "How would you get around a megacity if you couldn't walk, see signs or hear cars passing by?"
"It's a great honour to be recognised by the One World Media Awards," said Zahra Rasool, head of AJ Contrast.
"Our aim has always been to highlight unreported stories about the people most impacted by inequality, often in the Global South.
"With Inaccessible Cities, we wanted to show how a lack of accessible public transport and infrastructure impacts people with disabilities – especially women – from fully and independently participating in society.
"Our aim is to continue inspiring a new standard for digital news content that's fully inclusive of people with disabilities and to bring awareness to their challenges."
In keeping with AJ Contrast's emphasis on collaboration, the team worked closely with journalists with disabilities, local talent and the women who are the subject of the interactive experience.
"We are very proud of our AJ Contrast team," said Carlos van Meek, Al Jazeera's director of Digital Innovation and Programming. "Despite the production challenges brought on by COVID-19, this driven, talented team has continued to innovate and set the benchmark for immersive storytelling."
Other Al Jazeera Digital teams made the One World long list, including the AJLabs series Visualising the Afghan War and two films by short documentary unit AJ Close Up – Russia's Banned Youth and Norway's Afghan Sons.
The Al Jazeera English broadcast channel also was long listed in the News category for the 101 East documentary India's COVID Warriors. Jurors evaluated a record number of entries from 96 countries.
The complete list of One World winners can be found in the One World Media winners' gallery.
[embedded content]
Toronto politician accused of homophobic social media posts resigns from city council – blogTO
Rosemarie Bryan, a newly appointed city councillor for Toronto's Etobicoke North district, resigned from her position just hours after several homophobic tweets were surfaced from her social media account.
Tonight, Rosemarie Bryan has resigned the City Council seat she was appointed to today.

— John Tory (@TorontosMayor) June 25, 2022
Bryan was meant to fill the seat of departing City Councillor Michael Ford who resigned his position after his recent victory in the provincial election.
Rather than have an election to fill the open seat, the convention is for the departing city councillor to recommend his or her replacement and as we learned this week, the current city councillors basically agree to the recommendation without any proper vetting or due diligence.
All was fine and well until a number of anti-2SLGBTQ+, Islamophobic and anti-Asian social media posts were surfaced by local journalist Jonathan Goldsbie.
At the start of Pride weekend, City Council appoints as its newest member a person who's repeatedly shared anti-LGBTQ content on Facebook: https://t.co/x6RbBbkuyC pic.twitter.com/edoOd8jC9D

— Jonathan Goldsbie (@goldsbie) June 24, 2022
Councillors quickly realized they might have been a tad too hasty to back the appointment which was done through a simple vote. Only two councillors voted against confirming Bryan.
"I want to state unequivocally that had I seen these posts before the vote, I would have never supported Rosemary," wrote councillor Buxton Potts in a tweet.
Many of the councillors who voted for Bryan now admit the process needs to change and that the confirmation of replacement councillors has relied too heavily on the recommendation of the departing one.
It's customary for council to support the choice of the councillor who resigned their seat since they won the election. This dates back a long way and certainly needs to be re-examined.

— Mike Layton (@m_layton) June 24, 2022
In this case, no councillors appeared to do any due diligence that could have possibly surfaced the social media posts before Bryan's appointment was confirmed.
This process certainly demands a rethink of the way the appointment process works.

— Mike Layton (@m_layton) June 25, 2022
Some of Bryan's old posts include shared content from Tucker Carlson and statements from preachers that claim "homosexuality is wrong" and that "divine order is needed in [] churches," along with comments of approval from Bryan that had, at one point, clearly supported these messages.
These posts are not acceptable for a Toronto City Councillor.

I totally disagree with any homophobic or transphobic views. I absolutely support our 2SLGBTQ+ residents. City Councillors are expected to set an example when it comes to consistency with our shared values.

— John Tory (@TorontosMayor) June 25, 2022
Bryan's social media posts were first uncovered by Goldsbie on Friday night when he tweeted that City Council's newest member is a person who has "repeatedly shared anti-LGBTQ content on Facebook" which, the discovery shocking enough on its own, was found at the start of Pride weekend.
Councillors began to weigh-in just moments after Goldsbie's revelation, regretting not digging enough earlier to uncover what would later make a huge difference.
I want to state unequivocally if I had I seen these social media posts prior to City Council I would never have voted for Rosemarie Bryan. I am glad she resigned. The system for Cllr vacancies needs to be changed. #Ward24 #TOPoli https://t.co/b28hbZ1YjK

— Paul Ainslie (@cllrainslie) June 25, 2022
Bryan issued a statement late Friday stating she was "so devastated" that past social media posts she made "are now being thrown against" her decades of commitment to the community.
Breaking – The interim Ward 1 city councillor appointed by Toronto city council this afternoon has resigned after @goldsbie flagged Facebook posts that appear to be homophobic pic.twitter.com/LZtYsq12zR

— David Rider (@dmrider) June 25, 2022
Bryan claims she will "remain committed to helping [her] community in every way that [she] can."
Many people are still upset at the fact that Bryan was ever appointed in the first place.
People are also critiquing her "apology" or lack thereof, saying that the only apology issued was an apology about the fact that she was discovered.
Mayor John Tory tweeted that he has now "asked City officials to review the overall appointment process ahead of future Council appointments."
Newest council appointment resigns after controversial social media posts surface – CityNews Toronto
[unable to retrieve full-text content]