Christopher Rufo says he's outmaneuvering 'hostile media' on critical race theory: Most people 'on our side' – Fox News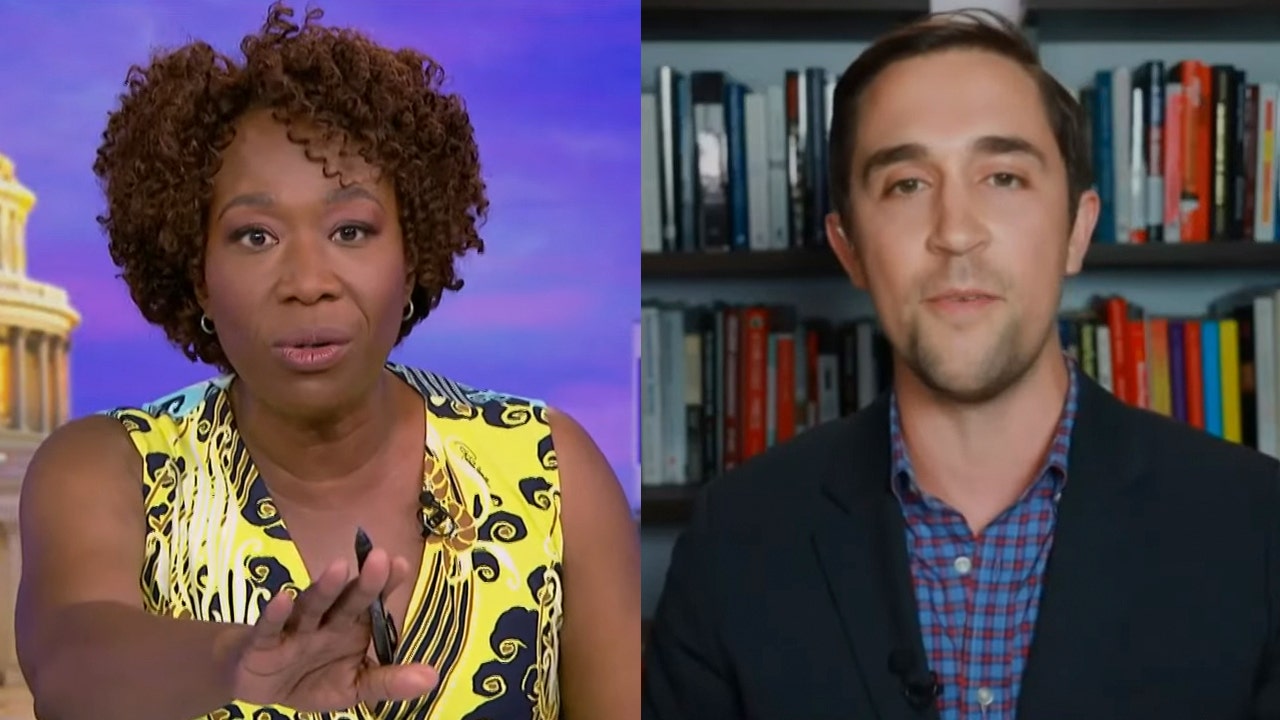 Manhattan Institute senior fellow Christopher Rufo slammed the "hostile media" over its coverage of the nationwide debate over critical race theory, as he has emerged as a prominent critic of the movement.
Appearing on Tuesday's installment of the Ruthless podcast, Rufo began by mocking the media's efforts to attack his reporting while also conceding the "bad" things about CRT.
"They have this really funny, simultaneous motion where they're attacking me with one hand but they're also retreating on the other hand," Rufo told Ruthless co-host Josh Holmes. "And I think consequently, they haven't landed any punches against me and I just keep beating them up over and over every time I release a new story."
CHRIS RUFO BLASTS JOY REID'S 'LANGUAGE GAMES' AFTER BARELY GETTING A WORD IN DURING HEATED CRT DEBATE
Rufo then ridiculed the narrative that CRT isn't being taught in schools and how the media will treat it like "Bigfoot" or "the Loch Ness Monster," but stressed that "the evidence is really clear" that it exists.
"So we've collected hundreds of examples," Rufo said of journalists reporting on CRT. "My own personal database of leaked sources is about 5,000 people would suggest that this is very widespread given that I'm only one person and, you know, people are sending this to me."
Rufo rejected the notion that he "invented" CRT as MSNBC host Joy Reid suggested during their contentious on-air exchange, telling Holmes he "explained" CRT to people in a comprehensive way.
"Parents intuitively understood something was happening in their kids' classrooms, in their workplace, in their churches, in their local institutions, but they didn't have the vocabulary to speak about it," Rugo explained.
"And it gave a lot of people confidence because these are racial issues, very hard for people to discuss, very frightening for people to discuss. And I think what I did is that I framed it, I explained it, and then I provided language for people to speak about it with confidence."
MSNBC'S JOY REID INVITES CHRISTOPHER RUFO TO DEBATE CRITICAL RACE THEORY, BARELY ALLOWS HIM TO SPEAK
When asked what he thought is the "bumper sticker slogan" of CRT, Rufo responded by first explaining that it's an "academic discipline" that declares that the US was founded on "White supremacy" which is "still rooted" in today's society and that every institution is a mechanism of "racial oppression," but concluded that its most simplistic three-word summary of CRT is that it's "race-based Marxism."
Rufo told Holmes that he was "optimistic" about the tides turning against CRT by the "grassroots revolt" from a "broad coalition" that has developed over the past year.
WASHINGTON POST ISSUES 'CLARIFICATIONS' ON STORY ABOUT CRITICAL RACE THEORY OPPONENT CHRIS RUFO
He then went on to express the joy in "engaging the other side" in the media and how he's "happy to get in the ring" against liberal adversaries.
After praising The New Yorker for publishing a "fair" profile about himself, Rufo took aim at "The ReidOut" host as well as The Washington Post, which was forced to issue "clarifications" after he hammered the paper on social media for various errors in what he described as an "atrocious hit piece" against him.
"I'm not afraid of these folks. And I think that what I've learned and what my strategy is if you're gonna with me in good faith in debate or discussion, I'm gonna to be open, I'm gonna to be willing to make concessions, willing to make arguments… [but] if you're going to come at me like that, I'm gonna come at you ten times harder," Rufo said.
CLICK HERE FOR THE FOX NEWS APP
He continued, "This is my first time going through the national media gauntlet, but it's been fun to train. I mean… it's like intellectual street fighting. I mean, you really are training for it and you're really getting out there. And I'm sure eventually I'll take some hits, I'll take some blows, but so far, I've been able to out-maneuver these folks and I think conservatives should have confidence that- especially on an issue like this, most people are on our side- that the facts and evidence and truth are also on our side. And the key virtue that's required is courage. And if you have that, you can really make a difference in today's politics."
Thai media restrictions raise freedom of expression concerns – CTV News
BANGKOK —
Thailand implemented new regulations on Friday that appeared to broaden the government's ability to restrict media reports and social media posts about the coronavirus pandemic, raising immediate concerns that authorities will seek to stifle criticism.
While Prime Minister Prayuth Chan-ocha has long sought to crack down on what he calls fake news and has a government department devoted to it, the new regulations, announced late Thursday, include the ability to prosecute people for distributing "news that may cause public fear."
It also gives Thai regulators the ability to force internet service providers to turn over the IP address of the person or entity distributing such news, and to "suspend the internet service to that IP address immediately."
In a joint statement sent by six Thai journalist associations to Prayuth and published by multiple Thai media outlets, the groups urged him to cancel the restrictions, saying they were overly broad and an attack on freedom of expression.
"The clause `news that may cause public fear' allows authorities to proceed with legal action against the media and the public without clear criteria," they wrote, threatening to take legal action if necessary.
"Even if the public or media share factual information, state agencies may use this clause as grounds to file a complaint or threaten them."
The new measures come as Thailand is struggling to cope with a new wave of the coronavirus pandemic fueled by the Delta variant, with rising numbers of cases and deaths. On Friday another 17,345 cases and 117 deaths were reported.
In announcing the restrictions, the prime minister said they were necessary to combat the spread of inaccurate rumors that could impede government efforts to vaccinate the population and implement measures to slow the pandemic.
"We have daily briefings to give the right information to the public," Prayuth said. "But some try to distort the information and cause confusion."
The announcement immediately raised fears that the measures could be used by authorities to stifle legitimate criticism and could also have a chilling effect by making it less likely that people would publicly question the government's actions.
"Even if Thai people share legitimate information, even second hand, the government could still determine that the information, while factual, could cause a panic," Mark Cogan, a professor at Japan's Kansai Gaidai University, wrote Friday in an opinion piece in the Thai Enquirer online newspaper. "The government has almost accomplished what it has long set out to achieve. It's a giant step closer to being sole arbiter of what is true and what is fake."
Government spokesman Anucha Burapachaisri downplayed the concerns, saying that the order would not be "enforced in such a way to limit the media or people's freedom of speech."
"The government is rather trying to manage fake news or any criticism based on false information to prevent misunderstanding and hatred in the public," he said.
Asked whether factual reports that have the potential to create fear could be affected, he said that "if the news is reported appropriately, there should not be a problem."
In a discussion on Facebook, prominent Thai journalist Suthichai Yoon suggested Prayuth was reacting to growing dissatisfaction with his government's response to the coronavirus crisis and was looking for a scapegoat.
"The government is stumbling, and feels that the reports presenting the facts to the public from the media, the mainstream media, are questioning whether the government can handle the COVID crisis, and whether the government should be changed or the prime minister replaced," he said.
"The media is the easy scapegoat."
Asked about the new measures at a news conference Friday, the top U.S. diplomat in Thailand, U.S. Embassy Charge d'Affaires Michael Heath, did not comment specifically, but emphasized that "the United States always supports freedom of expression."
"That expression sometimes will include criticism of the government," he said. "As you've seen in my own country, we tolerate a wide range of criticism of our government — some of it's justified and some of it's not — but we will always support the right for people to express their opinions."
Media outlets appeal decision to deny info on stay of Port Moody mayor's sex assault charge – CBC.ca
Three media outlets are challenging a decision by the B.C. Supreme Court's top judge to deny the public details about so-called alternative measures that resulted in the dismissal of a sexual assault charge against the mayor of Port Moody, B.C.
CBC, CTV and Global filed an application in B.C.'s Court of Appeal Thursday seeking to overturn a decision by Chief Justice Christopher Hinkson rejecting a bid for specifics about the measures Robert Vagramov was required to complete in order for the Crown to agree to bring criminal proceedings against him to a halt.
In a 30-page document filed with the province's top court, media lawyer Daniel Burnett argues that Hinkson failed to consider the open court principle, central to the Canadian justice system, which requires anyone seeking a ban on publication to prove it's necessary to prevent harm.
Vagramov was charged with sexual assault in 2019 in relation to an incident his lawyer later characterized as an "awkward date."
Some transparency 'required'
The charge was stayed months later through a process designed to give offenders with no history of violence or sexual offences the opportunity to take responsibility for their actions while avoiding a criminal record and civil liability.
At the time the charge was stayed, the Crown told the court only that the mayor had "successfully completed" an alternative measures program. The specifics were not disclosed.
CBC, CTV and Global filed an application in B.C. Supreme Court asking Hinkson to OK the release by the Crown and B.C. Corrections of documents that confirmed Vagramov's eligibility for alternative measures, the specifics of the measures he was asked to complete and confirmation of the fact that he completed them.
In his April ruling, the chief justice said the documents the media were seeking were never introduced in open court, and so the open court principle did not apply.
In the appeal, Burnett argues that while the records themselves may not have come before a judge, they're "intertwined with the administration of justice."
"A criminal charge before the court was stayed in court based upon a criteria set out in the Code. An officer of the court, Crown Counsel, entered the stay in court based upon the criteria," the appeal application reads.
"Some transparency regarding the measures completed is required if the fairness of the alternative measures system is to be understood and considered. The public as well as those charged should not be expected to simply trust that the measures are appropriate, fair, or applied evenly."
A 'chilling' effect
The case shines a light on a program designed to rid the court of minor cases, save money for taxpayers and ensure that Canadians who make a single, serious misstep don't necessarily have to carry the burden of a life-altering criminal record.
In rejecting the media's bid for disclosure, Hinkson reached back to a 1994 parliamentary discussion that saw the Bloc Québécois justice critic say that "a private, administrative route" was necessary to ensure that suspects who agreed to co-operate could be sure that they wouldn't later find themselves publicly shamed.
Hinkson concluded that releasing Vagramov's alternative measures details could lead to manipulation by accused people looking to game the system.
He also said the disclosure could have a "chilling" effect on accused people who agree to alternative measures in the belief that it will keep their names out of the headlines.
'An error upon an error'
In the appeal, CBC, CTV and Global claim Hinkson came to those conclusions based on "pure speculation" without reviewing the documents themselves.
"It was an error upon an error," Burnett writes.
The media claim they weren't seeking detailed psychological reports, and that Vagramov himself has spoken publicly about sending an apology letter to the woman who accused him.
"It is equally likely that better knowledge of the program will increase the number of individuals who wish to participate in it," Burnett writes.
"Appreciating that every case has different circumstances, there can be no valid justification for keeping secrecy over what kinds of alternative measures it takes to avoid a prosecution, and what Mr. Vagramov did to earn a stay."
Vagramov was elected mayor in October 2018 when he was 28.
He took a leave of absence after the charge was sworn but created a rift at city council when he returned to work in September 2019, ahead of the staying of the charge.
Vagramov later said was "deeply regretful" for the tension his criminal case brought upon council and the community.
The mayor's lawyer did not return a request for comment Thursday.
Athletes' Mental Health Puts Focus on Their Social Media Use – BNN
(Bloomberg) — The growing focus on mental health at the Olympic Games is bringing attention to the pitfalls and benefits of social media use by athletes, for whom platforms like Instagram and TikTok help them stay connected with fans amid the isolation of the pandemic while also leaving them vulnerable to abuse.
South Korean archer An San, who won three gold medals at the games, became the target of misogynist attacks online from people who criticized her short hairstyle as being "feminist." Japanese mixed-doubles table tennis winner Jun Mizutani said in a now-deleted Twitter post after his victory over China that he was getting anonymous death threats online, without naming the origins of the messages.
"There are definitely a lot of mean people out there who just say stuff that don't need to be said," said U.S. gymnast Sunisa Lee after winning gold in the women's individual all-around event on Thursday.
The rising interest in athletes' mental wellbeing and the impact of social media prompted International Olympic Committee member Kirsty Coventry, herself a former swimmer for Zimbabwe, to reveal that she had quit social media in the past year.
"In the last couple of days we've heard of a few athletes who have gone off social media," she told reporters Thursday. "As nice and supportive as some can be, the negative comments — even if they are the fewest comments — can be really hurtful to athletes."
Many athletes use social media to feel empowered by sharing their voice, expanding their sphere of influence, fostering connections and building personal brands, said Fernando Frias, a sports psychologist at Oregon State University. But the significance of the Olympics, compounded with heightened national pride, also means more people are likely to direct negativity at athletes online.
The situation facing Japanese athletes is further complicated by the polarization in society over the decision to hold the Olympics during the pandemic. As a result, more people are taking their anger out online at athletes, said Yuji Ishizaka, a sports sociologist at Nara Women's University.
Japanese gymnast Mai Murakami conceded that she had been affected by cyberbullying.
"I know there are people who were against holding the Olympics, and at the same time, I know there are people who are supportive," she told reporters through tears after the all-around women's event on Thursday. "And even though I don't want to see those negative comments and as much as I try to ignore them, the information comes through and I pick it up before I know it. It was very hurtful and sad."
At the same time, social media has been an important way for athletes to stay in touch with family and fans due to the travel restrictions imposed during the pandemic, and to draw attention to less popular sports or newer sports.
Rayssa Leal, the 13-year-old Brazilian skateboarder, added 4.5 million Instagram followers over two days after she won a silver medal, according to Facebook Inc.
U.S. rugby player Ilona Maher saw her followers on TikTok triple in number after she started videos from the Olympic Village with comical commentary on attractive athletes and cardboard beds.
"It's also been a great tool to use for my own personal branding and getting my name out there. And hopefully also for my sport and getting rugby out there," she said.
And quitting social media may not even be an option for some athletes, particularly those from poorer countries for whom building an online following has been instrumental to their success. For example, weightlifter Hidilyn Diaz, who won the first gold medal ever for the Philippines, got enough money to go to Tokyo after posting an Instagram story in 2019 asking for financial support.
To help ameliorate some of the negative impact from social media, athletes can turn to psychologists who travel with their teams for help. Internet companies are also recognizing their role in minimizing harm experienced by athletes online. Facebook, for example, launched a private Instagram support account for athletes leading up to the games, according to Joyee Biswas, its head of sports partnerships in Asia-Pacific.
Frias, the sports psychologist, even suggested that social media literacy even be built into curricula in early childhood education and in sports training.
"I encourage athletes to engage mindfully and intentionally with social media while setting clear boundaries regarding communication with followers and time spent," he said.
©2021 Bloomberg L.P.