Company buying Trump's social media app faces subpoenas – ABC News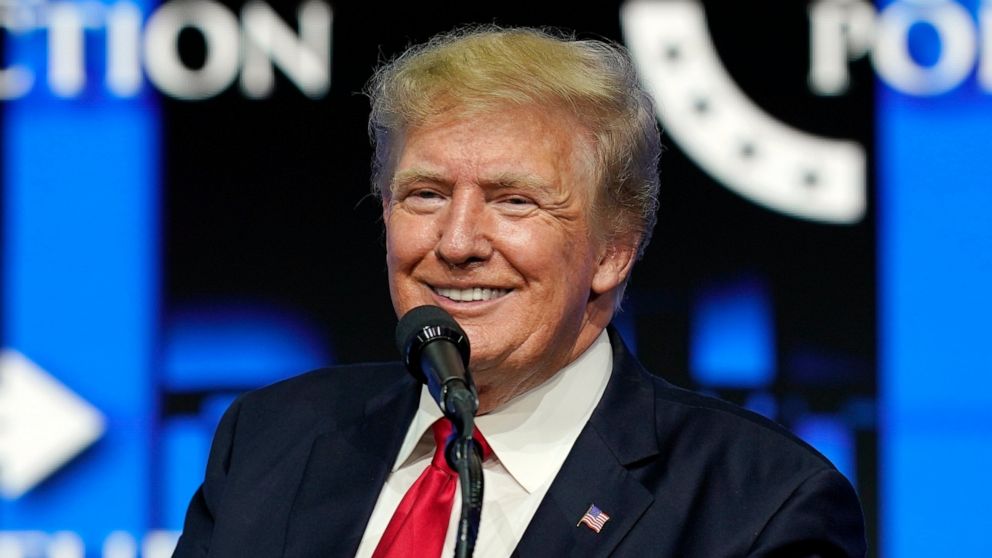 NEW YORK — Shares of Digital World Acquisition Corp. dropped 10% in morning trading Monday as the company reported that the subpoenas and a related investigation by the Department of Justice and the Securities and Exchange Commission could delay or even prevent its acquisition of the maker of Trump's Truth Social app.
The Justice Department subpoenas follow an ongoing probe by the SEC into whether Digital World broke rules by having substantial talks about buying Trump's company starting early last year before Digital World sold stock to the public for the first time in September, just weeks before its announcement that it would be buying Trump's company.
Trump's social media venture launched in February as he seeks a new digital stage to rally his supporters and fight Big Tech limits on speech, a year after he was banned from Twitter, Facebook and YouTube.
The Trump Media & Technology Group — which operates the app and was in the process of being acquired by "blank-check" firm Digital World — said in a statement that it will cooperate with "oversight that supports the SEC's important mission of protecting retail investors."
The new probe could make it more difficult for Trump to finance his social media company. The company last year got promises from dozens of investors to pump $1 billion into the company, but it can't get the cash until the Digital World acquisition is completed.
Stock in Digital World rocketed to more than $100 in October after its deal to buy Trump's company was announced. The stock traded at just around $25 in morning trading Monday.
Digital World is a special-purpose acquisition company, or SPAC, part of an investing phenomenon that exploded in popularity over the past two years.
Such blank check companies are empty corporate entities with no operations, only offering investors the promise they will buy a business in the future. As such they are allowed to sell stock to the public quickly without the usual regulatory disclosures and delays, but only if they haven't already lined up possible acquisition targets.
Digital World said in a regulatory filing Monday that each member of its board of directors has been subpoenaed by a grand jury in the Southern District of New York. Both the grand jury and the SEC are also seeking a number of documents tied to the company and others including a sponsor, ARC Global Investments, and Miami-based venture capital firm Rocket One Capital.
Some of the sought documents involve "due diligence" regarding Trump Media and other potential acquisition targets, as well as communications with Digital World's underwriter and financial adviser in its initial public offering, according to the SEC disclosure.
Digital World also Monday announced the resignation of one of its board members, Bruce Garelick, a chief strategy officer at Rocket One.
Social media model charged with killing boyfriend in Florida – The Globe and Mail
Prosecutors in South Florida announced a second-degree murder charge Thursday against social media model Courtney Clenney in connection with the fatal stabbing of her live-in boyfriend.
Miami-Dade State Attorney Katherine Fernandez Rundle announced the charge against the 26-year-old model during a news conference. Clenney was arrested Wednesday in Hawaii. Fernandez Rundle said Clenney, who goes by the name Courtney Tailor on such platforms as Instagram and OnlyFans, remained jailed in Hawaii while authorities seek her extradition to Florida.
She appeared in a courtroom on Hawaii's Big Island Thursday, where she waived her right to an extradition hearing and agreed to return to Florida.
Judge Henry Nakamoto ordered her held without bail pending extradition.
Fernandez Rundle characterized Christian Obumseli's April 3 death at the couple's Miami apartment as the culmination of a "tempestuous and combative relationship" that began in November 2020. The county medical examiner said in an autopsy report that Obumseli, who worked in cryptocurrency, died from a forceful downward thrust from a blade that went 3 inches (7.6 centimeters) into his chest, piercing a major artery.
According to an arrest report, Clenney acknowledged killing Obumseli but said she acted in self defense. She said Obumseli had pushed her and thrown her to the floor, which prompted her to grab a knife and throw it at Obumseli from about 10 feet (3 meters) away. The medical examiner said Obumseli's wound could not have been caused by a knife thrown from that distance.
Clenney's Miami defense lawyer, Frank Prieto, said the medical examiner's opinions won't stand up to scientific scrutiny when they argue self-defense at trial. He acknowledged that Clenney and Obumseli had a tumultuous relationship but said Obumseli was the primary aggressor.
"Obumseli was the abuser, the worst kind of abuser," Prieto said in a statement. "He would manipulate and abuse Courtney in private when he thought nobody was around."
Our Morning Update and Evening Update newsletters are written by Globe editors, giving you a concise summary of the day's most important headlines. Sign up today.
The Barn Find Hunter Finds a Home on REV TV!
Burlington, ON (August 10, 2022) — REV TV, YOUR MOTORSPORTS & AUTOMOTIVE DESTINATION 24/7, is excited to join the hunt for buried automotive treasure with the addition of Barn Find Hunter to its programming lineup.
Barn Find Hunter, which is produced by Hagerty Media, follows host Tom Cotter—who literally wrote the book(s) on barn finds—as he searches through dusty barns, cluttered garages and rusty scrap yards for automotive gold.
"REV TV viewers are the type of folks to pass a barn on a backroad and wonder if a Hemi is gathering dust inside," said Mike Garrow, CEO of REV TV. "Barn Find Hunter, therefore, is the perfect fit for our channel and a great extension and expansion of our relationship with our wonderful partner Hagerty."
"There's nothing like the Barn Find Hunter audience so it's a thrill to welcome the REV TV audience," said Barn Find Hunter host Tom Cotter. "I've been doing this most my life and I love how the show demonstrates to viewers that these great cars are still out there – you just need to look in the right place!"
Barn Find Hunter will make its debut on Saturday, August 13th at 10AM ET.
About Hagerty, Inc. (NYSE: HGTY)
Based in Traverse City, Michigan, Hagerty's purpose is to save driving and car culture for future generations and its mission is to build a global business to fund that purpose. Hagerty is an automotive enthusiast brand offering integrated membership products and programs as well as a specialty insurance provider focused on the global automotive enthusiast market. Hagerty is home to Hagerty Drivers Club, Hagerty DriveShare, Hagerty Valuation Tools, Hagerty Media, Hagerty Drivers Club magazine, MotorsportReg, Hagerty Garage + Social, The Amelia, Detroit Concours d'Elegance, Greenwich Concours d'Elegance, California Mille, Motorlux, Hagerty Drivers Foundation and more.
For more information on Hagerty, please visit https://www.hagerty.com/, or connect with us on Facebook, Instagram and Twitter. More information can be found at newsroom.hagerty.com.
About REV TV
YOUR MOTORSPORTS & AUTOMOTIVE DESTINATION is available to over 6 million households across Canada and features over 200 races from around the world and right here at home. From two-wheels to four and so much more. REV TV showcases all forms of high-octane racing, such as MotoGP, Monster Jam, AMA Supercross, World Rally Championship, IMSA WeatherTech SportsCar Championship, Indy Lights, World Endurance Championship, World RX Championship, IndyCar Classics, SPEED SPORT TV, along with news coverage such as The Inside Line (F1), Winged Nation (winged sprint cars) and Tuning 365 Performance Auto & Sound Magazine. We also have a slate of original programming with REV Culture with Todd Lewis that features interviews with motorsports luminaries, All North Racing which focuses on grassroots racing, a slew of how-to and behind-the-scenes programs, and so much more. REV TV is your MOTORSPORTS & AUTOMOTIVE DESTINATION 24/7.
Singer Songwriter DIA Heats Up Summer With 'LIMONATA"
Toronto, ON – Canadian-Italian singer/ songwriter DIA, released her new single, "Limonata" on all music platforms.  The pop artist draws you in with a powerful and dynamic sound.  DIA's voice is filled with nuances that embrace diverse cultures.  With a master's degree in ethnomusicology and the ability to sing in 32 languages, the multi-talented artist has no boundaries and takes fans outside theirs.  "Limonata" produced by KC Bondar, is a fun and sexy single for the summer about loving and living life to the fullest.  With an upbeat Latin and Mediterranean vibe, "Limonata" will have you up dancing all summer long.
DIA
 has headlined festivals throughout
Canada
, the US, Europe, Central and South America, that included a performance at the closing ceremonies of the Parapan Am games – an honor for the artist.   A voice of multiculturalism and a product of her Canadian environment makes DIA's connection with audiences undeniable.  The singer draws you into her music with enthusiastic performances and the belief that music has no barriers.  
"Limonata"
 is that song….   Listen. Repeat. Listen. Repeat
"Each culture I experience, leaves a thumbprint on my voice… and with this song, I've got Italy on my mind"
                                                                                             DIA
Listen to "LIMONATA"
Watch The Video:
Follow DIA:
INSTAGRAM @diadiadia
FACEBOOK: @diamusiconline
YOUTUBE: @diamusicofficial
TIKTOK: @worldofdia
WEBSITE: https://www.diamusiconline.com/
Media Inquiries:
Sasha Stoltz Publicity:
Sasha Stoltz | Sasha@sashastoltzpublicity.com | 416.579.4804