Concordia grad takes home BMO 1st Art! competition prize for Quebec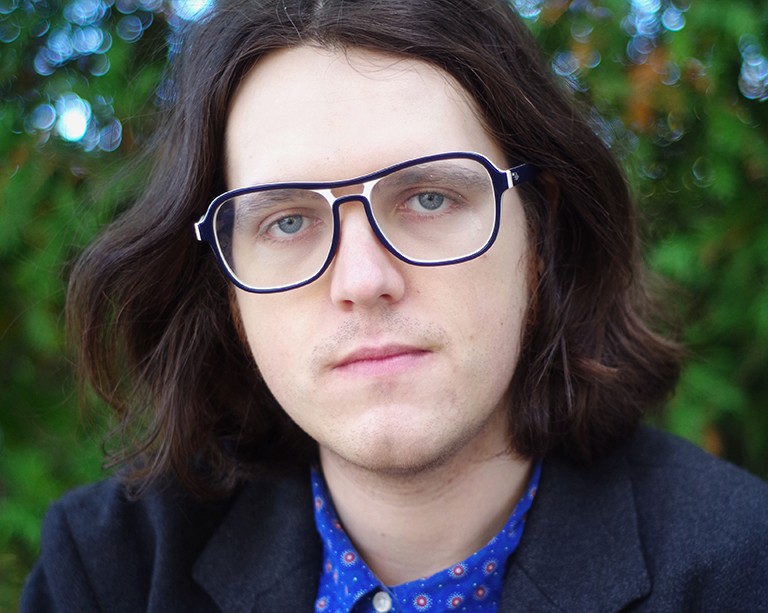 This year's BMO 1st Art! competition regional winner for the province of Quebec is Avery Mikolic-O'Rourke, BFA 22, who recently graduated from the Intermedia program in Concordia's Department of Studio Arts.
The BMO 1st Art! annual contest has for the past 20 years been celebrating the creativity of Canadian art students from more than 100 postsecondary institutions across the country. The 2022 national prize of $15,000 was awarded to Shizuka Yoshimura from the Yukon School of Visual Arts in Dawson City.
Previously, Concordia graduates Maggy Hamel-Metsos, BFA 21, took home the regional prize in 2021 and Clara Couzino, BFA 21, won the national prize in 2018.
For Mikolic-O'Rourke, winning the Quebec regional prize represents an exciting opportunity as an emerging artist. "It's still almost hard to believe," he says.
"I know people who were nominated and there's so much amazing work. I just feel very fortunate!"
"Avery's innovative use of video and digital imagery stood out to our selection committee members, who had the unenviable task of isolating 12 works from hundreds of worthy submissions," says Dawn Cain, curator for the BMO Corporate Art Collection.
This year's competition was judged by a committee composed of Emily Falencki, a Nova Scotia-based artist and educator; Sequoia Miller, chief curator of the Gardiner Museum of Ceramic Art in Toronto; Michelle Jacques, chief curator of the Remai Modern in Saskatoon; and Anne-Marie St-Jean Aubre, curator of contemporary art at the Musée d'art de Joliette in Quebec.
Photos from See Every Star at Art Basel 2022 – E! Online – E! NEWS
Diplo 'Wins' Art Basel Miami by Topping ATM's Leaderboard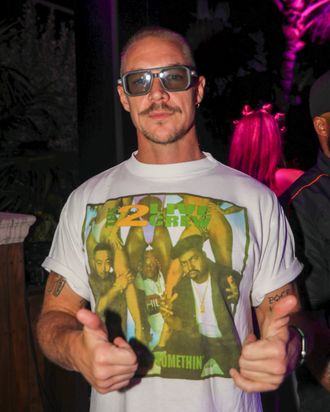 Photo: Thaddaeus McAdams/Getty Images for Ocean Drive
Diplo has about $3 mil in the bank, FYI. The celebrity DJ who once streamed Sophie Turner's wedding to Joe Jonas (remember that?) claimed to have "won" Miami Art Basel this year. One of the most talked-about pieces at the annual art fair is an ATM that posts your picture and bank balance if you use it. The ATM has a leaderboard, which Diplo topped on December 2. At the time he posted his "high score" on social media, Diplo had $3,004,913.06 in his account. So we know his cash assets, but do we know if he's in on the joke? This piece is from Brooklyn art collective MSCHF, who are known for their trolly stunt art. "ATM Leaderboard is an extremely literal distillation of wealth-flaunting impulses," MSCHF co-founder Daniel Greenberg said on NPR. "From its conception, we had mentally earmarked this work for a location like Miami Basel, a place where there is a dense concentration of people renting Lamborghinis and wearing Rolexes." The piece is goofing on ostentatious displays of wealth, Diplo. Having the most ostentatious display isn't the flex you think it is. The ATM was a collab between MSCHF and the gallery Perrotin. They had the banana duct taped to the wall, to give some more context on where everyone involved stands on the art vs. prank spectrum.
Free Press celebrates launch of art exhibit
The Winnipeg Art Gallery has opened its doors to an exhibition focusing on the Winnipeg Free Press and its 150th anniversary.
Headlines: The Art of the News Cycle, which includes works from seven artists from across North America as well as archival material from the Free Press and the gallery's permanent collection, looks at the many changes that have taken place in how the Free Press and other news organizations let their readers know what's going on in the world around them.
The exhibit runs through to May 21, 2023 at the Winnipeg Art Gallery.
— with files from Alan Small