COVID-19 in B.C.: New outbreak at vacation rental, four schools with new exposures, and more – The Georgia Straight
Active, monitored, and intensive-care cases have all continued to increase.
There were also three healthcare outbreaks, a new community outbreak at a vacation rental, two stores and four flights with confirmed cases, and four schools with new exposure dates.
While Fraser Health announced yesterday that it was opening a second testing site in Surrey, Interior Health announced today that it is expanding testing in two cities.
COVID-19 testing at the Kelowna Urgent and Primary Care Centre (UPCC) has relocated to a dedicated testing centre at 2180 Ethel Street (entrance on Glenwood Avenue) in Kelowna, which will enable it to expand its testing capacity.
Similarly, testing in Vernon has relocated from the Vernon Urgent and Primary Care Centre (UPCC) to a dedicated testing centre at the Vernon Health Centre (1440 14th Avenue) in Vernon, which will help to boost the amount of testing. Interior Health notes that some testing will be conducted at UPCC for special circumstances during surges in demand.
More information about B.C. Interior testing sites is available at the Interior Health website.
The number of new cases remains high and, like the three-consecutive days on the weekend, over the 300 case mark.
Today, B.C. provincial health officer Dr. Bonnie Henry and Health Minister Adrian Dix announced there are 335 new cases (including seven epi-linked cases).
The number of people in hospital—92 individuals—remains the same as yesterday, but three more people are now in intensive care units (ICU), raising the total to 25 ICU patients.
Meanwhile, the number of active cases has increased by 103 people to 3,120 active cases.
Public health is monitoring 7,133 people, which is 245 more people than yesterday.
Unfortunately, there are three new healthcare facility outbreaks:
Hawthorne Seniors Care Community (2111 Hawthorne Avenue) in Port Coquitlam, where Fraser Health stated one resident has tested positive and which had a previous outbreak on October 30;
White Rock Seniors Village (1183 Maple Street), where Fraser Health confirmed one staff member has tested positive;
Village at Mill Creek (1450 Sutherland Avenue) in Kelowna, where Interior Health stated two staff members have tested positive.
The outbreak at Peace Portal Seniors Village in Surrey has been declared over.
Active outbreaks are currently at 31 healthcare facilities, with 29 at longterm care or assisted-living facilities and two at acute-care facilities.
In addition, there is one new community outbreak at La Casa Cottages vacation rentals (6808 Westside Road) in West Kelowna, with seven people reportedly testing positive.
Meanwhile, an outbreak at Tim Hortons (3340 River Ranch Road) in Merritt, which was announced on October 16, has been declared over.
Sadly, one new COVID-19 related death has brought B.C.'s total number of fatalities to 273 deaths.
A total of 12,659 people (78 percent) who tested positive have now recovered.
During the pandemic, a cumulative total of 16,135 cases have been reported in B.C., with regional breakdowns as follows:
• 9,439 cases in Fraser Health;
• 5,097 in Vancouver Coastal Health;
• 803 in Interior Health;
• 432 in Northern Health;
• 274 in Island Health;
• 90 people live outside Canada.
Loblaw reported two Real Canadian Superstore locations have had staff members who tested positive.
One was the 14560 104th Avenue store in Surrey, where the employee who tested positive was last there on October 30.
The other location was at the 45779 Luckakuck Way store in Chilliwack, where an employee who tested positive was last there on October 27.
The B.C. Centre for Disease Control added the following four domestic flights confirmed with COVID-19 to its list:
• October 22: Air Canada flight 226, from Calgary to Vancouver, with affected rows 16 to 22;
• October 25: Air Canada flight 226, from Vancouver to Calgary, with affected rows 15 to 21;
• October 28: Flair flight 8137, from Winnipeg to Kelowna, affected rows 7 to 13;
• November 2: Swoop flight 109, from Hamilton to Abbotsford, with affected rows 15 to 21.
Anyone in the specified rows on these flights should monitor themselves for 14 days after the date of flight. If symptoms develop, immediately self-isolate and contact 811 (if in B.C.) or our local healthcare provider for testing information.
There weren't any schools with new exposure events reported by Vancouver Coastal Health, Island Health, or Northern Health.
Interior Health added exposure dates for one school.
In Kelowna, Kelowna Secondary School (1079 Raymer Avenue), which previously had an exposure event from October 19 to 21 and a second case on October 21, has had a third exposure event from October 28 to 30.
Meanwhile, Fraser Health had three schools with new exposure dates.
In Coquitlam, two schools had new dates:
• Gleneagle Secondary (1195 Lansdowne Drive), which had previous exposures on October 22 and from October 26 to 28, added October 21 as an exposure date;
• Pinetree Secondary (3000 Pinewood Avenue), which had previous exposures from October 15 to 16 and 19 to 20, had added October 26, 28, and 29 as additional dates.
in Chilliwack, Unity Christian (50950 Hack Brown Road), which had previous exposures on October 20 to 22 and October 26, had additional exposures from October 26 to 29.
COVID-19 in B.C.: 834 more cases, 12 deaths in the last 24 hours – CTV News Vancouver
VANCOUVER —
B.C. has added 834 more cases of COVID-19 to its total, as well as 12 more deaths from the disease.
Provincial health officer Dr. Bonnie Henry and Health Minister Adrian Dix announced the new numbers Wednesday during a live briefing.
There are now 8,941 active cases of COVID-19 in B.C., another new record. Of that total, 337 people are hospitalized with the coronavirus, which is also a record. There are 79 people in intensive care with the virus.
Since the pandemic began, the province has recorded 34,728 cases of COVID-19 and 469 deaths.
Henry also announced multiple new outbreaks of the disease on Wednesday, including two community outbreaks in the Fraser Health region, at The Cove Shelter in Surrey and at Millennium Pacific Greenhouses in Delta.
Three more health-care facilities have had outbreaks of the coronavirus declared: Royal City Manor long-term care home in New Wesminster, Saanich Peninsula Hospital in Saanich and West Coast General Hospital in Port Alberni.
With 54 ongoing outbreaks in long-term care in the province and a recent spike in the number of daily deaths B.C. has seen, Henry highlighted the need for British Columbians to overcome their pandemic fatigue.
"We hope and expect that vaccines will be ready in the next few weeks," the provincial health officer said. "But this virus continues to move and move quickly between us, and it takes lives. Another 12 families have been affected today, and we are continuing to see unchecked transmission in many places despite our efforts."
A total of 10,201 people are under active public health monitoring because of exposures to known cases of COVID-19, Henry said, adding that public health orders she has put in place must be followed to get the province through the rest of the pandemic's second wave.
"Those are there because we know that these are situations where this virus can spread very easily now," she said. "It's not about bad people or people doing the wrong things, it's the fact that we know this virus can spread even in places where we thought it was safe with the guidelines we had in place just a few months ago."
Henry also repeated her plea to British Columbians and residents of other provinces to stay home and avoid travelling outside of their local communities.
She acknowledged that it has been a "challenge" for people to limit their travel, citing examples of people travelling to and from B.C. for recreation and sports, despite health officials' warnings.
The provincial health officer shared the specific example of an "old-timers'" hockey team from B.C.'s Interior that travelled to Alberta. She declined to identify the team or where it was from, saying her understanding is that it's not a unique case. She described it as a "cautionary tale."
"Now, there are dozens of people who are infected and it has spread in the community," Henry said. "We need to stop. Right now. To protect our communities and our families and our health-care workers. This is avoidable, and these are the measures that we need to take."
Wednesday's new outbreaks come alongside five outbreaks that have been declared over, including the care home outbreaks at Cottage Worthington Pavilion in Abbotsford, Discovery Harbour Care Centre in Campbell River and Orchard Manor in Kelowna.
The other two health-care outbreaks recently concluded are at acute-care units at Burnaby Hospital and Langley Memorial Hospital.
Most of the new cases added Wednesday are located in the Lower Mainland, with 529 in Fraser Health and 174 in Vancouver Coastal Health.
Elsewhere in the province, 66 cases have been added in Interior Health, 45 in Northern Health and 20 in Island Health.
Family seeking COVID is 'playing with a loaded gun' in B.C. city, mayor says – CTV News Vancouver
VANCOUVER —
The mayor of Revelstoke is appalled at a family rumoured to be trying to contract COVID-19 to "build their natural immunity" at a time when his city is discouraging visitors and grappling with a slew of active coronavirus cases.
Revelstoke has 32 active COVID-19 infections and a population of only 13,500 people, which is more than double the active cases per capita than in the Vancouver Coastal Health region, said Revelstoke Mayor Gary Sulz.
"We've become a little complacent because we haven't seen this through the community in a big way over the last eight months so what we're saying now is 'it's here, it's not just those who are travelling in who are bringing this in, it's here in our community,'" he said.
Sulz said residents need to be more vigilant.
"It's our locals who are not being vigilant who are spreading it so we need to make sure that everyone does follow the rules."
The mayor also raised serious concerns about a family rumoured to be seeking out people who've tested positive in the community so that they can become infected, reminiscent of 'chicken pox parties' among kids before a reliable vaccine was developed.
"We are a healthy family and we would like to safely expose ourselves to the virus to build our natural immunity," reads the ad posted to a local Craigslist-style website.
The post was removed before CTV News could attempt to contact the family.
The post ends with a plea for "no hate mail."
"You're playing with a loaded gun," warned Sulz.
"We don't know what this disease can do, whether it's an older person, younger person, someone who's in their 30s and 40s. Because people feel they may be in good health doesn't mean you should go out seeking this because it can have different effects for everyone. That, for me, is very concerning."
While there were several cases in the United States of people trying to get COVID-19, scientists have repeatedly stressed that they don't know whether contracting the virus will guarantee immunity and prevent a second infection.
Interior Health cases rising sharply
While Vancouver Coastal Health has brought down its active caseload per capita in the past week and Fraser Health has seen a smaller increase than before, cases in Interior Health have nearly doubled in that time.
Last week a CTV News analysis found there were 37 active cases for every 100,000 people who live in the Interior Health region. However, current data as of Dec. 1, shows there are now 65 cases per 100,000. Fraser Health has grown from 301 to 337 cases per 100,000 people, while Vancouver Coastal Health has dropped from 116 to 111 per 100,000.
In Revelstoke, where the exact number of residents is up to debate as the city claims double the number of inhabitants than the federal census, CTV's analysis was based on the city's declared total of 13,500, which puts their active cases at about 237 per 100,000.
That has the mayor pleading with those who think it's safe to visit over the holidays to simply stay away.
"Snowmobiling, skiing, that's the ultimate physical distancing but it is when you gather afterwards (that the virus is spreading)," he said. "We're finding that COVID is spreading because of social gathering so we're basically saying to people 'avoid that the best that you can, stay in your own family bubble'.
Revelstoke has only 13 beds in its hospital, with two additional rooms for ventilators. While there aren't any coronavirus patients there now, the mayor fears the mountain city will soon see its first COVID-19 deaths.
"There isn't any leeway," said Sulz bluntly. "If it gets into our hospital or seniors centre or something like that, it's going to be devastating for this community."
Dr. Bonnie Henry wants people to stay home this Christmas as COVID-19 deaths climb in B.C. – CHEK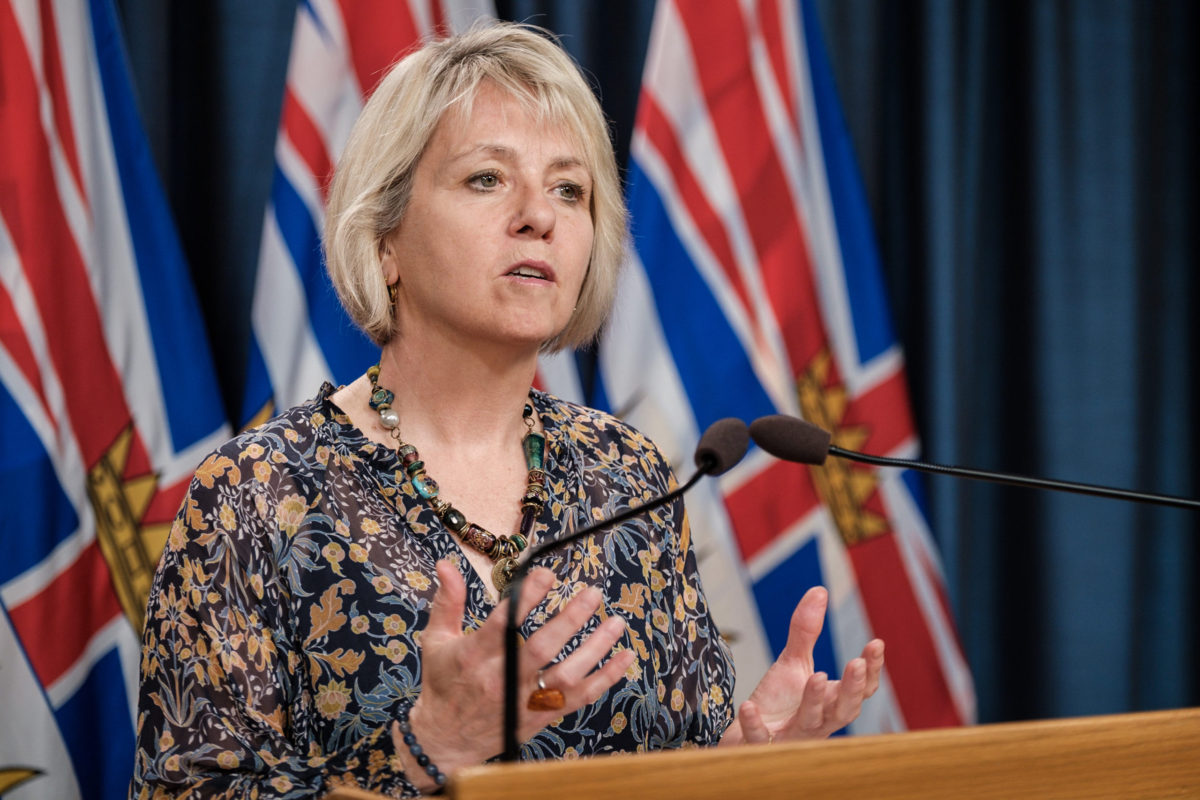 It's been a deadly few days in B.C., with 111 COVID fatalities in the last week alone.
That accounts for a quarter of all deaths since the pandemic began.
"It has been a difficult week for all of us and reminds us of what we need to do right here, right now, before a vaccine," says health minister Adrian Dix.
B.C. health officials are urging everyone to follow the public health orders, stay close to home, avoid all non-essential travel and only see people in their household or bubble.
"We are continuing to see unchecked transmissions despite our efforts," provincial health officer Dr. Bonnie Henry says. "We need more than ever to stay local, stay small, not mix with others."
That means Christmas — as we know it — is cancelled.
"What I want for Christmas is for everyone to stay home and stay safe so we can get through to next year," says Dr. Henry.
MORE: B.C. reports 12 deaths, more than 800 new cases of COVID-19
B.C.'s top doctor won't yet say if the ban on all events — which is in effect until Dec. 7 — will be extended.
But the premier has a strong message for the holidays:
"This is a critical, dangerous time for British Columbia with respect to COVID 19," Premier John Horgan said. "It's absolutely essential we reduce interactions with people. There will be difficult times ahead for family gatherings."
Additional restrictions on indoor adult team sports are also being put in place.
And high-intensity indoor group fitness is on hold — indefinitely.
"This is the worst time for transmission," says Dix. "What was possible in August is not possible now and no amount of arguing or litigating will change that."
It's a message they hope will finally get through to those following the rules, before it's too late.