Covid: White House accuses top scientist Fauci of 'playing politics' – BBC News


.css-94m6rd-HeadingWrapperborder-bottom:solid 1px #BABABA;padding-bottom:1.5rem;.css-94m6rd-HeadingWrapper > *:not([hidden]):not(style) ~ *:not([hidden]):not(style)margin-top:1rem;
.css-1c1994u-StyledHeadingfont-family:ReithSerif,Helvetica,Arial,freesans,sans-serif;font-weight:500;font-size:2rem;line-height:2.25rem;color:#3F3F42;@media (min-width:37.5rem).css-1c1994u-StyledHeadingfont-size:2.75rem;line-height:3rem;.css-1c1994u-StyledHeading:focusoutline-style:none;.css-1c1994u-StyledHeading:focus-visibleoutline-style:auto;
Covid: White House accuses top scientist Fauci of 'playing politics'
.css-11c8au8-MetadataStripfont-family:ReithSans,Helvetica,Arial,freesans,sans-serif;font-weight:400;font-size:0.8125rem;line-height:1rem;margin-top:-0.25rem;color:#696969;
.css-8d0yke-MetadataStripItemdisplay:inline-block;white-space:nowrap;margin-top:0.25rem;max-width:calc(100% – 1em);.css-8d0yke-MetadataStripItem::aftercontent:";display:inline-block;height:1.25em;border-left:#BABABA 1px solid;margin:0 0.5em;vertical-align:-0.25em;.css-8d0yke-MetadataStripItem:last-childmax-width:100%;.css-8d0yke-MetadataStripItem:last-child::aftercontent:none;

Published

.css-1n98t8y-MetadataContentdisplay:inline-block;max-width:100%;

.css-1hizfh0-MetadataSnippetdisplay:inline-block;max-width:100%;overflow:hidden;text-overflow:ellipsis;white-space:nowrap;vertical-align:bottom;.css-1n712b9-IconContainerdisplay:inline-block;width:1em;height:1em;vertical-align:-0.125em;padding-right:0.25em;

1 day ago
.css-2yhany-StyledTagContainerfont-family:ReithSans,Helvetica,Arial,freesans,sans-serif;font-weight:400;font-size:0.875rem;line-height:1.125rem;
Related Topics
.css-1emjddl-Clusteroverflow:hidden;
.css-1oubwgi-ClusterItemsdisplay:-webkit-box;display:-webkit-flex;display:-ms-flexbox;display:flex;-webkit-flex-wrap:wrap;-ms-flex-wrap:wrap;flex-wrap:wrap;margin:calc(0.5rem / 2 * -1);.css-1oubwgi-ClusterItems > *margin:calc(0.5rem / 2);
.css-dh1p3g-StyledTagdisplay:-webkit-box;display:-webkit-flex;display:-ms-flexbox;display:flex;white-space:nowrap;
.css-1sd1v8r-StyledLinkcolor:#3F3F42;border:1px solid #DB7F7F;font-weight:bold;padding:0.5rem;-webkit-text-decoration:none;text-decoration:none;.css-1sd1v8r-StyledLink:hover,.css-1sd1v8r-StyledLink:focusbackground:#B80000;color:#FFFFFF;US election 2020
.css-r83t2i-ComponentWrappermargin:1.5rem 0;
.css-1759m9z-StyledFigurefont-family:ReithSans,Helvetica,Arial,freesans,sans-serif;font-weight:400;font-size:0.875rem;line-height:1.125rem;
.css-uf6wea-RichTextComponentWrappermargin:1rem 0;max-width:36.25rem;
.css-83cqas-RichTextContainercolor:#3F3F42;.css-83cqas-RichTextContainer > *:not([hidden]):not(style) ~ *:not([hidden]):not(style)margin-top:1rem;
.css-14iz86j-BoldTextfont-weight:bold;The White House has accused leading infectious disease expert Anthony Fauci of playing politics days before the election in an interview about the coronavirus pandemic.
Dr Fauci told the Washington Post the US was in for a "whole lot of hurt".
He also offered an assessment of how both President Donald Trump and his Democratic rival, Joe Biden, are approaching the pandemic.
The US has recorded more deaths and cases than any other country.
According to data collated by Johns Hopkins University, deaths in the US have now passed 230,000, while more than nine million cases have been registered.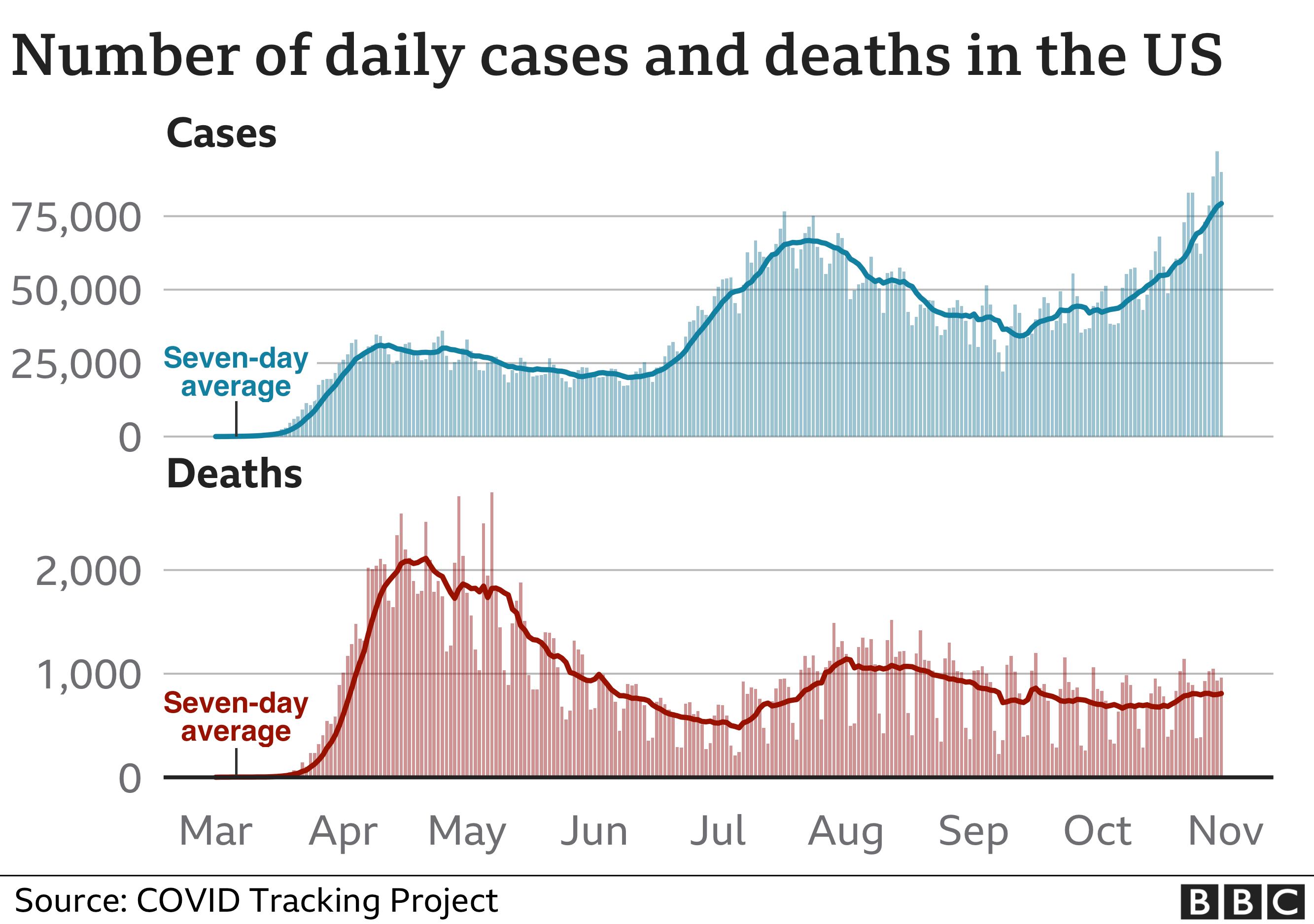 In his interview with the Post published on Saturday night, .css-yidnqd-InlineLink:linkcolor:#3F3F42;.css-yidnqd-InlineLink:visitedcolor:#696969;.css-yidnqd-InlineLink:link,.css-yidnqd-InlineLink:visitedfont-weight:bolder;border-bottom:1px solid #BABABA;-webkit-text-decoration:none;text-decoration:none;.css-yidnqd-InlineLink:link:hover,.css-yidnqd-InlineLink:visited:hover,.css-yidnqd-InlineLink:link:focus,.css-yidnqd-InlineLink:visited:focusborder-bottom-color:currentcolor;border-bottom-width:2px;color:#B80000;@supports (text-underline-offset:0.25em).css-yidnqd-InlineLink:link,.css-yidnqd-InlineLink:visitedborder-bottom:none;-webkit-text-decoration:underline #BABABA;text-decoration:underline #BABABA;-webkit-text-decoration-thickness:1px;text-decoration-thickness:1px;-webkit-text-decoration-skip-ink:none;text-decoration-skip-ink:none;text-underline-offset:0.25em;.css-yidnqd-InlineLink:link:hover,.css-yidnqd-InlineLink:visited:hover,.css-yidnqd-InlineLink:link:focus,.css-yidnqd-InlineLink:visited:focus-webkit-text-decoration-color:currentcolor;text-decoration-color:currentcolor;-webkit-text-decoration-thickness:2px;text-decoration-thickness:2px;color:#B80000;Dr Fauci warned that "all the stars are aligned in the wrong place as you go into the fall and winter season, with people congregating at home indoors."
"You could not possibly be positioned more poorly," he said.
When asked about the approaches of the two presidential candidates, Dr Fauci said Mr Biden was "taking it seriously from a public health perspective", while Mr Trump was "looking at it from a different perspective… the economy and reopening the country".
He said the US needed to make an "abrupt change" in public health practices and behaviours.
The comments drew a sharp rebuke from the White House, which accused Dr Fauci of attempting to bolster Mr Biden's bid for the presidency.
Spokesman Judd Deere said the comments were "unacceptable and breaking with all norms".
"As a member of the [US Coronavirus] Task Force, Dr Fauci has a duty to express concerns or push for a change in strategy, but he's not done that, instead choosing to criticise the president in the media and make his political leanings known by praising the president's opponent," he added in a statement.

.css-1pzprxn-BulletListContainermargin-left:1.5rem;.css-1pzprxn-BulletListContainer *:not([hidden]):not(style) ~ *:not([hidden]):not(style)margin-top:1rem;.css-1pzprxn-BulletListContainer ullist-style-type:disc;.css-1pzprxn-BulletListContainer ollist-style-type:decimal;

Coronavirus has been a central issue in the run-up to Tuesday's presidential election.
Mr Biden has called the president's handling of the coronavirus pandemic an "insult" to its victims.
The Democratic candidate – who has not ruled out further lockdowns – pledged to "let science drive our decisions" if he is elected.
"Even if I win, it's going to take a lot of hard work to end this pandemic," he told voters this week. "I do promise this: We will start on day one doing the right things."
At a rally in Goodyear, Arizona, Mr Trump warned that a Biden presidency would lead to more lockdowns and economic misery for Americans.
"If you vote for Joe Biden it means no kids in school, no graduations, no weddings, no thanksgivings, no Christmas, and no Fourth of July together.
"Other than that you'll have a wonderful life. Can't see anybody, but that's alright," he said.
He cast the election as "a choice between a Trump super-recovery and a Biden depression".
Mr Biden has been observing Covid protocols at events ahead of the vote, while Mr Trump has been staging large campaign rallies without social distancing measures.
Mr Biden has a solid national lead over the Republican president, but his advantage is narrower in the handful of US states that could vote either way and ultimately decide who wins the White House.


.css-144ki52-SectionWrappermargin:1.5rem 0;padding-top:1.5rem;
Leo Glavine, close political ally and friend of Premier McNeil, leaving politics – CBC.ca
Leo Glavine and Stephen McNeil share a political border that spans almost 45 kilometres, but it's not proximity that has cemented their political and personal friendship during the past 17 years — it's mutual loyalty and respect.
So it was no surprise that both men talked in glowing terms about the other when addressing reporters Thursday after Glavine formally announced his decision to retire before the next election.
"I've had the good fortune to come into political life with Premier McNeil," said Glavine, noting both men first took their seats at Province House in 2003. Each has been re-elected four times since.
McNeil, who announced his plans in August to retire, called Glavine a friend and described their political careers as "a great journey."
"I admire you a great deal and I wish you nothing but great health and happiness and you head into the next part, the next chapter of your life," McNeil said following a cabinet meeting.
Opposition to government
They sat near each other, first on the opposition side of the House, then on the government front benches starting in 2013 when McNeil became premier. Glavine was one of the first in the Liberal caucus to support McNeil's leadership bid against three opponents.
McNeil picked Glavine to be his first minister of health, a post Glavine held during the Liberal government's entire first mandate. During that time, Glavine spearheaded the government's tumultuous but ultimately successful drive to merge the province's nine district health authorities into a single entity.
At the same time, the McNeil government squared off against the province's public sector unions, taking away the right to strike from health workers, then forcing a reduction in the number of bargaining units in the sector. Those actions led to many large and noisy demonstrations outside Province House. The governing Liberals also imposed around-the-clock sittings at the legislature to fast-track necessary bills to enact those changes.
Glavine remained steadfast in his support for McNeil and his reorganization plans. In return, McNeil kept Glavine in the job despite the minister's inability, at times, to properly or succinctly articulate those plans.
'Everything old is new again'
McNeil's seemingly unending confidence in Glavine was demonstrated again last month when the premier reappointed him to replace Randy Delorey as health minister after Delorey resigned to run in the Liberal leadership race.
"Everything old is new again," quipped Glavine as he approached reporters after a brief ceremony Oct. 13 at Government House.
Asking Glavine to take over the portfolio in the midst of a pandemic may have been the ultimate display of confidence in his friend.
Glavine repaid the compliment in his farewell message Thursday.
"We've had an exceptional team in Public Health, the premier to guide our province through what may be one of the most challenging and difficult periods in the 21st century," said Glavine, who characterized himself as "a very ordinary Nova Scotian" who came to Province House to "do the best work possible."
What the future holds
The one-time public school teacher called his time in politics "a joy," offering himself a rare bit of self-congratulation.
"While there were lots of challenges and stressful moments, I have not missed a day of work in my 17½ years in political office," he said.
Glavine will stay on as the MLA for Kings West until the next election is called. He said he plans to go back to private life to "enjoy what the Valley has to offer" and spend more time with his grandchildren.
MORE TOP STORIES
N.S. health minister to retire from politics after term ends – Global News
Nova Scotia Minister of Health Leo Glavine has announced he is stepping down after his term.
Glavine said in a Thursday cabinet meeting he will not be re-offering in the next election and is choosing to retire from politics.
But, he will carry out his term.
"I certainly plan to put my heart and soul into the next number of months," Glavine said.
"The premier called upon me to fill the role of minister of health which I will certainly do until Feb. 6, and maybe the new premier will ask me to carry on, which I would certainly be honoured to do, as tough as it is."
Glavine, a former educator, has had nearly 18 years of political life. He was first elected MLA for Kings West in 2003.
"It's a great honour to be able to serve my riding first, and then go to government and serve the province," Glavine said.
[ Sign up for our Health IQ newsletter for the latest coronavirus updates ]
Glavine told cabinet it's been an emotional day for him.
"To put the kind of time into an elected office that is required today, certainly my first thanks go to my wife Doris, my family. Probably the biggest reason of all at this stage of my life, to head back to private life and enjoy what the valley has to offer and what our province has to offer."
Glavine said he now hopes to spend more time with his grandchildren.
He said he is grateful for the support of his colleagues.
"I'm reminded that politics is the ultimate in-the-team game," Glavine said.

0:50


McNeil discusses new cabinet appointments



"I've had the good fortune to have a number of people to be my sounding board during my time in office. I've had the good fortune to come into political life with Premier McNeil… We're the only two remaining from the class of 2003, so maybe quite appropriate that as he leaves political office, I leave as well."
Glavine's announcement comes just as Nova Scotia entered the second wave of the COVID-19 pandemic.
He said the Public Health team has put in hard work, which will certainly continue in the new year.
"We've had an exceptional team in public health and the premier to guide our province through what may be one of the most challenging and difficult periods in the 21st century and we'll have to certainly see about that."
Glavine said he's grateful for what politics has thrown at him.
"There are no perfect answers or solutions to all problems, but to get up each day and face what's on the plate of the province… has for me been a joy."
"I have not missed a day of work in my 17 and a half years in political office. So, I've enjoyed the journey and I look forward now to the next stage of my life."
© 2020 Global News, a division of Corus Entertainment Inc.
Families Have Been Torn Apart by Politics. What Happens to Them Now? – The New York Times
Tho Nguyen's parents, who immigrated from Vietnam, were always Republican. They are Catholic and oppose abortion. Four years ago they voted for Donald Trump.
But nothing prepared Ms. Nguyen, 25, a medical student in Kansas, for how much politics would divide her family over the next four years, as her parents became increasingly passionate about the president.
In recent weeks, as the election drew nearer, Ms. Nguyen said she has had screaming fights with her parents — very unusual for her family. Her mother threatened to stop cooking if she and her sisters voted for Mr. Biden. She had to look up the word 'brainwashed' in Vietnamese. But when she used it to describe her parents, her father said it applied to her.
She said her parents did not believe Mr. Biden could have won, and it was hard to convince them otherwise, because that is not what they were hearing from Vietnamese sources on Facebook.
"In my dad's mind, more than half of the votes for Biden were illegal," said Ms. Nguyen, who lives with her parents and was spending Thanksgiving with them. "It's just wild."
The shock of Donald J. Trump's election in 2016, just before the holiday season, tested many American families who had to confront — or avoid altogether — political disagreements over Thanksgiving dinners. Many Democrats said they were angry at family members who voted for him. Republicans rejected the notion that their votes were referendums on whether they were good people.
But four years later, for some families, those differences have mutated into something deeper — a divide over basic facts and visions for America's future. That rift feels even harder to mend after the 2020 election, as Mr. Trump stoked conspiracy theories questioning the legitimacy of Mr. Biden's win.
In interviews during and after the election, Americans talked about the differences that had emerged in their families over politics and how they had changed over the past four years. Some had learned to live with them, and were trying hard to focus on the things they had in common. Others had not spoken since 2016.
Many were in a stressful, messy place in between — trying to manage with loved ones who saw the world differently than they did. Several asked that their last names not be published because they did not want to lose the diminished relationships they still had. In most cases relatives with whom there was conflict — and who may have offered different accounts of the disagreements — were not contacted.
Unlike 2016, when conflicts emerged over political choices, this time they centered on the result itself. Polls since the election have found that large majorities of those who voted for Trump do not believe the election was fair. Large shares also say mail-in ballots were manipulated in favor of Joe Biden. But the situation is fluid, and interviews with voters showed substantial variation among Republicans, many of whom have their own stories of family loss.
"I believe it was all on the up and up," said William Hill, a lawyer in the Midwest, of the election. Mr. Hill voted for Mr. Trump, but said he believed that Mr. Biden "is not a bad guy. He's not going to do something that's going to harm the country. He's just not."
But the election result has not mended the rupture in his family. He said his sister, who lives in Seattle, blew up at him after he voted for Mr. Trump in 2016, and they haven't spoken since. He said he has sent her and her wife a Christmas gift every year — a box of nuts from a local gourmet shop — but he has never heard back. The most recent news of her, he said, was a post on Facebook after the election agreeing with someone who said, "Why would we want to unify with those people?"
"It hurts," said Mr. Hill, who is 50. He said his sister and her wife "are good people," and it still baffles him that political differences could cost a relationship. "My daughter sees things completely differently than I do politically, but she still gives me a hug every night."
The political divisions within families, while widespread, are far from universal. Dr. Joshua Coleman, a psychologist who specializes in estrangement, said that while he now has such cases in his practice, they are still a small share of the business, and, so far, mostly consist of millennials or other younger Americans pulling back from or cutting off their more conservative baby boomer parents.
That was the case in the Ackley family.
Danielle Ackley of North Carolina and her mother have always been different politically. But they agreed to disagree, even after Mr. Trump's 2016 win, which Ms. Ackley said brought her son to tears.
But during a visit last month, they got into a terrible argument over politics. Ms. Ackley, 37, said she got angry when she heard her mother criticize Mr. Biden's character. Then it escalated. It ended with her telling her mother to leave.
"This is not even a political divide, it's a reality divide," said Ms. Ackley, who added that she felt even more distant after seeing her mother comment approvingly on a Facebook post questioning mail-in ballots.
For Debbie Ackley, who is 59, the experience was painful and a shock. She said she remembers staring down at her phone, trying not to cry.She left the next morning, hours earlier than she had planned, and was so upset on the drive that she worried she might crash.
She said she loved her daughter, and though she did not understand her anger, she knew it came from a good place.
"Danielle has got the biggest heart," she said. "She's very sensitive and very loving. She takes things to heart."
She said she was frustrated by what she saw as a growing intolerance in the country.
"It's scary that there's very little tolerance and respect for other people's views and opinions — that's what makes me sad," she said.
As for the election, she said she has no doubt that there was fraud in the mail-in ballots, but whether it was enough to change the outcome, "I really don't know."
In the most extreme cases, what began as a manageable political disagreement in 2016 morphed into something much darker, as people watched family members who voted for Mr. Trump become absorbed by conspiracy theories that the president himself was spreading.
Christine, a real estate agent in Massachusetts, remembers her mother's excitement at Mr. Trump's win in 2016. They were on a family vacation, and no one else was happy about it, but the difference didn't seem to matter very much.
But over the past year, she said she has seen her mother, a 75-year-old waitress, change from an enthusiastic gardener and antiques shopper to someone so obsessed with the QAnon conspiracy theory that she said she could no longer get through to her. Her mother was spending her free time staring at her iPad, and this spring, bought a necklace with a Q on it.
"I feel like I've been in mourning for someone who is still alive, and that's a bizarre thing," said Christine, 34, who shares a last name with her mother and asked that it not be used in order to protect their privacy. "The person she used to be is not here anymore. I miss her so much."
She said this was the first Thanksgiving of her life that she would not be spending with her mother, who had been one of her closest confidants and lives 10 miles away.
For many, the key to preventing estrangement is not talking about politics in the first place. That is how Michelle, a health care worker in Arizona, has tried to manage the situation in her family. She said her sister voted for Mr. Trump, but they agreed long ago never to discuss it, and are best friends who talk every day.
"We're both like, nope, we're not going to do it," she said. "I value her as my sister, we are really close."
But she cried as she described having to block her father, a retired manager for a manufacturing firm, from her email this fall, because of what she said was a constant stream of conspiracy-laden messages that he would not stop sending even after she had asked. She asked that her last name not be used because she feared further damage to her relationship with him.
"I'm just sad," she said, crying softly. "Just because, you know, he's my dad, and he's always helped me if I've ever needed it. He's always been there for me."
Still, she planned to see him on Thanksgiving, outside and masked.
A number of older voters said they grew up around family and friends who didn't always agree with them politically, but those distinctions mattered less to a person's identity then. They didn't pick fights over them, because politics was not who you were.
"I really just don't see alienating my family over this," said Joe Wallace, 75, a retired pipe fitter in the Pocono Mountains of Pennsylvania who voted for Joe Biden. He said that he was baffled by his sisters' strong support for Mr. Trump, but that he never talked about it with them. "It's not worth it."
Will relationships heal now that Mr. Trump is no longer president? Nearly everyone interviewed for this article who had experienced a falling out said they did not think so — at least not immediately. Estelle Moore, a retired flight attendant in East Stroudsburg, Pa., said it was as if we had seen things in each other that we weren't supposed to. But now that we had, we could not un-see them.
"It's like frying chicken," said Ms. Moore, 64, sitting in a lawn chair outside her small brick house. "Once you put it into that hot grease, it becomes something different."
The Ackleys aren't giving up. A week after the election, Danielle Ackley sent her mother a message. She had spent days composing it, sitting on her lunch break at the plant nursery where she works. Her mother wrote back that they had many things to talk about. Politics did not have to one of them.
Debbie Ackley said it reminded her of the time she took her young son to the circus and encountered her daughter, then a high schooler, protesting the treatment of the elephants.
"That's my daughter," she said. "I'm so proud of her. I'm so proud of the person she has become."
Sona Patel contributed reporting.