Culture, Heritage & Public Art – Regional Municipality of Wood Buffalo
Public Art News
Public Art Collection
There are many individuals, organizations and institutions who have contributed to the cultural fabric of the region through the delivery of public art.
Public Art Wood Buffalo has produced a plethora of temporary projects including murals, events, and locally focused programming. The Wood Buffalo Public Art Plan further outlines a vision for strengthening the permanent collection.
An online map of Arts, Culture and Heritage sites is currently under development.
Local Artist Roster
The Public Art Program at the Regional Municipality of Wood Buffalo is developing an artist roster. Please sign up to receive emails about opportunities such as calls to artists, and information sessions.
Selection Panel Participation Roster
The selection panel roster will serve as a resource to build a database that will be support the creation of public art selection panel on an as needed basis for each project. The Public Art Wood Buffalo program is seeking individuals who have interest in public art and who would like to support evaluation of project submissions. Submit an application to be considered to be a member of a public art selection panel.
Ontario Artist Only Canadian Selected to Conduct Workshop at Global Art Symposium
Peterborough: Artist Lynda Todd is the solo Canadian artist at the Curious Mondo Art Symposium 2022 that debuts on August 15 – 19, 2022.
Todd, the only Canadian, joins 14 other artists worldwide from the US, UK, Greece, Egypt, United Arab Emirates and more, at the symposium.
Curious Mondo, based in Salt Lake City, Utah, is a known platform for live-stream workshops and courses and has an audience in over 32 countries. Over 10,000 new people watch each day. Each workshop will be available to watch for free during its scheduled broadcast hour. There will be three workshops each day.
Todd explains, "As a visually impaired artist I am used to giving and receiving detailed step-by-step instructions. My goal is to encourage others to embrace their creativity".
Todd will be on a live chat you can join for free at 1 p.m. (MDT) on Tuesday, August 16th, 2022.
Join the LIVE Symposium Kick-Off Event starting at 11 a.m.(EST) on August 15th, 2022. Free registration information here. Todd started her art journey three years as a fluid pour artist and has expanded to resin and sculpted art. She is presently working on a new exhibit of tactile art, opening up opportunities for the visually impaired and blind to enjoy art in a more intimate way.
Todd won the Spirit of the Hills Fine Art Award in 2021 and the life-time achievement Holnbeck award for her volunteer work in the Peterborough community.
Artists who applied to become part of the symposium had to submit their project plans and photos. The Todd submission presented methods for using resin art. Nikolas Kienitz, the instructor liaison for Curious Mondo explains that the project presented in the symposium had to be approachable both for newbies and the more technically advanced participants in resin art.
Curious Mondo student, Ivonne Hugely, describes her experience as "I love the classes and the enthusiasm of both the instructors as well as the hosts. I love the feeling of community in the chats and the camaraderie and friendships that have developed while growing as an artist in both skills and confidence. Thank you, Curious Mondo! I especially love the fact that your courses are free while you're live and filming. It really helps".
Curious Mondo founder, Shahar Boyayan, explains, "We are Mondo Makers. We live and breathe creativity: we find creative solutions to problems, we bring new ideas to fruition and we are committed to empowering self-expression and cultivating resourcefulness in people and communities. We do this through ART. By making it, preserving it, and carrying on the legacy of different art forms!"
Todd describes her workshop, "I will teach how to create a work of art with resin, how to mix resin, what you can use to tint your resin and safety precautions. Participants will learn doming, casting, coating and so much more. Tips and tricks will be offered throughout the class and She will go over techniques and applications for resin. Even if you've never used resin, alcohol inks or acrylic paints, everything you need to know is covered in the class to get you started and 'embrace your creativity.
The public can join the Live classes free of charge or can purchase life-time access for only $97 and get access to all of the workshops, bonus classes and studio tours.
Woodstock Art Gallery to Host Last Summer Drop-In Today – 104.7 Heart FM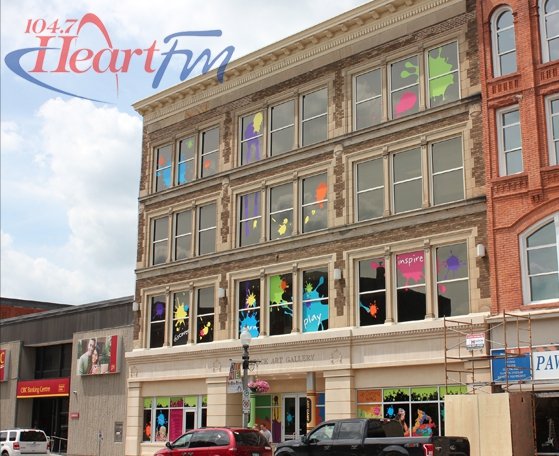 Families will be able to stop by the Woodstock Art Gallery from 11:00 a.m. to 3:00 p.m. today for the last studio drop-in of the summer.
WOODSTOCK – The Woodstock Art Gallery is back with its last studio drop-in of the summer.
From 11:00 a.m. to 3:00 p.m. today you can check out the new free, self-guided interactive art experience for all ages where you can explore, build and keep your art. Children under 16 years old must be accompanied by an adult in order to participate.
Adults and kids are welcome to stop by and have fun, with your memento tied in with current exhibits at the art gallery.
Downtown Williams Lake Art Walk 2022 opens Aug. 12 and will feature 30 artists at 30 businesses – Williams Lake Tribune
The Downtown Williams Lake Art Walk 2022 will kick off with some live art action on Friday, August 12.
From 11 a.m. to 3 p.m. the grand opening event will include kids activities, door prizes, handing out guidebooks and a live paint battle.
The "Battle of the Brushes" will involve five or six artists battling it out for painting supremacy from noon to 1 p.m. The artists will be given a subject ahead of time but will also be thrown a curve ball part way through to create an element of improvisation as well.
Patrons will be able to watch as the artists create pieces at the event and can even vote on their favourite painting and one selected by the organizers will also be used in the marketing for the 2023 art walk.
"We're hoping that their end results are fun and interesting and that people are entertained as they paint," said Sherry Yonkman, Downtown Williams Lake executive director.
The paintings will also be auctioned off.
Downtown Art Walk is an event showcasing artists' artworks in local downtown businesses, the event is free for patrons, and guides can be picked up at the Downtown Williams lake office, participating businesses, at the Stationhouse Gallery and at the Tourism Discovery Centre or at the Thursday Performance in the Park on Aug. 11.
The artworks will be on display from Aug. 12 to Sept. 7 and patrons can use the map in the guidebook to plan their walks and learn more about the artists.
On the back page of the guidebook is a passport which every hosting business can stamp and then patrons can use their stamped passports to enter to win $500 towards their favourite artist's work or a number of $50 gift certificates as well.
---

ruth.lloyd@wltribune.com
Like us on Facebook and follow us on Twitter
Artart exhibitArts and cultureVisual ArtsWilliams Lake