Developing and retaining talent in the new economy – The Globe and Mail
Event summary produced by The Globe and Mail Events team. The Globe's editorial department was not involved.
As digital transformation gains momentum, new careers are opening up in just about every sector of the Canadian economy. How are business leaders rethinking the ways they screen, hire and develop talent for the new economy? What strategies are helping them retain and support employee success and wellness, especially through the ongoing challenges of the pandemic?
On March 10, The Globe and Mail presented a webcast examining how organizations are embracing new approaches to talent and career development in response to the shifting economy and changing workplace norms.
Vanmala Subramaniam, future of work reporter with The Globe and Mail led the panel discussion featuring Karen Collins, chief talent officer with BMO; Paula Allen, senior vice-president and global leader of research and total wellbeing with LifeWorks; Mohammed Chahdi, director of global human resources with Dell Technologies; and Jim Stanford, economist and director with the Centre for Future Work.
To view their full conversation, please see the video playback below, and for more information on upcoming Globe Events, visit our events hub at tgam.ca/events.
[embedded content]
The Globe and Mail presented the event with sponsor support from BMO.
Rural development grants to spark Nicola Valley economy – Global News
The province announced on Friday a series of rural development grants in the Nicola Valley to support economic development and diversification.
This is the next step in the StrongerBC Economic Plan and the ongoing recovery efforts in Merritt following the floods in November last year.
"People in Merritt have been through a lot in the past year, and they know how important business recovery is for community rebuilding," said parliamentary secretary for rural and regional development Roly Russell in a press release.
The provincial government is providing a $1-million rural development grant to the Small-Scale Meat Producers Association to build a community abattoir in the Merritt area.
This will provide meat processing and cut-and-wrap services to local farmers and ranchers.
"This project represents significant job and economic opportunities for the region, while ensuring local ranches, abattoirs and businesses are part of a strong, resilient B.C. food system," said minister of agriculture and food Lana Popham in a press release.
"With the recent changes to B.C.'s meat-licensing system and investments in facilities like the Nicola Valley community abattoir, this revitalization of the small-scale meat industry makes it easier to produce, buy and sell B.C. meat in our rural communities, and helps strengthen our food security and food resiliency."
The abattoir will be a government-inspected licensed facility with a full range of services to process red meat.
According to the province, local producers have been impacted by the lack of processing capacity. Julia Smith who is a pork and beef producer in Merrit is hopeful this new facility will help her business as well as other local producers.
"My partner and I moved to the Nicola Valley in 2016 planning to expand our business to meet the growing demand for well-raised, local meat. But we soon found that the processors we relied upon were not able to keep up with our production and we had to scale the business back instead of growing it."

2:14


More than 900 people still displaced following Merritt flooding last fall



"We were on the verge of giving up. But now we are ready to press on, because this facility will allow us, and other local family farms and ranches, to grow and thrive while providing greater food security for the community."
The province is providing a $1-million rural development grant to the Scw'exmx Tribal Council toward Gateway 286 in Merritt.
"After an unbelievable year of fires, floods, and a pandemic, we welcome the B.C. government's $1-million grant that will bolster our rural community, support good-paying jobs and much-needed economic development," said Spayum Holdings LP director and Scw'exmx Tribal Council Terrence (Lee) Spahan in a press release.
"The Gateway 286 project is a 30-plus-year vision of past and present Nicola Valley Indigenous Chiefs and these monies will take our commercial and tourism development one more step closer to reality. This project will enhance the experience of the [traveling] public by providing much-needed services, and it will provide good-paying jobs and entrepreneurial opportunities for the residents of the Nicola Valley."
Meanwhile, the City of Merritt is receiving a $500,000 grant related to economic recovery for communities that were affected by the flooding. The grant will go towards completing economic development projects and initiatives to support long-term economic recovery.
This is in addition to $329,000 in provincial funding for the City of Merritt to update flood-hazard mapping and develop new flood-mitigation plans.

2:13


Anger grows over Merritt evacuations



China's Economy Contracts Sharply as Covid Zero Cuts Output – BNN
(Bloomberg) — China's economy contracted in April, with Covid outbreaks and lockdowns dragging the industrial and consumer sectors down to the weakest levels since early 2020 as millions of residents were confined to their homes and factories were forced to halt production.
Industrial output fell 2.9% in April from a year ago, worse than the median estimate of a 0.5% increase in a Bloomberg survey of economists. Retail sales contracted 11.1% in the period, weaker than a projected 6.6% drop. The unemployment rate climbed to 6.1%, higher than the forecast of 6%.
China's economy has taken an enormous toll from the government's stringent efforts to keep the virus at bay. Beijing has insisted on sticking with its Covid Zero strategy to curb infections, even though the high transmissibility of omicron puts cities at greater risk of repeatedly locking down and reopening compared to earlier strains.
"Covid outbreaks in April had a big impact on the economy, but the impact is short-term," the National Bureau of Statistics said in a statement. "With progress in Covid controls and policies to stabilize the economy taking effect, the economy is likely to recover gradually."
China's benchmark CSI 300 stock index was down 0.3% as of 10:04 am local time. The onshore yuan was little changed at 6.7917 per dollar. The yield on the 10-year government bonds rose 1 basis point to 2.83%.
Fixed-asset investment increased 6.8% in the first four months of the year, largely in line with projected growth of 7%, likely supported by the government's push to expand infrastructure spending.
The economic shocks from the zero-tolerance policy have pushed China's ambitious full-year growth target of around 5.5% further out of reach, and is weighing on the global growth outlook.
Beijing has signaled that policy makers will step up support for the economy, with Premier Li Keqiang recently urging officials to ensure stability through fiscal and monetary policy.
The People's Bank of China took steps on Sunday to ease a housing crunch by reducing mortgage rates for first-time homebuyers. It left the interest rate on one-year policy loans unchanged on Monday, as inflation pressure and worries about capital outflows reduce the scope for more easing.
Monetary stimulus is proving less effective because of the stringent virus restrictions, with data on Friday showing businesses and consumers had little appetite to borrow in April. Credit growth weakened sharply last month, with new yuan loans sinking to the lowest level since December 2017.
(Updates with comment from statistics office)
©2022 Bloomberg L.P.
Potential of Seaweed on Economy Being Explored in Upcoming Webinar – VOCM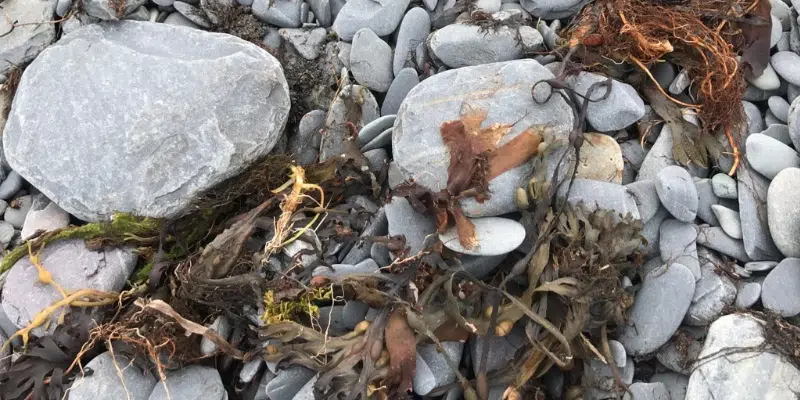 A webinar on the potential of seaweed as an economic driver is coming later this month.
The webinar, put together by The Laurentic Forum Consortium, will look at how coastal communities can use an abundance of seaweed to boost the economy, as seaweed is being used as fertilizer, diet supplements, bioplastics, animal feed, pharmaceutical products, and much more.
Webinar moderator and the executive director of the Canadian Centre for Fisheries Innovation, Keith Hutchings, says seaweed farming could provide opportunities in Newfoundland and Labrador.
He says if utilized correctly, communities and regions can add one more industry to help sustain them.
The webinar is taking place May 19.
The Laurentic Forum consortium invites you to join us on May 19, 2022, to discuss the tremendous opportunity and potential associated with the seaweed industry.

Info/Registration:https://t.co/gyQoIPHuCQ pic.twitter.com/ps1vuDLBvs

— Laurentic Forum (@ForumLaurentic) May 11, 2022