DigiTimes: 6.1-inch iPhone 12 and iPhone 12 Pro to Launch First – MacRumors
Apple is set to debut four new OLED iPhones in 5.4, 6.1, and 6.7-inch sizes before the year is out. Rumors suggest the 6.7-inch iPhone and one 6.1-inch model will be higher-end devices with triple-lens cameras, while the 5.4-inch device and the other 6.1-inch model will be more affordable lower-end iPhones with dual-lens cameras.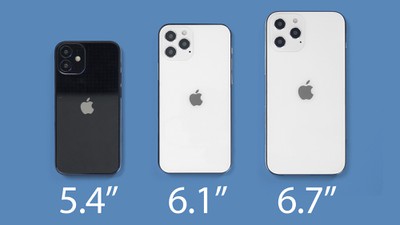 Owing to development and production delays, Apple is rumored to be staggering its ‌iPhone‌ launches this year, although we're still seeing conflicting rumors about the order in which the devices will be released.
DigiTimes has previously suggested the two 6.1-inch iPhone 12 models could come out first in October, with the 6.7 and 5.4-inch models to follow, and in a new report out today, the Taiwanese industry publication has reiterated that claim, based on the shipment timing of substrate-like printed circuit boards for the devices.
The new ‌iPhone‌ lineup may arrive in two stages, with two 6.1-inch models in the first and another two 6.7- and 5.4-inch devices in the second, said the sources, noting that shipments of SLP mainboards for the 6.1-inch models were kicked off in July and those for the 6.7- and 5.4-inch ones began in the second half of August.
Bloomberg has also reported that Apple will stagger its iPhone launches in 2020. However, it expects Apple to launch the more affordable 5.4 and 6.1-inch devices first, with the more expensive 6.1-inch and 6.7-inch "Pro" devices to follow.
Meanwhile, leaker Jon Prosser claims the ‌iPhone 12‌ models will be introduced at an event set to take place during the week of October 12, with the lower-cost ‌iPhone 12‌ models expected to be available for pre-order shortly after the event. Prosser says the ‌iPhone 12‌ Pro models won't be available until November.
Regardless of the order in which Apple releases its ‌iPhone 12‌ lineup, an official announcement about the devices could be just around the corner. Prosser believes an iPad and Apple Watch press release is due as soon as this Tuesday, but well-connected Bloomberg journalist Mark Gurman thinks it's likely to be an announcement of a virtual ‌iPhone‌/‌Apple Watch‌ event in September.
For further details on what features to expect in Apple's upcoming ‌iPhone 12‌ lineup, be sure to check out our dedicated guide.
West Kelowna Warriors complete sweep of Vernon Vipers – Similkameen Spotlight
The Vernon Vipers fell to 0-2 in the B.C. Hockey League's Okanagan Cup exhibition tournament Saturday night on home ice.
Deegan Mofford's goal with 15 seconds left in the second period gave the visiting West Kelowna Warriors a 2-1 win over the Snakes at Kal Tire Place, completing a home-and-home sweep in the first two games of the tourney.
The Warriors beat Vernon 4-1 Friday at Royal LePage Place.
Kaidan Johnson gave the Vipers a 1-0 lead, tapping in a goal-mouth pass from defenceman Trey Taylor at 19:02 of the opening frame.
Carter Wilkie got that one back for the Warriors with a shorthanded goal at 16:30 of the second.
Zach Bennett picked up the win in goal for West Kelowna while Cloverdale product Roan Clarke was stellar in net for the Vipers.
The Okanagan Cup is a two-month tournament that will feature the Okanagan's four teams, the Vipers, Warriors, Salmon Arm Silverbacks and Penticton Vees.
The tournament will consist of a total of 27 games as each team will face-off against one another four times. The games will take place on Fridays and Saturdays with each team playing a total of 12 games.
The final weekend of play will commence on Saturday, Nov. 7, followed by a weekend of semifinal and final action, beginning Friday, Nov. 13 and concluding with the championship game on Saturday, Nov. 14.
"This a great opportunity for our fans to get their hockey fix," said Vipers executive vice-president Todd Miller.
Each of the teams 12 games will be streamed live on HockeyTV.com. In addition, all four organizations are excited to showcase their players on Shaw with select games airing on the Shaw channels across the Okanagan.
The Vees started the tournament 2-0, sweeping the Silverbacks 7-0 in Salmon Arm, and 8-2 at the South Okanagan Events Centre.
The tournament continues Friday, Oct. 2, when the undefeated Warriors and Vees tangle in Penticton. The clubs play again the next night in West Kelowna.
The Vipers will visit Penticton for a mid-week game Wednesday, Oct. 7, before the two teams meet at Kal Tire Place Saturday, Oct. 10.
---

roger@vernonmorningstar.com
Like us on Facebook and follow us on Twitter.
New Minecraft Mob To Be Added Based On The Player's Vote During Upcoming Minecraft Live Event – Happy Gamer
Minecraft Live is back on Saturday, 3rd of October and players will be able to vote for a brand new mob to be added to Minecraft. There are three choices: the Iceologer, the Moobloom, and the Glow Squid.
The last time an event like this took place, players chose the spooky Phantom as the next mob to be added. If you've ever had a few sleepless nights in Minecraft you've probably met this winged beast!
Moobloom, Iceologer or Glowsquid: the decision is YOURS! During #MinecraftLive, on October 3rd, it's all power to you to vote on which one of these mobs will be added to Minecraft!

Learn more about the mobs and how you can take part in the vote:

↣ https://t.co/qTdnqbJkjP ↢ pic.twitter.com/oL0IUJEuqu

— Minecraft (@Minecraft) September 27, 2020
Here's a quick rundown of the exciting new mobs to be added according to the player's votes during the Minecraft Live event in October.
First up, the Iceologer. This is a new Illager to be added to the ice biome (you may have seen this character if you've played Minecraft Dungeons.)
You won't find the Iceologer chilling out on the snowy plains, but on the top of the large mountains that dwarf the ice biomes.
They're not friendly, in true Illager fashion. They'll start flinging some painful ice clouds at you – might make you think twice about climbing those mountains!
Next up, the Moobloom. This four-legged flowery moo is making an appearance from Minecraft Earth. Unlike the Iceologer, the Moobloom is as sweet as the flowers on its back.
There are some clues that the Mooblooms and Bees might be able to interact with each other in some way. Might make those flower biomes even more special!
Last up, this is the mob that I'm most excited about. The Glow Squid. If there's anywhere that needs some new fun mobs it's the ocean biome, which is massive but can feel quite empty!
The Glow Squid will be a brand new colorful addition most commonly found in the deeper and darker spots of the ocean and will add a lot of atmosphere to the already quite pretty ocean biome.
Three brand new mobs, but only one mob can be added to Minecraft. The vote will take place during the Minecraft Live event, a large event dedicated to the world of Minecraft across its many platforms.
To take part in the vote you'll need to be on the Minecraft Twitter page during the event. A poll will appear and you can vote for which mob you want to be added to Minecraft! The choice is yours.
Minecraft's next Mob will either be Glow Squid, Iceologer, Moobloom – GoNintendo
[embedded content]
When Minecraft Live rolls around on Oct. 3rd, fans will be able to vote on the next Mob that will join the game. There will be three different Mobs to choose from; Glow Squid, Iceologer, and Moobloom. Read details on each Mob below.
ICEOLOGER

This cold-hearted illager from Minecraft Dungeons thrives in snowy, icy, and rocky areas. If you vote for this hostile mob, they will move into the new mountain tops that tower over the Overworld. Do you really want that? These mountains are so tall that vegetation doesn't grow on them – just spiky ice formations, rocks, and snow as far as the eye can see. The Iceologer would make these mountains even more challenging, since they don't just want to hang out up there. Oh no, when you meet one of them they will hurl flying ice clouds at you. Vote for the Iceologer if you want to experience hardcore snowball fights with a stunning view!

MOOBLOOM

This four-legged flower is a fan favorite from Minecraft Earth, and pretty much the opposite of hostile. Rumor has it that Mooblooms and bees will be able to interact with each other but nobody has told me exactly how. It's almost like they want it to be a surprise and they don't trust me. That is just rude as I am a consummate professional. Do you know how much restraint it took for me to write move instead of moo-ve just now? Anyway, vote for the Moobloom if you want the Flower Forest biome to be more floral than ever!

GLOW SQUID

This shimmering sea creature also made its debut in Minecraft Earth, giving me the perfect opportunity to make a surf & turf joke but I won't since I have already committed to writing a very serious article™. Let's look at some factual facts instead of spending more time on puns, no matter how cleverly penned. The glow in Glow Squid doesn't come from a bomb skin care routine but actually refers to the way it literally glows, in the same way that the Enderman's eyes do. While we're comparing this candidate to existing mobs, I can tell you that they are pretty similar to the squid that are already swimming around in Minecraft. They won't attack players or other entities, but their glow is pretty atmospheric. That's probably why they prefer dark bodies of water – the effect just isn't the same in an already sun-drenched ocean. If you want to add more marine life to Minecraft and hasten the alleged squid uprising, vote for the Glow Squid!