Discovery Blasts Polish Watchdog as US Media Row Drags On – BNN
(Bloomberg) — Discovery Inc. lashed out at Poland's media regulator, saying its campaign to limit the company's local operations jeopardized the rule of law and media freedom.
The comment is a response to the country's watchdog, known as KRRiT, which said it may ask the U.S. broadcaster to adjust the ownership structure of its Polish business so that it complies with local law.
KRRiT's surprise announcement came alongside its last-minute decision on Wednesday to renew the permit of Discovery's Polish news channel TVN24 to broadcast under Polish regulations. The move ended a process that started more than a year ago and came just days before the license was due to expire on Sept. 26.
"The decision clearly shows there was no justification for delaying it for 19 months," Discovery and its Polish unit TVN SA said in a joint statement on Thursday. The KRRiT's accompanying decision "forces Discovery to curtail its Polish operations, being a direct threat to the rule of law and media freedom and a cause for concern among foreign investors in Poland."
How exactly the watchdog plans to proceed remains unclear. KRRiT didn't have an immediate response to additional questions from Bloomberg.
Polish regulations ban companies from countries that aren't European Union members or aren't closely associated with the bloc from owning majority stakes in Polish broadcasters. The U.S. is not part of that group. Discovery has for years complied with the law by running TVN through a Dutch-registered company, which some members of the Polish media watchdog say is against local law.
Concerns Mount
The European Commission will monitor the developments "very closely" to see how the regulator's decision is applied in practice, its spokesperson said at a daily briefing on Thursday.
"We expect member states to ensure that the policies and legislation don't have any negative impact on their commitment to ensure free and diverse media ecosystem," the spokesman said. "Let me recall the Commission has repeatedly voiced its concern with regards to media freedom and pluralism in Poland."
KRRiT's new plan comes after the country's ruling party approved a bill in the lower house of the parliament that would force U.S.-based Discovery to sell its controling stake in the Polish broadcaster, prompting a strong reaction from the EU and White House officials. The bill was rejected by the Senate, and President Andrzej Duda has suggested he may veto it.
The regulator's proposal is an attempt to bypass that legislative process and the president's potential veto, Discovery and TVN said in the statement.
TVN is also concerned it may have trouble with renewing the broadcasting license of its free-to-air movie and entertainment channel TVN7, Katarzyna Issat, head of the group's corporate communications, said in an emailed response to Bloomberg News questions. The license expires in February.
Poland's nationalist leaders lost their biggest international ally in Donald Trump and have since been at odds with U.S. President Joe Biden's administration over their approach to LGBTQ rights, the restitution of property left by Holocaust victims and media freedoms.
TVN24 is the country's biggest news channel, and its award-winning investigative reports have unveiled corruption at various levels of government.
(Adds comments from the European Commission, TVN from seventh paragraph.)
©2021 Bloomberg L.P.
It's not Kanye, it's Ye, after judge approves name change
Rapper Kanye West has won legal approval to officially shorten his name to Ye.
The 44-year-old musician, record producer and fashion entrepreneur has used Ye as his Twitter handle for years and had petitioned a court to make it his full name with no middle name or last name. Los Angeles Superior Court Judge Michelle Williams Court approved his request on Monday, according to court documents.
"Ye" also was the name of the singer's 2018 album. He told a radio host that year he believed ye is the most commonly used word in the Bible, where it means "you."
Representatives for the entertainer did not immediately respond to requests for comment.
The musician recently released his 10th studio album, "Donda," named after his late mother Donda West. He has been married to reality TV star Kim Kardashian West for about seven years. The pair are in the process of getting divorced, though they remain friendly and have been spotted together recently in public.
(Reporting by Lisa Richwine; Editing by Richard Chang)
German media group fires Bild editor after damning press reports – CNN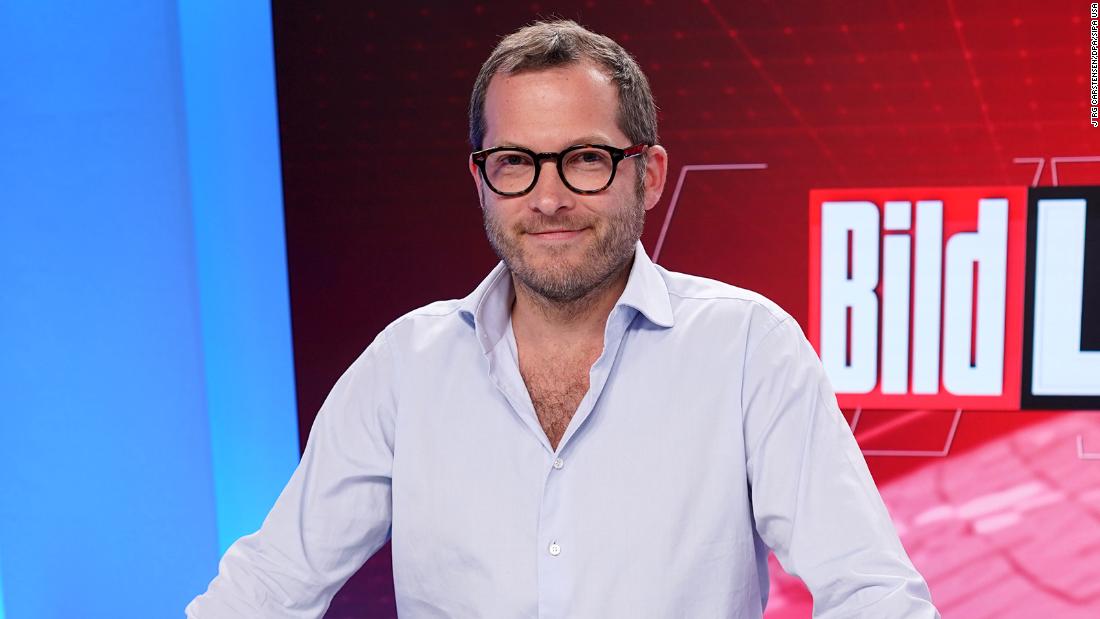 London (CNN Business)German media group Axel Springer said on Monday that it has fired the editor-in-chief of the Bild newspaper, Julian Reichelt, for failing "to maintain a clear boundary between private and professional matters" and being "untruthful to the executive board."
"Axel Springer SE has relieved Bild editor-in-chief Julian Reichelt of his duties with immediate effect," the company said in a statement. "As a result of press investigations, the company gained new knowledge in the last few days" about his "recent conduct."
The publisher employs more than 16,000 people around the world and is aggressively expanding into new markets, including the United States. It commissioned a law firm to conduct an investigation into Reichelt's conduct earlier this year, but reinstated him after determining that he had not committed fireable offenses.
Now, however, Axel Springer says that "new evidence of current misconduct by Julian Reichelt has come to the company's attention in the last few days." Eric F. Phillips, senior vice president at public relations firm Edelman, and a spokesperson for Axel Springer, declined to elaborate on this misconduct in response to a CNN inquiry.
"As the executive board has learned," the Axel Springer statement read, "Julian Reichelt still fails to maintain a clear boundary between private and professional matters and has also been untruthful to the executive board in this regard. The executive board therefore considers the termination of his office to be unavoidable."
Bild is Europe's largest daily newspaper and the publisher's crown jewel. But Axel Springer has sought to expand its digital presence in recent years, especially in the United States, through the acquisition of Business Insider — now called Insider — and newsletter producer Morning Brew. Its
$1 billion takeover of Politico
is expected to close in the fourth quarter of 2021.
Now the spotlight is on workplace culture at its flagship publication in Germany.
The New York Times on ​Sunday
published
a story on Reichelt's alleged abuse of power with female employees. Among the allegations are that Reichelt was in a relationship with a junior employee, whom he promoted beyond what she thought was appropriate, and "continued to summon her to hotel rooms​," ​the Times reported, citing a transcript of testimony the woman gave to the law firm conducting the investigation.
CNN cannot independently verify the Times' reporting and has reached out to Reichelt for comment.
Following that internal investigation earlier this year, Reichelt admitted mistakes, according to a statement reported by Reuters. "I know that I made mistakes in my behaviour towards colleagues and I cannot and will not gloss over it," Reichelt said in March, according to Reuters. "The main thing I blame myself for is that I hurt people for whom I am responsible. I am very sorry about that."
In the statement ​Monday, Axel Springer said that "the compliance investigation against Julian Reichelt never included any allegations of sexual harassment or sexual assault."
"There were, however, allegations of consensual intimate relationships with female Bild employees and indications of abuse of power in that connection. A past relationship with a female Bild employee has been proven and admitted. It remains disputed whether that employee benefited in her career as a result."
CNN does not know the identity of that employee.
The statement said that after the ​inquiry earlier this year, the Board determined that Reichelt "had made mistakes, ​[but] these were not mistakes of an unforgivable nature."
It decided at the time that "mistakes that would have justified an immediate parting of ways were not proven," and had decided to give him a "second chance."
The company ​says it is also taking legal action against "third parties" who leaked confidential transcripts, "business secrets and private communications." ​The company's statement did not specify who the legal actions were against.
They acted, the statement said, "to influence and instrumentalize the spring compliance investigation by unlawful means, evidently with the aim of removing Julian Reichelt from office as well as damaging Bild and Axel Springer."
— Inke Kappeler contributed reporting from Berlin.
'Eternals' movie, boasting a diverse cast and Marvel's first deaf role, premieres
Actors Angelina Jolie and Salma Hayek brought Hollywood glamor to the world premiere of Marvel Studios' latest comic book adapation, "Eternals", on Monday.
Directed by Chloe Zhao, who won best director and best picture for the film "Nomadland " at the Oscars earlier this year, "Eternals" boasts one of the most diverse casts of any Marvel movie.
"I hope it just starts to normalize what should have been there in the first place," Jolie told Reuters. "I hope people watch these films in years to come and we don't even think about it as being diverse, it just becomes what's normal and what's right, and what's appropriate representation of the world we live in."
Gemma Chan plays the lead role of Sersi, one of the Eternals, a group of aliens who have lived on Earth and secretly guided humanity for 7,000 years.
"It's got a different tone, visually it's going to be quite different," said Chan. "Obviously the cast is huge and it spans 7,000 years so it's really an epic story. One of the themes of the film is connection, connection to one another, connection to earth. I hope that resonates with people in some way."
"Eternals" also features the Marvel Cinematic Universe's first deaf character in Lauren Ridloff's Makkari.
"I might be the first but I won't be the only one for much longer," signed Ridloff in American Sign Language. "There's another deaf superhero coming into the MCU very soon so this is definitely a game-changer."
Delayed a year due to the pandemic, "Eternals" will finally hit cinemas on Nov. 5.
(Reporting by Rollo Ross; Editing by Karishma Singh)