Edmonton city councillor Mike Nickel will not be reprimanded over Social media posts
Coun. Mike Nickel will not face any official reprimand following a series of social media posts he made that an independent investigation found went against Edmonton city council's code of conduct and misled the public.
Councillors voted 8-4 for an official reprimand against the Ward 11 councillor, but it did not pass as a sanction requires a higher threshold of votes (at least nine in favour), according to city officials.
City council voted on the matter after a lengthy sanction hearing on Wednesday afternoon.
Councillors Banga, Cartmell, Caterina and Dziadyk voted against the sanction. Nickel was not present for the vote.
"Accountability is as essential to anything else for democracy and for our work here," Mayor Don Iveson said before the official vote Wednesday.
"An apology could have fixed this. But the lack of any contrition for these breaches… leads us to a question of formal reprimand. I believe a reprimand is appropriate given an apology is not on offer."
The sanction hearing comes after 10 public complaints were made regarding three different social media posts that Nickel made since April, all of which directly target council decisions and members.
The first post on April 17, was a lengthy complaint against changes council made to streets to allow for more social distancing.
The second that was addressed by the sanction hearing was from April 18, when Nickel posted a cartoon of Coun. Andrew Knack that related, again, to bike lanes in the city.
The third post that was looked into was from May 20, when Nickel posted a meme-like photo of Kermit the Frog questioning the management of Edmonton Transit.
The findings of the investigation into the posts found that all three were misleading.
Nickel himself did not speak at the sanction hearing, but his lawyer Johnathan Denis read a statement on his behalf. Denis argued that the posts are protected through Canada's Charter of Rights and Freedoms. 
"Mike Nickel will not apologize," Denis said. "Any sanction against Coun. Nickel will set a dangerous precedent that any city councillor cannot represent their constituents as they see fit.
"Nickel simply states his opinion, and whether an individual agrees with him or not, this is his inalienable right."
Jamie Pytel, the city's integrity commissioner, put forward the recommendation that Nickel should be sanctioned with a letter of reprimand from the mayor.
She said Wednesday that councillors have to abide by their own code of conduct, which they all voted to pass in February 2020.
"One of the themes today will be discussions about freedom of expression. It's clear to me that when that code was brought in, that freedom of expression was affected by that code," she said.
"This is in no way — and nor is the sanction — meant to suppress ideas. It's meant to say we have a code of conduct that is a law, and we can express ideas and still abide by that code."
Nickel posted a series of videos on social media Wednesday before the hearing took place, where he called the sanction hearing "shameful."
"I'm being brought before you today because I choose to criticize the direction of this civic government. This is shameful," he said.
"Right now, tax dollars are being spent to investigate Kermit the Frog and I, and what we say on Facebook," Nickel said. "Intimidating me with this process to accept truths which are not truths is the very definition of censorship."
Andrew Knack, the councillor who was directly referenced in one of the social media posts, said during Wednesday's hearing that he believes the main issue is the importance that elected officials not share misinformation.
"I don't believe we need to be disrespectful to make a point, even about serious issues," Knack said. "Another issue I take great offence to is when people share misinformation.
"This is far bigger than our local government. And I used to believe that elected officials would not cross the line in sharing this misinformation."
Other councillors said they do not believe the hearing was meant to silence Nickel on social media.
"No one is being silenced — that's a ridiculous proposition," said Ward 4 Coun. Aaron Paquette. "And normally I wouldn't be so passionate about this, except that — I'm going to be very upfront — I come from a people who actually have been silenced.
"It's just about being as honest as possible to the public. It's not a difficult concept."
Another recommendation from Pytel from the investigation was that city council develop an official social media policy.
Source: – Global News
London social media campaign celebrates newcomers working in the health sector – Global News
Saskatchewan reported 19 new cases of the novel coronavirus on Saturday as the province hit a new single-day testing record.
Of the new cases, 15 are in the Saskatoon area, with 13 of them being linked to known cases or events, says the Ministry of Health.
Two new cases have been reported in the central east and Regina zones.
As of Saturday, Saskatchewan has a total of 1,863 reported cases. Two cases previously reported have been removed as they live outside of Saskatchewan, say officials.
There are 134 active cases of COVID-19 in Saskatchewan, with a total of 1,705 people who have recovered from the virus.
Here is a breakdown of where Saskatchewan's active cases are:
Saskatoon: 83
Regina: 19
Central West: 8
Central East: 5
South East: 5
South Central: 4
North Central: 3
South West: 3
North West: 1
Far North East: 1
Far North West: 1
North East: 1
There are eight people in hospital, all who are receiving inpatient care.

1:33


Saskatoon chamber of commerce asks SHA for mask-wearing ad blitz



Saskatchewan's COVID-19 death toll remains at 24 people.
[ Sign up for our Health IQ newsletter for the latest coronavirus updates ]
Coronavirus breakdown
Here is a breakdown of total Saskatchewan cases by age:
318 people are 19 and under
603 people are 20 to 39
577 are 40 to 59
303 people are 60 to 79
62 people are 80 and over
Women make up 51 per cent of the cases, men make up 49 per cent.
Officials said 931 cases are linked to community contact or mass gatherings, 279 are travel-related, 534 have no known exposure and 119 are under investigation by public health.
There have been 69 cases involving health-care workers.
Saskatchewan has completed 183,216 COVID-19 tests to date, up 2,984 from Friday, making it the highest daily number of tests performed to date, according to data provided by the Ministry of Health.
The previous record was set on Sept. 18, when 2,984 tests were performed.
Questions about COVID-19? Here are some things you need to know:
Symptoms can include fever, cough and difficulty breathing — very similar to a cold or flu. Some people can develop a more severe illness. People most at risk of this include older adults and people with severe chronic medical conditions like heart, lung or kidney disease. If you develop symptoms, contact public health authorities.
To prevent the virus from spreading, experts recommend frequent handwashing and coughing into your sleeve. They also recommend minimizing contact with others, staying home as much as possible and maintaining a distance of two metres from other people if you go out. In situations where you can't keep a safe distance from others, public health officials recommend the use of a non-medical face mask or covering to prevent spreading the respiratory droplets that can carry the virus. In some provinces and municipalities across the country, masks or face coverings are now mandatory in indoor public spaces.
For full COVID-19 coverage from Global News, click here.
© 2020 Global News, a division of Corus Entertainment Inc.
Bill Maher Scolds Media For Being "No Help Amplifying" His Concerns Donald Trump Won't Leave Office Peacefully – Deadline
UPDATED with video: President Donald Trump pretty much secured the main talking point for this week's Real Time With Bill Maher after a Wednesday press conference in which Trump refused to commit to a peaceful transfer of power if he lost the November election to Joe Biden.
The topic of the concern over whether Trump would refuse to vacate the White House peacefully has been front and center for Maher for almost two years. It came up time and time again in Friday night's show, from pressing Sen. Bernie Sanders on what a plan might look like if Trump declined to exit in January if Biden wins, to clear frustration that it's taken "mainstream media" outlets so long to catch up to his concerns.
"It does f*ckin' stick in my craw that nobody listened to me and that I got no help from the New York Times, Washington Post, CNN — mainstream media, should have amplified," he said. "Mainstream media — I got no help amplifying the point I was making."
The subject took up the majority of the opening conversation from Sanders, who appeared via video (Maher was back in the studio for a third week in a row in front of a notably small, socially distanced audience).
"If Trump attempts to stay in office after losing, there will be a number of plans out there to make sure he is evicted from office," Sanders said, echoing some of what he said in his last Real Time appearance in April. At one point during a Sanders answer, Maher nudged back, "I still don't know what the plan is." (See the entire video above.)
During the midshow panel with author and CNN political analyst Bakari Sellers and Manhattan Institute fellow and podcaster Coleman Hughes, an engaging discussion on race eventually turned back to what Maher called "the theme that has obsessed me."
He showed two montages — one of previous Real Time episodes dating to April 2018 featuring Maher asking the question of what if Trump doesn't leave office if he loses, another of Trump mentioning Maher's theory during several rally speeches.
[embedded content]
Afterward, he turned to Trump's comments earlier in the week.
"There's a headline I saw in the New York Times yesterday, 'Trump Won't Commit to Peaceful Transfer of Power' — and it was on page 15," Maher said. "This was not the paper I grew up with, but OK."
He relayed the main points of Trump's comments, in response to a question from Playboy reporter Brian Karem, which included the president saying "we're going to have to see what happens." Maher read a passage from NYT reporter Michael Crowley's report, which said in part that "Mr. Trump's refusal — or inability — to endorse perhaps the most fundamental tenet of American democracy, as any president in memory surely would have, was the latest instance in which he has cast grave uncertainty around the November election and its aftermath."
"I would put that on the front page – but that's just crazy me," Maher said.
He added that he was going to drop the subject — though that doesn't seem likely with 38 days to go until the election.
Maher is off next week and returns with a fresh show October 9.
Molly Russell social media material 'too difficult to look at' – BBC News


.css-94m6rd-HeadingWrapperborder-bottom:solid 1px #BABABA;padding-bottom:1.5rem;.css-94m6rd-HeadingWrapper > *:not([hidden]):not(style) ~ *:not([hidden]):not(style)margin-top:1rem;
.css-1c1994u-StyledHeadingfont-family:ReithSerif,Helvetica,Arial,freesans,sans-serif;font-weight:500;font-size:2rem;line-height:2.25rem;color:#3F3F42;@media (min-width:37.5rem).css-1c1994u-StyledHeadingfont-size:2.75rem;line-height:3rem;.css-1c1994u-StyledHeading:focusoutline-style:none;.css-1c1994u-StyledHeading:focus-visibleoutline-style:auto;

.css-11c8au8-MetadataStripfont-family:ReithSans,Helvetica,Arial,freesans,sans-serif;font-weight:400;font-size:0.8125rem;line-height:1rem;margin-top:-0.25rem;color:#696969;
.css-8d0yke-MetadataStripItemdisplay:inline-block;white-space:nowrap;margin-top:0.25rem;max-width:calc(100% – 1em);.css-8d0yke-MetadataStripItem::aftercontent:";display:inline-block;height:1.25em;border-left:#BABABA 1px solid;margin:0 0.5em;vertical-align:-0.25em;.css-8d0yke-MetadataStripItem:last-childmax-width:100%;.css-8d0yke-MetadataStripItem:last-child::aftercontent:none;
.css-2yhany-StyledTagContainerfont-family:ReithSans,Helvetica,Arial,freesans,sans-serif;font-weight:400;font-size:0.875rem;line-height:1.125rem;
Related Topics
.css-1emjddl-Clusteroverflow:hidden;
.css-1oubwgi-ClusterItemsdisplay:-webkit-box;display:-webkit-flex;display:-ms-flexbox;display:flex;-webkit-flex-wrap:wrap;-ms-flex-wrap:wrap;flex-wrap:wrap;margin:calc(0.5rem / 2 * -1);.css-1oubwgi-ClusterItems > *margin:calc(0.5rem / 2);
.css-dh1p3g-StyledTagdisplay:-webkit-box;display:-webkit-flex;display:-ms-flexbox;display:flex;white-space:nowrap;
.css-1sd1v8r-StyledLinkcolor:#3F3F42;border:1px solid #DB7F7F;font-weight:bold;padding:0.5rem;-webkit-text-decoration:none;text-decoration:none;.css-1sd1v8r-StyledLink:hover,.css-1sd1v8r-StyledLink:focusbackground:#B80000;color:#FFFFFF;Social media regulation debate
.css-r83t2i-ComponentWrappermargin:1.5rem 0;
.css-1759m9z-StyledFigurefont-family:ReithSans,Helvetica,Arial,freesans,sans-serif;font-weight:400;font-size:0.875rem;line-height:1.125rem;
.css-uf6wea-RichTextComponentWrappermargin:1rem 0;max-width:36.25rem;
.css-83cqas-RichTextContainercolor:#3F3F42;.css-83cqas-RichTextContainer > *:not([hidden]):not(style) ~ *:not([hidden]):not(style)margin-top:1rem;
.css-14iz86j-BoldTextfont-weight:bold;Instagram has passed thousands of pages of "pretty dreadful" material from the account of Molly Russell to her family's legal team, a court heard.
The 14-year-old killed herself in 2017 after viewing graphic images of self harm and suicide on the platform.
A pre-inquest hearing on Friday was told not all the material had been studied yet as it was too difficult for lawyers and police to look at for long.
A date for the inquest itself is yet to be set.
The inquest will look at how algorithms used by social media giants to keep users on the platform may have contributed to her death.
Oliver Sanders QC told Barnet's Coroner's Court how Instagram's parent company Facebook had recently released a "significant volume" of material relating to the case.
He said: "We haven't been able to review it all yet. Some of it is pretty dreadful and it is not something that can be reviewed in a long sitting and certainly not late at night."
He added certain parts of the material had been redacted and lawyers and police were trying to find out why.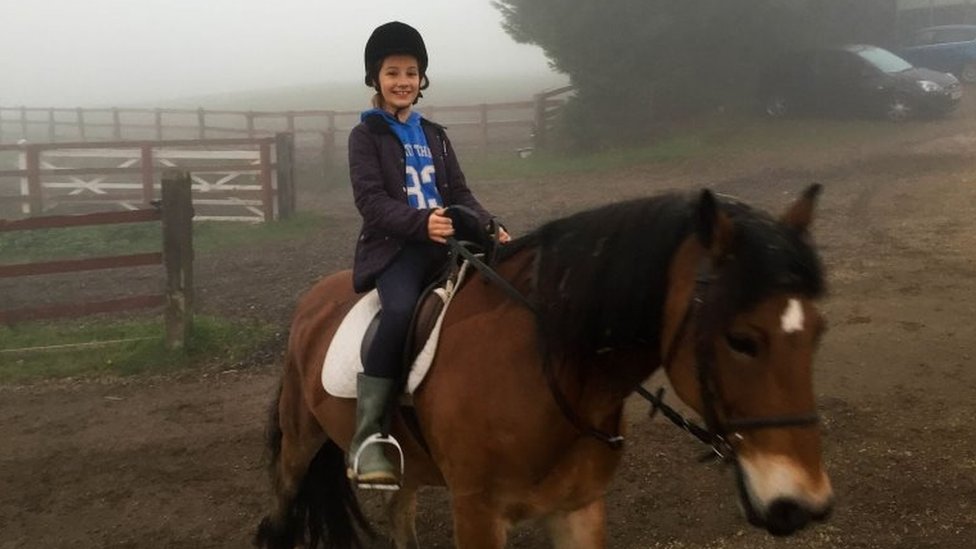 The court also heard the investigation was seeking the cooperation of Snapchat, WhatsApp, Pinterest, Facebook and Twitter, although until recently only Pinterest had co-operated fully.
But Snapchat could not disclose data without an order from a US court, WhatsApp had deleted Molly's account and Twitter was reluctant to handover material due to European data protection laws, the hearing was told.
Coroner Andrew Walker said "some or all" of those social media companies could be named as interested parties in the inquest as they would be "best placed" to give technical information for the case.
He also asked for a psychologist with expertise in the potential psychological impacts of viewing extreme material to be appointed to give evidence.
A further pre-inquest review is due to take place on 26 November.
.css-po6dm6-ItalicTextfont-style:italic;
If you've been affected by
.css-yidnqd-InlineLink:linkcolor:#3F3F42;.css-yidnqd-InlineLink:visitedcolor:#696969;.css-yidnqd-InlineLink:link,.css-yidnqd-InlineLink:visitedfont-weight:bolder;border-bottom:1px solid #BABABA;-webkit-text-decoration:none;text-decoration:none;.css-yidnqd-InlineLink:link:hover,.css-yidnqd-InlineLink:visited:hover,.css-yidnqd-InlineLink:link:focus,.css-yidnqd-InlineLink:visited:focusborder-bottom-color:currentcolor;border-bottom-width:2px;color:#B80000;@supports (text-underline-offset:0.25em).css-yidnqd-InlineLink:link,.css-yidnqd-InlineLink:visitedborder-bottom:none;-webkit-text-decoration:underline #BABABA;text-decoration:underline #BABABA;-webkit-text-decoration-thickness:1px;text-decoration-thickness:1px;-webkit-text-decoration-skip-ink:none;text-decoration-skip-ink:none;text-underline-offset:0.25em;.css-yidnqd-InlineLink:link:hover,.css-yidnqd-InlineLink:visited:hover,.css-yidnqd-InlineLink:link:focus,.css-yidnqd-InlineLink:visited:focus-webkit-text-decoration-color:currentcolor;text-decoration-color:currentcolor;-webkit-text-decoration-thickness:2px;text-decoration-thickness:2px;color:#B80000;
self-harm
,
eating disorders
or
emotional distress
, help and support is available via
the BBC Action Line
.
.css-144ki52-SectionWrappermargin:1.5rem 0;padding-top:1.5rem;