Educating through Art – My Grande Prairie Now
The Art Gallery of Grande Prairie is a place for enjoyment… for reflection… AND… for learning! Discover all the ways you can broaden your experience at the Gallery!
Sharing the Art Experience:
Art education at the Art Gallery of Grande Prairie enriches our community, encourages diversity and inspires creative learning.

All year round the Gallery offers educational programs that aspire to be comprehensive and inclusive of all community members with the main goal to provide access to both contemporary and historical visual arts for all regardless of age, mobility and financial capacity. In fact, unique programs serve as a flagship for the Gallery as they provide context and meaning to viewers and enable them to understand art forms from a personalized perspective because the principles and elements of design are emphasized and integrated in the Art Gallery of Grande Prairie's educational programming.
Facilitating the Art Experience:
By interacting with the works in the Art Gallery of Grande Prairie's current exhibitions, students and community groups practice careful observation skills and learn about interpreting works of art, developing skills in visual literacy, experimentation, collaboration, problem solving and innovation. Interpretative activities in response to the exhibition in the gallery spaces are often part of a Gallery visit.
1 Hour Art Programs:
Groups who spend one hour at the Gallery often combine visiting the Gallery spaces and the Grande Prairie Public Library at the same time. It is particularly beneficial when two groups from the same organization or school visit the Montrose Cultural Centre at once because they can alternate between both institutions. While one group tours the Library, the other group appreciates the art showcased at the Gallery, learning about two important community resources at the same time.
1.5 Hour Art Programs:

One and a half hours is the minimum time needed to combine a facilitated tour with a hands-on-take-home art project that is inspired by the Gallery's current exhibitions. These projects emphasize a contemporary mixed-media approach, are age appropriate making our programs a great way to ground and enhance a student's own art experience.
Integrated Arts Retreat:
Enjoy the day with your students or colleagues at the Art Gallery of Grande Prairie while participating in a custom designed educational initiative that allows for an extraordinary experience of making and sharing art in a nurturing environment. Engagement with our current exhibitions and hands-on-take-home art projects are included as suitable to your group.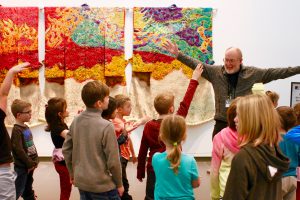 The creation of one's own work of art often invites for the element of surprise, inspiring a sense of newness and re-discovery which is celebrated within the art appreciation component of the programs to encourage and enhance an individual's unique artistic voice. Children and adults alike don't often have the chance to be creative, so experiencing the Gallery and its programs offer the chance for participant exposure to communities they didn't know existed or weren't aware they could be a part of.
With an increase in digitally orientated curriculums and workspaces, there is something special about experiencing textile art works. The Art Gallery of Grande Prairie also has an interactive craft room, The Carlstrom Family Green Space, where visitors can create and learn from the environment around them. They can do this in a space where creativity is valued, without the outside distractions of the real world.
For more information on the education programs that the Art Gallery of Grande Prairie offers, please visit our website at www.aggp.ca or email [email protected]
---

#103, 9839 – 103 Avenue
Grande Prairie, Alberta
T8V 6M7
Phone: (780) 532-8111
Website: www.aggp.ca
---
Tehran unveils Western art masterpieces hidden for decades – CityNews Toronto
Fake psychics helped woman steal $180M in art from elderly mom, police say – Global News
A Brazilian woman was arrested Wednesday after police found that she orchestrated an elaborate scheme to defraud her elderly mother out of precious works of art.
Sabine Coll Boghici, 48, is accused of using a ring of fraudulent psychics to swindle her mother, Genevieve Boghici, 82, out of around 724 million reais, or $180 million, in art, jewelry and money, according to a statement by police in Rio de Janeiro.
Police say the racket began in January 2020, when Genevieve, the widow of renowned Brazilian art collector Jean Boghici, was contacted by someone claiming to be a psychic who had seen a vision of her daughter Sabine's death.
The phoney psychic then introduced her to other seers, who used personal information provided by Sabine to convince the elderly woman that their claims were real. The ring of psychics used their leverage to get money out of Genevieve for "spiritual treatment," in order to save her daughter from her prophesied death, according to NBC News and the BBC.
The suspects were later alleged to have physically threatened the elderly woman and Sabine eventually kept her mother confined to the house after she became suspicious of the scheme.
Sabine and a psychic then began to take artwork from Genevieve's house and told her that the paintings were cursed with negative energy that needed to be "prayed over," said police officer Gilberto Ribeiro, according to Reuters.
Eventually, Genevieve sought help from the police, who uncovered the scheme.
At least 16 paintings were stolen from the elderly woman, police said, including works from celebrated Brazilian artists Cicero Dias, Rubens Gerchman and Alberto Guignard.
Three of the stolen paintings were works by famed modernist Tarsila do Amaral. Those three paintings alone were worth a reported 700 million reais, or just under $175 million.
Police say they have recovered 14 of the stolen paintings, having found 11 during a raid of the home of one of the accused psychics and three that were sold to an art gallery in Sao Paulo. At least two paintings have yet to be recovered, though, including pieces that were sold to a museum in Buenos Aires.
A video posted on Twitter by a local media outlet shows the moment one of Amaral's paintings, Sol Poente (which means setting sun), was found inside a bed frame hidden under a mattress.
At least seven people were involved in the years-long plot, Reuters reported. Police said four were arrested, including Sabine, on Wednesday but the others remain at large.
The accused are facing charges of embezzlement, robbery, extortion, false imprisonment and criminal association.
© 2022 Global News, a division of Corus Entertainment Inc.
Community meetings planned for massive Rodman Hall art collection – Niagara Falls Review
A series of community meetings next month will help decide the fate of Rodman Hall's 1,000-piece art collection.
The massive collection is in the hands of a registered charity called the Rodman Art Institute of Niagara after the historic St. Catharines gallery closed in 2020. Earlier this year, it was revealed the 19th-century building on St. Paul Crescent would be converted to a 13-room boutique hotel.
The community meetings will be held with the aid of international planning firm Lord Cultural Resources.
The meetings are scheduled for:
Sept. 13 via Zoom at 6:30 p.m.
Sept. 15 at 5:30 p.m. at a location to be announced.
Sept. 17 at 11 a.m. at Salem Chapel BME Church, 92 Geneva St., St. Catharines.
The Rodman Art Institute was created with the purpose of protecting and supporting the gallery's collection, with a goal of creating a new public art gallery.
Opened in 1960 as an art centre, Rodman Hall struggled financially in the '90s before it was purchased by Brock University in 2003 for $2 — with a commitment to continue running it as an art gallery for 20 years.
Brock ended its ownership in 2015, having opened its Marilyn I. Walker School of Fine and Performing Arts in downtown St. Catharines.
The 2.88-hectare property was sold to developer Nino Donatelli in October 2020. Donatelli has previously restored the 19th-century Lybster Mill in Merritton, now called Stone Mill Inn. He also rehabilitated a former rubber plant on Glendale Avenue into a Keg restaurant.
Rodman Hall and its grounds are designated under the Ontario Heritage Act. No major alterations or additions are planned for the building.
SHARE: