Even without listening, US lives in Limbaugh's media world – Richmond News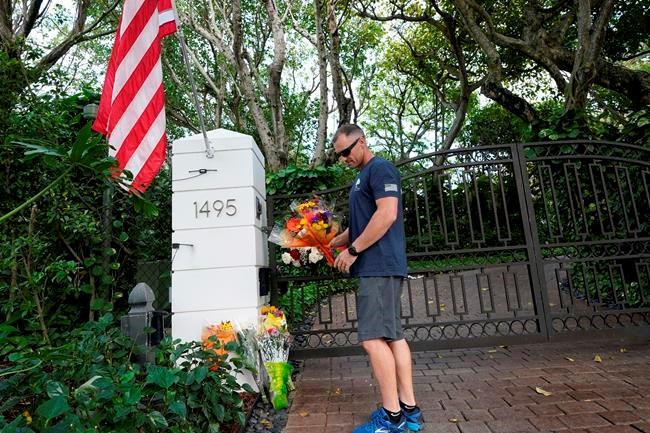 NEW YORK — You didn't have to like or even listen to Rush Limbaugh to be affected by what he did.
Conservative talk radio wasn't a genre before him. Without Limbaugh, it's hard to imagine a Fox News Channel, or a President Donald Trump, or a media landscape defined by shouters of all stripes that both reflect and influence a state of political gridlock.
To his fans, Limbaugh's death Wednesday of lung cancer at the age of 70 was an occasion for deep mourning. For his foes, it was good riddance. Somewhere, Rush could surely appreciate it.
He left a legacy.
"He was the most important individual media figure of the last four decades," said Ian Reifowitz, professor of historical studies at the State University of New York and author of "The Tribalization of Politics: How Rush Limbaugh's Race-Baiting Rhetoric on the Obama Presidency Paved the Way for Trump."
That assessment was freely offered even though Reifowitz, as the title of his book suggests, isn't a fan. He blames Limbaugh for setting a blueprint for white identity politics and the dividing of the nation into uneasy tribes.
Limbaugh's death led Trump to call in to Fox News Channel for his first television interview since leaving office — and he did it twice.
Former Vice-President Mike Pence told Fox he was inspired by Limbaugh to become a talk radio host himself, which launched his political career. Ex-White House Press Secretary Kayleigh McEnany reminisced about riding as a child in her father's pick-up truck as Limbaugh's show played on the radio.
"I am the definition of a 'Rush baby,' and it's not just me," McEnany said on Twitter. "There are tens of thousands of us all across the conservative movement."
Radio hosts talked politics before Limbaugh, men like Jerry Williams in Boston and Barry Farber in New York.
But the idea of conservative talk radio didn't take hold until Limbaugh, after bouncing through DJ jobs in Pittsburgh, Kansas City and Sacramento, went national from a perch at New York's WABC in 1988, said Michael Harrison, publisher of Talkers magazine.
Limbaugh was a sensation among people who liked to tweak liberals, outraging with political incorrectness. Before Limbaugh, only 30 or 40 stations did "talk radio," and many weren't political, Harrison said. Now there are thousands.
To the end, Limbaugh led the field. He reached an estimated 15.5 million people each week and lost in the ratings for three months only once in some three decades, to advice host Laura Schlessinger, Harrison said. Bumper stickers proclaimed, "Rush is Right."
"There is no talk radio as we know it without Rush Limbaugh. It just doesn't exist," said Sean Hannity, who has 15 million radio listeners beyond his Fox News Channel show. "And I'd even make the argument in many ways: there's no Fox News or even some of these other opinionated cable networks."
Rupert Murdoch and Roger Ailes launched Fox News in 1996. MSNBC started the same year.
Politics seemed second to entertainment in Limbaugh's early years.
"I'm trying to attract the largest audience I can and hold it for as long as I can so that I can charge advertisers confiscatory advertising rates," Limbaugh told Steve Kroft of "60 Minutes" in 1991. "This is a business."
But he soon became more than a business leader. Republicans credited Limbaugh for helping them win the House majority in 1994.
"It wasn't just that he transformed the media landscape, but he transformed the Republican Party," said Nicole Hemmer, author of "Messengers of the Right: Conservative Media and the Transformation of American Politics." "He became a power player and someone who could move voters."
Conservative radio host Mark Levin called Limbaugh "a tremendous patriot." Once a universally accepted compliment, the term "patriot" has become more complicated through its use by some of the rioters at the U.S. Capitol on Jan. 6.
"He refused to accept the attacks that came against this country from within," Levin said on Fox News. "He refused to accept the ideological changes in this country. He defended the traditions of this country. And he spoke for tens of millions of us."
To SUNY's Reifowitz, Limbaugh led the way in getting people "scared about the browning of the country."
Some of Limbaugh's language was downright ugly. He invented the term "feminazi," called Chelsea Clinton a "dog" when she was 12 years old and had to apologize for calling a young woman a "slut" for arguing that birth control be covered by health insurance. He mocked the death of AIDS victims and played the parody song "Barack the Magic Negro" when Barack Obama was elected president.
The headline on HuffPost's obituary on Wednesday said Limbaugh "saturated America's airwaves with cruel bigotries, lies and conspiracy theories." The Root called him a "spouter of racist, hate-filled garbage."
On Foxnews.com, Limbaugh's obituary's headline was "Greatest of All Time."
Limbaugh didn't embrace Trump right away, but soon fell in line. Trump's appeal mystified many in politics at first, but "if you had been listening to Rush Limbaugh for 20 years, he sounded very familiar," Hemmer said.
As Limbaugh's political strength became evident, many Republican politicians felt they couldn't cross him, or run the risk of alienating his millions of listeners, Hemmer said.
"Many of these listeners didn't care if Rush Limbaugh crossed the line (of propriety)," she said. "They cared more about loyalty to him than any kind of underlying set of principles."
The economic lessons taught by Limbaugh are clear each night on Fox, CNN and MSNBC, routinely the three most-watched cable networks. They're not really news networks in prime time; they present political talk.
"It's hard," Hemmer said, "to overstate his importance."
Harrison, who interviewed Limbaugh several times over the years, said the talk show host "began to take himself more seriously" in his later years.
Limbaugh even appeared to measure words more carefully. After receiving social media blowback in December for suggesting that the nation was "trending toward secession," he later made clear he wasn't advocating that.
To the end, however, he remained loyal to Trump, who awarded Limbaugh a Presidential Medal of Freedom at the State of the Union address last year.
Limbaugh supported Trump's false claims that the election was stolen and, on Jan. 7, compared rioters at the Capitol to people who sparked the Revolutionary War.
____
This story corrects the spelling of Laura Schlessinger.
David Bauder, The Associated Press
Prince Harry says 'toxic' British media drove him and Meghan to exit royal family – NBC News
LONDON — Britain's "toxic" media drove Prince Harry and Meghan, the Duchess of Sussex, to leave the royal family for the United States, Harry said in a wide-ranging interview with fellow Brit and TV host James Corden that aired Thursday night.
Sitting on an open-top bus and sipping tea as it drove around Los Angeles, the compatriots talked everything from media intrusion to the popular Netflix series "The Crown."
Harry also discussed what the future holds for his family after the couple finalized their royal exit last week.
"We all know what the British press can be like and it was destroying my mental health," Harry said in the interview for "The Late Late Show With James Corden."
"This is toxic," he added, saying the media had created a "really difficult" environment for the couple.
"So I did what any husband and what any father would do — I need to get my family out of here," he said.
Just over a year after the couple first announced they would "step back" from their royal duties, Buckingham Palace said last Friday that they had finalized the split.
"While all are saddened by their decision, The Duke and Duchess remain much loved members of the family," it said in a statement.
But while the pair will not be returning as working members of the royal family, Harry maintained that they "never walked away."
"As far as I'm concerned, whatever decisions are made on that side, I will never walk away. I will always be contributing but my life is public service, so wherever I am in the world it is going to be the same thing," he said.
Download the NBC News app for full coverage of the coronavirus outbreak
The final break completes a dramatic journey for the couple, whose fairytale wedding quickly went off script amid rumors of a brotherly rift and a tabloid onslaught, which Meghan's supporters say often veered into racist harassment and bullying.
The couple moved with their son, Archie, to California last year to live a more independent life and announced on Valentine's Day they were expecting their second child.
They signed multimillion-dollar deals with media companies Spotify and Netflix, and in March will give a "wide-ranging" interview to media mogul Oprah Winfrey.
Earlier this month, Meghan won a privacy lawsuit against a British media company, which published parts of a letter she wrote to her estranged father, Thomas Markle. In court documents, she said the intrusion had caused her "very real sadness" and damaged relationships.
In the Corden interview, Harry said he took issue with false news stories reported as fact, compared to the TV show "The Crown," which was "obviously fiction."
"I'm way more comfortable with "The Crown" than I am seeing the stories written about my family, or my wife or myself," he said.
"They don't pretend to be news — it's fictional but it's loosely based on the truth," he added, noting the show gave a "rough idea" of the pressures of royal life.
That puts him at odds with some British historians and lawmakers who have pushed to make clear the series, with its embellishments and exaggerations of Windsor family sagas, is fiction — amid fears it could damage the reputation of the royal family.
The light-hearted late-night interview also saw host Corden take Harry to visit the home where "The Fresh Prince of Bel-Air" TV show was shot. Corden, video-calling the Duchess of Sussex, implored the couple to buy the property.
"I think we've done enough moving," Meghan replied.
Harry also revealed that his grandmother, Queen Elizabeth II, had bought his son, Archie, a waffle-maker for Christmas and that both she and her husband, Prince Philip, knew how to make Zoom calls.
On Thursday, the Queen, 94, encouraged the British public to follow her lead and get vaccinated against Covid-19, saying the jab was "very quick" and "quite harmless" and would benefit society.
Both the queen and Philip, 99, — who is currently in a London hospital being treated for an unspecified infection — received Covid-19 vaccinations in January.
Cision Brings PR, Social Media Management and Digital Consumer Intelligence Together with Category-Defining Acquisition of Brandwatch – Canada NewsWire
CHICAGO and BRIGHTON, England, Feb. 26, 2021 /CNW/ — Cision announced today that it has entered into a definitive agreement to acquire Brandwatch, a global leader in digital consumer intelligence and social media listening, for $450 million. This strategic move will combine two leaders in their respective industries and will bring to customers the substantial benefits of their complementary capabilities to deliver the future of PR, marketing and digital customer engagement.
The forces of digital transformation reward those organizations and boardrooms that listen to and quickly capitalize on digital insights from their consumers. Leading companies are quickly adapting and using these insights to create tailored, authentic communications and direct connections with customers at scale. This paradigm shift to real-time, customer-centric PR, marketing and customer care strategies will continue to accelerate and differentiate those companies that take action.
Cision is a leader in news distribution and media monitoring and analysis with a media contact database of approximately 1 million journalists and media outlets and over 75,000 customers. Brandwatch works with thousands of the world's most admired brands, using the latest in artificial intelligence (AI) and machine learning to bring structure to and derive meaning from the voices of the billions of people using social media.

Cision and Brandwatch are a compelling combination. Together, they will provide brands and organizations with consumer and media intelligence to devise more effective customer engagement strategies from PR and marketing to research and product development. Whether teams are connecting with journalists and influencers, launching social campaigns, developing brand messaging or conducting deep research into consumer behavior, they will have real-time insights and long-term trend analysis to guide them.
"The continued digital shift and widespread adoption of social media is rapidly and fundamentally changing how brands and organizations engage with their customers," said Abel Clark, CEO of Cision. "This is driving the imperative that PR, marketing, social and customer care teams fully incorporate the unique insights now available into consumer-led strategies. Together, Cision and Brandwatch will help our clients to more deeply understand, connect and engage with their customers at scale across every channel."
"We have always built Brandwatch with ambition. That was recognized by Forrester, who recently named us as a leader in our space," said Giles Palmer, founder and CEO of Brandwatch. "Now is the time to take the next step – joining a company of significant scale to create a business and a suite of products that can have an important global impact. We are excited to join Abel and the Cision team to supercharge our work and bring even more value to our customers."
Brandwatch was named a Leader in The Forrester Wave™: Social Listening Platforms, Q4 2020.
The deal is expected to close in the second quarter of 2021.
Macquarie Capital acted as an exclusive financial adviser to Brandwatch on this transaction. Cooley LLP acted as legal counsel to Brandwatch.
Gibson, Dunn & Crutcher LLP acted as M&A legal counsel, Willkie Farr & Gallagher LLP acted as financing legal counsel and Latham & Watkins LLP acted as regulatory counsel to Cision.
About Brandwatch
Brandwatch is the world's pioneering digital consumer intelligence suite. The company's AI-powered deep social listening and content marketing analytics products help over 2,000 of the world's most admired brands and agencies make insightful, data-driven decisions. Brandwatch includes leading content marketing platform BuzzSumo in its portfolio. Brandwatch has 10 offices around the world and is headquartered in Brighton, UK.
About Cision
As a global leader in PR, marketing and social media management technology and intelligence, Cision helps brands and organizations to identify, connect and engage with customers and stakeholders to drive business results. PR Newswire, a network of over 1.1 billion influencers, in-depth monitoring, analytics and its Falcon.io social media platform headline a premier suite of solutions. Cision has offices in 24 countries throughout the Americas, EMEA and APAC. For more information about Cision's award-winning solutions, including its next-gen Cision Communications Cloud®, visit www.cision.com and follow @Cision on Twitter.
SOURCE Cision Ltd.
Related Links
Information posted on Chinese social media platforms could be used for 'hostile activities,' Bill Blair warns – National Post
This is the first time a cabinet minister has so clearly spelt out concerns about all Chinese-owned social media platforms, which combined have millions of Canadian users
Article content
OTTAWA – Canadians should be wary of using Chinese social media platforms because information posted there may be used for "hostile activities" by foreign states, says the federal public safety minister.
If you regularly post on Chinese social media platforms such as WeChat, Weibo or even TikTok, the Canadian government has a stern warning for you: be careful, because hostile countries may be watching in an attempt to use that data against Canada's interests.
During a meeting of the parliamentary committee on Canada-China relations Thursday evening, Liberal MP Jean Yip asked Public Safety Minister Bill Blair if Canadians should be concerned about using social media platforms that are owned by Chinese companies.
"There is a legitimate concern that sometimes the information that's publicly available on those platforms can be used by the hostile activities of state actors," Blair responded, adding that Canadians should exercise "caution" on those applications.
Article content
This is the first time a cabinet minister has so clearly spelt out concerns about all Chinese-owned social media platforms, which combined have millions of users in Canada.
Many data and privacy experts have warned over the years that these apps harvest large amounts of data from their users (not unlike North American companies like Facebook or Google). But there is an added concern with platforms like WeChat due to the sweeping powers the Chinese government has to seize data from companies based on its soil.
Earlier in January, the Winnipeg Free Press revealed that the Canadian Armed Forces (CAF) have resisted joining TikTok — an app that allows users to post short videos and "duet" those of others which has exploded in popularity among North American youth — because it considers the app to pose "huge security risks".
This came months after the U.S. government announced it was banning TikTok and WeChat, originally a messaging and calling app that now offers a host of other services, due to national security concerns.
At the time, the Trump administration said it was concerned that Beijing was exploiting the apps and the troves of data they collect in order to gather information about users and spread Chinese propaganda.
The owners of both applications at the time, respectively ByteDance and Tencent Holdings, gave assurances that the Chinese government did not have access to its user data and that in TikTok's case, it was never even hosted in China.
Article content
In his opening statement, Blair repeatedly warned of China's increasing attempts of foreign interference in Canada, as well as its role in the current opioid crisis. But he dodged questions by opposition MPs on whether his government would ban Chinese telecommunications giant Huawei from Canada's 5G network.
"While foreign interference is top of mind for my portfolio, it is by no means the only issue on the plate. It's no secret that China is one of the main source countries of fentanyl, as well as the precursor chemicals used to make this highly potent and deadly synthetic opioids," Blair said.
"Over the past four years, the Canada Border Services Agency has made 335 seizures totalling over 42.2 kilograms, and of these seizures, 129 listed China as the source country of those drugs."
Opposition MPs also grilled Blair about a report by the Globe & Mail that Canada had outsourced handling of its visa application centre in the Chinese capital to a company that is owned by Beijing police.
The minister was unable to say which government officials had awarded the original contract to VFS Global, which then dealt with Chinese police-owned Beijing Shuangxiong Foreign Service Co, because he said it was done in 2008, before his government came to power.
When pressed multiple times on if he had concerns about the contract, Blair repeated that he'd been assured no data had been taken from Canadian files.
"Immigration, Refugees and Citizenship Canada has an IT department that provided assurances that all our information is in fact secure. There has been no suggestion of espionage or any concern raised, only the fact that a Chinese official entity was involved in this company," Blair said.
"So your government is totally satisfied with this arrangement and satisfied that it should continue in perpetuity?" NDP MP Jack Harris asked.
The minister responded without saying if the contract with the Beijing police-owned company would continue indefinitely.
"I'm satisfied that IRCC has not identified any concerns and they have provided strong assurances that Canadian data and Canadian interests are well protected in the system they have in place," he said.