Fact check: Biden falsely claims US has 'fastest-growing economy in the world' – CNN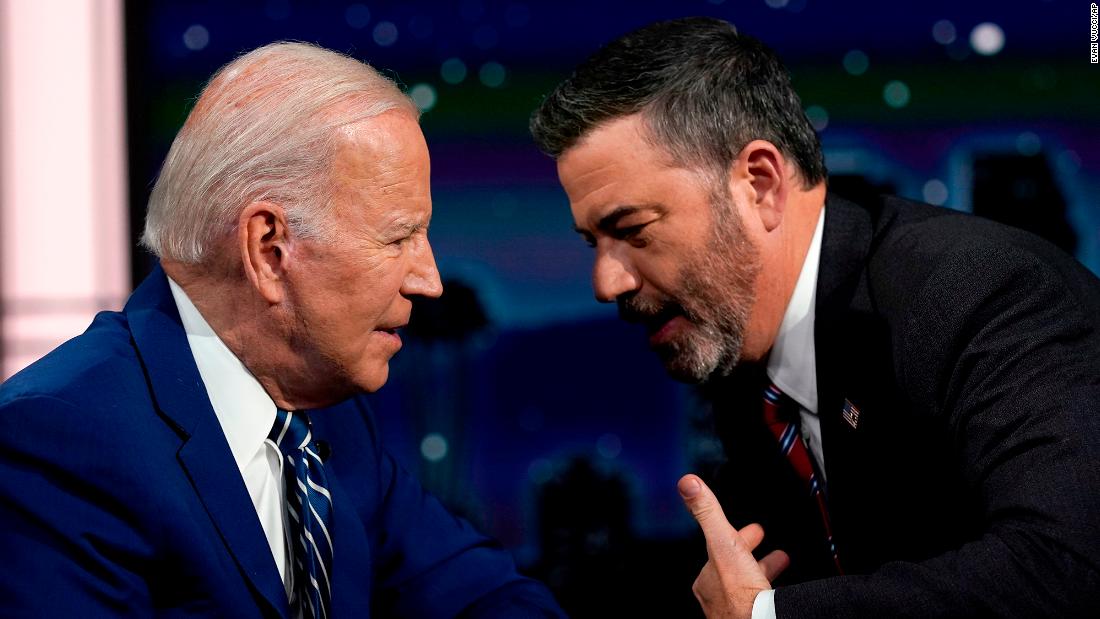 "Look, here's where we are. We have the fastest-growing economy in the world. The world. The world," Biden said.
Facts First
:
Biden's claim is false. The US economy
grew by 5.7% in 2021
, but more than 50 other countries had faster growth that year,
figures
published by the International Monetary Fund show; many of them are small or developing countries, but some of them are large or wealthy. In addition, the US economy
shrank
in the first quarter of 2022, while various other countries experienced growth. And while economic experts
expect the US economy to resume growing
over the rest of this year, a significant number of other countries are
expected to grow faster
.
Asked for comment on Friday, a White House official did not attempt to specifically defend Biden's claim that the US has the fastest-growing economy in the world.
Instead, the official pointed out that the 5.7% growth in the United States'
real gross domestic product
in 2021 was the fastest for the country since 1984. The official also pointed out that the International Monetary Fund has projected that, as of the fourth quarter of this year, the size of the US economy will be bigger relative to its late-2019 pre-pandemic level than any of the other six countries in the international forum known as the
Group of Seven
: Canada, France, Germany, Italy, Japan and the United Kingdom.
Those comments are accurate. But Biden said on Kimmel's show, three times, that the US economy is growing faster than that of any other country in "the world," not just growing faster than six particular countries. And that's inaccurate.
"Clearly the US has been the G-7 economy that has done best in terms of GDP growth rates since the inception of COVID, but is not literally the fastest-growing economy in the world over this period," said
Gian Maria Milesi-Ferretti
, a former International Monetary Fund official who is now a senior fellow at the Brookings Institution think tank's Hutchins Center on Fiscal and Monetary Policy.
How the US compares
Biden took office in late January 2021. Among the dozens of countries that saw faster real GDP growth than the US in 2021 were
Ireland
(13.5%),
Chile
(11.7%),
Turkey
(11%),
Colombia
(10.6%),
India
(8.7% for the fiscal year that began in April 2021),
Greece
(8.3%),
Israel
(8.2%),
China
(8.1%), the
United Kingdom
(7.4%),
France
(7%) and
Italy
(6.6%), according to
figures published by the IMF
and the countries' governments. (Many countries' growth rates were higher than usual in 2021 because their economies were rebounding from the 2020 economic crisis caused by the pandemic.)
An economic outlook
released this week
by the Organisation for Economic Co-operation and Development projected the US would grow by 2.5% in 2022. That was lower than the OECD's 2022 projections for 11 other members of the
Group of 20 international forum
: Saudi Arabia (7.8%), India (6.9% for the fiscal year), Indonesia (4.7%), China (4.4%), Australia (4.2%), Spain (4.1%), Canada (3.8%), Turkey (3.7%), the United Kingdom (3.6%), Argentina (3.6%) and South Korea (2.7%).
We'll add one caveat. There are various ways to measure growth — among other things, you can pick different start and end points and different gauges of economic activity — and there are various complications involved in the data.
Laura Veldkamp
, a finance professor at Columbia University's business school, said there is "no way" that Biden's claim is true if he was using "fastest-growing" in the usual way, referring to a percentage change. She said, however, that she would personally describe the President's claim as "misleading," rather than false, since "the word growth in conversation can mean many things."
We'll respectfully stick with our harsher conclusion. If Biden was citing some unusual or obscure measure of growth, he could have explained that. He didn't, and the White House didn't either when asked for comment.
Britain's Battered Economy Is Sliding Toward a Breaking Point – BNN
(Bloomberg) — Britain under Prime Minister Boris Johnson is running into the biggest headwinds it's faced since the 1970s, heaping pain on an economy still reeling from Brexit and the pandemic.
After suffering from unprecedented shocks in recent years, the nation is succumbing to more intractable problems marked by plodding growth, surging inflation and a series of damaging strikes.
The result is a plunge in consumer confidence that analysts warn may lead to a recession. Railway workers walked off the job in anger that their living standards are slipping, and teachers, doctors and barristers may be next.
The malaise is a far cry from the boom and "cool Britannia" reputation that Tony Blair's government enjoyed through the early part of this century.
The headline figures make grim reading. The economy is on track to shrink in the second quarter, raising the possibility that the UK is already in a recession. Even when the outlook appeared brighter, officials estimated that growth would settle at a below-par 1.8% a year, with no end in sight to the feeble productivity that has blighted the country for over a decade.
While growth is on track to lag most major economies next year, inflation is also on the rise. Consumer prices surged by 9.1% in the year through May, the most for 40 years.
The Bank of England expects inflation to accelerate again when energy bills are allowed to rise in the autumn, reaching more than 11%.
It's a blow for the UK, which led the world in growth after the pandemic, and recalls the dark days of the 1960s and 1970s when commentators and politicians identified Britain as the "sick man of Europe" because of its performance.
Those figures overshadow deeper structural problems hobbling the UK. Chief among them is productivity growth, which slowed to a crawl after the financial crisis in 2008 and 2009. Only Italy put in a worse performance.
How much a worker can produce is important because it drives the long-term potential of the economy. Low productivity limits the pace at which output can grow and depresses wage packets. Real wages took years to recover to their 2007 levels after the financial crash.
An hour of work in the UK generates around $60, according to the OECD. The figure is over $70 in the US and about $67 in France and Germany. Economists and policy makers debate the causes of the malaise but say that fixing it is crucial if Britain is to get out of the slow lane.
The gaps in performance within the UK are equally stark, with London consistently outpeforming other regions, in part due to the concentration of financial services in the capital city. Johnson came to to power in 2019 on a pledge to "level up" poorer parts of the country, but there are few signs that the policy is working.
One explanation for the productivity gap is a lack of investment. British companies spend less on things like plant, machinery and technology than those in most other major economies.
Chancellor of the Exchequer Rishi Sunak says the tax system is one of the problems and is working on a way to improve allowances companies can claim for making investments.
Brexit uncertainty also seems to have unsettled executives, with investment flat-lining since the 2016 public vote to leave the European Union. Had they continued to spend as they did before the referendum, investment would be around 60% higher today.
Life outside the EU has also had an impact on trade as importers and exporters contend with higher trade barriers. Despite a sharp fall in the pound since the vote, there is little evidence to suggest the external sector has benefited from increased competitiveness.
Analysis by Bloomberg Economics shows the UK lagged behind the trade performance of other big nations before the pandemic, and has failed to fully share in the global trade rebound since then.
What Bloomberg Economics Says:
"It's been six years since the UK voted to leave the European Union and more than one since it established a new relationship with its main trading partner. From a 16% devaluation of the pound to an eye-watering slide in trade and investment, Brexit's impact is plain to see. The data have only reinforced our view that life outside of the EU would leave the UK worse off."
–Ana Luis Andrade, Bloomberg Economics. Click for the INSIGHT.
The housing market is another constraint. Prices have risen almost without break since 1995, straining affordabilty for first-time buyers. Properties are in short supply in places like London that's long been the engine driving the national economy.
The expense and difficulty of moving limit labor mobility, depriving companies and public services of key workers, and leave consumers channeling more wealth into the property market than their peers abroad.
Housing is the most visible drain on consumers, but wages are lagging too. Real wages adjusted for inflation are now falling at the fastest pace in 20 years. In 2019, wages in the UK trailed far behind those in the US and Canada.
Workers are rebelling, with rail unions embroiled in the biggest work stoppage since 1989 and teachers, doctors and barristers are threatening to walk off the job.
The strife recalls the 1970s, when Harold Wilson's Labour government put industry on a three-day week because of an energy crisis and strikes by coal miners.
©2022 Bloomberg L.P.
Key Indicator Shows China's Economy Set For Further Slump – Forbes
Just when you thought China might be back on track, a key economic indicators suggests the opposite is coming down the pike.
Recently the price of iron-ore slumped, indicating that demand for this key ingredient in steel making is slipping as well. Recently one metric ton of the or would fetch $116, down more than 25% from almost $160 in early March, according to data from TradingEconomics. That's quite a tumble.
As the largest maker of steel, China is also by far the largest buyer of iron-ore, and so when prices are slipping it strongly suggests that China isn't buying as much iron-ore as it normally does. In 2020, the communist country produced 57% of all steel or around 1.1 billion tons, according to World Steel Association data. No other country comes close.
Typically when China's steel production falls then its economy stalls. We saw this back in mid 2015 when its output of the metal dropped for the first time in more than three decades. The resulting fallout came in August when the Chinese stock market took a tumble and shook other securities markets around the globe.
The question now is what will happen next in China. Likely there'll be further softness in the economy. If the the price of iron-ore remains soft or even falls further then its a clear sign that China isn't planning on its usual output of steel.
That matters because steel has long been the lifeblood of that country's economy. Teh huge real estate construction that has happened over the past two decades required steel for building skyscrapers, factories and dwellings across the massive Asian country. Steel has also been needed as feedstock for the country's huge manufacturing industry which produces key components for automobiles across the globe.
What's shocking here is that while China is in midst of undoing some of its recent COVID-19-related lockdowns that brought vast swathes of the communist country to an economic standstill. If those locked-down cities were now getting back to work, then why aren't we seeing signs of an industrial resurgence?
So far, that's not clear. If things were getting back to any form of normal then we should see demand for iron-ore creep up and along with it the prices of the mineral should rally. Investors in Chinese stocks or even those listed in Hong Kong should remain cautious until we see evidence of a real recovery.
China's Economy Improves in June From Lockdown-Induced Slump – BNN
(Bloomberg) — China's economy showed some improvement in June as Covid restrictions were gradually eased, although the recovery remains muted.
That's the outlook based on Bloomberg's aggregate index of eight early indicators for this month. The overall gauge returned to the neutral level after deteriorating for two straight months.
Economic activity picked up in June after financial hub Shanghai lifted its lockdown, allowing businesses to restart and most residents to leave their homes. That can be seen in a rebound in small business confidence, which started growing again after contracting for two months.
A survey of more than 500 smaller firms showed that "demand and production recovered strongly among manufacturing," and export-oriented smaller firms outperformed, according to Hunter Chan and Ding Shuang, economists at Standard Chartered Plc.
However, "the manufacturing recovery was more significant than services," they said. Contact-intensive industries such as retail and catering continued to be a drag, while real estate, transport and information technology reported an acceleration in activity and construction jumped.
Rising activity isn't translating into higher demand for some building materials yet. More steel plants have been idled and inventory levels at major Chinese steel mills have climbed 10.7% in mid-June from earlier in the month, and are about 82% higher than the start of this year. Stocks of steel rebar, which is used in construction, rose slightly in June.
Beijing has pledged to boost policy measures to support growth, with President Xi Jinping saying last week China would strive to meet its goals for the year. Stocks were up for a fourth week on optimism of stimulus and as lockdowns ended, with foreign inflows rising.
However, the housing sector continued to be a drag on the economy. Property sales declined in the first three weeks of June in the top four cities in China, even though sales in Shanghai last week had mostly recovered to the level before the lockdown.
An official index that tracks apartment and home sales has now declined for 11 straight months — a record since China created a private property market in the 1990s. The slump likely continued into June, with weekly sales in the top 50 cities contracting from the level last year.
Read more: China's Property Slump Is a Bigger Threat Than Its Lockdowns
The car market is making a gradually recovery after the lockdowns. Based on sales in the first two weeks of this month, more cars were sold in June than the same period in 2021. Sales fell in the past three months as Covid restrictions caused car plants and dealerships to shut and also prevented people across the country from leaving their homes to go shopping.
Total retail sales also dropped in that period, with the economies of Beijing and Shanghai the worst hit.
The recovery in the services industry will likely take longer than for goods. Consumers are still unwilling or unable to go out as much as before since China's strict Covid Zero policy means they face being quarantined for weeks if they've been in the same location as a positive case.
The restrictions and factory closures of the past months have also curbed the incomes of many businesses and workers, even if they weren't locked down.
Read more: Even Without a Lockdown, Beijing's Economy Struggled in May
The export sector likely supported demand in June, as companies ramped up shipments that had been delayed and ports worked to clear the backlog of containers. Although South Korean exports in the first 20 days of the month fell for the first time in more than a year, that was largely because of fewer working days this year than last.
The daily average value of Korean shipments rose 11% in the period from the same time in 2021. Exports have been a strong driver for China's economy and the strong growth continues to defy predictions that they would slow markedly or start to fall.
Read more: Metals Haven't Crashed This Hard Since the Great Recession
The outlook for those shipments in the rest of this year depends on whether rising concerns about a global recession are correct or not. The price of copper had its steepest weekly loss in a year last week as global recession fears mounted, damping the outlook for demand and battering commodities from oil to metals. The metal used in wires and cables extended its weekly loss to 7%, with prices hitting the lowest level since February last year following disappointing US business activity data that included an abrupt cooling in manufacturing.
Early Indicators
Bloomberg Economics generates the overall activity reading by aggregating a three-month weighted average of the monthly changes of eight indicators, which are based on business surveys or market prices.
Major onshore stocks – CSI 300 index of A-share stocks listed in Shanghai or Shenzhen (through market close on 25th of the month).
Total floor area of home sales in China's four Tier-1 cities (Beijing, Shanghai, Guangzhou and Shenzhen).
Inventory of steel rebar, used for reinforcing in construction (in 10,000 metric tons). Falling inventory is a sign of rising demand.
Copper prices – Spot price for refined copper in Shanghai market (yuan/metric ton).
South Korean exports – South Korean exports in the first 20 days of each month (year-on-year change).
Factory inflation tracker – Bloomberg Economics-created tracker for Chinese producer prices (year-on-year change).
Small and medium-sized business confidence – Survey of companies conducted by Standard Chartered.
Passenger car sales – Monthly result calculated from the weekly average sales data released by the China Passenger Car Association.
©2022 Bloomberg L.P.