Finally! We get to See a View From Inside Boeing's Starliner During its First Flight – Universe Today
In 2014, Boeing was awarded a contract through NASA's Commercial Crew Development (CCDev) program to provide commercial launch services to the International Space Station (ISS). To this end, they have been busy developing the CST-100 Starliner, a space capsule that will be able to deliver cargo and crews of up to 7 astronauts to the ISS. On December 20th, 2019, the Starliner passed a major milestone when it conducted an uncrewed test.
While an error prevented this Starliner (designated Calypso) from docking with the ISS as planned, the space capsule still managed to make it to space and land safely near White Sands, New Mexico. This makes it the first crew capsule to touchdown on land in the United States. To celebrate this accomplishment, Boeing recently released a highlight reel of footage taken by cameras inside the Calypso during the flight test.
The video includes views out the window of the Starliner space capsule as it is launched into orbit aboard a United Launch Alliance (ULA) Atlas V rocket. The footage is especially compelling because it shows what crews might have seen had this been an uncrewed test flight. The same views can be expected in the future by astronauts and space tourists using the Starliner to go to space.
It also contains footage taken from inside the capsule, which featured a test dummy strapped into one of the Starliner's seats and a Snoopy doll dressed an astronaut. While the test dummy shows some mild vibrations, which registered on the sensors embedded in it, the Snoopy doll began to float as soon as the Atlas V's upper stage enginers cut out.
The video also captured the outcome of the anomaly that caused the Starliner to miss its planned orbit insertion burn – which meant it was unable to make its rendezvous with the ISS and had to return to Earth. This was known as an "elapsed timing error", which caused the Starliner's thrusters to experience an intense period of thruster activity that burned through much of the spacecraft's fuel.
The highlight reel concludes with footage showing how the spacecraft forming a hot plasma tail as it reentered Earth's atmosphere on December 22nd above White Sands, New Mexico. This was followed by the deployment of the spacecraft's four main chutes and the spacecraft achieving touchdown with a bit of a thump.
All of this was caught on cameras positioned inside the Starliner's cabin, which crews retrieved afterward to gauge how it faired throughout the test. As indicated by the footage, the Starliner performed well within established safety parameters and proved itself to be spaceworthy. As for the timing error… well, that's why test flights happen. Once the bugs are ironed out, we can expect that Boeing will attempt another rendezvous with the ISS.
Barring any errors then, the Starliner is sure to be sending astronauts to space from US soil in the very near future. Check out the highlight reel below:
Further Reading: Spaceflight Now
Bright meteor over southern Ontario traced back to the asteroid belt – The Weather Network
At just before 9 p.m., on the night of Tuesday, January 21, 2020, southern Ontario had an unexpected visitor – a hunk of rock from space that blazed through the sky as a meteor fireball.
The meteor, which flashed overhead just to the north of Goderich, ON, was spotted from hundreds of kilometres around. The American Meteor Society received over 30 reports from various locations around southern Ontario and southern Michigan, and as far away as Sheboygan, Wisconsin, Rochester, New York, and Columbus, Ohio.
This map shows the concentration of reports for this meteor fireball, as well as the likely start, end and trajectory of its passage through the atmosphere. Credit: American Meteor Society
According to Dr. Peter Brown, from the University of Western Ontario's Meteor Group, the meteoroid that caused this fireball was likely the size of a softball, so perhaps 10 centimetres wide, with a mass of up to 10 kilograms, and it was travelling at around 15 kilometres per second (54,000 km/h).
Yet another capture of the Kintail fireball, this time with an experimental meteor camera system near Tavistock, ON based on https://t.co/JMV1A8Nciu @westernu @IMOmeteors @amsmeteors #fireball #toomanymeteorcameras https://t.co/ZVtQ3aOqd0
As Brown posted to Twitter, the fireball flared to life roughly 80 kilometres above the ground, starting about 50 kilometres east of Goderich, and it winked out around 30 kilometres above the ground, somewhere over the waters of Lake Huron, west of Kintail.
From the path it took during its steep plunge through the atmosphere, Brown was able to trace the meteoroid back to its origin in the asteroid belt, beyond Mars.
Kintail fireball orbit from last night place origins firmly from the asteroid belt. The initial mass was somewhere between a few to ten kilograms – softball sized. Not quite as bright as the full moon. @WesternU @amsmeteors 3/3
Given the speed of this meteoroid and the height where the fireball ended, Brown said that small meteorites may have landed from this event. Unfortunately, since the end point of the fireball was over the water, any meteorites that did reach the surface are now likely lying at the bottom of Lake Huron.
Meteors are flashes of light, resulting from the passage of some object from space – a meteoroid – travelling at high speed through the atmosphere. As the meteoroid – whether it's a speck of dust, an ice crystal or a chunk of rock or iron – flies through the air, it compresses the air molecules directly in its path, causing them to heat up until they glow.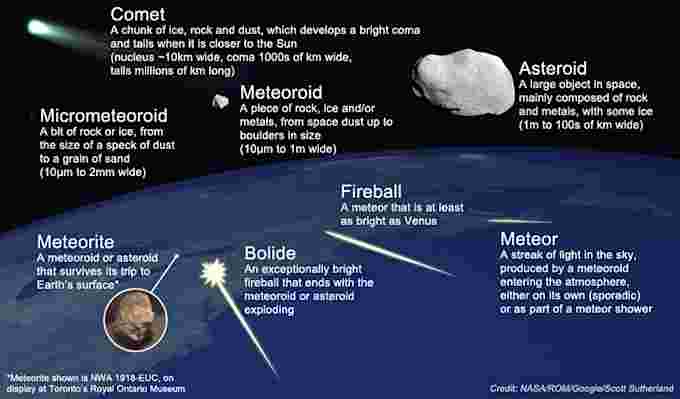 Any meteor flash that is intense enough to rival the brightness of Venus is typically called a fireball. If the fireball includes a sudden, intense flash due to the meteoroid breaking apart, it is often called a bolide.
Although most meteor cameras simply capture in black and white, two cameras that caught the Kintail meteor managed to pick up colours as the meteor flashed overhead.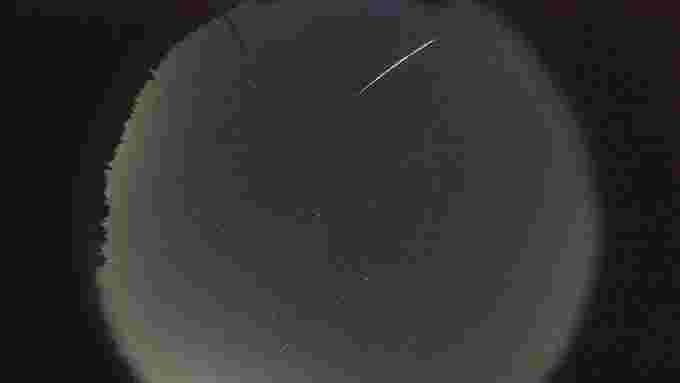 The Kintail meteor fireball, captured by an all-sky meteor camera at Elginfield Observatory, to the southeast of the meteor's trajectory, on January 21, 2020. North is roughly towards the top of the image. Credit: Western Meteor Group
As shown above, the meteor camera at Elginfield Observatory caught the meteor flashing from red to white to blue and back to red.
According to Brown, it is possible to tell something about the composition of a meteoroid based on the colour of the meteor flash it produces. However, the meteor colour can also be influenced by the flow of air around the meteoroid, the speed at which it was travelling, and even how the meteoroid broke apart. So, without actually recovering pieces of it, or having a detailed spectrum from the light to examine, there's no telling exactly what is causing the colours.
Did you see this fireball? Submit a report to the American Meteor Society.
Source: Peter Brown/Twitter | American Meteor Society
WATCH BELOW: FIREBALL ILLUMINATES ST. LOUIS' GATEWAY ARCH
Former Shuswap residents head to Mars habitat for brain research – Keremeos Review
When Olav Krigolson was five years old, he told his mom he was going to be an astronaut.
Turns out, he wasn't too far off.
In December, Krigolson and Kent Hecker, who both grew up in Salmon Arm, took part in a unique trip to 'outer space' to measure how fatigue affects the brain function of astronauts. The men were part of a five-member Canadian research team taking part in a project on a Mars simulation on the Big Island of Hawaii.
The site is called the HI-SEAS or Hawaii Space Exploration Analog and Simulation and is used by space agencies.
There they donned bulky spacesuits and lived in the Hab, or Mars habitat, a golf ball-like dome, for eight days, collecting data, eating freeze-dried food and, at times during their 16-hour days, venturing outside on exploratory trips of lava flows.
"So if you'd told us both in high school we'd get PhDs in neuroscience and be going to Mars together, we would have fallen over laughing," remarked Krigolson.
"It was awesome," enthused Hecker. "We got to put on space suits and explore lava caves. We reverted back to being kids again."
The purpose of the mission, which was spearheaded by Krigolson, was actually a proof of concept or test run of brain-testing software that is both mobile and fast, as opposed to a typical EEG (electroencephalogram).
It uses the commercially available Muse EEG headband which evaluates electrical activity in the brain.
Then, via software developed by Krigolson's lab at the University of Victoria, brain waves are translated into scores measuring characteristics such as fatigue.
To do that, the researchers would play simple games on an iPad three times per day to test their brain function.
Although both men have PhDs in neuroscience, Krigolson says he's really a mathematician.
"I wrote the algorithm that takes the brain wave data and gives you fatigue scores," he explained.
Accompanying them were PhD students Chad Williams and Tom Ferguson, as well as Gord Binsted, Dean of the Health and Social Development Faculty at UBCO in Kelowna, who was instrumental in the mission.
Binsted's sister Kim is a professor at the University of Hawaii and runs the Mars simulation for NASA.
One highlight came about when the heating in the Hab broke down.
In order to empty the dome to facilitate the repair, the researchers were told a solar flare had occurred and they would have to go down into a lava tube to escape the radiation.
One of the students mentioned he had Star Wars, the movie, on his laptop, so there they were, in a lava tube, watching Star Wars.
"Now that, I believe, is a fairly unique experience," said Krigolson.
Hecker graduated from SAS in 1987, Krigolson a year later. Although they were friends as youngsters and both played basketball in high school, they lost touch until about eight years ago.
Hecker, whose father Ken was a principal and basketball coach in the school district, played basketball for five years for the University of Lethbridge and is now a professor at the University of Calgary.
"He was always a jock and remains a jock," smiles Ken.
Kent works in veterinary medicine and human medicine research, with a focus on high stress on brain functions, similar to the astronaut testing.
While going through scholarly papers connected to his work, he saw Krigolson's name.
He contacted him and they reconnected, having now worked together on many projects.
"Very rarely do you get to do something so exciting and so cool," said Hecker.
Their hope is that the mobile EEG and its software will be used on a longer simulated mission with real astronauts, and then eventually in space.
So far so good, judging by Day 7 from a blog Krigolson created for the mission.
"I have reviewed our findings multiple times now and all I can say is we can do it — we can accurately track brain health and performance. In this case, as we have shown here — we can track changes in cognitive fatigue with precisions," he wrote.
"The possibilities are endless — imagine testing doctors before they operate, pilots before they fly, even businessmen before they make crucial decisions. We can do this now — the science is solid and clear."
It's already being used to assess concussions in sports. A new project at Krigolson's UVIC lab is looking at Alzheimer's and dementia.
Both men express how thrilled they are at having taken part in the project.
Krigolson sums it up like this: "I won't lie. This is the coolest thing I've ever been a part of, ever."
Adds Hecker: "It's incredible that two kids from Salmon Arm got to do this."
---
marthawickett@saobserver.net
Like us on Facebook and follow us on Twitter
Fireball recorded in Huron County – BlackburnNews.com
Photo of a meteor captured by cameras of Western's Southern Ontario Meteor Network.
Fireball recorded in Huron County
By Janice MacKayJanuary 23, 2020 3:31pm
Video cameras from Western University captured a fireball in Huron County Thursday night.
UWO Meteor Scientist Peter Brown tweeted several images and videos of the fireball.
He reported that the fireball started near Brussels and ended just offshore over Lake Huron near Kintail.
He said a low velocity and an end height of 33 kilometres suggests small meteorites may have landed, likely in Lake Huron.
Yet another capture of the Kintail fireball, this time with an experimental meteor camera system near Tavistock, ON based on https://t.co/JMV1A8Nciu @westernu @IMOmeteors @amsmeteors #fireball #toomanymeteorcameras pic.twitter.com/ZVtQ3aOqd0

— Peter Brown (@pgbrown) January 23, 2020