Forget The MacBook Pro, Apple Has Something Bigger Planned – Forbes
Apple's MacBook laptops are on a tear, with record sales announced in the recent earnings call. The move to its own ARM-based processor has unlocked a flurry of purchases. But if you're thinking of buying a MacBook Pro, you might want to look at what Apple has planned for the next step before getting out your wallet.
Putting aside the apparent design flaw that has users of the 2020 MacBook Pro and MacBook Air update reporting spontaneous display cracks, there are some significant reasons to hold off on buying a new MacBook Pro, no matter the special offers and back to school bundles that are no doubt on their way.
The first is to realise that, for all of the inclusion of the Apple Silicon processor, the current MacBook Pro M1 laptops are the low-end laptops. Just as with the recent Intel MacBook Pros, the line has a clear division between 'top-end' and 'low-end' specs. The Pro laptops that went on sale at the end of last year are squarely in the 'low-end' of the market.
If you're looking for the 'high-end' models, they are still to be launched. The nebulous "in the next few months" is suggested by many, which puts them in the traditional late October slot Tim Cook's team have become fond of for the laptop launches.
Then there's the design. The current MacBook Pro is using a design that, while current, is expected to be depreciated with the launch of the new laptops. The first Apple Silicon machines maintained exactly the same look and feel on the outside, no doubt to help consumers stay comfortable with the brand as the architecture change took place under the keyboard.
Now Apple has the chance to bring new design trends to the platform, to rework the bezels, the keyboard, the trackpad, the external dimensions, and no doubt try and make it all a little bit thinner.
Of course that's not the biggest visual change. More than the new design, the next MacBook Pro discussions are going to be about the screen. The switch to miniLED should offer more vivid colours, deeper blacks, and all with lower power consumption. The smaller (and more popular) MacBook is expected to bump the screen size up to 14 inches – which likely means much smaller bezels as part of the new design discussed above.
Finally of course is the processor. Befitting the status as the 'top-end' MacBook Pro machines, the new macOS laptops will ship with an uprated M1 processor; the presumptively-named M1X should feature more cores to offer more processing and graphical power.
A new refreshed design; a clearer and improved display; and a little bit more processing power. All that for waiting a few months. Why would you by a new MacBook Pro now when Apple has something better around the corner?
Of course if you want the next-generation M2 processor, well, that's coming as well.
Amazon just leaked a brand-new Kindle Paperwhite – XDA Developers
Amazon Canada has just leaked a brand new Kindle Paperwhite alongside an additional "Signature Edition", thanks to a now-removed comparison table. The comparison table showed the differences between the last generation of Kindle Paperwhite and the new generation. While the regular Kindle Paperwhite sporting a 6.8-inch E-ink display. The Signature Edition also comes with wireless charging, more storage, and backlights which adjust based on the current light levels of the environment it's being used in.
GoodEReader (via The Verge) spotted the addition to Amazon Canada, and we get an idea of what to expect thanks to the comparison table that's published. Both Kindles are IPX8 water-resistant, and both have an adjustable warm light. The regular Kindle Paperwhite has 8GB of storage, whereas the Signature Edition has 32GB of storage. Both support Wi-Fi, and both have 17 LEDs on the front (up from just four on the regular Kindle). There are obviously a lot of details left out too, such as what type of charging port it uses. Kindles have been using micro USB for years upon years, and even the flagship Kindle Oasis still uses a micro USB port.
It's unclear when Amazon will announce both of these new e-readers, though it's likely to be soon given that it's clear the site was being prepared for its launch. The last Kindle Paperwhite came out in November 2018, so we may not be too far off a launch. The Kindle Paperwhite appears to cost $149.99, and the Signature Edition appears to cost $209.99.
Last week saw the arrival of a complete Kindle UI revamp that will roll out over the next few weeks. It brings a brand-new design to the home screen and library UI, and also adds a new navigation bar. Presumably, both new models will have the latest Kindle firmware preloaded on release.
Featured image: Amazon Kindle (10th Generation)
Forgot to Pre-Order Your iPhone 13 or 13 Pro? Apple Store Pickup Remains an Option for Launch Day – MacRumors
iPhone 13 and iPhone 13 Pro pre-orders began last Friday at 5:00 a.m. Pacific Time, and soon after, shipping estimates for select models began slipping to late September or early October for some models.

If you weren't prepared to get up at an early hour or you haven't got round to pre-ordering for another reason, there's still a chance to get an ‌iPhone 13‌ mini, ‌iPhone 13‌, ‌iPhone 13 Pro‌, or ‌iPhone 13 Pro‌ Max in your hands when they launch on Friday.
In the United States and other countries that have Apple retail stores, such as Canada, the United Kingdom, and Australia, many ‌iPhone 13‌ models are still available for in-store pickup on Friday, September 24.
Even if a particular iPhone model isn't estimated to be delivered on launch day, it's still possible to reserve some versions for in-store pickup.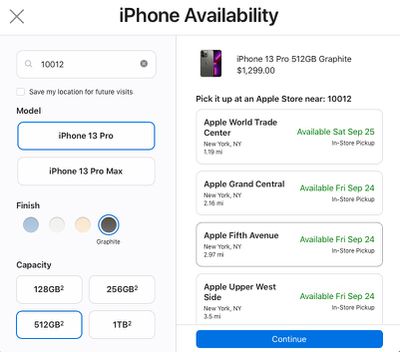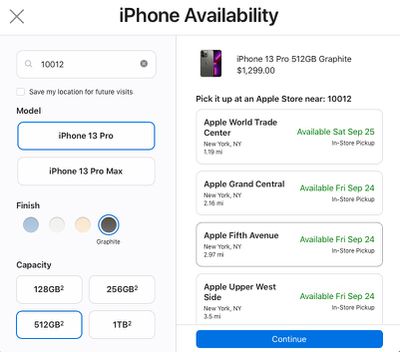 An ‌iPhone 13 Pro‌ in Silver with 128GB of storage, for example, is currently estimated to ship in 4-5 weeks on Apple's online store. However, the device is available for pickup on September 24 at multiple retail stores in several countries.
Once you proceed to the checkout and click the blue "Checkout" button, select "I'll pick it up," then choose a store location, pickup date, and an available 15-minute check-in window from the options.
If you will be picking up the ‌iPhone‌ personally, enter your phone number. If someone else will be arranging the pickup, enter his or her contact information. The person making the pickup must be carrying a valid photo ID.
Then, proceed with the checkout process as usual. Once payment has been made, wait until you receive a pickup notification email or text message by September 24 before picking up the ‌iPhone‌. If you don't receive one, call the store.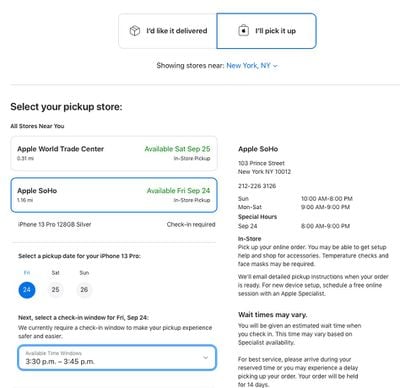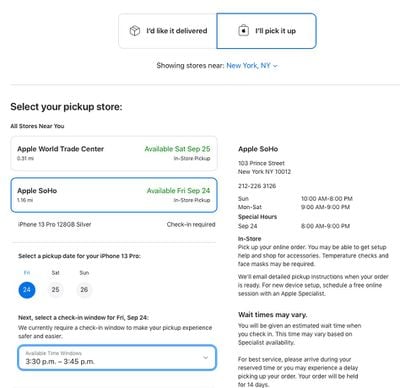 Since the ‌iPhone‌ is paid for ahead of time, the store will hold the device in its back room until you arrive. Your order will be held for 14 days.
Of course, another option is to simply wait until Friday and walk into an Apple store, preferably right when they open. You may have to wait in line, but the queues have typically been shorter in recent years. Note that temperature checks and face masks may be required.
You can use the pickup tool on Apple's website on launch day to check if stores in your local area have stock, or call the store directly.
All in all, there are still a few days to ensure you get your new ‌iPhone‌ on launch day, even if you missed the pre-order rush. Just make sure to select which color, storage, and carrier combinations are still available for pick-up by September 24.
iOS 15 now available with new FaceTime features and Focus notifications – MobileSyrup
iOS 15 is here, so saddle up your iPhone and start downloading the latest update to try out all of the new features. This year's update is overall pretty bland, especially compared to the new hotness that is Material You over on Android, but it's a worthwhile update nonetheless.
Below I highlight a few of my favourite new features and what I like about them based on a few weeks I've spent with the latest iOS 15 beta, but before that, let's go over how to install the update. As with all iOS updates, simply navigate to your Settings app, open the 'General' section and select 'Software update.'
The update is compatible with smartphones as old as the iPhone 6s and the iPhone SE.
What is this new Focus mode?
The most noticeable iOS 15 update is the new look for notifications. This time around, the app icon with each notification is larger to make it easier to see at-a-glance which app is begging for your attention.
Beyond that subtle visual flourish, there's a new 'Focus' button within Settings and Control Center (the menu that allows you to change screen brightness and play/pause music playback). When you open this, it shows you a few new notification filters that can block preset apps during specific times. You need to set this up on your own, but once activated, it can be useful for blocking social notifications during work hours and work notifications during social hours.
FaceTime invites Windows and Android to the party
Perhaps the part of iOS 15 that will be used the most is a new FaceTime feature that allows users to set up chatrooms that you can invite people to with a link. This is just like how Zoom, Google Meet and Teams all work, putting FaceTime on slightly more level footing with those competitors. It also allows FaceTime users to invite Android and Windows users for the first time.
To be clear, non-Apple users can only be invited to a FaceTime chat; they can't start one.
On top of all this, Apple has also added some new layouts to Facetime to make it easier to see everyone in a chat at once.
The new iMessage updates take a bit to get used to
One of the more subtle updates that's come with iOS 15 is a new form of iMessage. For the most part, the app looks the same, but now, when you send or receive multiple photos, they get stacked in the chat instead of all displayed at once.
This looks nicer, but you can easily mistake it for just a single photo if you just glance at it.
One of the more exciting updates that seems cool but might not catch on is the new 'Shared with you' sections within Safari and Photos. In each of these sections, you can see links or pictures that people have sent you via iMessage, so you can quickly open them or check them out later.
Copy text from anywhere
One of the sleeper updates added in iOS 15 is the ability to copy text from pretty much anything.
Within the Photos app, you can click on a little icon in the bottom right of each picture to copy text from within the photo. If you're in Safari, you can tap and hold onto text in images and, in pretty much every case, the phone will be able to copy it accurately.
You can also highlight phone numbers to instantly call them or addresses to get directions in Maps.
Spotlight search is the real way to get around your iPhone in 2021
If you're not already utilizing the power of Spotlight Search on iPhone, you should really start with iOS 15.
When you pull down on the home screen in the new update, you can search for pretty much anything now. This includes the web, your photos, contacts and messages, among many other sources. You can even now use it from the iOS lock screen.
Auto translate
The iOS translate app can automatically detect when a person is speaking and will begin translation immediately. Since you can also select text in images and other things in iOS 15, you can also translate them quite easily.
This isn't the new Safari iWanted
When Apple first revealed iOS 15 and its other software updates earlier this summer, it planned to revamp the look of Safari on all of them. While I was really excited about these visual changes, the world, apparently, was not.
The first version of iOS 15 safari was a simple bubble that floated at the bottom of the screen. If you tapped on the bubble, you could search using Google. There was also a three-dot menu and a button to see all your open tabs. Swiping across the bubble also allowed users to jump through all their open tabs quickly. This functionality, thankfully, is still in iOS 15.
The search bubble didn't last, and instead, Apple replaced it with a much more accessible and technical-looking bottom navbar. While this version might not look as nice, it's likely going to be a lot easier for people to adapt to.