Gifting smart devices this Christmas? These are today's best Echo, smart speaker and Alexa bargains – Real Homes
On the hunt for the best smart devices in time for Christmas? While we're edging ever closer to Christmas, there's still time to get your hands on some of Amazon's top rated smart devices in time for the big day – especially if you're a Prime member.
So, whether you're after a smart speaker as a Christmas gift or a deal on an Alexa compatible device for your home, we've spotted a whole host of smart device deals – and we're bringing them straight to you. Keep scrolling for the best Amazon smart home deals. We've also covered the best Amazon deals for those looking for more than just smart home tech.
Shop Amazon smart home deals by category
The best Amazon smart home deals available today
Echo Dot (3rd Gen) | Was £49.99, now £24.99
Meet Echo Dot! The most popular Echo is now even better. With a new speaker and design, Echo Dot is a voice-controlled smart speaker with Alexa, perfect for any room. View Deal
Echo Show 5 | Was £79.99, now £49.99
Compact 5.5″ smart display with Alexa ready to help. Manage your calendar, make to-do lists, get weather and traffic updates, along with recipes. You can even watch movies. View Deal
Fire TV Stick with Alexa Voice Remote 4K | Was £49.99, now £39.99
Everyone on team Real Homes has one of these and they are super easy to use. Not only will they give your regular TV smart capabilities, but they won't require the installation of satellites, cables and the like in the process.View Deal
Amazon Echo Flex | Was £24.99, now £19.99
The most compact smart speaker around, the Amazon Echo Flex plugs straight into a socket, meaning that it's wire free and suitable for even the smallest of spaces. All of that without missing out on the best of Alexa's smart capabilities. View Deal
Echo Show and Ring Video Doorbell 2 Bundle | Was £398.99 now £298.99
If home security is your priority, Amazon have an excellent bundle offer on Echo Show and the Ring Video Doorbell. Echo Show is a great product on its own, allowing you to stream movies, make video calls, and do online shopping. But it can also connect up with the Ring smart doorbell, allowing you to see who's at your front door in crisp HD. The two together are currently £318.99, down from £398.99, which is a saving of £80. Browse the best video doorbells in our guide. View Deal
Amazon smart speaker deals
Amazon smart speakers provide a home for Amazon's famous smart assistant – Alexa – and make it super easy to control your smart home system using voice control.
Below you'll find each of Amazon's smart speakers at the best price points. So, you can be sure you're getting a device for the best possible price if you're looking to invest.
Alexa deals on compatible smart devices
Amazon smart security camera deals
YI Home Security Cameras | Was £52.99 now £39.99
Looking to enhance your home security set-up in time for summer? YI Home Security Cameras offer 360 degree perspectives, night vision and motion detection. Plus, they currently have 25 per cent off. Bargain.View Deal
Arlo Wireless Home Security Camera System | Was 199.99 now £124.99
Protect your home, wherever you are, with this top rated smart home security system.View Deal
Yale Conexis L1 Smart Door Lock |Was £269.99, now £164
A smart door lock you can trust, with a huge 37 per cent off right now it's the ideal time to purchase. Choose from chrome, black, polished brass, satin nickel or white to go with your colour scheme. It's suitable with the majority of doors including PVC, and it has a built in tamper alarm for extra security. Thanks to this smart lock, you can enjoy life keyless. Choose to enter your house in four different ways, through the smartphone app, with a key card, a key tag or a phone tag.View Deal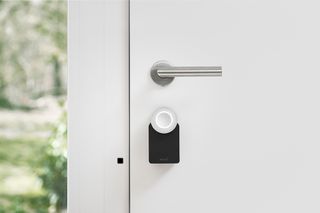 Nuki Smart Lock | Was £259, now £235.01
Make your home more secure while also making it more accessible for family members who are always losing their keys! This smart lock is also a great buy for your holiday rentals or if you need to let in a pet sitter as you can set limited-time passcodes.View Deal
Amazon smart lighting deals
Philips Hue LightStrip Smart Kit | Was £69.99 now £54.51
An easy (and now cheap thanks to this deal) way to transform any room in your home, these smart lights from Philips Hue are a best-selling product for a reason. They're completely personalisable, length and colour included, and they can link to your Alexa, Apple, Google or IFTTT device so you can control them with your voice. There's also a compatible app so you can control them from your home. Great if you're on holiday and want to trick potential burglars.
See our review of the Lightstrip.View Deal
Looking for more deals and discounts?
Netflix Update to Deliver Better Audio on Android With xHE-AAC Codec – Gadgets 360
Netflix is rolling out a new update that promises better audio quality on Android devices, including a fix for sudden volume changes, better sound in noisy environments, and better performance on slower mobile data connections. The company has implemented the Extended HE-AAC with MPEG-D DRC (xHE-AAC) audio codec on its streaming platform for Android mobile devices running Android 9 Pie and newer software. Although the technical aspects behind the change are quite complicated, the simplest way to explain the change is that Netflix is now promising "studio-quality audio" to go with its already excellent video content on Android devices.
Netflix has listed all of the changes brought about by the xHE-AAC audio codec in detail in a blog post. A key change that will make a difference to users across the world but particularly in India is the variable bitrate for audio streaming. This means that the codec will be able to adapt to the quality of the Internet connection; slower mobile data connections will see the stream scale back a bit to adjust, while maintaining some level of sound quality.
Additionally, all of this could mean that you'll be able to watch Netflix movies and TV shows using your smartphone's speakers — that is, without headphones — and still be able to hear dialogues and other sounds intelligibly even in noisy environments. The Netflix update will also offer a solution for the issue of sudden volume changes that often have users rushing to grab either the volume button or headphones to avoid disturbing others in the household.
The new upgrade is the latest in Netflix's efforts to offer high-quality video and audio on its streaming platform. While some of its picture technologies such as Dolby Vision and Dolby Atmos require supporting hardware and fast Internet connections to work, small tweaks such as xHE-AAC will enable improvements even at the most basic level, especially for users who rely on slower mobile data connections as is common in India.
---
Can Netflix force Bollywood to reinvent itself? We discussed this on Orbital, our weekly technology podcast, which you can subscribe to via Apple Podcasts or RSS, download the episode, or just hit the play button below.
For the latest tech news and reviews, follow Gadgets 360 on Twitter, Facebook, and Google News. For the latest videos on gadgets and tech, subscribe to our YouTube channel.
Related Stories
Guilty Gear: Strive 'Game Modes' trailer; more modes detailed – Gematsu
Arc System Works has released a new trailer for Guilty Gear: Strive introducing the game's various modes, as well as new information and screenshots detailing the offline game modes Story Mode, GG World, and Gallery Mode, and the Online Mode.
Get the details below.
■ Battle System

Roman Cancel

Cancels your attack, sends a shockwave, and slows down your opponent's movement. You can use it while attacking to strengthen your offense, or use it defensively to weather your opponent's attacks. Roman Cancel is a mechanic that can add depth to your matches, depending on how you use it.

Wall Break

Drive the opponent to the edge of the stage and unleash a certain attack to break the wall and blow them away into a different stage with a flashy scene. Not only will they take additional damage from the blow, your character's attack power and other stats will increase for a limited time.

■ Offline Modes

Story Mode

The fated conclusion!

The story of Guilty Gear finally reaches its climax! The Story Mode loved by fans in previous titles returns in Guilty Gear: Strive! Now with further evolved direction and graphics.

The Guilty Gear series has been around for over 20 years. The story of Guilty Gear: Strive is set in the United States of America. Our hero Sol Badguy has led an unbelievable life, but what will his final choice be…?

Please look forward to more details.

GG World

A huge encyclopedia where you can read up on everything there is to know about Guilty Gear!

The Guilty Gear series has over 20 years of history. GG World includes a "Chronology" that shows the series' history and events at a glance; a "Glossary" where you can read up on character profiles and world settings; and a "Correlation Map" of the relationships between each character. There is a massive amount available that will make even first-time players feel at ease.

Gallery Mode

Enjoy artwork, music, and movies!

In Gallery Mode, you can view the character illustrations, setting images, and other development materials from Guilty Gear: Strive. There is a lot more to see as well, including trailers and songs from previous Guilty Gear titles.

■ Online Mode

Rollback Netcode

Guilty Gear: Strive uses the same type of network players enjoyed in the previous title Guilty Gear XX Accent Core Plus R (Steam version)!

Rollback netcode allows for a great match experience, regardless of the distance between the players. If you are having trouble finding an opponent, try looking all around the world!

Online Lobby

—Customize Your Own Avatar and Battle Against Players Around the World!

Control your own custom avatar and enjoy battles and communication while using emotes and chat.

—A New Rating System Pits You Against Players of the Same Skill Level!

Guilty Gear: Strive's Online Lobby assigns you to a floor depending on your skill level. Skill level is determined not only by the outcome of battle, but also by the analysis of your actions during matches. And because players at the same skill level naturally gather on the same floor, everyone from new players to veterans can enjoy tense battles!

—The Floor at the Top of the Lobby Reserved for Only the Most Skilled Players

Only players who continue to achieve good results can enter the "Heaven" floor at the top of the Online Lobby. The entrance to this floor is an extremely narrow gate. It is quite literally the top of the top.

—Use "Quick Start" to Quickly Jump into Online Battles

Guilty Gear: Strive features a "Quick Start" function that allows players to move directly from the menu screen to battle standby. Jump into an online match immediately!

Player Match

Up to nine players can enter a "Player Match" room, allowing players to enjoy online battles with specific friends.
Guilty Gear: Strive is due out for PlayStation 5, PlayStation 4, and PC via Steam on April 9. The Deluxe and Ultimate Editions will launch for PlayStation 5 and PlayStation 4 three days in advance on April 6. Read more about the game here.
Watch the trailer below. View the screenshots at the gallery.
[embedded content]
[embedded content]
[embedded content]
Hitman 3 surpasses its predecessor to claim No.1 | UK Boxed Charts – GamesIndustry.biz
The PS5 version accounted for nearly half of the sales
Hitman 3 has taken No.1 in the UK boxed charts, with launch sales up 17% over its predecessor.
Developed and owned by IO Interactive, Hitman 3's boxed release was handled by Square Enix, the company that previously owned the franchise before letting it go. The last game, 2018's Hitman 2, was published by Warner Bros.
The PS5 version of the game was by far the dominant edition, accounting for 49% of sales. The Xbox version accounted for 27%, while the PS4 version made up 25%. Of course, this is just physical games, the majority of Hitman 3's sales will have taken place in the digital download space.
Hitman's chart-topping debut means that Animal Crossing: New Horizons drops to No.2, although only 800 games separates the two titles. Animal Crossing's sales dropped 8% week-on-week.
Some new PS5 consoles were released in the market last week, which had a positive impact on a few titles. Spider-Man: Miles Morales is up 161%, jumping from No.12 to No.5, Demon's Souls re-enters the charts at No.27 with a 291% sales increase, and there were sales bumps for Call of Duty: Black Ops Cold War (up 56% and driven by the PlayStation version) and Assassin's Creed Valhalla (up 7%, but with the PS5 version up 174%). In total, PS5 game sales increased 324% week-on-week.
Another big riser was Ring Fit Adventure. The Nintendo Switch fitness game has frequently jumped up the charts during the pandemic whenever new stock comes into the market. The game rises to No.7 with a 47% sales rise.
Here is the GfK Top Ten for the week ending January 23rd:
| | | |
| --- | --- | --- |
| New Entry | 1 | Hitman 3 |
| 1 | 2 | Animal Crossing: New Horizons |
| 2 | 3 | Mario Kart 8: Deluxe |
| 12 | 4 | Spider-Man: Miles MoralesCall of Duty: Black Ops Cold War |
| 7 | 5 | Call of Duty: Black Ops Cold War |
| 4 | 6 | Grand Theft Auto 5 |
| 10 | 7 | Ring Fit Adventure |
| 3 | 8 | Just Dance 2021 |
| 5 | 9 | Minecraft (Switch) |
| 6 | 10 | FIFA 21 |