Gifting smart devices this Christmas? These are today's best Echo, smart speaker and Alexa bargains – Real Homes
On the hunt for the best smart devices in time for Christmas? While we're edging ever closer to Christmas, there's still time to get your hands on some of Amazon's top rated smart devices in time for the big day – especially if you're a Prime member.
So, whether you're after a smart speaker as a Christmas gift or a deal on an Alexa compatible device for your home, we've spotted a whole host of smart device deals – and we're bringing them straight to you. Keep scrolling for the best Amazon smart home deals. We've also covered the best Amazon deals for those looking for more than just smart home tech.
Shop Amazon smart home deals by category
The best Amazon smart home deals available today
Echo Dot (3rd Gen) | Was £49.99, now £24.99
Meet Echo Dot! The most popular Echo is now even better. With a new speaker and design, Echo Dot is a voice-controlled smart speaker with Alexa, perfect for any room. View Deal
Echo Show 5 | Was £79.99, now £49.99
Compact 5.5″ smart display with Alexa ready to help. Manage your calendar, make to-do lists, get weather and traffic updates, along with recipes. You can even watch movies. View Deal
Fire TV Stick with Alexa Voice Remote 4K | Was £49.99, now £39.99
Everyone on team Real Homes has one of these and they are super easy to use. Not only will they give your regular TV smart capabilities, but they won't require the installation of satellites, cables and the like in the process.View Deal
Amazon Echo Flex | Was £24.99, now £19.99
The most compact smart speaker around, the Amazon Echo Flex plugs straight into a socket, meaning that it's wire free and suitable for even the smallest of spaces. All of that without missing out on the best of Alexa's smart capabilities. View Deal
Echo Show and Ring Video Doorbell 2 Bundle | Was £398.99 now £298.99
If home security is your priority, Amazon have an excellent bundle offer on Echo Show and the Ring Video Doorbell. Echo Show is a great product on its own, allowing you to stream movies, make video calls, and do online shopping. But it can also connect up with the Ring smart doorbell, allowing you to see who's at your front door in crisp HD. The two together are currently £318.99, down from £398.99, which is a saving of £80. Browse the best video doorbells in our guide. View Deal
Amazon smart speaker deals
Amazon smart speakers provide a home for Amazon's famous smart assistant – Alexa – and make it super easy to control your smart home system using voice control.
Below you'll find each of Amazon's smart speakers at the best price points. So, you can be sure you're getting a device for the best possible price if you're looking to invest.
Alexa deals on compatible smart devices
Amazon smart security camera deals
YI Home Security Cameras | Was £52.99 now £39.99
Looking to enhance your home security set-up in time for summer? YI Home Security Cameras offer 360 degree perspectives, night vision and motion detection. Plus, they currently have 25 per cent off. Bargain.View Deal
Arlo Wireless Home Security Camera System | Was 199.99 now £124.99
Protect your home, wherever you are, with this top rated smart home security system.View Deal
Yale Conexis L1 Smart Door Lock |Was £269.99, now £164
A smart door lock you can trust, with a huge 37 per cent off right now it's the ideal time to purchase. Choose from chrome, black, polished brass, satin nickel or white to go with your colour scheme. It's suitable with the majority of doors including PVC, and it has a built in tamper alarm for extra security. Thanks to this smart lock, you can enjoy life keyless. Choose to enter your house in four different ways, through the smartphone app, with a key card, a key tag or a phone tag.View Deal
Nuki Smart Lock | Was £259, now £235.01
Make your home more secure while also making it more accessible for family members who are always losing their keys! This smart lock is also a great buy for your holiday rentals or if you need to let in a pet sitter as you can set limited-time passcodes.View Deal
Amazon smart lighting deals
Philips Hue LightStrip Smart Kit | Was £69.99 now £54.51
An easy (and now cheap thanks to this deal) way to transform any room in your home, these smart lights from Philips Hue are a best-selling product for a reason. They're completely personalisable, length and colour included, and they can link to your Alexa, Apple, Google or IFTTT device so you can control them with your voice. There's also a compatible app so you can control them from your home. Great if you're on holiday and want to trick potential burglars.
See our review of the Lightstrip.View Deal
Looking for more deals and discounts?
Amazon's new Echo Show 10's screen follows you around the room – MobileSyrup
Amazon has improved the Echo Show 10 in a few critical ways.
The first and most obvious change is a new design that looks like a screen attached to a cylinder speaker. What makes this interesting is that it can swivel in a 360-degree loop to follow the user around the room.
The Echo Show 10 also works as a Zigbee and Sidewalk hub, so it should allow people to connect a wide variety of smart home devices to it.
Since the screen features a 10-megapixel camera for video chatting, Amazon has repurposed it to be a security camera. That means when you are using your phone, you can look through the Echo Show's camera to see what's going on in the room it's placed in.
Much like Facebook's Portal smart devices, the camera on the Show 10 can also zoom in on users to crop and follow them around the room while they're video chatting.
The Echo Show 10 starts at $329. The smart speaker's release date has not been revealed.
Epic, Spotify, and others take on Apple with "Coalition for App Fairness" – Ars Technica
Exactly how much power app store owners should have over developers has been a contentious issue lately, and now several high-profile app developers are banding together to form the "Coalition for App Fairness." The group describes itself as "an independent nonprofit organization founded by industry-leading companies to advocate for freedom of choice and fair competition across the app ecosystem."
Just about every app developer that has publicly clashed with Apple in the past few months is among the 13 founding members of the coalition. They include Epic Games, which had the smash-hit game Fortnite banned from the App Store for implementing its own in-app payment system; Spotify, which filed an antitrust complaint against Apple in the EU over Apple's 30 percent cut of sales; ProtonMail, whose CEO said Apple was holding developers "hostage" with the 30 percent fee; and also Basecamp, which called Apple's policies "exploitative" after updates to its Hey email app were blocked for using the same non-Apple billing technique that Netflix uses.
The coalition has a website, AppFairness.org, that lays out its demands. The website exclusively targets Apple's App Store with three main issues: anti-competitive policies that favor Apple's apps over competitors, the 15-30 percent fee in the app store being too high, and Apple's ban on competing app stores and payment methods.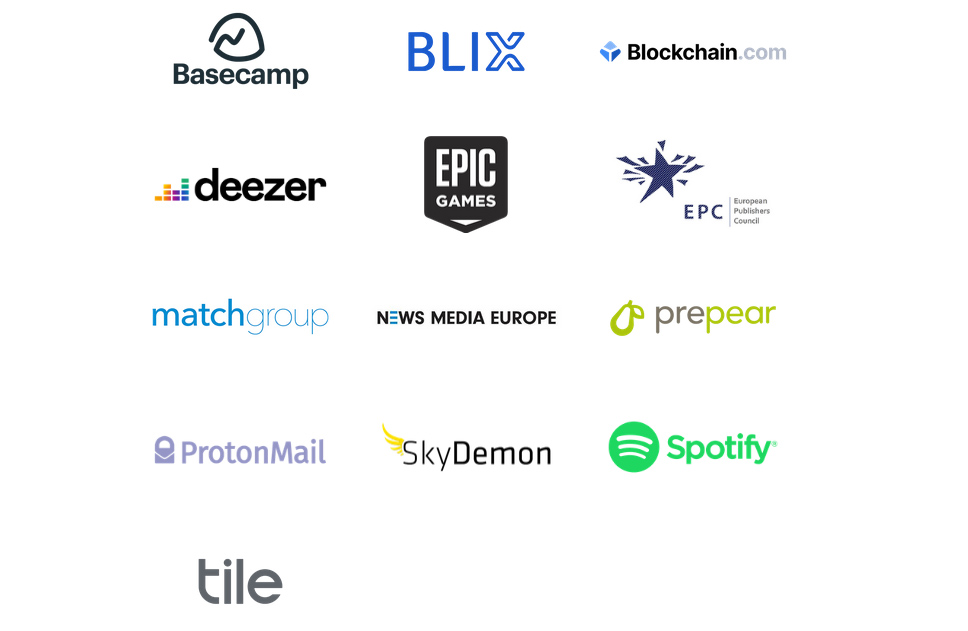 The group compares Apple's 30 percent fee to the 5 percent cut charged from "other payment providers" like credit card companies, and it also says Apple charges "600% more." An app store is more than just a payment provider since it handles hosting, SDK and app store development, app screening, and support. But it's hard to look at Apple's $15 billion in App Store revenue and claim the company can't afford to charge less.
The group is based in Washington, DC, suggesting there will be some lobbying in its future. The site hints at this, saying "As enforcers, regulators, and legislators around the world seek to address these important issues, we, the Coalition for App Fairness, urge them to recognize that every app developer, regardless of size or the nature of the developer's business, is entitled to fair treatment."
Amazon Luna, Alexa, Echo, Fire TV and Ring event: Everything announced – CNET
Today's event helps Amazon generate buzz as we roll into the holiday shopping season, and for the first time, Prime Day (The annual sale is usually held in July, but this year is slated to start on Oct. 13.) That means Alexa everywhere and addressing privacy concerns, which were a big storyline in 2019 for both Ring and Alexa. In a life-at-home existence, with millions of us hunkered down for the long haul, the connected house concepts that Amazon has been developing for years have become more critical than ever. This year, Amazon will likely work to address the unique needs of today's customers while keeping an eye toward a post-pandemic future. And you never know when Amazon will pull a suprise microwave out of its hat.
The event, which started at 1 p.m. ET/10 a.m. PT, is invite-only, but you can follow our real-time Twitter feed and coverage across CNET.
The company's Echo and Fire TV products will be its first to earn sustainability badges and it's' working on reducing power consumption across devices with a new low-power mode, an energy dashboard integrated with Alexa and its pledging to build solar and wind farms to generate energy that matches the consumption of all its devices.
Amazon Luna
$6/month
The company launches a cloud-gaming service on top of Amazon Web Services that runs on PCs, Fire TVs and more (on a Luna Plus game channel).
It has a custom $50 controller that connects directly to the cloud rather than the local device.
Amazon gets into game streaming with Luna
Echo
$100
Redesigned with a new spherical shape and adapts to the acoustics of the room. It's also a Sidewalk bridge and includes neural network technology to accelerate tasks.
Echo Dot 4th gen
$50
Gets the same redesign as the spherical Echo.
Echo Dot Kids Edition 2020
Gets the same redesign as the spherical Echo, and now has a $60 kids edition with some kid-friendly features, including voice profiles for them and Sidekick, which lets Alexa read to them.
Amazon announces revamped Echo Dot with Clock speaker
Echo Dot with clock
$60
The Dot. With a clock.
Eero 6
$130
Amazon's mesh network, now with Wi-Fi 6 and ZigBee support.
Amazon unveils new Eero mesh routers that support Wi-Fi 6
Eero Pro 6
$230
'Alexa, I'm getting pulled over,' Ring debuts dashcam with Traffic Stop mode
Ring Car Connect
$200
Debuting with Tesla.
Ring's flying Always Home Cam robot camera monitors more of your home
Ring Always Home Cam
$250
Autonomous camera that can fly within your home on a preprogrammed route or fly to a motion detection area.
Amazon announces the Echo Show 10
Echo Show 10
$250
It now has Zigbee and Sidewalk hubs, and is much quieter. There's a built-in camera shutter. All Echo and Alexa's will have a command to review privacy settings and "delete everything I've ever said." It will also support Hulu, Netflix and Prime Video.
Fire TV Stick Lite streamer costs $30 basic version, $40 for the 4K version
Fire TV Stick
$40
It's more powerful than before but uses less power.
Fire TV Stick Lite
$30