Hands on with the best features of iPhone 12 Pro Max
The entirety of Apple's iPhone 12 line is finally out. We've spent the day testing the new iPhone 12 Pro Max and wanted to go over some of its best new features and how they play out in the real world.
New design
Everyone has seen the design of the new phones, and even side-by-side lineups of the iPhone 12 mini, iPhone 12, iPhone 12 Pro, and iPhone 12 Pro Max. They all share what is essentially an identical aesthetic, albeit at different scales.
Each handset sport iPhone 5-style flat sides and a ceramic shield glass on the front, while Pro models get a new Pacific Blue color option.
The iPhone 12 Pro Max is the largest iPhone Apple has ever created. It takes the 6.5-inch display of the iPhone 11 Pro Max and stretches it just a touch to hit 6.7 inches on the diagonal. It doesn't sound like much, and even in use it doesn't seem discernibly larger until you have it side-by-side with the previous Pro Max model.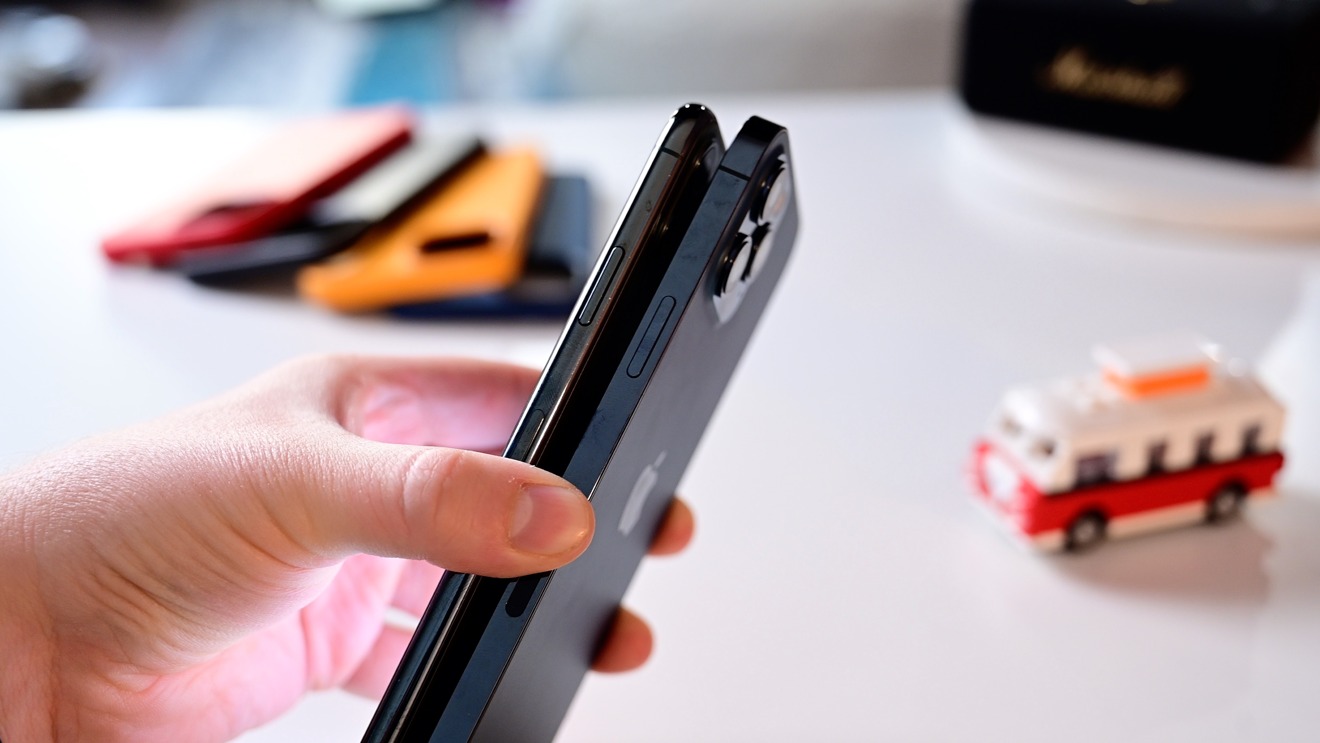 The volume buttons and the side button have shifted down for easier access
What we do love, though, are some of the other subtle design changes that Apple has made. Both the side button and the volume buttons have been shifted down ever so slightly. This makes them more easily accessible while holding the phone and is certainly a noticeable and welcomed change. The phone is absolutely huge, but this change makes that size a bit more palatable.
Battery life
Being the largest iPhone, it is no surprise that iPhone 12 Pro Max also has the largest battery, although the 11 Pro Max beats it out in terms of sheer capacity (14.13 Wh vs. 15.04 Wh). We will have to examine battery life under stress, but we still have to point this out as one of our favorite new features because of not only how long the battery appears to last, but how many ways you can charge.
Just today using the device, we started by connecting to Lightning right out of the box, then used MagSafe for most of the day before finally tossing it on a Qi charging pad while we sat down to edit.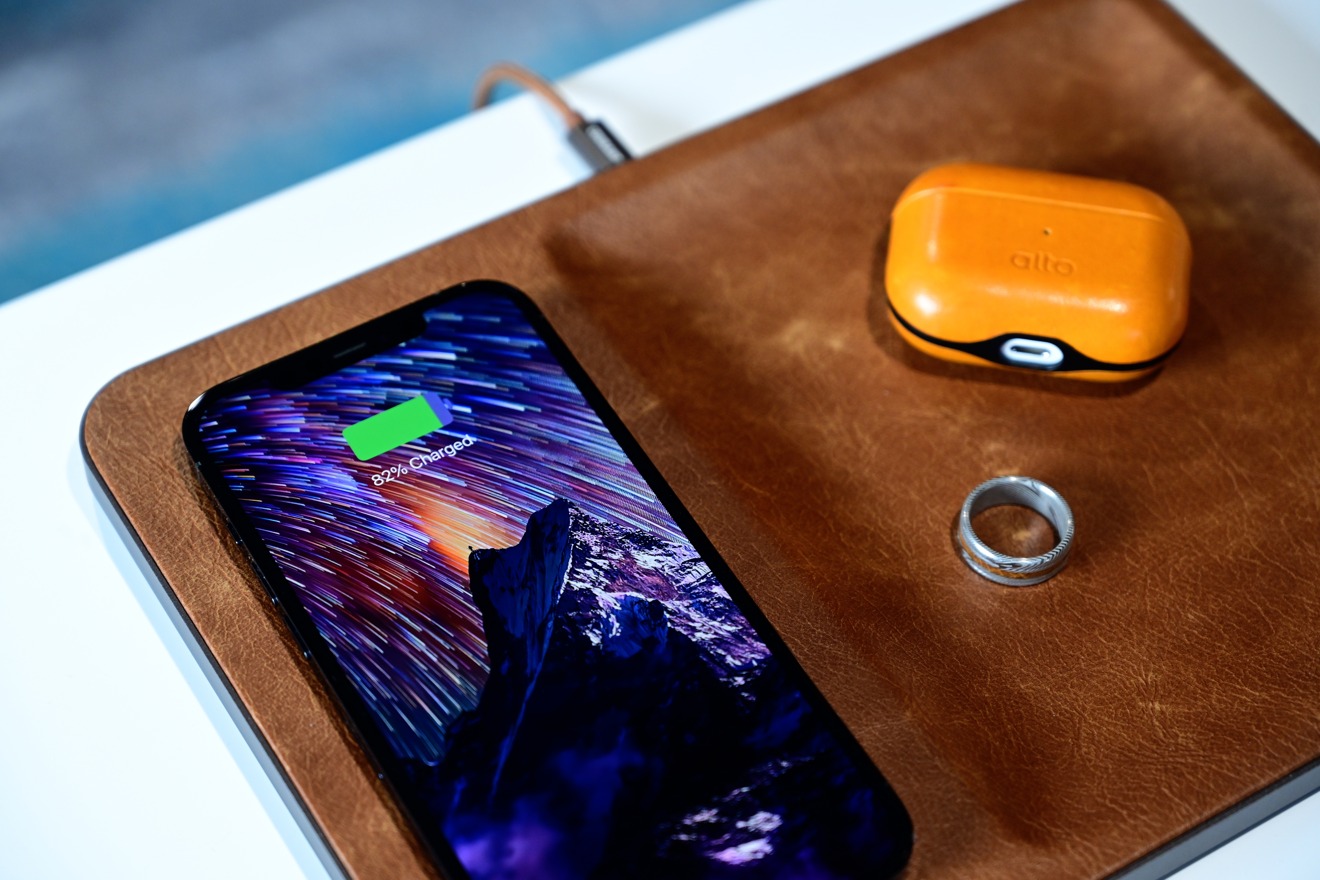 Battery is great on iPhone 12 Pro Max
The many ways to charge makes the battery feel even more capacious. Apple has the iPhone 12 Pro Max rated for the same battery life as the iPhone 11 Pro Max — 20 hours of video playback, 12 hours of video streaming, and 80 hours of audio streaming — but if you don't use 5G, we wouldn't be surprised if that stretched a little further. The phone made it through a ton of tests without almost any hit on battery life.
For comparison's sake, the iPhone 12 Pro only gets 17 hours of video playback, 11 hours of video streaming, and 65 hours of audio streaming. We'll take the extra battery life.
Wide camera image sensor
The big deal with the iPhone 12 Pro Max is the camera. We've barely started testing this thing out and we are already excited. Apple has included a 47-percent larger sensor in this plus-sized phone and it certainly pays off.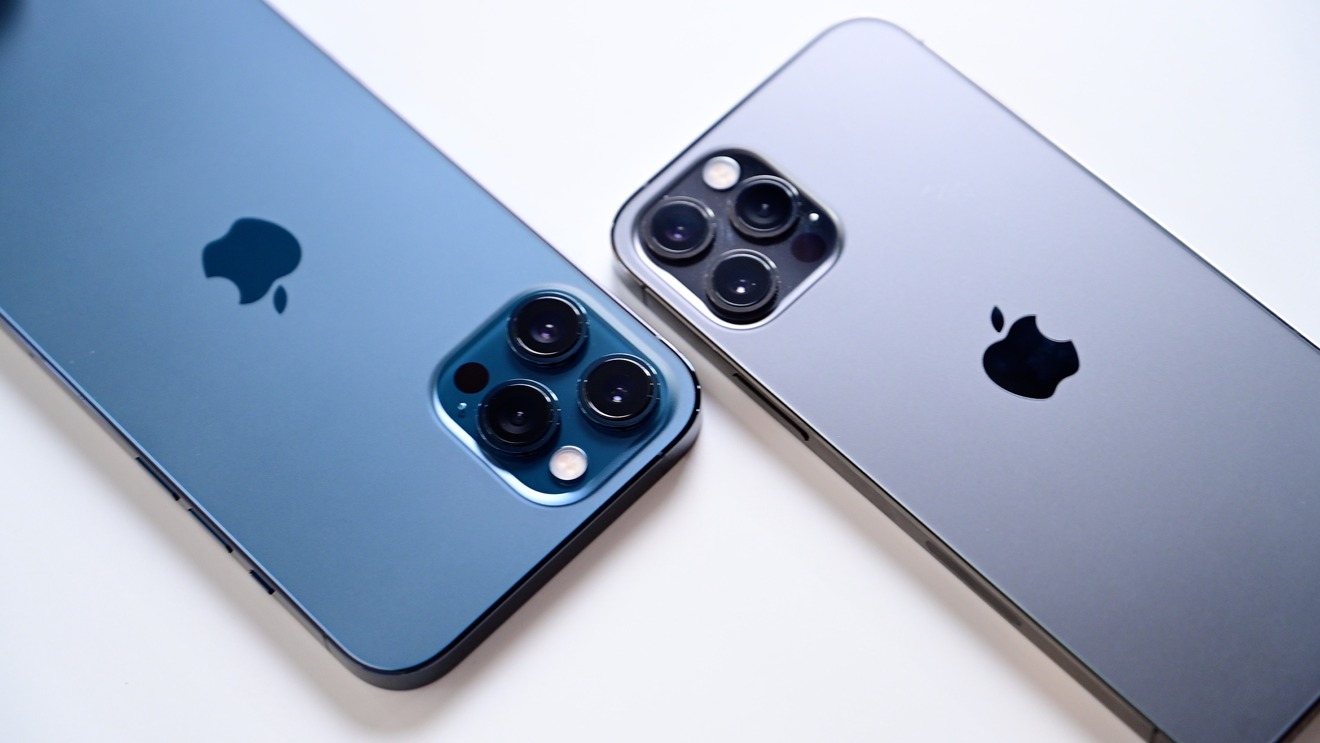 Comparing iPhone 12 Pro Max and iPhone 12 Pro camera modules
Physically, you can see the difference. The camera module on the iPhone 12 Pro Max is bigger in size and protrudes a bit more as well. All to handle that new larger sensor and the upgraded sensor-shift stabilization that goes along with it.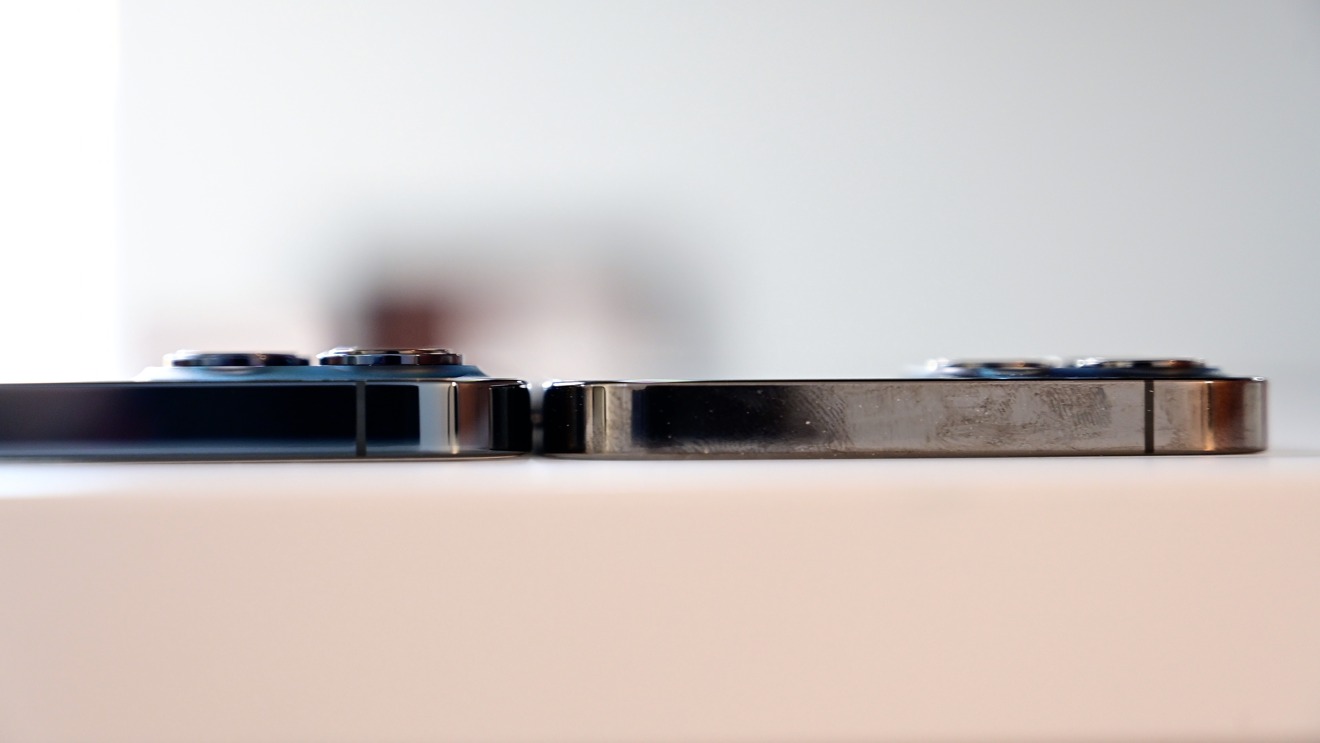 The iPhone 12 Pro Max cameras stick out slightly further
Thanks to that new larger sensor on the wide-angle camera, much more light can be captured, resulting in less noisy photos when we tested in low light. That is backed up by the increased ISO. The iPhone 12 Pro has a top ISO of 5,808, and the 12 Pro Max has a top ISO of 7,616. Improved light sensitivity again means better shots in low light.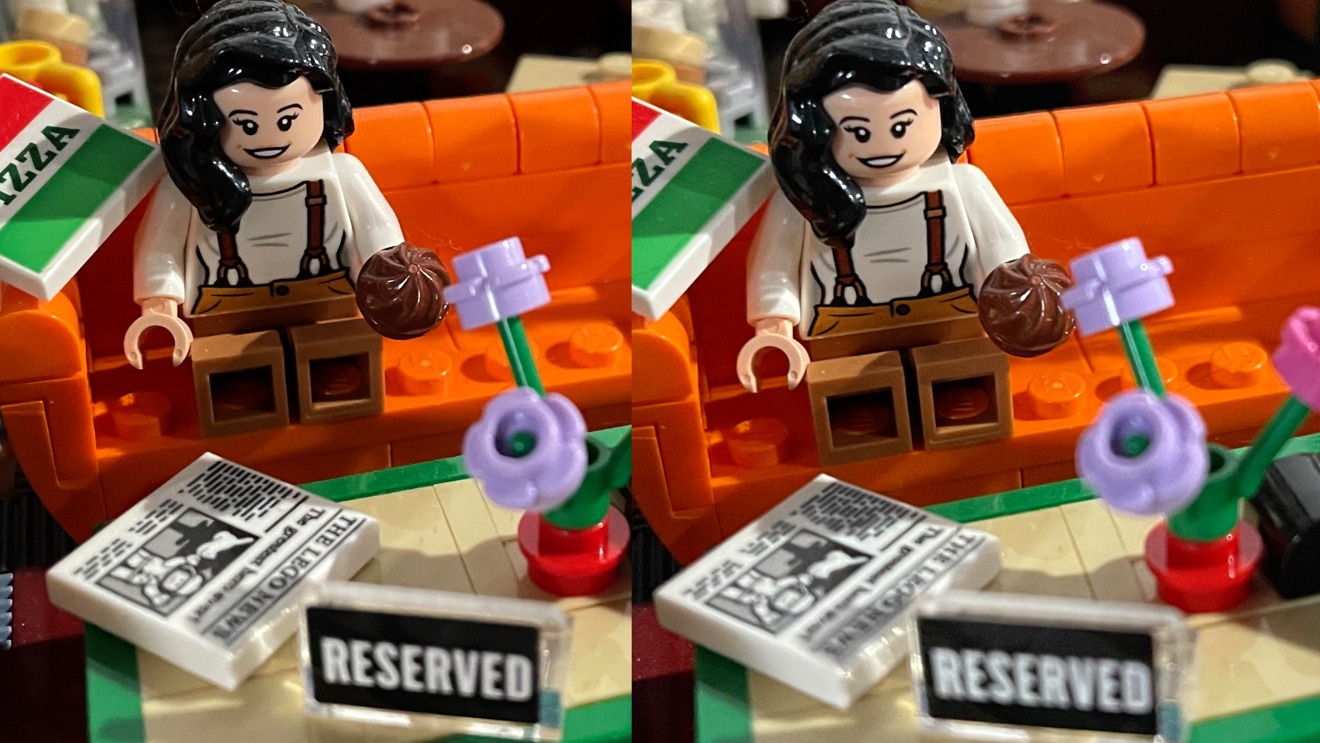 Compared: iPhone 12 Pro (left) and iPhone 12 Pro Max (right)
The final benefit of that new sensor is increased depth of field compared to the iPhone 12 Pro. In a couple quick shots around the office, we notice more bokeh blur in the foreground and background, which creates better subject isolation and overall more pleasing shots.
Tele lens
The wide angle camera isn't the only one that got an upgrade. Apple also took the liberty of moving the telephoto lens from a 52mm equivalent to a 65mm equivalent. This yields 2.5X optical zoom compared to only 2X optical zoom on the iPhone 12 Pro.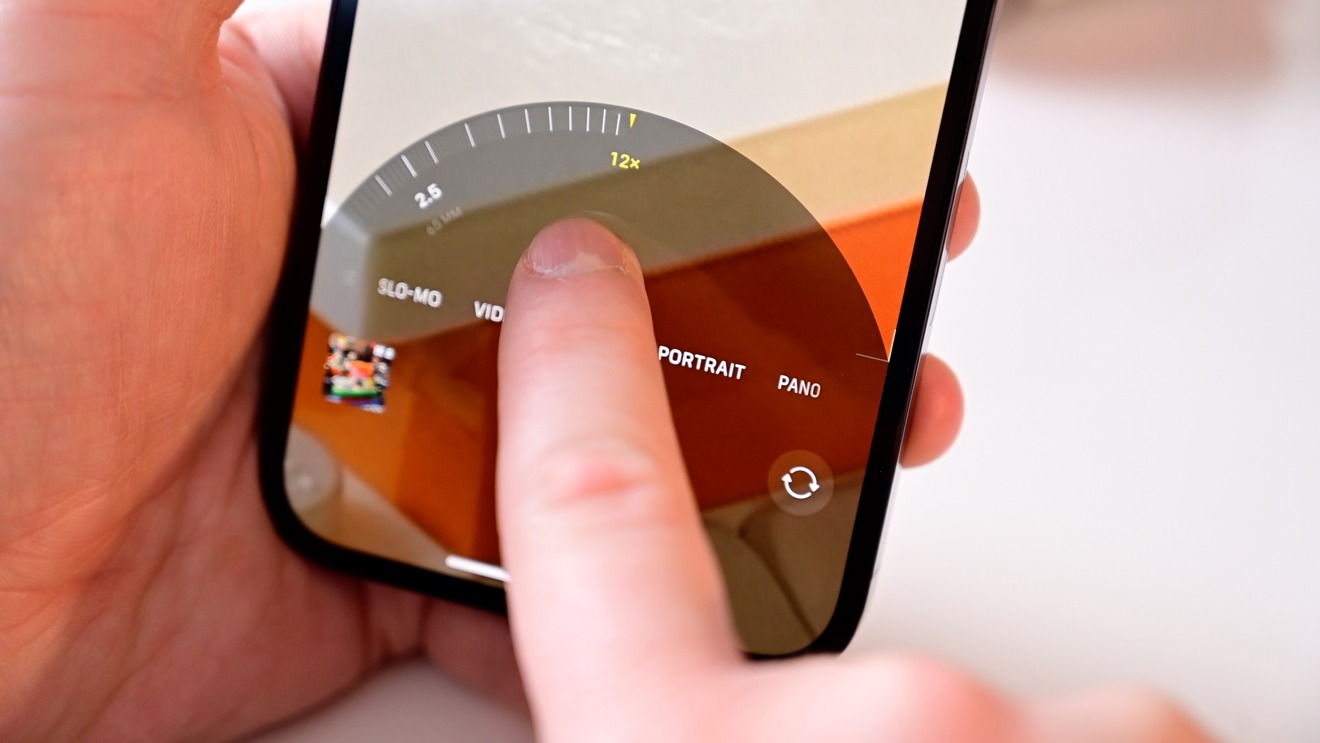 New maximum zoom
You see this on any shot you take whether a normal photo or a portrait shot. It will even increase the maximum digital zoom, going from 10x to 12X maximum. When shooting video, you can get 7X digital zoom rather than being capped at 6X.
We took quite a few shots to play with the cameras and it makes a good difference. We aren't usually trying to capture objects super far away, but just far enough from the wide-angle lens we jump to the tele. With 2.5X zoom, we get just a little closer with no loss in quality.
RAM
The last thing we noticed was the increase in RAM, from 4GB to 6GB. The iPhone 12 Pro Max isn't the only one that has 6GB of RAM, but this is where we noticed it most. Coming from our iPhone 11 Pro Max, when completing a lot of tasks we would sometimes notice background apps having to reload once we open them. This wasn't the case nearly as much on the new device.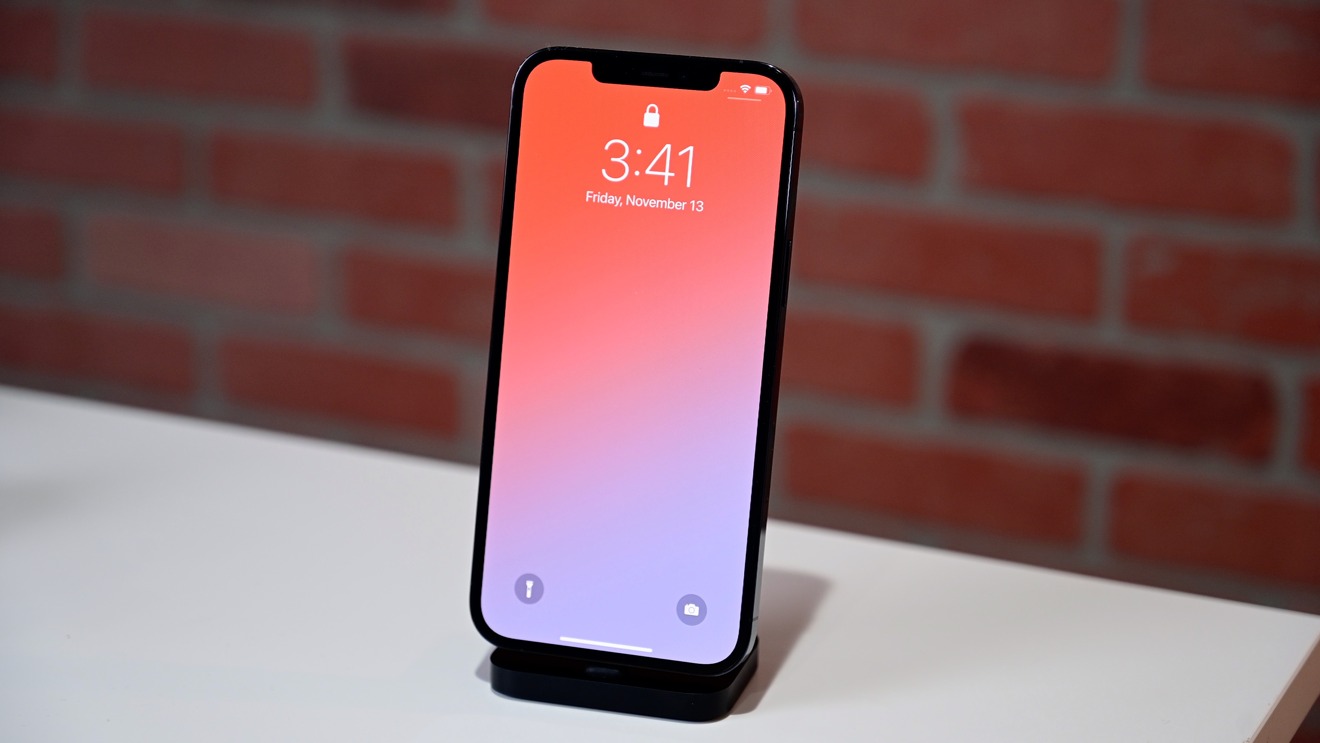 The display of the iPhone 12 Pro Max
We tried opening as many apps as we could and let them load. Then we bogged down the processor by exporting a 4K HDR video. Then we went back to try to re-open all of those apps to see if they'd have to reload themselves. Not one did. It isn't the most scientific of tests, but it is very much like the real world. We frequently jump between so many operations and apps that having them instantly ready to go felt like magic.
iPhone 12 Pro Max deals
Source:- AppleInsider
Westland Insurance marks 40th anniversary with charity campaign – Insurance Business Canada
In celebration of its 40 years of business, Westland Insurance Group will be handing out grants to various charities across Canada – specifically local charities in the communities the broker operates in.
The broker's "40 Weeks of Giving" campaign will see Westland support a cause every week for the next 40 weeks. The campaign began last week, and two charities have already received donations from Westland – the first recipient being the Burns Bog Conservation Society, which works to protect Canada's fragile ecosystems; and the second recipient being the Canadian Mental Health Association, which works to reduce the impact of mental illness and addiction.
Westland Insurance, founded in 1980, has over 150 locations across five provinces – BC, Alberta, Saskatchewan, Manitoba, and Ontario.
Read more: Westland Insurance Group acquires Diamond Insurance Agencies
Recently, it acquired Calgary-based Diamond Insurance Agencies. The acquired brokerage focuses on residential, auto, life, travel, recreation, farm, and commercial insurance services.
The Hennessey Venom 800 wants to give Ford's F-150 an edge over Ram's TRX – Driving
Ram's new TRX is a factory-built monster truck, with a 703-horsepower Hellcat V8 that tops the charts in terms of truck performance. Neither GM or Ford can rival that performance in a stock truck — but what they lack in factory support, they gain in aftermarket enthusiasm.
Yes, that's where Hennessey comes in, with its new Venom 800 supertruck. Based on the latest generation F-150, the Venom 800 features a 5.0-litre V8 fitted with a 3.0-litre supercharger bigger than the engines of some cars.
The supercharger produces eight pounds of boost, helping to produce 805 horsepower and 727 lb-ft of torque when running on E85. Other horsepower aids include an upgraded stainless-steel exhaust system and new intake, fuel pump, and fuel injectors. All these tweaks make the truck pretty quick, with a quoted zero-to-96-km/h time of 3.6 seconds.
It also has massive six-piston Brembo brakes with 15.1-inch rotors on the front to bring it to a stop, as well as a six-inch lift kit, 20-inch wheels with 35-inch tires, and more aggressive shocks with external reservoirs.
Visual upgrades include a new front bumper, special Hennessey grille, LED light bar, and a numbered plaque on the interior. The Hennessey Venom 800 will be limited to 100 units, and costs US$149,500. That price includes the donor vehicle, as well as a three-year 36,000-mile warranty.
Hennessey already makes a 6×6 variant of the Ram TRX that makes 1,200 horsepower, and it's only a matter of time before the performance brand takes the regular TRX to the next level as well.
$2M from angel donor helps Edmonton toddler receive life-saving treatment – CTV Edmonton
EDMONTON —
It was July 17 and Kaysen Martin's second birthday had come and gone.
A day that had more significance than just adding another candle to the cake. It was also the deadline for Kaysen's family to raise $2.8 million for a one-time gene therapy treatment to combat a rare disease called Spinal Muscular Atrophy Type 1 (SMA 1).
Fast forward four-and-a-half months.
An "angel donor" donated the remaining $2 million Kaysen needed to receive the therapy drug Zolgensma to treat the disease that affects the muscles used for lung support, swallowing, and crawling.
"It was a huge sigh of relief," Kaysen's mom, Lana Bernardin, told CTV News Edmonton. "It did take longer and, you know, it was complicated, but at the end of the day, we're here, it's done, (the drug) is in him and that's all that matters."
His family raised hundreds of thousands of dollars before the July 17 deadline thanks to community, and celebrity, donations.
Canadian actor Ryan Reynolds donated $5,000 to the cause while Edmonton-born actor Nathan Fillion put out a call for help on Twitter.
"To be able to come forward today and say that this has happened, we made it happen as a community is like amazing," said Bernardin.
Which means adding more candles on Kaysen's birthday cakes for years to come.