How the New Porsche 911 GT3 Laps the Nürburgring Quicker Than a 918 Spyder – RoadandTrack.com
Nürburgring lap timing has become confusing. It used to be that times published didn't reflect the entire circuit, with the start line set at the end of the T13 straight, and the finish 0.12 miles before that. Recently, the 'Ring instituted an official lap-timing methodology and certification process that measures the time around the whole circuit, which has effectively lengthened the lap. With this protocol, the 2022 Porsche 911 GT3 laps the Nordschleife in 6:59,927; under the old method, it did a 6:55.2, which provides much more context to its performance.
It shows that the new 992 GT3 is quicker around the 'Ring than the 918 Spyder and the old 991.2 GT3 RS, which, based on the old timing method, set a 6:57 and a 6:56.04, respectively. The 6:55.2 figure also shows just how much quicker this new GT3 is than its 991.2 predecessor, which ran a 7:12.7 back in 2017.
So, how is the new GT3 17 seconds quicker than the old one? That's a monster improvement for a car with damn near identical 502 hp and 3164-pound weight figures. For starters, the 992 GT3 has a lot more grip, both aero and mechanical, than its predecessor. With its splitter, front and rear diffusers, and wing all set to their highest downforce setting, the new GT3 is capable of generating a maximum of 854 pounds of downforce. A Porsche spokesperson tells us this is roughly equal to the amount downforce generated by the old GT3 RS, and far more than the old GT3, which could create up to 342 pounds.
The front and rear tires on this new GT3 are also 10mm wider than before, and the front track width has grown by an additional 1.9 inches, increasing lateral grip significantly. And Porsche has an ace up its sleeve—Michelin Pilot Sport Cup 2 R tires. These tires—which carry a Porsche N0 spec and are available as an option on the new GT3—are much grippier than the standard Cup 2s the car comes with. Porsche GT cars boss Andreas Preuninger told media that he estimates a good five seconds of lap time came from the tires alone. The Cup 2 R is seemingly perfect for setting Nürburgring lap times, as that's what the 991 GT2 RS and GT3 RS wore for their sub-7-minute laps, as did the production-car record-holding Mercedes-AMG GT Black Series. It's worth noting that the Porsche 918 Spyder wore regular Cup 2s for its lap time. If Michelin were to make a Cup 2 R for the 918 Spyder, it could lap the 'Ring quicker than this new GT3.
This new GT3 also has a 911 road-car first—a double-wishbone front suspension, derived from the 911 RSR race car. Porsche says this increases cornering stability and precision over the previously used McPherson strut setup used in the previous GT3.
Plus, one can't forget the force of nature that is Porsche factory tester Lars Kern, whose mastery of the Nürburgring plays a huge role in setting lap times like this.
When you consider all this, it's no real shock that the new GT3 is quicker around the Nürburgring than the old GT3 RS. Still, it wasn't that long ago that the 918 blew minds by being the first car to go sub-7 at the 'Ring, and it's a little hard to imagine that a GT3 can beat it. But that's progress for you.
This content is created and maintained by a third party, and imported onto this page to help users provide their email addresses. You may be able to find more information about this and similar content at piano.io
How a pub trivia night turned into a COVID-19 super-spreader event (INFOGRAPHIC) – The Tri-City News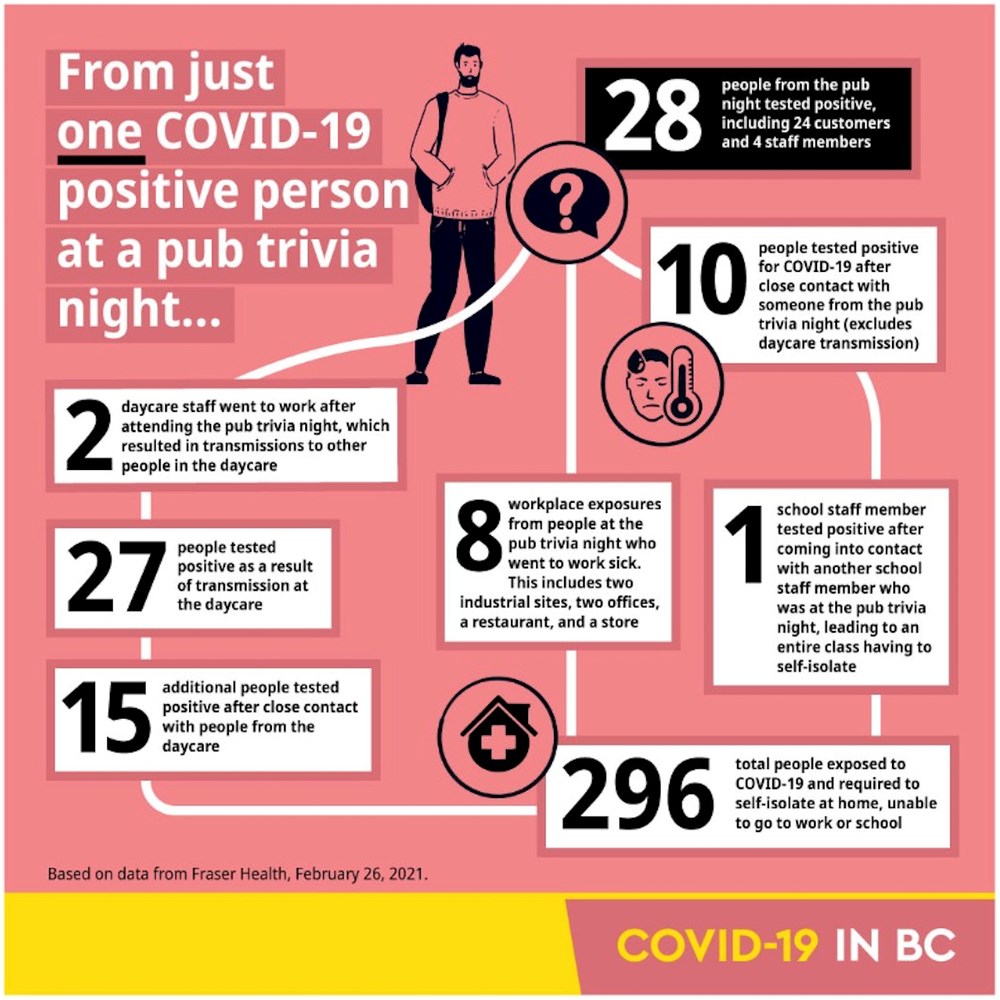 B.C. health officials have revealed new details of how a single pub trivia night led to the exposure of nearly 300 people across a daycare, industrial sites, a restaurant, a store and the isolation of an entire class at a local school.
"From just one COVID-19 positive person at a pub trivia night…" begins the infographic, before detailing how and where 296 were forced to self-isolate at home.
Over the last few weeks, health officials made veiled references to an unnamed pub trivia night which sparked a secondary outbreak at a Burnaby daycare and led to cases at workplaces and schools.
While not specifically revealing the location of the pub trivia night — where 24 patrons and four workers initially sparked the chain of transmission — reporting by the Tri-City News confirmed a super-spreader event of the same scale stemming from St. James's Well in Port Moody.
Last month, an industry spokesperson confirmed there had been no other COVID-19 transmission events linked to a trivia night in any bar or pub in B.C.
From the pub night, transmission chains break into three streams, according to the infographic. Two daycare staff are said to have gone to work after attending the trivia night, sparking infections among 27 people linked to the daycare, and another 15 secondary cases.
A second series of transmission events occurred in eight workplaces after people who attended the trivia night went to work sick. Those included: two industrial sites, two offices, a restaurant and a store.
Finally, contact tracers tracked a third chain of transmission among 10 people who had close contact with someone who attended the pub trivia night. Of those, one school staff member came to work sick, infecting a colleague and triggering the self-isolation of an entire class.
The super-spreader event coincides with a surge of COVID-19 cases across the Tri-Cities in recent weeks. Last week, the BC Centre for Disease Control released data indicating the three cities had one of the highest per-capita rates of infection in the Lower Mainland, on par with Surrey.
The BCCDC is expected to release updated case numbers over the next 24 hours.
Maezawa wants to take you to the moon: Japanese billionaire seeks passengers for 2023 SpaceX trip – CBC.ca
Japanese billionaire Yusaku Maezawa on Wednesday launched a search for eight people to join him as the first private passengers on a trip around the moon with Elon Musk's SpaceX.

He had originally planned to invite artists for the week-long voyage slated for 2023.

The rejigged project will "give more people from around the globe the chance to join this journey. If you see yourself as an artist, then you are an artist," Maezawa said.
Maezawa to pay entire cost of trip himself
The first stage of the selection process runs to March 14, with applicants needing to pass medical checks and, eventually, an interview with Maezawa.

The entrepreneur, who sold his online fashion business Zozo Inc. to SoftBank in 2019, is paying the entire cost of the voyage on SpaceX's next-generation reusable launch vehicle, dubbed the Starship.

"I thought there might be delays but everything is on schedule," said Maezawa in an interview.
Recent Starship prototypes exploded during testing
Two recent Starship prototypes have exploded during testing, underscoring the risks for Maezawa, 45, and his fellow passengers, who must also contend with the strains of space travel in the first private journey beyond Earth's orbit.
"Elon Musk says there is no problem and I believe him," said Maezawa. SpaceX ferried four astronauts to the International Space Station in November on its Falcon 9 rocket.

Maezawa said he is not in training — which he expects to take a few months at most — but is watching his alcohol intake and exercising while spending a few hours a week considering the mission.

"I'm only preparing mentally," said the fashion guru, wearing a Dior shirt over a T-shirt depicting the iconic 1968 Earthrise photo.

Seeing the whole Earth and the far side of the moon would be highlights of the trip, said Maezawa, who had considered a trip the ISS before choosing the more ambitious moon voyage.

"This mission we expect people will go further than any human has ever gone from Planet Earth," Musk said, days after SpaceX completed its latest $850 million US fundraising, which has helped turn the businessman into one of the world's richest people.
Costs for the trip remain in line with the original contract with SpaceX, said Maezawa, who has declined to say how much that is, but says is more than his $110 million US purchase of a Jean-Michel Basquiat painting.

Both Musk and Maezawa have built loyal followings on social media, with the latter's cash giveaways helping to make him Japan's most-followed Twitter account.

Maezawa, who recently introduced SoftBank CEO Masayoshi Son to audio app Clubhouse, said he plans to feature mission preparation on his YouTube channel, which also offers videos of him playing golf in Hawaii and racing supercars.

Last year he launched a short-lived documentary search for a new girlfriend to join him on the trip before pulling out citing "mixed feelings."
Billionaire offering 'free ticket to the moon' on SpaceX Starship – Global News
A Japanese billionaire is looking to fill some seats on his SpaceX rocket to the moon.
You in?
Eccentric fashion designer Yusaku Maezawa has launched an international search for eight people to join him on the planned voyage around the moon, which Elon Musk hopes to accomplish as soon as 2023.
Maezawa, 45, announced the search on his Twitter account Tuesday in his latest high-stakes social media stunt. The announcement was short on details, but Maezawa has previously billed his "dearMoon" expedition as a trip that will include many artists.
Maezawa confessed in a video on Tuesday that it can be hard to define an artist, so he wants to open up his criteria to a more "diverse audience" of potential passengers.
"Maybe every single person who is doing something creative could be called an artist," he said. "If you see yourself as an artist, then you're an artist."
He says he'll consider candidates for the mission from anywhere on the globe, provided they can meet two criteria:
By going to space, you must be pushing the envelope in whatever activity you're into.
You have to be willing to support other crew members who share "similar aspirations."
Maezawa says he will cover all costs for the trip, so he is essentially offering a "free ticket to the moon."
Musk also touted his excitement for the journey in Maezawa's video.
"We're going to go past the moon," he said. "We expect people will go farther than any human has ever gone from planet Earth."
[embedded content]
Potential passengers can sign up for details about the trip on Maezawa's mission website.
The registration form asks for your name, email and home country. It also allows you to upload a photo that it will automatically crop into the helmet of a spacesuit.
A followup email says that further details about the screening process will be sent out on March 15.
Potential candidates will go through an initial screening process later this month, followed by an "assignment," an "online interview" and a "final interview and medical checkup" in late May, according to the website. Details about the assignment and the judging process have not been released.
Maezawa, who runs the Japanese fashion brand Zozo, became the first person to pay for a trip to the moon when he signed up in 2018 for an undisclosed sum.
He plans to bring 10 to 12 passengers on SpaceX's Starship, which is still in its testing phase. The Starship is expected to fly to the moon over three days, loop around the far side of it and then fly back over another three days.
The journey is slated for 2023, although Musk still has some fine-tuning to do on his Starship design after two of the prototypes blew up in recent tests.
A third test flight was scheduled for Wednesday or Thursday.
Maezawa has a history of pulling high-stakes giveaways on Twitter. He once promised to give US$9 million to some of his followers as a "social experiment" to see if it'd boost their happiness.
He also used Twitter last year to launch an unsuccessful search for a girlfriend to accompany him to the moon. He had planned to turn the search into a Bachelor-style reality show for Japanese TV, but later backed out due to "mixed feelings." He reportedly received about 27,000 applications for the show.
Maezawa announced on Wednesday morning that he's already received more than 100,000 signups for the trip. The No. 1 country for applicants was India, followed by Japan and the United States. Canada ranked No. 8.
Maezawa is not the only billionaire seeking passengers for a SpaceX voyage. U.S. entrepreneur Jared Isaacman is also putting together a four-person crew for the first all-civilian space flight into orbit later this year.
© 2021 Global News, a division of Corus Entertainment Inc.