iPad Pro teardown reveals smaller battery
A teardown of Apple's 2020 iPad Pro posted to YouTube on Wednesday offers an initial, albeit cursory, look at the new tablet's internal design and component loadout, which is nearly identical to 2018's model.

2020 iPad Pro teardown reveals Apple's LiDAR Scanner array. | Source: EverythingApplePro
Conducted by YouTube channel EverythingApplePro, the disassembly reveals little in the way of new information.
The new 2020 11-inch iPad Pro is fed by a 7,540 watt-hour battery split into two cells, a slight decrease from the 7,812 watt-hour unit provided in the 2018 version. While the video fails to take precise measurements, one cell appears to be slightly shorter than the other, likely a design decision to accommodate the new iPad Pro's enlarged camera array.
Moving to said camera, the 2020 variant sports a dual-camera setup with one 10-megapixel module serviced by an ultra-wide lens and a 12-megapixel module topped with Apple's standard wide lens.
New for iPad, and indeed any Apple product, is the LiDAR Scanner, which consists of two lens-capped modules, one stacked atop the other. The system has not been detailed in full, but the parts in view are likely a a VSCEL transmitter and receiving sensor. The pair work together to create depth maps by measuring the time it takes pulses of light to travel to and from a target surface.
Interestingly, the entire package — dual-cameras and LiDAR Scanner — is more compact than the triple-lens unit deployed in iPhone 11 Pro. Current rumors suggest Apple will build its ToF technology into a next-generation "iPhone 12" this year, potentially resulting in a a triple- or quad-module arrangement, depending on handset model.
[embedded content]
The front side of the logic board, which was not removed from during the teardown, appears almost identical to the circuit board found in 2018's tablet, save for a swap to Apple's A12Z processor. There are a few minor changes, like redesigned power and data connectors, and what could be the replacement of a chip identified in 2018 as "343S00248-A0 1835NHGY."
As illustrated by a now obligatory bend test, iPad Pro unsurprisingly buckles when enough force is exerted on the thin aluminum chassis. The perfunctory overview shows no structural enhancements were added to the tablet.
Whether this year's iPad Pro suffers from the same out-of-the-box bend as its predecessor is unknown. Apple last year said "some" units shipped out with a slight curvature at or near the dielectric antenna "lines" that trace their way around cellular-capable versions of the device. Following customer complaints, the company issued a statement on the matter, saying its engineering tolerances allow for a deviation of no more than 400 microns across any one side.
AppleInsider is currently evaluating the 2020 iPad Pro and will have much more on the tablet this week.
Zoom is a dumpster fire. Try these two alternatives for video meetings – Chrome Unboxed
We're nearly one month into the pandemic that is responsible for millions of employees and students making the move to online work and learning. In that shift, no software has seen a rise in popularity as much a chat and video conferencing apps. As a matter of fact, Google Engineer Justin Uberti proposed that March 17th was very possibly the busiest day for video conferencing in history. The happy side of this story is that there is a bucket full of video meeting platforms out there that have allowed users to quickly and easily make this transition and do so at no cost. Many companies that offer chat software have gone so far as to up the features offered on their free tiers to make meetings more manageable and accessible. That's especially important for students and consumers who are looking for alternatives for face-to-face meetups.
<!– –>If you have scrolled through Google News, Twitter, Facebook or any other site that "reports" current events, you have likely heard the name Zoom. The video meeting software company has seen an overnight explosion in its user-base thanks to its low barrier of entry, free plan and cross-platform capabilities. We at Chrome Unboxed have even shared a couple of articles on how to best use the chat software. According to a blog post from Zoom, their daily meeting numbers ballooned a whopping 2000% in March compared to December of 2019. More than 200 million free and paid meetings are taking place on a daily basis via Zoom. Sadly, we aren't living in a perfect world and that truism applies just as much to software as it does anything.
As Zoom's explosion in growth continues, so does a surmounting list of complaints against the chat software that range from exposed emails to unauthorized installations, stealing Windows credentials and let's not forget about the absolutely horrid trend of "Zoombombing" that's exposing our kids to garbage such as porn and uninvited chatroom guests with malicious intent. Now, I am not here to bash Zoom but the outlandish number of reports surrounding the security (or lack-there-of), privacy and grey areas surrounding Zoom's ToS are enough to make me take pause before letting my kids hop on a video chat. I'll save the rant for other bloggers but if you'd like to get an in-depth look at all of the questionable issues that Zoom is facing, The Verge's Casey Newton penned a wonderful piece on the subject that points out exactly where Zoom went wrong and in Zoom's defense, the CEO did just publish a massive blog post outlining a 90-day plan to improve the platform.
All that said, I am writing with the hopes of creating more awareness of some alternative tools that are available to users that present better security and a similar barrier to entry as Zoom. Both of these platforms have been around for a decade or more and offer cross-platform capability. Not only that, they come from companies that deal with enterprise-level security, (Which is what Zoom claimed they did but that wasn't exactly true.) Here are two great alternatives to Zoom that will offer you a similar experience and allow you as many as 100 participants in a meeting and are completely free for most users.
Skype
<!– –>Haven't heard that name in a while, have you? Yes, Microsoft's messaging platform is alive and well and thank's to the progressive web, you can use Skype on just about any device. With Skype's "Meet Now" feature, you can even create a meeting and get your call up and running without an account or the need for your participants to log into anything. Simply create your meeting, share the link and users can join directly from the browser. On a Chromebook, you will get an error message that says Chrome OS can't open the page. Dismiss the message and click Join as a guest. This room is fairly basic but you can share your screen which is mostly what users need right now. For more functionality, the host can sign up for a free Microsoft account and secure the chat by locking the room when all participants have arrived. Check out Skype at the link below. <!– –>
Cisco Webex
<!– –>A leader in enterprise network technology, Cisco Systems acquired WebEx in 2007 and since it has evolved into a powerful and versatile web conferencing platform. Currently, Cisco has opened the throttle on their freemium tier and users can connect to as many as 100 participants with no limits on meeting time. The free plan hosts a lot of other great features including cross-platform, browser-based meetings and call-in via VoIP.
Up to 100 participants in each meeting (Up from 50)
Meet as long as you want (Up from 40 min limit)
Call-in for audio (in addition to existing VoIP capabilities)
Unlimited number of meetings
Desktop, application, file & whiteboard sharing options
Video conferencing features
Webex Teams collaboration features
Mobile features
Security features
Online support
Cisco Webex<!– –>
The question was posed to me this morning, "would you used Zoom for a meeting today?" My answer is a hard no. That is not to say that I don't believe that Zoom won't get their house in order. I simply feel that there are better options available right now while they get their ducks in a row. Ask me again in three months and I have high hopes my answer will be different.
Featured image credit: DreamsTime
COVID-19: Here's how to boost your internet speed when everyone else is working from home – National Post
With #StayAtHome and social distancing now becoming a way of life, an increasing number of people are relying on the internet for work, education and entertainment. This has placed greater demand on our network infrastructure, reducing the bandwidth available for each user, and is leaving people frustrated at seemingly slow internet speeds.
While internet service providers may not be able to instantly respond to these changes, there are a few tricks you can use to boost your home internet's speed.
Why is your internet slow?
There may be many reasons why your internet speed is slow. Internet use requires a reliable connection between your device and the destination, which may be a server that is physically located on the other side of the world.
Your connection to that server could pass through hundreds of devices on its journey. Each one of these is a potential failure, or weak point. If one point along this path isn't functioning optimally, this can significantly affect your internet experience.
Web servers in particular are often affected by external factors, including Denial of Service (DOS) attacks, wherein an overload of traffic causes congestion in the server, and impedes proper functioning.
While you may not have control over these things from your home network, that doesn't mean you don't have options to improve your internet speed.
Wifi signal boost
The access point (wireless router) in your home network is used to connect your devices to your internet service provider. Most access points provide a wireless signal with limited channels, which can suffer interference from nearby signals, like your neighbour's. A "channel" is a kind of virtual "pipe" through which data is transferred.
Although your devices are designed to avoid interference by switching channels automatically (there are usually 14 available), it may help to check your router settings, as some are set to a single channel by default. When trying different options to reduce interference, it's advisable to select channels 1, 6 or 11 as they can help to minimise problems (for 2.4GHz wireless).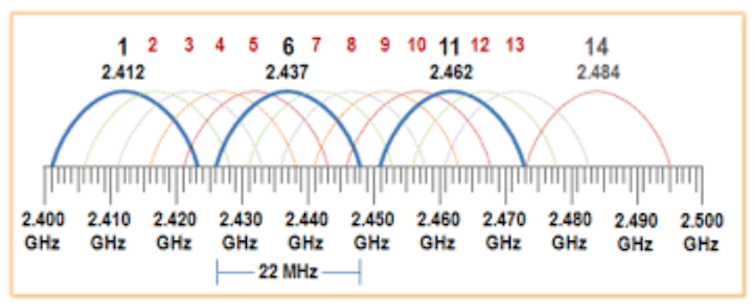 What else can you do?
There are further things you can try to improve your wifi signal. If your router supports 5GHz wifi signals, switching to this can provide a faster data rate, but over shorter distances. Reposition your router for best coverage (usually a central position).
The difference between 2.4GHz and 5GHz wifi signals is they have different data transmission speeds. While 5GHz can transfer data faster (with 23 available channels), 2.4GHz provides a wider range. If you want speed, go for 5GHz. For better coverage, choose 2.4GHz.
Some domestic appliances can cause interference with your router. It's worth checking if using your microwave oven, cordless phone or baby monitor affects your connection, as they may be using the same frequency as your router.
Using a wifi extender can help with coverage by boosting or extending the signal.
Viruses and malware
To avoid computer viruses, make sure you regularly check for updates on your devices and use antivirus software. It's also worth rebooting your router to clear specific malware (malicious software designed to damage your device or server), such as VPNFilter – a malware that infects more than half a million routers in more than 50 countries.
You should also check the following:
does your router need to be replaced with a newer model? This may be the case if it has been used for many years. Newer models support enhanced functions and faster internet speeds
Planning your usage
If multiple people are streaming video at your home, which often requires ten times the daytime demand, a limited internet connection will soon be fully used.
Try to plan your and family members' online activities around peak times. Before the pandemic hit, most internet usage was likely oriented around the early evenings, after close of business. With the shift to remote working and schooling, more internet access is likely during the day, with a 10% usage increase overall, and a 30% increase at peak times.
Outside your home, connectivity is likely to be on a "best effort" plan, which shares a fixed bandwidth with other users. In other words, your mobile internet bandwidth is shared with others in your area when they access the internet at the same time. A shared bandwidth results in slower individual speeds.
You can't control how many people access the internet, but you can manage your own internet activity by downloading large files or content overnight, or outside of peak hours (when there is less traffic).
How to improve your ISP's network issues
While you can try to fix issues and optimise the setup inside your home, unfortunately you can't really influence network performance outside of it. Thus, contacting your internet service provider's call centre and seeking support is your best option.
All of the above considered, it's important to remember that when using the internet, we're sharing a limited resource. Just like buying pasta or toilet paper, there are many who need it just as much as you, so use it wisely.
By James Jin Kang, Lecturer, Edith Cowan University and Paul Haskell-Dowland, Associate Dean (Computing and Security), Edith Cowan University
This article is republished from The Conversation under a Creative Commons license. Read the original article.
Google data suggests how well Canadians are staying at home – Toronto Sun
Google has released data showing how some Canadians are abiding by "stay home" orders during the pandemic.
According to the anonymized data yielded from mobile users who have Location History turned on, transit stations across Canada are seeing the biggest drop in visitors by 66%. In Ontario, specifically, the percentage is equal to the national baseline.
The next largest drop among the six categories is retail and recreation at 59%. People aren't frequenting places such as cafes, restaurants, shopping centres, theme parks, museums, libraries, and movie theatres — mainly because all those places except for the first two are shut down, unless ordering take-out and delivery. Ontario sits no differently at 59%.
Canadian workplaces are down by 44% as many people are now working remotely. The only increase in all categories is "residential" by 14% as many are staying at home. Ontario has a slight increase in the workplace area — down 46% — and residential matches the national data at 14%.
Essential services — grocery markets, food warehouses, special food shops, drug stores and pharmacies — have also seen a decrease of foot traffic at 35%. In Ontario, it's down 33%.
Visits to parks are only down 16% across the country, while Ontario has seen a 14% decrease. Mayor John Tory announced Thursday that while city parks remain open, people who don't live in the same household could be fined up to $5,000 under a new bylaw if they do not keep two metres apart. The new bylaw is a result of throngs of people being spotted at local parks, public beaches, plazas and public gardens.
Google says the report was prepared "to help you and public health officials understand responses to social-distancing guidance related to COVID-19." It says the report "shouldn't be used for medical diagnostic, prognostic or treatment purposes. It also isn't intended to be used for guidance on personal travel plans."