iPhone 12 Pro Max Has Smaller 3,687 mAh Battery According to Regulatory Filing
Apple's new iPhone 12 Pro Max is equipped with a 3,687 mAh battery, which is around 7% less capacity than the 3,969 mAh battery in the iPhone 11 Pro Max, according to a regulatory filing published by TENAA, the Chinese equivalent of the FCC.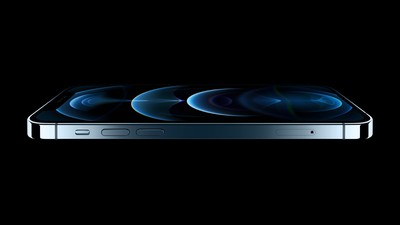 The regulatory filing, spotted by MacRumors, also lists the iPhone 12 Pro Max with 6GB of RAM as seen in benchmark results last week.
Apple has filed many products with TENAA over the years, and the listings have proven to be accurate on multiple occasions. Last year, for example, accurate battery capacities and RAM in the iPhone 11, iPhone 11 Pro, and iPhone 11 Pro Max appeared in the database a few days prior to those devices launching. A rumor also suggested that the iPhone 12 Pro Max would have a 3,687 mAh battery earlier this year.
Despite having a smaller battery, Apple's tech specs indicate that the iPhone 12 Pro Max has the same battery life as the iPhone 11 Pro Max, with both devices providing up to 20 hours of video playback and up to 80 hours of audio playback.
Apple never discloses battery capacities or RAM in iPhones, but teardowns of the new devices should confirm these details in the coming days.
Source:- MacRumors
Amazon says 2020 holiday shopping season is its biggest yet – CNET
Best 75-inch TV for 2020: TCL, Samsung, LG and Sony compared – CNET
While a 65-inch TV remains an ever-popular size, if you feel like you're ready for an upgrade, the most common next step is to check out 75-inch models. It's a size available in a lot of the best TV series we review at CNET — even those fancy OLED TVs (technically they're 77 inches, but they're still included on this list).
If you're choosing between an excellent 65-inch model or a 75-inch set that performs a bit worse, but has a comparable cost — don't be afraid to go big! More than a slight increase in color accuracy, image quality, viewing angle or any smart functionality, stepping up in TV screen size is the best use of your money. I'm not advising you to get a 75-inch TV that doesn't perform well enough to satisfy you, however. That's where the reviews come in: to help you decide just how much money to spend.
The list below represents the best TVs I've reviewed in CNET's test lab, where I compare them side by side to see which is most worth buying. In 2020, my TV lab is my basement, and as usual, I've actually reviewed the 65-inch sizes in the series listed below. That said, the 75-inch versions are basically identical beyond screen size.
Here are my latest recommendations, which I update as I review new TVs, with the following notes to keep in mind.
David Katzmaier/CNET
No TV I've ever tested offers this much picture quality for this little cash. The 2020 TCL 6-Series has even better image quality than its predecessor, thanks to mini-LED tech and well-implemented full-array local dimming that helps it run circles around just about any other TV at this price. It's also a solid choice for gamers with a new THX mode that combines low input lag and high contrast. As if that's not enough, the Roku TV operating system is our hands-down favorite.
David Katzmaier/CNET
What's that you say? You just want the best TV in this size class, money no object? Here you go. In my side-by-side tests, the 2020 LG CX is the best TV I've ever reviewed, barely beating its 2019 predecessor. OLED TVs don't come in a 75-inch size, so this 77-inch model is the closest equivalent.
Sarah Tew/CNET
Splitting the difference between the two models above in price and picture quality, his TCL features Mini-LED, a technology that isn't found on any other TV currently available. The result is superb picture quality that outdoes any other LCD-based TV we've tested, although it doesn't quite hit OLED levels. And just like the 6-Series above, it uses the Roku smart TV system.
David Katzmaier/CNET
Samsung sells more TVs than anyone and our favorite for 2020 is the Q80T series. Its sleek design stands out compared to the other TVs on this list — although the ultra-thin LG CX OLED is even sleeker — and it also offers excellent image quality, next-gen gaming connectivity and a great smart TV system. The TVs above are superior values but if you want a Samsung anyway, this is a great choice.
Sarah Tew/CNET
Roku is our favorite platform for streaming apps like Netflix, and it's even better baked into this 75-inch TV. Image quality on this TCL can't beat any of the models above — its 4K UHD screen resolution and HDR compatibility don't do anything to help the picture — but it's perfectly fine for most people, especially at this price.
Other stuff to know about buying a new TV
I'm pretty sure you'd be happy with any one of the TVs above, but a new smart TV set can be a big investment, so maybe you're looking for a bit more information. Here's a quick and dirty list.
Looking for even more info? Here's everything to know (and more) about buying a new TV in 2020.
More TV recommendations

Buy an iPhone 12 and get 50 percent off an iPhone 11 with financing at Rogers – MobileSyrup
Rogers is offering a new iPhone 12 deal that's great for couples.
If you purchase an iPhone 12, you can now get 50 percent off an iPhone 11 64GB with financing on a Rogers Infinite plan. With 50 percent off, you'd then pay $18.23 per month for two years instead of $36.46. This deal is only valid if you're also financing the iPhone 12. Additionally, the offer is only available for new activations or if you're upgrading.
This works with any iPhone 12 variant, including the iPhone 12 Pro, 12 Pro Max and the iPhone 12 Mini.
You can learn more about this deal here.
The carrier is also offering promotions on Samsung's Galaxy S20 5G and the iPhone 11 Pro Max when you can add a new line for $60 per month that gets you 20GB per line.
There are additional deals on the LG Velvet, Pixel 4a and more.