Israel to brief FDA on Covid-19 vaccine boosters as health experts seek data to back Biden's 3rd jab rollout plan – RT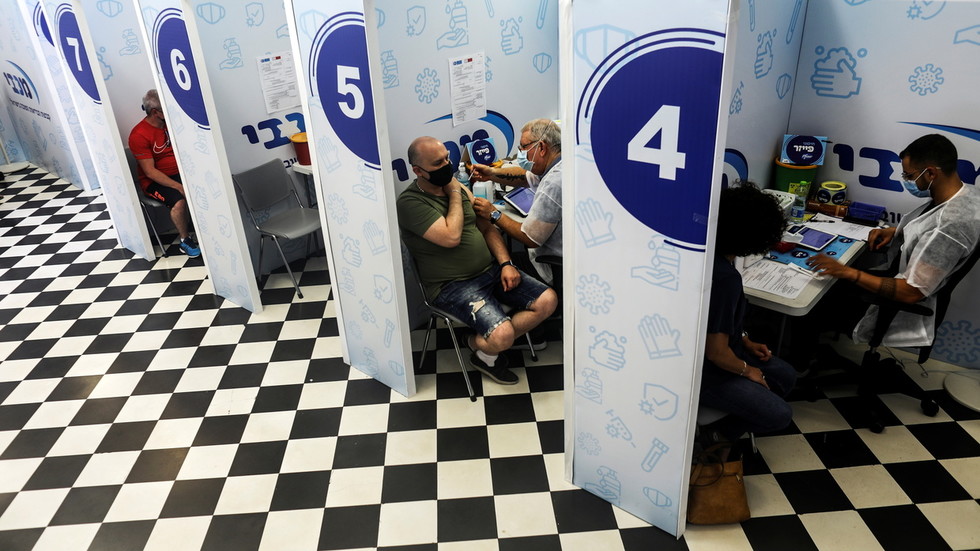 Israeli health officials have agreed to present data from their country's rollout of Covid-19 vaccine booster shots to the FDA, potentially providing ammunition to help the Biden administration justify such a program in the US.
The US Food and Drug Administration (FDA) asked Israel's Health Ministry to brief the agency's advisory committee on booster-shot data at the panel's September 17 meeting, according to Sharon Alroy-Preis, the ministry's head of public health.
"We have been asked to come and present Israel's experience and our data so that we can truly help the whole world to learn," Alroy-Preis said on Sunday in an interview with the country's Channel 12 TV.
Israel launched its booster-shot program on August 1, citing the waning efficacy of Covid-19 vaccines over time, and has so far administered the additional jabs to about 2.6 million people, or roughly 28% of the population.



Also on rt.com
'More data needed': Top health officials reportedly urge White House to 'follow science' & DELAY vaccine booster plans




Last week, Israel expanded the availability of third doses to all residents 12 and older, even as Covid-19 cases continued to surge amid the rollout. Health Ministry officials predict a drop in cases in the coming days, and hope the country will reach the so-called herd immunity "in the next month or two."
Critics, however, fear the country is headed towards a "perpetual cycle of jabs," as authorities said vaccinated people will lose their "green pass" privileges not only six months after the holder receives a second dose, but also six months after their third jab.
Two high-level FDA vaccine officials quit the agency last month, reportedly at least in part because President Joe Biden's administration announced plans for booster shots to start being administered on September 20, despite not having secured approval from regulators. Other US health officials have urged the White House to hold off on the program until data has been adequately reviewed.
READ MORE: Americans will 'likely' need 3rd Covid shot to qualify as 'fully vaccinated,' Fauci says as booster battle rages at FDA
Chief White House medical adviser Doctor Anthony Fauci said on Sunday that the Pfizer-BioNTech vaccine will 'likely' be approved by the FDA in time for Biden's deadline, and Moderna's jab will probably get the green light soon thereafter. He has said, too, that Americans will likely need to get a booster shot to qualify as "fully vaccinated."
The World Health Organization last month called for a moratorium on vaccine booster shots in rich nations because of supply shortages around the world.



Also on rt.com
'This is life from now on': Israel's coronavirus czar warns people to prepare for a 'fourth injection' of Covid vaccine




Like this story? Share it with a friend!
Instagram pausing Instagram Kids, eyes changes – Business News – Castanet.net
Photo: The Canadian Press
Instagram is putting a hold on the development of Instagram kids, geared towards children under 13, so it can address concerns about access and content.
Adam Mosseri, the head of Instagram, wrote in a blog post Monday that a delay will give the company time to "work with parents, experts, policymakers and regulators, to listen to their concerns, and to demonstrate the value and importance of this project for younger teens online today."
The announcement follows a withering series by the Wall Street Journal, which reported that Facebook was aware that the use of Instagram by some teenage girls led to mental health issues and anxiety.
Yet the development of Instagram for a younger audience was met with broader push back almost immediately.
Facebook announced the development of Instagram for kids in March, saying at the time that it was "exploring a parent-controlled experience." The push back was almost immediate and in May, a bipartisan group of 44 attorneys general wrote to Facebook CEO Mark Zuckerberg, urging him to abandon the project, citing the well being of children.
They cited increased cyberbullying, possible vulnerability to online predators, and what they called Facebook's "checkered record" in protecting children on its platforms. Facebook faced similar criticism in 2017 when it launched the Messenger Kids app, touted as a way for children to chat with family members and friends approved by parents.
While concerns about Instagram for kids is ongoing, Mosseri said that Instagram believes it's better for children under 13 to have a specific platform for age-appropriate content, and that other companies like TikTok and YouTube have app versions for that age group.
"We firmly believe that it's better for parents to have the option to give their children access to a version of Instagram that is designed for them — where parents can supervise and control their experience — than relying on an app's ability to verify the age of kids who are too young to have an ID," he wrote.
Mosseri said that Instagram for kids is meant for those between the ages of 10 and 12, not younger. It will require parental permission to join, be ad free, and will include age-appropriate content and features. Parents will be able to supervise the time their children spend on the app, oversee who can message them, who can follow them and who they can follow.
While work is being paused on Instagram Kids, the company will be expanding opt-in parental supervision tools to teen accounts of those 13 and older. More details on these tools will be disclosed in the coming months, Mosseri said.
Rescue efforts underway after 39 miners trapped underground in Sudbury – Globalnews.ca
Rescue efforts are underway after 39 miners became trapped underground at Vale's Totten mine in Sudbury, Ont., on Sunday afternoon.
On Monday afternoon, a Vale spokesperson confirmed the rescue crew had reached the miners and is starting the ascent. The company expects everyone to reach the surface by Monday night.
"We have learned that no one is injured, which is our number one concern," Vale spokesperson Jeffrey Lewis said in an email.
"The miners have had and continue to have access to water, food and medicine."
The company said the conveyance for transporting employees was taken offline following an incident in the shaft on Sunday afternoon.
It confirmed that employees will exit the mine through a secondary egress ladder system with the support of Vale's mine rescue team.
When the incident took place, the employees underground immediately went to refuge stations as part of what Vale called its "normal procedures."
"We have been in frequent communication with them since the incident," the company said in a statement. "We are doing everything we can to ensure the safety of these employees."
On Monday, Ontario Premier Doug Ford said he's relieved to hear the miners are uninjured.
"Our thoughts are with the 39 miners trapped underground in Sudbury as rescue teams work to get them safely above ground," Ford tweeted.
Timmins—James Bay MP Charlie Angus also said he's praying for the safety of the mining workers.
"Let's get everyone home," he said.

0:45


Maintenance workers trapped in Saskatchewan potash mine rescued, are safe



© 2021 Global News, a division of Corus Entertainment Inc.
Poker Pal of Evergrande Founder Heads for the Exit – Bloomberg Markets and Finance