Kanye West defends art following video backlash – Calgary Herald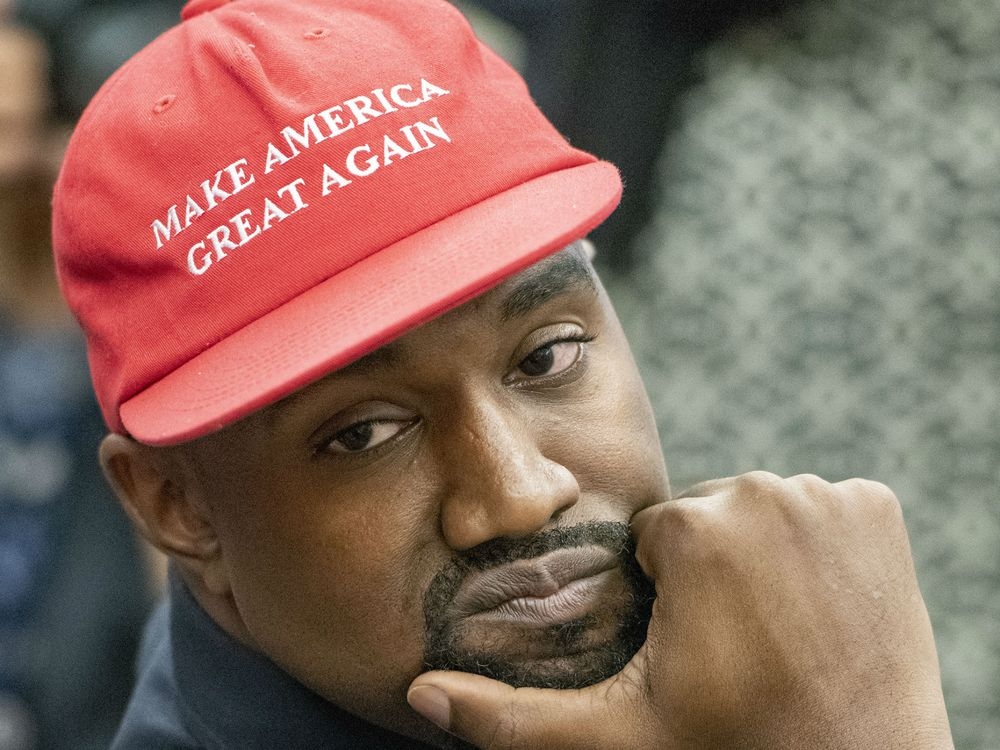 Reviews and recommendations are unbiased and products are independently selected. Postmedia may earn an affiliate commission from purchases made through links on this page.
Article content
Kanye West has claimed "art is therapy".
The 44-year-old rapper has faced criticism over his latest music video, 'Eazy', a violent claymation piece in which kidnaps a Pete Davidson lookalike, throws a bag over his head and ties him up, and carries the sculpture head of the 'Saturday Night Live' star, and so he has spoken out to defend himself.
He wrote on Instagram on Sunday: "Art is therapy just like this view. art is protected as freedom of speech. art inspires and simplifies the world. Art is not a proxy for any ill or harm.
Article content
"Any suggestion otherwise about my art is false and mal intended.(sic)"
A number of stars have hit out at the 'Stronger' hitmaker – who recently legally changed his name to Ye – for the video and come to the defence of Pete, who is in a relationship with Kanye's ex-wife Kim Kardashian.
Director James Gunn tweeted: "For the record, Pete Davidson is one of the nicest, sweetest guys I know. A truly generous, tender funny spirit, he treated everyone around him with respect."
Kim – who has North, eight, Saint, six, Chicago, four, and two-year-old Psalm – liked the filmmaker's post and when a screenshot was shared by Instagram account Comments By Celebs, Pete's 'Meet Cute' co-star Kaley Cuoco also shared her support.
She commented: "Fact."
Article content
And Gene Simmons suggested Kanye needed a "b—- slap" and a "hobby" to stop him obsessing over the brunette beauty's new relationship.
He said: "Pete's a cool guy, takes the high road, just ignore it.
"At a certain point if somebody misbehaves, [they need] a good b—- slap, 'Oh sorry I didn't realize I was such an a–hole.' It's possible [that's what Kanye needs].
"Guy, you've got a roof over your head, food in your tummy, you can do whatever you want. Get a hobby. That's better. Leave them alone, move on.
"Love your kids, love the mother of your kids and let her make her own decisions. She's a grown a** woman and she doesn't need your permission."
The KISS rocker also branded the 'Bound 2' hitmaker's new public romance with Chaney Jones "childish" and urged the brunette beauty not to be a "hand puppet" in the rapper's games.
He added: "Being like that publicly, getting a Kim lookalike, it's childish and it's not fair to this girl who happens to resemble Kim. Good for you, resemble anybody but don't be a handpuppet to someone who's playing a game.
"He needs to back up. He's not a bad guy."
Friends come together to bring group art show to Chilliwack Cultural Centre – Chilliwack Progress – Chilliwack Progress
Four friends who met during an art class at ElderCollege have come together to bring a group show to the Chilliwack Cultural Centre.
Visions and Perspectives – by Chilliwack artists Christine Newsome, Betty Meiszner, Vicki Ray and former Chilliwackian Dianne Hultgren – is an exhibition at the O'Connor Group Art Gallery in the Chilliwack Cultural Centre from May 18 to June 25.
It was about 10 years ago when the four met. Newsome was teaching a mixed-media collage art class at ElderCollege and the other three were her students.
Ray said she took the class because she had a "thirst for learning."
"(Art) is something that's continued throughout my life," she said. "When I was in high school, my art teacher was a pivotal point in my life."
Newsome admits that after a few years of teaching the same course, she got tired of it. But she and many of her students really enjoyed making art together.
"There were a lot of ladies who were quite enthusiastic about continuing, so we formed the Chilliwack Collage Collective which went for a few years and in the end, we four just kept on going," Newsome said.
She taught at Vedder Middle School for years and retired in 2009. Meiszner also taught in the Chilliwack School District as an elementary teacher and vice principal for 25 years, and Hultgren taught here for about 35 years as well.
Although Hultgren moved to Vancouver Island a number of years ago, she's stayed in close contact with the other three artists who get together in-person every week at Meiszner's home studio. Hultgren often joins via Zoom.
Why do they work so well together?
"I think it's because there's no competition between us," Ray said.
She has been a member with other art groups in the past where she said sometimes she would feel threatened.
But that's not the case with the four members of the Chilliwack Collage Collective where they constantly motivate each other and ask for opinions and critique.
"I think it's a feeling of encouragement," Newsome said.
"We're also all pretty strong in what we want to do," Meiszner added. Even when she gets suggestions from the others on how to change something in her artwork, she said she still feels like she can go ahead and complete her piece the way she intended.
This is the second show the four women have done together. Back in 2017, their show Fragments was on display at the Cultural Centre featuring all mixed-media collage art. Visions and Perspectives will showcase a wider variety of mediums.
Meiszner does "a little bit of everything" when it comes to her work.
"I'm one of those jack-of-all-trades-and-master-of-none," she said.
She prints her own photos on materials such as muslin and tissue paper, makes journals, does encaustic art (pieces that are covered in a coating of wax), and eco-dyes paper where she sticks plants between pieces of paper, then boils it, dries it and irons it.
Both Ray and Newsome will have mixed-media pieces in the show.
"My art tends to be a bit of humour and sometimes it tells a story," said Ray, who uses acrylic paints, paper, found objects and "whatever fits."
Newsome, whose inspiration comes from history, usually starts her artwork with a colour and then adds paper on top.
"My work is really instinctive. I have no idea what I'm going to be doing when I start," she said. "It's just playing with things."
Diane Hultgren's realistic landscapes and still-life pieces are drawn from her love of nature and sun-filled days growing up in the B.C.'s Okanagan. She uses pastels and acrylics.
Newsome said unlike Fragments, where all the artwork was mixed-media collage, it was difficult to find a common thread with Visions and Perspectives.
But there is one obvious connection.
"The fact is that we are all friends… and it's art," she said.
Visions and Perspectives by Christine Newsome, Betty Meiszner, Vicki Ray and Dianne Hultgren is at the art gallery in the Chilliwack Cultural Centre (9201 Corbould St.) from Wednesday, May 18 to Saturday, June 25. Opening reception is Saturday, May 21 from 1 p.m. to 3 p.m. Admission is free. Gallery hours are Wednesday to Saturday from noon to 5 p.m.
---
Do you have something else we should report on?
Email: jenna.hauck@theprogress.com
Twitter: @PhotoJennalism
Portfolio: weekly art listings – St. Albert TODAY
VASA
May's exhibit is Transdimensionality: What Moves You? — a collaborative exhibit between members of the public and members of the Sculptors' Association of Alberta. People contributed photographs the sculptors then interpreted into their own three-dimensional works. Participating sculptors include Carroll Charest, Yiyi Datar, Tania Garner-Tomas, Jennifer Lang, Beverly Oliwa, Wanda Resek, Susanne Scheers, Ellie Shuster, Keith Turnbull, Lisa Wilkinson, and Robert Woodbury. Until May 28.
25 Sir Winston Churchill Ave. 780-460-5990 and vasa-art.com
Art Gallery of St. Albert
High Energy 27 makes its triumphant in-person return after a two-year hiatus. The annual high school art student show features more than 100 works by students from Bellerose Composite High School, École Alexandre-Taché, École Secondaire Paul Kane High School, St. Albert Catholic High School, and Outreach High School. In-person tour with curator Emily Baker is at noon on May 24. A virtual tour with curator Emily Baker will take place at noon on May 26. Until June 4.
Kanawêyimêw (She Takes Care of Them) is the incoming exhibit by Cree and Métis artist Michelle Sound. Her work is based on her family history from the Wapsewsipi/Swan River First Nation on Canada's west coast, the unceded and ancestral home territories of the Musqueam, Squamish, and Tseil-Waututh peoples. She has two bodies of work to show. Chapan Snares Rabbits (consisting of 14 rabbit fur drums) will be on display on the stairs, while the photographic series called nimama hates fish by worked in the cannery will be on display in the vault. Virtual tour with curator Emily Baker will take place at noon on June 21. Until Aug. 6.
19 Perron St., 780-460-4310; artgalleryofstalbert.ca
St. Albert Public Library
The regular Art in the Library monthly art display of works by members of the St. Albert Painters Guild is on hiatus for the ArtWalk season. Members of the St. Albert Photography Club will have works on display for May instead. Until Tuesday, May 31.
5 St. Anne St. (in St. Albert Place). 780-459-1530; sapl.ca
St. Albert Seniors Association
The St. Albert Photography Club has a rotating selection of artistic photographs on display in the foyer area of Red Willow Place.
7 Taché St. stalbertphotoclub.com
National Image Salon
St. Albert professional photographer Jason Marino has four of his images on exhibit in a national online salon that celebrates the best of Canadian professional photography. He is also one of the finalists in the Photographic Artist of the Year category. The competition features entries from across Canada in 22 different classes, including commercial, portrait, fine art, and wedding. Marino's image, called Unwavering Eye, has also been selected for inclusion in the prestigious Professional Photographers of Canada's 2022 Loan Collection, a national exhibition celebrating the best of Canadian professional photography. The salon was revealed on April 23 online and live on the Professional Photographers of Canada Facebook page at facebook.com/PPOCNational. More of the artist's works can be found on his website at jasonmarinophotography.com.
Events
Colour Scheme is a rotating monthly online art gallery featuring selected works by students of Bellerose, Paul Kane, and St. Albert Catholic high schools. Each month of the school year, several pieces from each school will be highlighted on The Gazette's website at www.stalberttoday.ca on the last Saturday of the month. The most recent exhibit focusing on heliotrope was posted on April 30.
ArtWalk is returning for another summer of the city's newest and best visual art, with different artists each month. The event takes place inside and outside on the first Thursdays of each month. The next events are: June 2, July 7, Aug. 4, and Sept. 1. Locations include the St. Albert Public Library; WARES in St. Albert Place; the Musée Héritage Museum; Art Gallery of St. Albert; VASA (Visual Arts Studio Association); the Bookstore on Perron; La Crema Caffe; and the Big Lake Artists Studio. Supporting venues include Confections Cake Co; Divine & Free Wellness and Medical Spa; Inspired Home Interiors; Turkish Coffee House; and XO & Mane Boutique. artwalkstalbert.com
Art in the Open takes place from 10 a.m. to 4 p.m. on June 11. Members of the St. Albert Painters Guild will have their artworks on display in more than two-dozen front yards for this self-guided art tour with shows and sales across the city, rain or shine. Visit paintersguild.wildapricot.org for more information.
Art for spring and beyond – Winnipeg Free Press
After a long winter, having a bit of colour can be encouraging, especially when it comes in the form of art. The Spring into Summer Art Show & Sale, held from April 29 to May 1st at Elmwood/EK Active Living building, was an ideal opportunity for people to brighten up their homes while supporting local artists.
Every year, the Local Colours art group holds an exhibit and sale to showcase the work of local artists. As the organization's Facebook page notes, the "Local Colour Art Group is an organization of artists dedicated to the creation of art, and its promotion in the community." One of the difficulties for artists is finding an audience for their art beyond family and friends. The annual show and sale is one opportunity to attract the wider community.
Many people draw or paint as children, but it can be difficult to continue much beyond that without support from other artists. The Local Colours group "strives to provide a forum for members in which to gather to paint and to share their interests, skills and experiences," as the group's website states. Workshops, virtual paint and chat sessions, and the annual show and sale are among the ways that the artists in the group help support each other.
The annual show and sale is a good opportunity community, as well. For many people, art can seem distant and formal, something confined to artists whose works are displayed in galleries or shown only among the wealthy.
The Local Colours Annual Show & Sale sends the message that art can be for everyone. With the event taking place at a community centre rather than more formal setting, it was something that everyone could enjoy.
This year's event coincided with the early days of warmer weather in Winnipeg's extremely long winter. Although the show and sale is over for the year, it is also a beginning both for the artists who exhibited their work and for the community.
Creating art can be a long process, involving years of training and experience, but it can also involve quick flashes of inspiration as artists see or hear something that stirs the imagination. Many people will look forward to seeing what this year's creativity brings.
Susan Huebert
Elmwood community correspondent
Susan Huebert is a community correspondent for Elmwood