Levi Shuts Out Czechs in 3-0 Win at World Juniors – VOCM
Team Canada is on to the semifinals at the World Junior Hockey Championship after a 3-0 win over the Czech Republic on Saturday night.
Netminder Devon Levi put up a 29-save shutout performance to book Canada's ticket to the final four. The Czechs gave Canada their toughest test of the tournament so far, outshooting them 29 to 24.
Dylan Cozens, Bowen Byram, and Connor McMichael led the way for Canada with a goal each. Cozens now leads the tournament in goals with seven.
St. John's native Alex Newhook missed the game with an upper-body injury. He's listed day-to-day.
Team Canada's semifinal tilt against Russia is set for 7:30 p.m. Newfoundland time on Monday night.
Hinchcliffe inks full-time ride with Andretti – TSN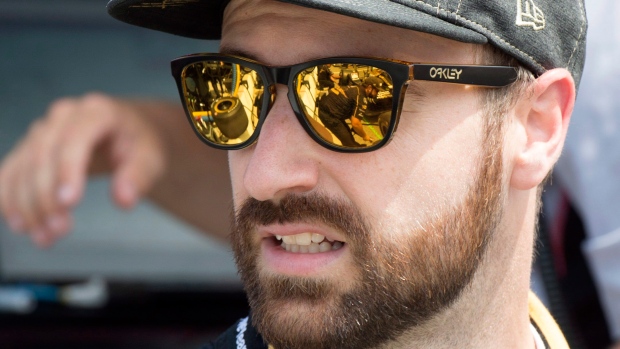 Canada's James Hinchcliffe will return as a full-time driver on the IndyCar circuit in 2021.
Andretti Autosport announced Tuesday that Hinchcliffe will drive the No. 29 Honda this season.
The 34-year-old Hinchcliffe, from Oakville, Ont., lost his full-time ride with Arrow McLaren SP after the 2019 season.
The Canadian competed in six races last year on a part-time deal with Andretti Autosport.
Hinchcliffe will be sponsored by Genesys for 10 race in 2021, including the Indianapolis 500. Remaining partnerships for Hinchcliffe's 2021 season will be announced in the coming weeks, Andretti Autosport says.
The 2021 campaign will mark Hinchcliffe's 11th year in IndyCar. He has won six races in his career.
"This program is something we've been working on since the day we signed our three-race deal with Andretti Autosport last March," Hinchcliffe said in a statement. "Being back full time has always been the goal, and it feels so great to know that I will be back on the grid and with such an amazing team, one I've had a lot of great memories and success with."
Hinchcliffe will be one of four drivers on the team this year, joining Colton Herta, Alexander Rossi and Ryan Hunter-Reay.
"We're really excited to have Hinch back in the car for 2021 and thrilled to welcome Genesys again to the Andretti family, this year in an expanded role," Andretti Autosport chairman and CEO Michael Andretti said in a statement.
Hinchcliffe will be one of two Canadian full-time drivers on the IndyCar circuit. Dalton Kellett of Stouffville, Ont., is preparing for his second season with A.J. Foyt Racing.
The first IndyCar race is scheduled for April 18 in Birmingham, Ala.
The Honda Indy Toronto, the lone Canadian race, is scheduled for July 11. It was cancelled last year because of the COVID-19 pandemic.
This report by The Canadian Press was first published Jan. 26, 2021.
Michael Hutchinson returns to the backup seat as Jack Campbell out "weeks" with LBI – Maple Leafs Hot Stove
Man plans, the hockey Gods laugh.
The Leafs' robust strategy for addressing their goaltending depth throughout 2020 —acquiring Jack Campbell from LA last February with good early returns, and signing Aaron Dell, who started 33 games for the San Jose Sharks last season (.907), to be their #3 this past offseason — has been undermined, at least for the next several weeks, by a collection of conspiring forces: injuries, lack of cap space, and a waiver claim.
Jack Campbell is out for weeks with a leg injury, according to Sheldon Keefe. Michael Hutchinson is the #leafs No. 2 for the forseeable future.

— Chris Johnston (@reporterchris) January 26, 2021
The Leafs are now left with Michael Hutchinson in the backup position again just seven games into the 2021 season — at least while Jack Campbell recovers from his leg injury sustained in Calgary.
To recap the timeline:
After the botched Curtis McElhinney – Garret Sparks decision in October 2018, the Leafs were left to scramble for backup help and ended up acquiring Michael Hutchinson in December 2018 from the Florida Panthers. Hutchinson recorded a .887 save percentage in nine appearances that season while passing through waivers once. The Leafs re-signed him the following offseason.
After bringing Michal Neuvirth to camp on a PTO in hopes he could grab the backup reins only for Neuvirth to bail to Europe, Hutchinson entered the 2019-20 season as the Leafs' backup and posted a .888 in 16 appearances.
The Leafs acquired Jack Campbell in early February of 2020.

Hutchinson was waived and sent to the minors a week later, then traded to Colorado in the deal for Calle Rosen at the trade deadline.
The Leafs signed Aaron Dell as their #3 before signing Hutchinson, who had made his playoff debut in the Avalanche crease for three starts in the playoffs (winning Games 5 and 6 but losing Game 7), as the Leafs' #4 in October of 2020.
An injury to Nick Robertson forced the Leafs to expose Aaron Dell to waivers earlier than they would've hoped due to cap constraints (though it was somewhat inevitable this would occur at some point this season). Dell was claimed by New Jersey. Hutchinson was called up to the taxi squad.
Jack Campbell went down to an injury versus Calgary in game #7 of the 2021 season, returning Hutchinson to the backup position for the next several weeks.
It's not how you would've drawn it up in a year where the games are coming fast and furious and more rest for Frederik Andersen was a clear priority entering the season. But them's the breaks.
The good news for the Leafs is that they do not have any back-to-backs until February 17-18 against the Ottawa Senators. That means they can roll with Andersen if they'd like for the next 10 games without starting him two nights in a row, and the next back-to-back comes against the worst team in the division. They also don't have another two-games-in-two-nights after the Feb. 17-18 games versus Ottawa until March 13-14. They could still look to give Hutchinson a softer-looking start — the Leafs are an improved defensive team so far this season, and Hutchinson was competent in the playoffs — at some point in the next 10 games to give Andersen a breather.
The Leafs could also keep an eye on the waiver wire in the next few weeks, although knowing the above about the schedule, they could just ride this out with Andersen and Hutchinson. Cap wise, the Leafs are already into LTIR with the Joe Thornton and Nick Robertson contracts, and they can move Campbell onto LTIR now as well, giving them the ability to add another option if they would like.
Maple Leafs' goaltending depth evaporates quickly with Campbell injury – Sportsnet.ca
Depth is a wonderful luxury in this compacted sprint of an NHL season. But, oh boy, can it dry up fast.
Even a team as prepared for absentee goaltenders as the Toronto Maple Leafs — who made sure to load up on four netminders with a minimum of 17 NHL appearances in 2019-20 — can have their most critical position tested before their eighth game of 2021.
Last week, cap-tight Toronto lost stud third-string goalie Aaron Dell to a New Jersey Devils waiver claim.
On Tuesday, coach Sheldon Keefe announced that backup Jack Campbell (2-0-0, .923) would be sidelined "weeks, not days" with a leg injury suffered in Sunday's victory over the Flames, interrupting the affable No. 2's stellar start.
Re-enter Michael Hutchinson, who will don the ballcap on the Maple Leafs bench for the foreseeable future.
Ostensibly, Hutchinson was signed back to Toronto in the off-season for two years and $1.45 million to fulfill an expansion draft qualification, improve the farm club's save percentage and provide a known commodity in an emergency situation.
It's not a five-alarm blaze yet, but the pressure on starter Frederik Andersen to perform — and stay healthy — just ratcheted up a notch.
"That's the game," Keefe said. "That's why you try to set yourself up with as much depth as possible, to deal with whatever might come our way. I do think the way the schedule sets up here now, it's pretty favourable for us and for Fred Andersen's workload."
Knock on wood, Andersen (3-2-0, .898 save percentage) could well start all of Toronto's next nine matches before the club's next back-to-back, Feb. 17-18 versus Ottawa.
"We still have lots of confidence in both Fred and Hutch," Keefe said. "He's coming here with a different level of confidence than what he had last time around."
Hutchinson — a 30-year-old journeyman — went 4-9-1 with a .889 save percentage for the 2019-20 Maple Leafs and was dealt to the Colorado Avalanche at the 2020 trade deadline.
When the Avs suffered multiple goaltending injuries in the playoff bubble, Hutchinson played admirably in relief, going 2-1 with a .910 save percentage in Colorado's tight second-round series against the Dallas Stars.
"He had a tough go here. At the same time, I believe there was a point in time where he won [three] consecutive starts for us," Keefe said. "He was finding his way, and then towards the end, it didn't go well. But he went off to Colorado, got put in a really tough position in the playoffs and gave them an opportunity to compete and get to Game 7."
Hutchinson's forced promotion to the backup role is just one of a handful of lineup changes Keefe is making in advance of Tuesday's rematch in Calgary.
Mikko Lehtonen will draw in for defenceman Travis Dermott, who was dealt his first healthy scratch since 2018-19.
Forwards Travis Boyd and Joey Anderson will both make their Maple Leafs debut, replacing Jason Spezza and Alexander Barabanov.
And Ilya Mikheyev has earned himself a promotion to the top six, where he'll flank John Tavares.
"Mikheyev has played very well. Lots of speed," Keefe said.
"Mickey has been really good here for the last few games. It hasn't resulted in goals or points or anything like that here quite yet, but he's been getting these opportunities. It's just a matter of time."
Joseph Woll, the club's 22-year-old prospect, is en route to Alberta. He'll join the Leafs road trip and fill the taxi squad's goaltending spot.