Media Release: Parents urged to seek first dose of COVID-19 vaccine for their child before the holidays – Hastings Prince Edward Public Health
Media Release: HPEPH offices and clinics cancelled today due to inclement weather – Hastings Prince Edward Public Health
Triathlon needs substance, not 'fake' social media – McCormack – Tri247.com
Chris McCormack is at the forefront of trying to take triathlon mainstream. He has firm beliefs on what is needed to achieve that, and also on what is holding it back.
While social media right now probably gives athletes their biggest gateway to audience and fan engagement, the two-time IRONMAN World Champion believes it can also be counter-productive.
The Australian, always opinionated and willing to talk about the state of the sport, believes it will only become seriously popular if the major personalities are authentic and really capture mainstream interest. Right now, he says, things risk heading in the wrong direction.
Athletes must be authentic
Speaking exclusively to TRI247, he said: "You need champions. You need athletes people can relate to and you need athletes with the courage to be authentic. People follow people. They always will.
"We push heavily in all we do at MANA Group and thus within Super League and all our projects in the storytelling component. Look at "Drive to Survive" and the uptake this has brought within Formula 1.
"We have been telling this to IRONMAN for years, but they never wanted to invest in that (and it's understandable as this is not their business model), so it was something we pushed to the forefront: making documentaries and storytelling around our athletes. If you follow us on our channels we do this across all our athletes. Relevance is substance – and substance is valuable.
"Social media is a hugely beneficial tool, but nowadays the fact this has been handed over to the individual has its limits as they always present the perfect version of themselves; this to be honest is boring.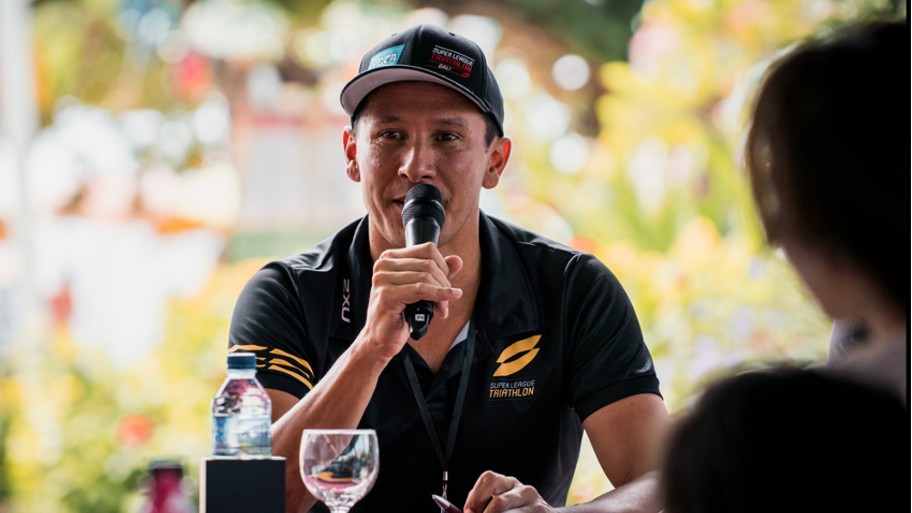 "I know I shake my head at the fakeness which has sort of just become an accepted norm. Everyone is so connected and critical of everyone it is a difficult environment to build authenticity and connectivity out of.
"The problem with adopting these filtered lives is that they don't inspire or capture momentum to build a sport on. It is a very narcissistic self-promoting world now and that is fine, if it wasn't so fake. Mainstream is easier to access now; it's just harder to hold onto.
"The sport needs to have the substance to support any star it creates, and that has never been the case. The sport at the ITU level was built around federations who are amateur at their core. They could not hold onto and support true professionalism. Even the ITU uniform restrictions limit that.
"The proof of the pudding in a fall from professionalism in a sport is athletics. It can support one or two stars nowadays. The uniforms and the lack of authenticity and stars limits its progression.
"Triathlon can go mainstream, but we need athletes with the charisma, character, and responsibility to put it out there and go after it. It is why we love the Norwegians right now, as they are the most authentic athletes the sport has had in years."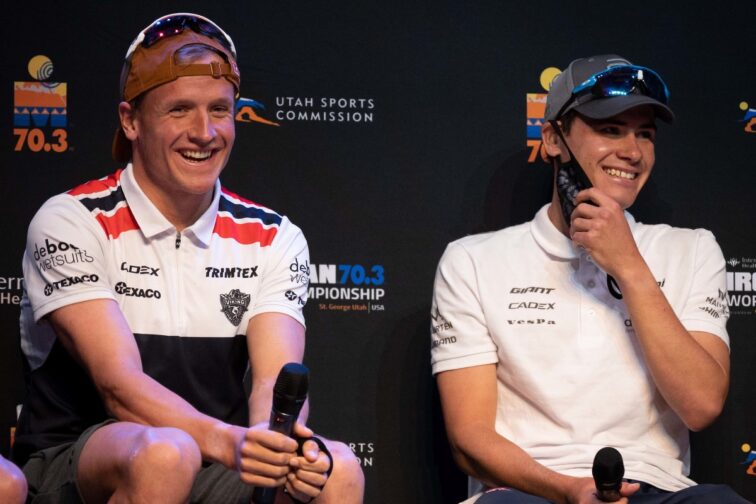 The route to 'Money'
McCormack is a huge boxing fan, and he used a fight-game example to illustrate the point he is making.
In May 2007 Floyd Mayweather Jr fought Oscar De La Hoya in Las Vegas in what turned out at that point to be the richest bout ever.
Mainstream interest in that event peaked in no small part thanks to the fact HBO invested in a documentary series which charted the lives of both fighters in the build-up to the event. '24/7′, as it was called, exploded onto the scene.
The result was an event where the build-up was way better than the actual fight – and 2.4million Americans each paid almost $100 for the privilege of watching on PPV.
I personally remember the impact 24/7 had on that bout and the ones that followed. I interviewed both fighters in the build-up, and then covered fight week in Las Vegas. The buzz and excitement was off the charts – 10,000 fans rocked up for the weigh-in alone…
The day before the fight I spoke with HBO's Ross Greenburg, the creative force behind it all. He was blown away by what had fallen into his lap. The Mayweather team was a mix of outrageous characters, and the behind-the-scenes access he had made them household names.
'Pretty Boy' Floyd became 'Money May' and eventually earned billionaire status, while his dad Floyd Sr, his Uncle Roger and BFF 50 Cent provided a wild supporting cast. It was must-see TV.
While most sports might struggle to match that entertainment factor and cast, the success of that production resonated strongly with McCormack.
He said: "Look at boxing and how they did it with the HBO 24/7 series that exploded and pushed boxing to the next level of major money-making sports. The Oscar De La Hoya vs Floyd Mayweather bout, that was covered in the build-up to this event and had the HBO 24/7 series rate higher than the actual fight, showed that this type of communication is necessary to create an interest in the game.
"We committed to that last year with SLT and the "Invincible" documentary we put together for Vince Luis. I think the sport needs the platform and the athlete stars and a commitment from the league owners and the event owners to invest heavily in that content and storytelling piece. We need to create and build that momentum around the events we own."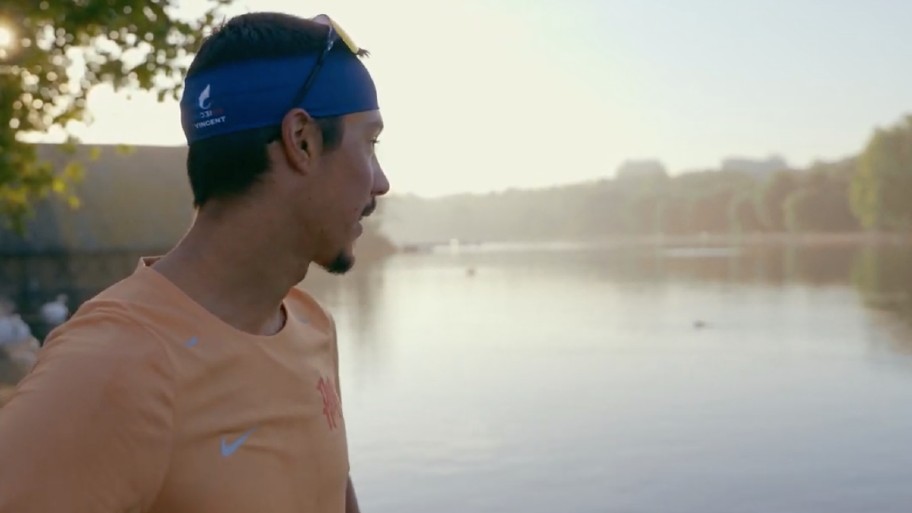 McCormack on the PTO
The Professional Triathletes Organisation has also invested heavily in storytelling – particularly in the build-up to the inaugural Collins Cup. McCormack says the tools and the talent to create great material are there. Now the personalities are required.
"What we at SLT and PTO are doing is what is needed: investing heavily in the production and content around our sport and pushing it out. I think organisations need to start collaborating for the benefit of the sport regardless of the business model, and realise that a rising tide lifts all ships.
"The talent is available to promote. We just need the content, the authenticity, the racing and the buy-in to consistently push in this space. It is a slow bleed but after a while you will see the fruits of the work."
The challenges which the PTO faces in its bid to make elite triathlon a truly sustainable sport for professionals are something McCormack inevitably has a strong handle on.
"The PTO does a great job supporting the professionals over the longer distance and trying to build some value in this style of racing. He also knows the sheer size of the task.
"I think the value is there; the difficulty they have is building that value around a spectator base that is not interested in it. You require the champions and the names to make it worthwhile.
"Everyone is so flippant about comparing us to golf or tennis. But let's be honest here: I don't play tennis but could tell you 15 tennis players off the top of my head. I don't play golf but could name 15 golfers immediately if you asked me.
"Triathlon doesn't have that luxury and it is also a sport you do, you don't play, so it has a different spectator base. Most people who watch our sport do it.
"The PTO is doing their best to sexy up long course racing. This is cool. It's just the dollar cost and the business model around that which will require mass participation and sponsorship dollars to make it viable long-term outside of investment."
IRONMAN a different model
The flip side of what the PTO is looking to build is of course provided by IRONMAN – which has built foundations based on mass age-group participation. Not the professional elite.
"The IRONMAN business model is about selling 1200-dollar entries to any one they can as many times as they can at as many events around the world as they can," said McCormack.
"You can see the drop-off already in cost-cutting around event set-up, finisher's towels and medals and just the "Ironman" experience when you compare that to, say, 15 years ago.
"They have increased the quantity of races, the number of participants and almost doubled the entry fee. Professionals are a bleed on income, so they do the bare minimum to support them.
Changing the game
"For this, the PTO has changed the game and it was needed. I find it refreshing working with PTO as our interests are aligned. We did this from a short-course perspective but more so looking at the viability of the professional element in the sport and how we could build that out quickly and with sustainability.
"You must own the events. You have to own the league and you have to own the content you put out. Only then can you create that framework that gives substance to a professional racing series in the sport.
"From my perspective in MANA Group we work with them across multiple projects and are aligned with them as part of our Sub7 and Sub8 event. SLT already works alongside PTO in a small capacity. We will do more together as it presents, but sustainability and viability in any start up is the key, and we have had a very difficult two years that's for sure.
"Discussions like this ensure we are all pushing in the right direction."
Eastern Europe TestNew Forms of Media Censorship – The New York Times
With new, less repressive tactics, countries like Serbia, Poland and Hungary are deploying highly effective tools to skew public opinion.
BELGRADE, Serbia — When Covid-19 reached Eastern Europe in the spring of 2020, a Serbian journalist reported a severe shortage of masks and other protective equipment. She was swiftly arrested, thrown in a windowless cell and charged with inciting panic.
The journalist, Ana Lalic, was quickly released and even got a public apology from the government in what seemed like a small victory against old-style repression by Serbia's authoritarian president, Aleksandar Vucic.
But Ms. Lalic was then vilified for weeks as a traitor by much of the country's news media, which has come increasingly under the control of Mr. Vucic and his allies as Serbia adopts tactics favored by Hungary and other states now in retreat from democracy across Europe's formerly communist eastern fringe.
"For the whole nation, I became a public enemy," she recalled.
Serbia no longer jails or kills critical journalists, as happened under the rule of Slobodan Milosevic in the 1990s. It now seeks to destroy their credibility and ensure few people see their reports.
The muting of critical voices has greatly helped Mr. Vucic — and also the country's most well-known athlete, the tennis star Novak Djokovic, whose visa travails in Australia have been portrayed as an intolerable affront to the Serb nation. The few remaining outlets of the independent news media mostly support him but take a more balanced approach.
Across the region, from Poland in the north to Serbia in the south, Eastern Europe has become a fertile ground for new forms of censorship that mostly eschew brute force but deploy gentler yet effective tools to constrict access to critical voices and tilt public opinion — and therefore elections — in favor of those in power.
Television has become so biased in support of Mr. Vucic, according to Zoran Gavrilovic, the executive director of Birodi, an independent monitoring group, that Serbia has "become a big sociological experiment to see just how far media determines opinion and elections."
Serbia and Hungary — countries in the vanguard of what V-Dem Institute, a Swedish research group, described last year as a "global wave of autocratization" — both hold general elections in April, votes that will test whether media control works.
A recent Birodi survey of news reports on Serbian television found that over a three-month period from September, Mr. Vucic was given more than 44 hours of coverage, 87 percent of it positive, compared with three hours for the main opposition party, 83 percent of which was negative.
Nearly all of the negative coverage of Mr. Vucic appeared on N1, an independent news channel that broadcast Ms. Lalic's Covid-19 reports. But a bitter war for market share is playing out between the cable provider that hosts N1 — Serbian Broadband, or SBB — and the state-controlled telecommunications company, Telekom Srbija.
Telekom Srbija recently made a move that many saw as an unfair effort to make SBB less attractive to consumers when it snagged from SBB the rights to broadcast English soccer by offering to pay 700 percent more for them.
Telekom Srbija's offer, nearly $700 million for six seasons, is an astronomical amount for a country with only seven million people — and nearly four times what a media company in Russia, a far bigger market, has agreed to pay the Premier League each season for broadcast rights.
"It is very difficult to compete if you have a competitor that does not really care about profit," SBB's chief executive, Milija Zekovic, said in an interview.
Telekom Srbija declined to make its executives available for comment, but in public statements, the company has described its investments in English soccer and elsewhere as driven by commercial concerns, not politics.
"Their goal is to kill SBB," Dragan Solak, the chairman of SBB's parent company, United Group, said in an interview in London. "In the Balkans," he added, "you do not want to be a bleeding shark."
Eager to stay in the game, Mr. Solak announced this month that a private investment company he controls had bought Southampton FC, an English Premier League soccer team. Broadcast rights for the league will stay with his state-controlled rival, but part of the huge sum it agreed to pay for them will now pass to Mr. Solak.
Government loyalists run Serbia's five main free-to-air television channels, including the supposedly neutral public broadcaster, RTS. The only television outlets in Serbia that give airtime to the opposition and avoid hagiographic coverage of Mr. Vucic are Mr. Solak's cable news channel N1, which is affiliated with CNN, and his TV Nova.
Without them, Mr. Solak said, Serbia "will be heading into the dark ages like North Korea."
Space for critical media has been shrinking across the region, with V-Dem Institute, the Swedish research group, now ranking Serbia, Poland and Hungary among its "top 10 autocratizing countries," citing "assaults on the judiciary and restrictions on the media and civil society." Freedom House now classifies Serbia as "partly free."
In each country, security forces — the primary tools for muzzling critical voices during the communist era — have been replaced in this role by state-controlled and state-dependent companies that exert often irresistible pressure on the news media.
Poland's governing party, Law and Justice, has turned the country's public broadcaster, TVP, into a propaganda bullhorn, while a state-run oil company has taken over a string of regional newspapers, though some national print outlets still regularly assail the government.
In December, Law and Justice pushed through legislation that would have squeezed out the only independent television news channel, the American-owned TVN24, but the Polish president, worried about alienating Washington, vetoed the bill.
Hungary has gone further, gathering hundreds of news outlets into a holding company controlled by allies of Prime Minister Viktor Orban. Only one television station with national reach is critical of Mr. Orban and financially independent from his government.
Mr. Orban's previously divided political rivals have formed a united front to fight elections in April but have been unsuccessful in shaking his stranglehold on the news media.
In Serbia, the media space for critical voices has shrunk so far, said Zoran Sekulic, the founder and editor of an independent news agency, that "the level of control, direct and indirect, is like in the 1990s" under Mr. Milosevic, whom Mr. Vucic served as information minister.
Journalists, Mr. Sekulic added, do not get killed anymore, but the system of control endures, only "upgraded and improved" to ensure fawning coverage without brute force.
When United Group started a relatively opposition-friendly newspaper last year, it could not find a printer in Serbia willing to touch it. The newspaper is printed in neighboring Croatia and sent into Serbia.
Dragan Djilas, the leader of Serbia's main opposition party and formerly a media executive, complained that while Mr. Vucic could talk for hours without interruption on Serbia's main television channels, opposition politicians appeared mostly only as targets for attack. "I am like an actor in a silent movie," he said.
N1, the only channel that sometimes lets him talk, is widely watched in Belgrade, the capital, but is blocked in many towns and cities where mayors are members of Mr. Vucic's party. Even in Belgrade, the cable company that hosts the channel has faced trouble entering new housing projects built by property developers with close ties to the government. A huge new housing area under construction for security officials near Belgrade, for example, has refused to install SBB's cable, the company said.
Viewers of pro-government channels "live in a parallel universe," said Zeljko Bodrozic, the president of the Independent Journalists Association of Serbia. Channels like TV Pink, the most popular national station, which features sexually explicit reality shows and long statements by Mr. Vucic, he said, "don't just indoctrinate, but make people stupid."
The European Union and the United States have repeatedly rebuked Mr. Vucic over the lack of media pluralism, but, eager to keep Serbia from embracing Russia or stoking unrest in neighboring Bosnia, have not pushed hard.
This has given Mr. Vucic a largely free hand to expand the media control that Rasa Nedeljkov, the program director in Belgrade for the Center for Research, Transparency and Accountability, described as "the skeleton of his whole system." In some ways, he added, Serbia's space for critical media is now smaller than it was under Mr. Milosevic, who "didn't really care about having total control" and left various regional outlets untouched.
"Vucic is now learning from this mistake by Milosevic," Mr. Nedeljkov said. Mr. Vucic and his allies, Mr. Nedeljkov added, "are not tolerating anything that is different."
Once powerful independent voices have gradually been co-opted. The radio station B92, which regularly criticized Mr. Milosevic during the Balkan Wars of the 1990s, for example, is now owned by a supporter of Mr. Vucic and mostly parrots the government line.
Journalists and others who upset Mr. Vucic face venomous attacks by tabloid newspapers loyal to the authorities. Mr. Solak, the United Group chairman, for example, has been denounced as "Serbia's biggest scammer," a crook gnawing at the country "like scabies" and a traitor working for Serbia's foreign foes.
Mr. Solak, who lives outside Serbia because of safety concerns, said he had become such a regular target for abuse that when he does not get attacked, "my friends call me and ask: What happened? Are you OK?"