New Hogwarts Legacy Gameplay Highlights Flight, Customization, and Murder
A new gameplay showcase has highlighted a number of new features in Hogwarts Legacy, including flying around the castle, customizing the Room of Requirement, and murdering other people with the killing curse.
The first segment of gameplay shows the extent of flight on both a broom and a hippogriff, which can be used to travel outside of Hogwarts to other villages and places where quests might be available.
We also see the seasons change during this section. Later in the showcase, we get an in-depth look at the customization of gear, magical creatures, and the Room of Requirement, a space that can be customized through conjuration spells obtainable through gameplay.
But maybe the wildest part of the showcase for those keenly aware of the Harry Potter franchise is a middle segment where the player travels to the Dark Arts Battle Arena. In this section, we see the player – who is a student at Hogwarts and thus a teenage child still – immediately perform the Avada Kedavra killing curse and straight up murder a man. The trailer continues with them using a number of combat spells to damage and eventually defeat (kill?) a number of other enemies, including goblins labeled "Loyalist Warriors."
It's obviously not unusual for a game to feature combat or even teenage protagonists engaging in it – plenty of games do. But it is a bit of a strange move given the game's basis in a book series that largely treated combat as a last resort and focused most of its attention on day-to-day school life and magical antics. Combat, murder, and torture in those books were almost entirely the province of its villains, with combat used as a last resort and the "Unforgiveable Curses" as, well, unforgivable.
It's especially bizarre to see the killing curse used so casually given the hefty weight it was given in the books – though it's not unexpected after a past trailer revealed players could choose to use the literal torture curse on other students as well.
Hogwarts Legacy has already been controversial since its announcement due to ongoing transphobic comments made by Harry Potter author J.K. Rowling. While Rowling is not involved with the game according to studio leadership, Avalanche has also said that "she's entitled to express her personal opinion" and the game remains based on her original universe and IP, and Rowling continues to earn royalties.
Hogwarts Legacy launches on February 10, 2023 for PS5, Xbox Series X and S, and PC. It was recently delayed to April 4 on PS4 and Xbox One, and the Nintendo Switch version is coming on July 25.
New HomePod Reviews Offer Hands-On Look at Sound Quality, Siri, and More
Apple's second-generation HomePod will start arriving to customers and launch in stores this Friday. Ahead of time, the first reviews of the smart speaker have been shared by select media publications and YouTube channels.

Priced at $299, the new HomePod features a virtually identical design as the full-size HomePod that Apple discontinued in March 2021, but with two fewer tweeters and microphones. The Siri-powered speaker is also equipped with a four-inch high-excursion woofer, an S7 chip for computational audio, and a U1 chip for handing off music from an iPhone. The speaker supports Matter for smart home accessories and Spatial Audio with Dolby Atmos.
A new sensor in the HomePod can measure temperature and humidity in indoor environments, and this feature was also enabled on the existing HomePod mini with a recent software update. Sound Recognition will also be coming to the new HomePod with a software update this spring, allowing the speaker to listen for smoke and carbon monoxide alarms and send a notification to the user's iPhone if a sound is identified.
The new HomePod can be pre-ordered on Apple's online store, with white and midnight color options available. In-store availability and deliveries to customers will begin Friday, February 3 in the United States, Australia, Canada, China, France, Germany, Italy, Japan, Spain, the UK, and 11 other countries and regions.
Written Reviews
The Verge's Chris Welch said sound quality is very similar to the original HomePod:
After several days of listening to the new HomePod (both solo and in a stereo pair), I still think its sound signature remains true to the original HomePod. If you were a fan of that speaker, you'll be satisfied with the second-gen version. Sure, you can hear subtle differences in how music is rendered when comparing both generations side by side with the same track. The newer HomePod might bring out a guitar solo with slightly more emphasis than the original. But the central traits are the same.
The Wall Street Journal's Nicole Nguyen also said the new HomePod sounds the same as the original:
The updated HomePod looks a lot like its discontinued predecessor—and sounds similar, too. I tested the new HomePod, as a single unit and grouped as a stereo pair, in a room that's roughly 370 square feet. For most tracks, keeping the volume at 30% was enough to fill the space.

If you look at spec sheets comparing the old and new HomePods, you might scratch your head. The new one has a fast processor but fewer built-in microphones and speakers, and supports an older Wi-Fi standard. But in person, the new HomePod sounds and performs the same as the original.
Pocket-lint's Britta O'Boyle was impressed with the new HomePod's sound quality too:
In terms of hardware, there are five tweeters, a "high-excursion woofer" capable of moving an impressive 20mm, and a four-microphone array. It's a slightly different setup to the original HomePod – that had seven tweeters for starters – but the performance is equally excellent. Make no mistake, the HomePod (2nd generation) sounds fantastic.

In the midrange, you get vocals that are detailed, crisp and crystal clear, while at the lower end, the HomePod packs in plenty of bass. It's lovely and deep for its size, while still offering expression and punch. It's not as bassy as the Sonos Five – which is a bigger and more expensive speaker – and HomePod is arguably a little more muddled in the mid-range when playing tracks like Skrillex's Rumble compared to the Five, but it is still very impressive overall – and that is a pretty tricky track to keep up with anyway. You can reduce the bass in the Home app, though we didn't find this necessary.
Engadget's Billy Steele said that while Siri had several shortcomings when the original HomePod was released in 2018, the voice assistant has improved over the years. He also said the new HomePod's two fewer microphones compared to the original did not impact Siri's ability to detect his voice — even in a noisy room:
When we reviewed the original HomePod in 2018, one of our biggest gripes was with Siri's limited abilities. Sure the speaker sounded good, but the lack of polish with the voice assistant made it seem like a work in progress. Apple has done a lot to improve Siri over the last five years, so a lot of those issues with the original have been fixed.

First, the HomePod, like Siri on your iPhone, is capable of recognizing multiple users. Personal Requests can allow it to peek at your Calendar, Notes, Reminders, Messages, Find My and more when you ask. Plus, HomePod can give each member of your family (up to six people) their unique responses from certain iPhone apps. What's more, Siri can create recurring home automations without you having to pick up your phone and swipe over to the appropriate app.

Even with fewer microphones to pick up your voice, the new HomePod doesn't suffer any performance setbacks. It's just as capable as ever at picking out your voice even in a noisy room.
MobileSyrup's Dean Daley was impressed with Spatial Audio on the new HomePod:
A fantastic song to test out spatial audio is also one of my favourite tracks for karaoke, "Bohemian Rhapsody" by Queen. It sounds decent at first, but after the "I see a little silhouette of a man" section of the song, the 2nd-Gen HomePod takes it to a whole other level, perfectly utilizing Dolby Atmos' surround sound and spatial audio with harmonies and melodies to create an epic concert in the entertainment space. This was definitely my favourite song I tested out, and one I showed to several friends.
TheStreet's Jacob Krol touched on the new HomePod's larger backlit touch surface:
The most significant design change lives up top and involves the screen. While there isn't really new information being shown and the dream of a HomePod with a true display contains to be just that a dream, the top surface is larger. It gives one more control with tapping to play or pause among other controls and it can glow brighter, and larger in different colors.

Rather than having the volume controls appear after a touch like on the original HomePod, the "+" and "-" are now etched into this backlit touch surface which makes it easier to adjust the volume at a moment's notice. When playing back music, the HomePod's top will glow in colors that resemble the album artwork of what you're listening to and when communicating with Siri it will glow with all of the colors you'd expect.
TechCrunch's Brian Heater tested audio handoff on the new HomePod:
Start a song with Apple Music on your iPhone, hold it near the HomePod and it will start playing there, accompanied by a satisfying haptic fist bump. Move the phone near the speaker again and you can transfer it back. I really like this feature. It's a good example of how nicely hardware can play together if you make your own devices, software and chips. It's also surprisingly receptive. In fact, I found myself having to disable it while the HomePods are on my desk, otherwise it will accidentally trigger when I'm using the iPhone two feet from the speakers.
Video Reviews and Unboxings
Facebook has secretly been draining your phone battery to test features, former Meta employee claims
Facebook has been draining users' phone batteries without their consent according to an ex-employee who claims they were fired for refusing to comply with the practice.
Facebook-parent Meta has been using "negative testing" for over five years, according to data scientist George Hayward, 33, who started working on the messenger app in October 2019.
In a now withdrawn lawsuit filed on Jan. 20, Hayward said he had seen an internal document titled "How to run thoughtful negative tests" which laid out details of the practice and examples leading back to 2016.
That document indicates that Meta has been using "negative tests" across its platforms, which have around 2.96 billion users according to recent reports. They are used to "measure impact" by testing new features, and by measuring how quickly the app runs, how images load and how news feed scrolls perform.
When asked to participate, Hayward said he refused out of concern for the risks involved in depleting users' power, especially in cases when they have to communicate to others like the emergency services.
Hayward's lawyer, Dan Kaiser, maintained that "negative testing" is not legal in New York, according to the New York Post, saying that it violates a law that prohibits damaging someone's property without their consent.
"It's clearly illegal," Kaiser said. "It's enraging that my phone, that the battery can be manipulated by anyone."
"Negative testing" concerns shut down
The ex-employee said he doesn't know how many people have been affected by the tests, but that when he expressed this to his supervisor at the time, his concerns were pushed to the side.
"It turns out if you tell your boss, 'No, that's illegal,' it doesn't go over very well," Hayward told the New York Post.
"I said to the manager, 'This can harm somebody,' and she said by harming a few we can help the greater masses."
According to the suit, Hayward noticed retaliation including low performance ratings, reviews that were canceled and then rescheduled, and the assignment of responsibilities that set him up for failure.
He was fired in November, which coincided with Meta's recent mass layoffs. However, his lawyers argue that this was no coincidence.
The lawsuit, filed in Manhattan, has now been withdrawn due to Meta's internal arbitration clause; however Hayward stands by his allegations, his lawyer told the Post.
A Meta spokesperson told Fortune: "Mr Hayward's claims are without merit."
Learn how to navigate and strengthen trust in your business with The Trust Factor, a weekly newsletter examining what leaders need to succeed. Sign up here.
Report: Microsoft, Sony & Nintendo All Skipping E3 2023 – Kotaku
This was supposed to be the year, after industry setbacks and a global pandemic, that E3—once the brightest centre of the video game universe—came back "recognizably epic" as a live show for the first time since 2019. Reports today indicate, however, that it will be doing so without any of the console industry's power players.
A story on IGN this evening says "all three of gaming's first-party console manufacturers appear poised to skip E3's big return", meaning that for the first time in the live show's history not a single one of them will be at an event that was traditionally their highlight of the whole damn year.
While this is a definitive final straw for E3, this has been coming for a while. Nintendo stopped holding big E3 press conferences ten years ago (though the company had a showroom floor presence at the last live show in 2019), and Microsoft and Bethesda recently pivoted to holding their own showcases alongside the E3 festivities. Sony also began passing on E3 stuff a few years back.
While Microsoft won't be at any official E3 events, boss Phil Spencer says that, as they've done the last few years, Xbox will in 2023 be doing stuff alongside E3 so that any press and industry folks in town for that show will be around for theirs as well. It's not known what Nintendo and Sony will be doing in E3's stead, if anything, though Geoff Keighley's rival Summer Games Fest will be taking place at roughly the same time.
It's important to note here that this isn't the same E3 as the olden days. Events specialists ReedPop took over planning of the show last year, and said:
For years, we've listened, heard, and studied the global gaming community's feedback. E3 2023 will be recognizably epic—a return to form that honors what's always worked—while reshaping what didn't and setting a new benchmark for video game expos in 2023 and beyond.
G/O Media may get a commission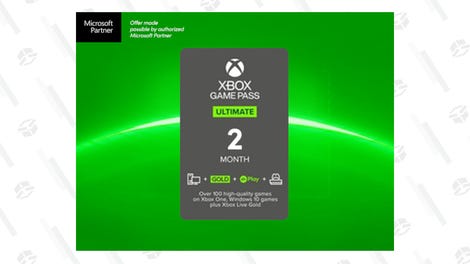 Xbox Game Pass Ultimate Two-Month Subscription
Gaming time
Grants two months of access to Xbox Game Pass Ultimate, which gives you access to Game Pass on your Xbox, PC, and Phone, lets you play online, and even adds an EA Play subscription too, for even more games at under $10.
How they're going to be "recognizably epic" without any major platform holder in attendance is anyone's guess, though ReedPop did say in a statement to IGN that:
As we spent much of 2022 refining how E3 2023 would take shape, reflecting on the feedback we solicited, we did not send a single contract to an exhibitor until the start of this month. We have received a tremendous amount of interest and verbal commitments from many of the biggest companies in the industry, and when we are ready to announce the exhibitors we are confident it will be a lineup that will make the trip to Los Angeles well worth it for the industry and consumers alike.