No-deal Brexit would be worse for the UK economy than Covid-19, says Bank of England governor – CNN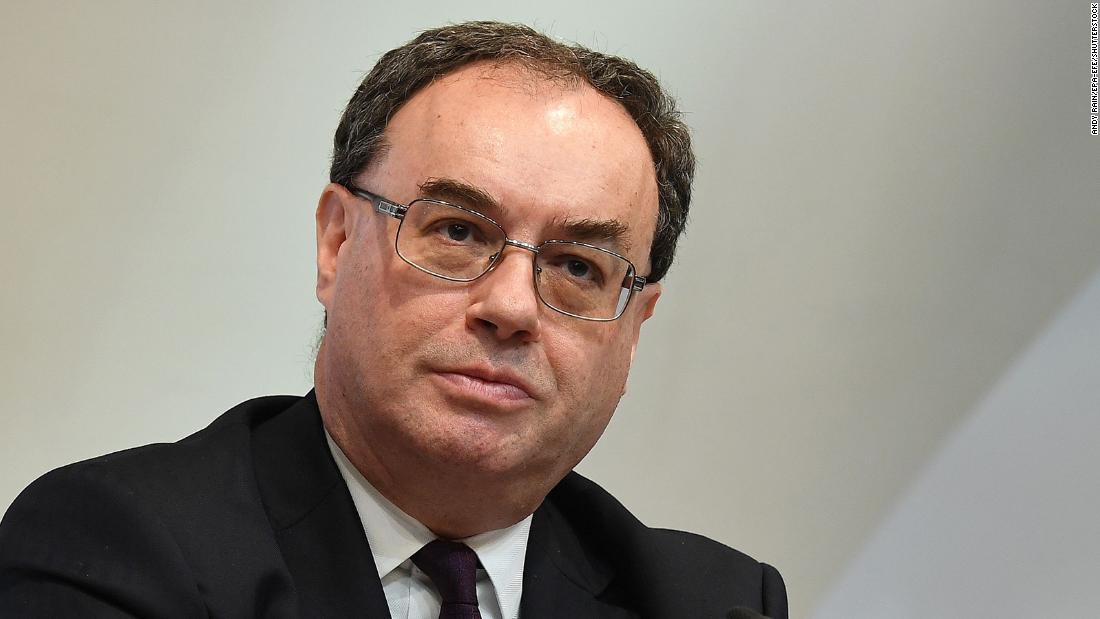 "I think the long-term effects … would be larger than the long-term effects of Covid," Bailey said Monday in response to a question from a lawmaker on what would happen if the UK government does not complete a deal before the December 31 deadline.
"It takes a much longer period of time for what I call the real side of the economy to adjust to the change in openness and to the change in profile in trade," Bailey added in testimony before parliament's Treasury committee.
The United Kingdom left the European Union in January. But the £670 billion ($895 billion) trade relationship has been largely unaffected so far because of a transition period that expires at the end of this year. Negotiators have been trying to hammer out a deal that will allow for tariff-free trade to continue. But progress has been slow, and chief EU negotiator Michel Barnier warned on Monday that "fundamental differences" still need to be resolved.
UK business groups are pushing Prime Minister Boris Johnson to secure a deal, saying that many companies have been stretched to the breaking point by the coronavirus and another round of lockdowns. Without an EU deal, UK-based firms face hefty tariffs, quotas and other barriers to doing business with the country's biggest export market starting on January 1.
The Bank of England forecast earlier this month that the UK economy will shrink by 11% in 2020. Economists are worried about "scarring" caused by coronavirus, but Bailey said on Monday that he was optimistic about the economy's ability to recover relatively quickly from the pandemic.
A change in the terms of trade with the European Union would produce more lasting upheaval, he suggested, comparing that outcome with modeling the central bank did decades ago showing it would have taken the UK economy between 30 and 40 years to adjust if policymakers had decided to drop the British pound and switch to the euro.
The UK government and the Bank of England have unleashed hundreds of billions of pounds worth of stimulus to help cushion the blow to business and workers from the pandemic.
Earlier this month, the central bank said it would increase its purchases of UK government bonds by £150 billion ($195 billion) to £875 billion ($1.1 trillion), and finance minister Rishi Sunak extended a furlough program through March 2021. The government will pay 80% of the wages of employees of businesses forced to close, capped at £2,500 ($3,270) per month.
Sunak said on Sunday that the economic situation in the country presents "a very difficult picture."
"The economy is experiencing significant stress," he told the BBC. "We've seen that particularly in the labor market, with people's jobs. We know that three quarters of a million people have tragically already lost their jobs with forecasts of more to come. Borrowing … is at record peacetime levels and more stress to come."
Sunak will deliver an update on the economic situation on Wednesday and sketch out his plans for borrowing and spending after the pandemic.
China economy grows in 2020 as rebound from virus gains – CTV News
BEIJING —
China eked out 2.3% economic growth in 2020, likely becoming the only major economy to expand as shops and factories reopened relatively early from a shutdown to fight the coronavirus while the United States, Japan and Europe struggled with rising infections.
Growth in the three months ending in December rose to 6.5% over a year earlier as consumers returned to shopping malls, restaurants and cinemas, official data showed Monday. That was up from the previous quarter's 4.9% and stronger than many forecasters expected.
In early 2020, activity contracted by 6.8% in the first quarter as the ruling Communist Party took the then-unprecedented step of shutting down most of its economy to fight the virus. The following quarter, China became the first major country to grow again with a 3.2% expansion after the party declared victory over the virus in March and allowed factories, shops and offices to reopen.
Restaurants are filling up while cinemas and retailers struggle to lure customers back. Crowds are thin at shopping malls, where guards check visitors for signs of the disease's tell-tale fever.
Domestic tourism is reviving, though authorities have urged the public to stay home during the Lunar New Year holiday in February, normally the busiest travel season, in response to a spate of new infections in some Chinese cities.
Exports have been boosted by demand for Chinese-made masks and other medical goods.
The growing momentum "reflected improving private consumption expenditure as well as buoyant net exports," said Rajiv Biswas of IHS Markit in a report. He said China is likely to be the only major economy to grow in 2020 while developed countries and most major emerging markets were in recession.
The economy "recovered steadily" and "living standards were ensured forcefully," the National Bureau of Statistics said in a statement. It said the ruling party's development goals were "accomplished better than expectation" but gave no details.
2020 was China's weakest growth in decades and below 1990's 3.9% following the crackdown on the Tiananmen Square pro-democracy movement, which led to China's international isolation.
Despite growth for the year, "it is too early to conclude that this is a full recovery," said Iris Pang of ING in a report. "External demand has not yet fully recovered. This is a big hurdle."
Exporters and high-tech manufacturers face uncertainty about how President-elect Joseph Biden will handle conflicts with Beijing over trade, technology and security. His predecessor, Donald Trump, hurt exporters by hiking tariffs on Chinese goods and manufacturers including telecom equipment giant Huawei by imposing curbs on access to U.S. components and technology.
"We expect the newly elected U.S. government will continue most of the current policies on China, at least for the first quarter," Pang said.
The International Monetary Fund and private sector forecasters expect economic growth to rise further this year to above 8%.
China's quick recovery brought it closer to matching the United States in economic output.
Total activity in 2020 was 102 trillion yuan ($15.6 trillion), according to the government. That is about 75% the size of the $20.8 trillion forecast by the IMF for the U.S. economy, which is expected to shrink by 4.3% from 2019. The IMF estimates China will be about 90% of the size of the U.S. economy by 2025, though with more than four times as many people average income will be lower.
Exports rose 3.6% last year despite the tariff war with Washington. Exporters took market share from foreign competitors that still faced anti-virus restrictions.
Retail spending contracted by 3.9% over 2019 but gained 4.6% in December over a year earlier as demand revived. Consumer spending recovered to above the previous year's levels in the quarter ending in September.
Online sales of consumer goods rose 14.8% as millions of families who were ordered to stay home shifted to buying groceries and clothing on the internet.
Factory output rose 2.8% over 2019. Activity accelerated toward the end of the year. Production rose 7.3% in December.
Despite travel controls imposed for some areas after new cases flared this month most of the country is unaffected.
Still, the government's appeal to the public to avoid traditional Lunar New Year gatherings and travel might dent spending on tourism, gifts and restaurants.
Other activity might increase, however, if farms, factories and traders keep operating over the holiday, said Chaoping Zhu of JP Morgan Asset Management in a report.
"Unusually high growth rates in this quarter are likely to be seen," said Zhu.
ECB's latest stimulus expected to have little impact on euro zone economy – Reuters poll – Cape Breton Post
By Richa Rebello
BENGALURU (Reuters) – The European Central Bank's new policy package will have little effect on the euro zone's coronavirus-ravaged economy, according to the forecasts of a Reuters poll of economists, who nearly halved their outlook for first-quarter growth.
Despite the ECB's decision to top up its pandemic emergency purchases by half a trillion euros to 1.85 trillion euros and extend the programme for nine months, the bloc's economic outlook remains bleak.
The Reuters poll consensus of over 80 economists forecast the euro zone economy shrank 2.5% last quarter after expanding 12.5% in the third quater and was expected to grow 0.6% this quarter, nearly half the 1.1% predicted a month ago.
It was then expected to expand 2.3%, 1.9% and 1.0% in the second, third and fourth quarters, largely unchanged from last month's forecasts collected just before the ECB introduced more stimulus.
Over 70% of economists, or 28 of 39 who replied to an additional question, said the ECB's latest policy moves would have little impact on the euro zone economy. The others said it would provide a significant boost.
"Interest rates are already so low and policy is ultra-loose, so for now, monetary policy cannot impact investment or consumer demand. Thus we do not think the ECB can influence the economy strongly at this time," said Christoph Weil, senior economist at Commerzbank.
"We expect a bitter couple of months. Lockdowns will dampen the economy and we expect falling GDP in the last quarter of 2020 and in the first quarter of this year. So technically a recession".
Graphic: Reuters Poll – Euro zone economic growth and inflation outlook: https://fingfx.thomsonreuters.com/gfx/polling/rlgvdgleepo/Euro%20zone%20economic%20outlook.PNG
Of the participants in the Jan. 11-15 survey, over 25% expected the euro zone – where growth plumbed to an historic low in the first half of 2020 – to have again entered a technical recession, defined as two consecutive quarters of contraction.
On an annualised basis, the economy was expected to have shrunk 7.3% in 2020, roughly in line with the last poll, but for this year, the median was downgraded to 4.5% from 5.0% last month. For 2022, the growth forecast was upgraded to 3.9% from 3.5%.
"The start of the year continues to bring bad news for Europe as the health situation deteriorates. With lockdowns already being extenin several countries, short-term risks to the economic outlook are clearly skewed to the downside, especially as the vaccination roll-out is still slow," said Angel Talavera, head of Europe economics at Oxford Economics.
"The new and more transmissible variants of the virus mean a further deterioration could happen very quickly."
Over 70% of respondents, or 30 of 42, who replied to a separate extra question said the economy would return to pre-crisis levels within two years, including six who said within a year. The others said it would be more than two years.
Graphic: Reuters Poll – Euro zone economy and the European Central Bank's policy outlook: https://fingfx.thomsonreuters.com/gfx/polling/xegpbemwgvq/Reuters%20Poll%20-%20Euro%20zone%20and%20ECB%20policy%20outlook%20-%20January%202021.PNG
The two largest euro zone economies were expected to grow much slower in 2021 compared with expectations in October. Germany was forecast to grow 3.7%, down from 4.6%, and the outlook for France was downgraded to 5.9% from 6.9%.
Euro zone inflation, which remained in negative territory for five straight months last year, was expected to remain below the ECB's target of just under 2%, averaging 0.9% in 2021 and 1.3% in 2022.
A slim majority, over 52% of economists, or 21 of 40 who answered a separate question, said a significant pick-up in inflation was likely. Seventeen said it would remain around the same as 2020 and two said deflation was more likely.
"If history is any guide, any too-high expectations of inflation can be shattered. But we have very supportive fiscal policy and a number of structural factors that could support higher inflation a little further down the road," said Florian Hense, senior Europe economist at Berenberg.
(For other stories from the Reuters global economic poll:)
(Reporting by Richa Rebello; Polling by Sujith Pai and Swathi Nair; editing by Jonathan Cable and Larry King)
China's economy grows 2.3% in 2020 as recovery quickens – CNN