'Overwatch 2' Sure Feels Like 'Overwatch Patch v2.0' So Far – Forbes
Blizzard is starting to announce more than just cosmetic changes to its heroes for Overwatch 2, which will start rolling out this spring in competitive play in OWL, using an early build. Yesterday, major reworks of heroes Sombra and Bastion were featured, including changes that make Sombra sound OP on paper, and let Bastion roll around in Sentry mode now, equally terrifying in its own right.
But the more I hear about Overwatch 2 the more it keeps sounding like what is essentially the world's biggest balance patch, changing the meta with structural changes, like a smaller team size, and then these grand reworks to heroes to make them…better? I mean they're different, that's clear, but how much of this is change for its own sake?
While sure, I'll give these multiplayer changes a chance, it's not like the decision to make this a full-on "Overwatch 2" has not cost the game or series anything. To do this, they have essentially stopped development on the current game completely, something that is very, very risky in this genre as all other games keep pumping out new content. We haven't had a new Overwatch hero since April 2020's Echo. And before that it was August 2019's Sigma. Development has slowed and then ultimately stopped, and while we're supposed to get at least one new hero, Sojourn, if not more when OW2 launches, it's important to remember we still don't have anything approaching an actual release date for the game, so Overwatch will have taken a "hero break" for a full two years, at minimum, by the time this is over.
Of course, the X-factor in all this is what's going to happen with single player content. This is the new "paid" part of Overwatch 2, while the multiplayer changes will be free to those who own Overwatch 1. But we've heard incredibly little about single player and seen almost nothing from it. There's something about running story missions on repeat to level up your heroes with PvE only upgrades. Overwatch isn't getting an open world or loot or anything like that. What I'm hearing sounds kind of like…Battleborn, weirdly? At least a blend of Battleborn, Destiny strikes and the single player content we already see from the game. But that's just a guess because we only have the barest outlines of how single player or co-op PvE content will work in Overwatch 2. Everything has been focused on these character reworks, and redesigns that I don't even understand, given that all your skins will carry over from the last game, and players won't really care that Bastion has a new hat now.
Diablo 4 may be a troubled Blizzard project as well, especially in the wake of all the harassment issues and resignations, but at least I understand that game at baseline. Overwatch 2 remains deeply perplexing, a bunch of massive meta changes for their own sake, a giant mega-patch attached to bunch of PvE content in a series known almost exclusively for PvP. As ever, it feels mainly like Activision wanted to slap a "2" on something, even if it sounds as ridiculous in theory as League of Legends 2 or Fortnite 2, games that are clearly never going to get or need full sequels.
I remain deeply confused about what the end result of Overwatch 2 will look like, or when it will get here. For now, we'll just keep getting these rework patch note drops, and seeing how things will change.
Follow me on Twitter, YouTube, Facebook and Instagram. Subscribe to my free weekly content round-up newsletter, God Rolls.
Pick up my sci-fi novels the Herokiller series, and The Earthborn Trilogy, which is also on audiobook.
Forgot to Pre-Order Your MacBook Pro? Apple Store Pickup Is Now An Option – MacRumors
Pre-orders for Apple's new 14-inch and 16-inch MacBook Pro models opened last Monday immediately after Apple's "Unleashed" event, and soon after, shipping estimates for all configurations began slipping by weeks and in some cases by over a month.

If you weren't able to pre-order after Apple's event for whatever reason, there's still a chance to get a 14-inch or 16-inch MacBook Pro when they launch on Tuesday.
In Australia, and in countries in Europe and East Asia that have Apple retail stores, 14-inch and 16-inch MacBook Pros in the stock configurations are already listed as available for in-store pickup (update: in-store pickup is now available in the U.S. and Canada too). In the United Kingdom, for example, Apple's online store shows the following configurations as available to pick up in-store today.
14-inch MacBook Pro
Silver/Space Gray
8-Core CPU
14-Core GPU
16GB Unified Memory
512GB SSD Storage
67W USB-C Power Adapter
14-inch MacBook Pro
Silver/Space Gray
10-Core CPU
16-Core GPU
16GB Unified Memory
1TB SSD Storage
96W USB-C Power Adapter
16-inch MacBook Pro
Silver/Space Gray
10-Core CPU
16-Core GPU
16GB Unified Memory
512GB SSD Storage
140W USB-C Power Adapter
16-inch MacBook Pro
Silver/Space Gray
10-Core CPU
16-Core
16GB Unified Memory
1TB SSD Storage
140W USB-C Power Adapter
Availability wise, the only off-the-shelf model that doesn't appear to be widely available at U.K. retail stores is the top-spec 16-inch MacBook Pro with M1 Max chip, 32-Core GPU, and 32GB of memory, which costs a combined £3,299 ($3,499). This exception is likely to be replicated in other stores and countries.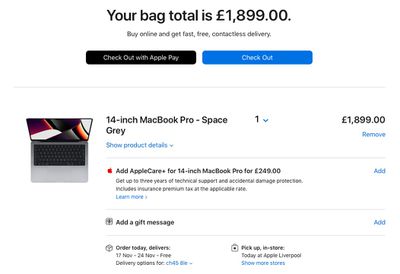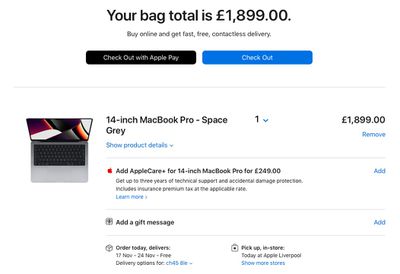 If you intend to pick up a new MacBook Pro, once you proceed to the checkout and click the blue "Checkout" button, select "I'll pick it up," then choose a store location, pickup date, and an available 15-minute check-in window from the options.
If you will be picking up the ‌MacBook Pro personally, enter your phone number. If someone else will be arranging the pickup, enter his or her contact information. The person making the pickup must be carrying a valid photo ID.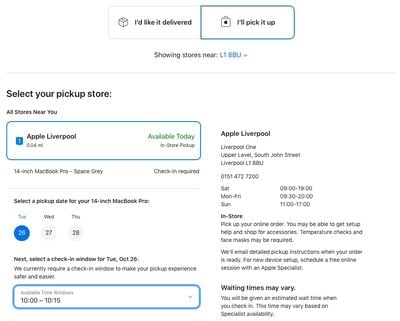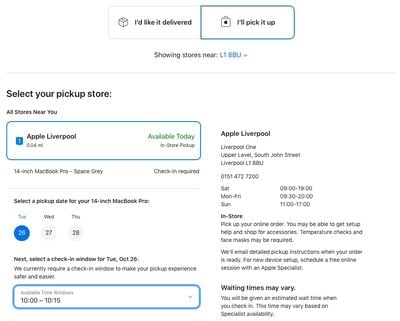 Then, proceed with the checkout process as usual. Once payment has been made, wait until you receive a pickup notification email or text message before picking up the ‌MacBook Pro. If you don't receive one, call the store. Since the ‌MacBook Pro is paid for ahead of time, the store will hold the device in its back room until you arrive. Your order will be held for 14 days.
Of course, another option is to simply walk into an Apple store on Tuesday, preferably right when they open. In some instances, you may have to wait in line, but the queues have typically been shorter in recent years and shouldn't be anything like as long as iPhone launch days. Note that temperature checks and face masks may be required. You can use the pickup tool on Apple's website to check if stores in your local area have stock, or call the store directly.
Google Pixel 6 Pro vs iPhone 13 Pro Max camera comparison – Gizchina.com
Google Pixel 6 and Pixel 6 Pro reviews are finally allowed to be published, and a lot of them have appeared on the web. In this case, we'll take a look at one of the good reviews that compare the Pixel 6 Pro's camera to the iPhone 13 Pro Max's camera.
The first thing the reviewer pays attention to is that the microphones in the Google smartphone work much better in the presence of strong noise in the form of wind. The iPhone 13 Pro Max does not cope, because of which the person's speech is not heard, but the Pixel 6 Pro is able to save the situation.
The camera in the new Google smartphone also works better, providing both better approximation and better detail.
The portrait mode is different for the devices, but each has its strengths and weaknesses. For example, the Apple device is poor at detecting glass objects, with which its opponent has no problems. Macro is definitely better on the Apple flagship due to the corresponding ultra-wide-angle camera mode. The Pixel 6 Pro, on the other hand, plays out when it comes to additional camera features.
As for the most important thing, photography and video on the main camera, everything is more interesting here. In terms of photo quality, smartphones are comparable, although there are many differences. For example, Google's new product is definitely better at working out the HDR mode. The Pixel 6 Pro also has better night photos. The iPhone still captures video better, and it also has a better front camera, both in photo quality and in video quality.
As a result, it will not be possible to choose a clear winner here. Smartphones are similar in quality in general, but in a particular mode, one or another is better.
[embedded content]
Google Pixel 6 Pro specifications
6.7-inch (3120 x 1440 pixels) curved pOLED LTPO display with 10Hz-120Hz adaptive refresh rate, Corning Gorilla Glass Victus protection
Google Tensor processor (2x 2.80GHz Cortex-X1 + 2 x 2.25GHz Cortex-A76 + 4 x 1.80GHz Cortex-A55) with 848MHz Mali-G78 MP20 GPU, Titan M2 security chip
12GB LPDDR5 RAM, 128GB / 256GB / 512GB UFS 3.1 storage
Android 12
Dual SIM (nano + eSIM)
50MP rear camera with Samsung GN1 sensor, f/1.85 aperture, 12MP Ultra-wide camera with Sony IMX386 sensor, f/2.2 aperture, 48MP telephoto camera with Sony IMX586 sensor, ƒ/3.5 aperture, 4X optical zoom, 4K video recording at up to 60fps
11MP front camera with Sony IMX663 sensor, ƒ/2.2 aperture, 94° field-of-view, 4K video recording at up to 60fps
In-display fingerprint scanner
Dimensions: 163.9×75.9×8.9 mm; Weight: 210g
Dust and Water-resistant (IP68)
USB Type-C audio, Stereo speakers, 3 microphones
5G SA/NA, 4G VoLTE, Wi-Fi 6E 802.11ax (2.4/5 GHz), Bluetooth 5.2 LE, ultra-wideband (UWB), GPS, USB Type C 3.1 (1st Gen), NFC
5000mAh battery with 30W wired fast charging, 23W wireless charging
Adobe MAX 2021: More Creative Cloud apps come to M1, new features, more – 9to5Mac
Adobe MAX 2021 kicks off today, and with it Adobe is introducing new features to its Creative Cloud applications for desktop and mobile. Creative Cloud is also expanding to the web and integrates several new sharing features to make design collaboration easier. Below are just a few of the biggest highlights:
Adobe MAX 2021 overview
Photoshop CC and Photoshop for iPad
Starting things off, Adobe is releasing "a major feature release of Photoshop on the desktop and iPad." Photoshop for iPad is gaining Camera RAW support and the ability to edit Smart Objects on the go, which I covered in a separate post.
On the desktop, The Object Selection Tool is being improved to allow users to hover over an object and make a selection with a single click. This enhanced selection method utilizes Adobe's Sensei AI machine learning and should only improve over time. Adobe also claims selections made with the Object Selection Tool "are now more accurate and preserve more details in the edges of the selection."
Photoshop for desktop also gains a new ability to mask all objects in a photo with a single click. From the Layer menu, users can now create masks for all the subjects detected in an image.
Photoshop's Neural Filters were released last year and are receiving three new beta filters with the latest update.
Landscape Mixer allows users to quickly edit scenery by changing the season and/or the time of day. Edits can be made using a selection of presets or a user's own imagery. Alterations are made on the fly and the results are rather amazing:
Color Transfer is a new Neural Filter that takes the color palette of one image and makes it easy to apply it to a different image. As Adobe puts it, "make this image look like that."
Harmony is the last new Neural Filter being released with this newest Photoshop update and uses Adobe's Sensei AI to match the color, tone, hue, and luminosity when compositing two images. For example, taking a photograph of a model from a photoshoot, placing her atop a different background, and synchronizing the "look" between the two images.
The Depth Blur Neural Filter is not not new but is getting updated with a new machine learning technique that applies a more realistic blurred background while keeping the subject in focus to produce a more believable bokeh effect. This results in an image similar to one taken using Apple's Portrait Mode, though no lidar sensor data is required or used.
One of Photoshop's "top feature requests" is finally coming with this latest edition as well: the ability to copy vector shapes from Illustrator and paste them into Photoshop while retaining their editable attributes, groups, and layers. According to Adobe, "When Photoshop can't maintain editability from Illustrator, because Photoshop doesn't support a feature for example, we try to maintain visual fidelity." This should be a tremendous time saver for many designers, and one that I am looking forward to using myself.
Adobe is also implementing a new "Share for commenting" feature to make collaboration easier:
Quickly share your work for review with clients and colleagues and receive their feedback within Photoshop in the new commenting panel on both the desktop and iPad versions. Your collaborators will receive a link to your document where they can access it on the Creative Cloud web site and leave comments, including adding pins and annotations. That information flows directly to you inside Photoshop so you can see and address the feedback in context.
Here's how Adobe describes the main features:
Notify others by private invitations
Create both private and public links that can be shared
Control link access and what people with the link can do with the file
Send comments back and forth to collaborators without leaving Photoshop
View pins and annotations left by others (desktop and web)
Work across the Photoshop ecosystem (desktop, mobile and web)
You can read more about all the new features coming to Photoshop for iPad and desktop in Adobe's announcement release.
Lightroom
You can learn what's new for Lightroom for iPhone, iPad, and Mac in a previous post that I covered here.
Illustrator CC and Illustrator for iPad
The biggest enhancement to Illustrator CC is the improvement of 3D effects, which have been reworked with a new interface and introduce new features like applying textures to designs without the need to learn 3D software. It won't replace true 3D models and texturing, but it's a welcome improvement nonetheless.
Here's a look at the new Materials panel:
Illustrator for iPad also gains some new capabilities, starting with Vectorize Technology Preview. Vectorize allows users to convert drawn images into clean vector graphics. Take a photo of a sketch and Illustrator automatically vectorizes the image. Users can also fine tune these results to their liking.
Brushes now allow users to create and apply artistic or calligraphic brush strokes to their designs, making Illustrator for iPad that much more powerful for designers on the go and bringing it a bit closer to feature parity of Illustrator for desktop.
Object blend comes to Illustrator for iPad for the first time and functions like it does in Illustrator for desktop. Also new is the ability to transform objects as shapes without having to manually adjust individual anchor points.
Like Photoshop, Illustrator is also gaining a new "Share for Commenting" ability to simplify collaboration.
Premiere Pro and After Effects
Simplify Sequence is new to Premiere Pro and – as the name suggests – lets users create a clean, simplified version of their current sequence by removing gaps, unused tracks, user-designated clips, effects, and more without changing the final video.
Speech to Text has also been updated with better transcription of pop culture terminology and improved formatting of dates and numbers, so those using this capability should see better results.
Multi-Frame rendering exits beta and is now available in After Effects. Adobe claims this brings 4x faster performance by taking full advantage of the CPU.
Other new features new to After Effects include Speculative Preview, a new technique that automatically renders compositions in the background when a user's system is idle, and Composition Profiler. As Adobe puts it, Composition Profiler "highlights the layers and effects in designs that have the biggest impact on processing time and gives users the option to optimize their projects for faster rendering as they iterate."
M1 Mac users will also be pleased to learn that After Effects Beta is now available for Apple Silicon Macs.
InDesign
Not much is new for InDesign this year, though it now supports Apple's M1 processors natively. According to Adobe, this results in a 59% improvement to performance versus Intel Macs.
Based upon Adobe's claims, M1 users should expect significant performance gains:
Opening a graphics-heavy file is now 185% faster and scroll performance on a text-heavy document of 100 pages has improved by 78%, making working and iterating on your designs much faster and more efficient.
InDesign also receives a new Capture Panel which "enables designers to create color themes and vector shapes and find font recommendations directly in InDesign, so that they can collect inspiration from any images within their document."
The Capture Panel will also make it easier for users to try and match fonts through Adobe Fonts based on raster images within an InDesign document. Perfect for those times when a client sends you a photo of their business card and wants you to match their company font!
Creative Cloud Collaboration
Adobe is launching new betas of Illustrator and Photoshop that work directly within a web browser to make collaborating on design easier than ever. While they lack the full features of their desktop counterparts, users will be able to make basic edits without the need to download and install the full applications. Comments can also be posted to files ("Make the logo bigger!") as a means to share feedback, etc. Any edits and comments made to a file are then reflected in Photoshop and Illustrator for desktop and iPad. A spokesperson for Adobe confirmed in an email that a Creative Cloud subscription is not required to use Photoshop or Illustrator for the web.
Adobe made the review and comment experience on the web open and easy to access while also empowering customers to control who can access their files. For content shared with permissions set to "Anyone with the link can view", no login/Adobe ID is required to view and comment. Logged-out guests can access a shared document that has permissions set to "Anyone with the link can view." Guest users can submit a comment/pin/annotation, at which point they will be prompted to continue as a guest after typing their name (no Adobe ID is needed).
Content Credentials
Building upon their Content Authenticity Initiative, Adobe is introducing Content Credentials:
Two years ago, we launched the Content Authenticity Initiative (CAI) to combat visual misinformation and protect creators through digital provenance. We set out to create accessible features, open technical standards, and a solid foundation for organizations across industries to use in a global effort toward a more trustworthy digital landscape.

Today, we're excited to introduce the next step in this journey: Content Credentials, Adobe's new way to provide and assess digital content provenance and attribution.
Adobe is stepping up its efforts to combat misinformation by allowing users to include personally identifiable information and edits made to an image as metadata within their documents. This metadata can then be included within their exported files and "verified" at the Content Credentials website, where anyone can see who originated the image and what changes were applied.
So, if your eccentric uncle shares a photo of aliens landing at the pyramids, you can check the image against the Content Credentials database and see that it's not true and was instead created by Thomas A. Anderson with Adobe Stock imagery using Photoshop. That's assuming Anderson chose to include his metadata. Content Credentials is opt-in, so those "bad actors" perpetrating fake graphics will most likely never use this feature.
Updates to the Creative Cloud applications are expected to begin rolling out starting today.
I covered some of the biggest announcements and changes, but you can learn more about everything announced at Adobe MAX here. What new features are you most excited about? Let us know in the comments below!
Check out 9to5Mac on YouTube for more Apple news:
[embedded content]