Photos: Third annual Art on the Lake another big hit – Pique Newsmagazine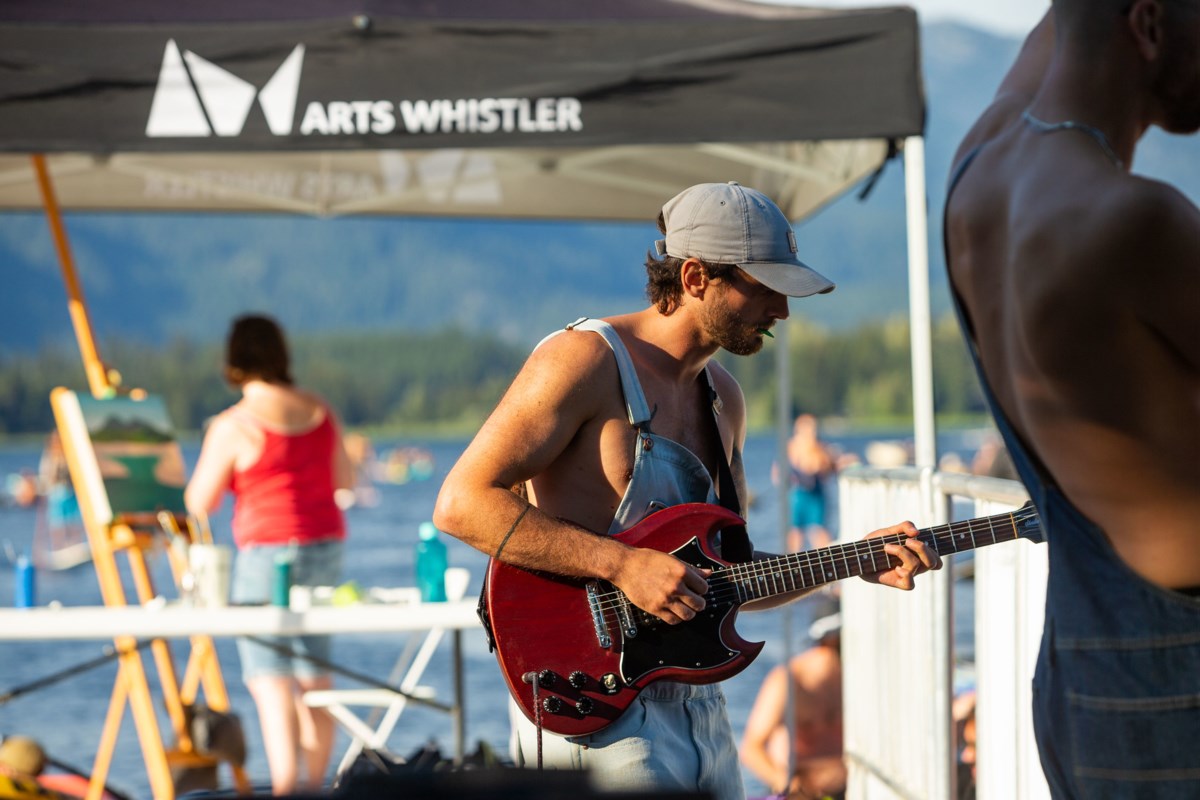 As Arts Whistler executive director Mo Douglas told Pique last week, she had "never seen [as] many dogs on paddleboards," as she did during last year's Art on the Lake.
So, for the event's 2022 iteration, the team at Arts Whistler decided to accommodate those water dogs with a doggy dock and their very own event. Last Friday's WAG.Woof.Water dog jump contest was a hit for canines and humans alike, with Epic PhoDography on hand to capture all the fun.
There was plenty of other entertainment to be found on Alta Lake over Aug. 11 and 12, with a floating art gallery showcasing more than 30 Sea to Sky artists, 12 local bands, nine artists live painting, dance performances and more. The event—which started as a way for Arts Whistler to host a safe, distanced, outdoor event during the height of the pandemic in summer 2020—drew hundreds of eager paddlers (and a few floaters) to Alta Lake for its third year, and has evidently become a much-loved summer staple for the resort.
Scroll through the photo gallery above to reminisce on a great couple of days, or to check out all the fun you missed!
– With files from Alyssa Noel
The art of reviews | The Journal – Queen's Journal
It's easy for us to criticize art.
Identifying a film's flaws or a novel's shortcomings is satisfying and fun. It's also something we do subconsciously whenever we interact with art.
We become, for a moment, the dreary, pretentious critic from Ratatouille, ruthlessly picking apart loose plot threads or weak technique. It's an intimate conversation between art and audience.
Critiques, then, are vital to our relationship with art. Reviewing films, shows, or books forces us to immerse ourselves in them—it's a quiet act of introspection, one which is inherently personal.
Of course, these reviews we concoct for ourselves differ from what we might find in a larger publication. Yet the fact remains: reviewing art is essential to understanding it.
Reviews are wonderful in a practical sense.
Want to know if the new Marvel movie sucks infinity stones? Check online, read a few reviews, and you've got a pretty good idea if it's worth your time and money.
So, movie reviews, for instance, can have profound impacts on the film market. Droves of five-star reviews do wonders for business; they help ensure that technically proficient art is adequately financially compensated.
Additionally, reviews make art more accessible.
For instance, if you've read Ulysses and wondered what any of it meant, a thorough review can distill the novel's thematic importance into an easy-to-digest article. These critiques allow us to engage more effectively with what art is trying to tell us.
Since reviews are so ubiquitous, they're closely attached to how we experience art. Imagine if there were no reviews for Morbius—not a single one. What would we think about it?
When we hear negative feedback about art before interacting with it, we're predisposed to dislike it. When you hear "this superhero vampire movie sucks," you'll probably think Morbius is really bad before you even see it. Reviews allow us to form opinions on movies we've never seen or books we've never read.
Regardless, we need artistic discourse. Discussing art is essential to forming our opinions about it and how we relate to it, and online reviews are an incredible way of bringing everyone into the conversation. Contemporary reviews rid artistic dialogue of academic jargon to make art criticism accessible for everyone.
But what's so profound about reviews is their human aspect. They are, regardless of impartiality, coloured by an individual's response to a piece of art.
When we review something or we read someone else's review, we're seeing the result of personal reflection on the merits of art. Reviews expose us to diverse interpretations and meanings which ultimately hone our own opinion on a piece of art.
Criticizing things doesn't have to be pretentious. Reviews are a fantastic means to offer opinions on art in a way that's accessible to everyone—and now, with platforms like IMDB and Goodreads, we can all be critics.
Reviews, whether written for money or just because you like a book a lot, are vital to breathing life into art. They're an alternative to academic criticism that are also just fun.
Most of all, reviews incite vivid conversations about art and why it's important. These dialogues are necessary—without them, art becomes sterile and trivial.
Nothing can exist in a vacuum. Not even art.
Memorial Art Sculpture Unveiled in Tribute to Survivors of Residential Schools – Net Newsledger
WINNIPEG – INDIGENOUS – Ma Mawi Wi Chi Itata Centre unveiled the Memorial Art Sculpture at the Gathering Place for Truth and Reconciliation (445 King Street) on Friday during Orange Shirt Day.
The artwork created by Irvin Head, the main focus of the Memorial Art Sculpture is a large Turtle. The work is a tribute piece in response to "Every Child Matters" as a reminder of 94 calls to action towards reconciliation. The work also represents the Turtle's offspring of 7 generations of Indigenous children that will lead and carry the knowledge and ways of knowing through prayer and medicine offered through the smudging ceremony and prayer to the ancestors and the Indigenous children and families of residential school survivors.
"We are thrilled to unveil the completed memorial art installation, as the concept was originally presented to the community at the 2021 event. This piece was designed and created by artist Irvin Head from Cranberry Portage, Manitoba. Unfortunately, Irvin fell ill in the last few months of working on the piece and has since passed on to the spirit world before it could be completed. He did, however, have many family and community members as well as other artists who were able to continue the project and carry on his legacy." – Kathleen McKenzie, Supporting Event Coordinator
The piece also features:
Footprints of children's moccasins leading the way around the base of the carving, and up the back toward the smudge bowl
13 panels on the Turtle's back representing the 13 moon cycles
The Turtle is surrounded by her offspring of smaller turtles that are following her teachings. The one Turtle on her back is appearing to disguise itself as a shell panel, representing the constant connection and inherited bloodline connection to the mother.
The bear paw is a common symbol used within Irvin's carvings. The bear in Cree culture stands for courage. Irvin created many bear carvings. It was a common theme and subject in his work. A mama bear and her cubs also made themselves present the same day as Irvin's celebration of life.
There is an indented concave panel at the top of the turtle designed to be directly used as a smudge bowl or for a smudge bowl to sit on top. This feature is subtle, allowing for different individuals to place their own smudge bowl, no matter the size, within and on that space, depending on the individuals preference.
The piece was designed to be functional so that all members of the community can use it and have it as a space to come together while connecting with others and their culture.
The inspiration for the art piece began in September 2021, when the Ma Mawi Wi Chi Itata Centre embarked on a journey of Truth and Reconciliation. A call to action was sent to schools and youth in Manitoba to send in tobacco ties with handwritten messages describing what Every Child Matters means to them. In response, more than 500 handwritten messages and tobacco ties were received from youth around the province.
On September 30th, 2021, a community event was held to honour the found children of Canada's Residential Schools. The event was hosted at our Gathering Place for Truth and Reconciliation with more than 125 community members and youth involved. A Sacred Fire was held to offer the tobacco ties that were submitted by the youth. The handwritten messages were saved and kept as inspiration for the Memorial Art Sculpture. In addition, the messages were made into decals that have been placed on the windows at the Gathering Place for Truth and Reconciliation located at 445 King Street.
"The execution of this piece was not only spiritually uplifting and emotional, but very and educational as I journeyed into a realm of art application that I am not overly familiar with. With that said, my years of knowing Irvin has given me the advantage of knowing what it may take to complete his vision. I am very familiar with his work, his approach, and the significant meanings and teachings within Irvin's Art. I had a feeling that once I was familiar with the tools that I would surely be able to complete the piece," shared Jasyn Lucas, the artist who completed Irvin Head's Memorial Art Sculpture.
"I want to thank Irvin, Lisa and family for including in me in the completion of Irvin's vision for this very special carving. Thank you Irvin and George Nadeau for all your hard work. Thank you to everyone who helped complete and polish the piece when I was finished my part. It is and has been an absolute honour," shared Lucas.
FAS considering suspension of fine arts program – Queen's Journal
The Faculty of Arts and Science (FAS) is initiating a consultative process to consider the temporary suspension of admissions to the Bachelor of Fine Arts/Visual Arts (BFA/VA) program.
As it stands, the program is not suspended going into the next Cyclical Program Review (CPR) in 2023. The CPR process is a quality assurance process requiring each academic program to be reviewed once every eight years.
"The Dean of the [FAS] recently shared some information at Faculty Board that the Faculty is initiating a consultative process to consider the temporary suspension of admissions to the Bachelor of Fine Art/Visual Art program, following defined Senate procedures," Warren Mabee, interim director of fine art (visual art) said in a statement to The Journal.
According to Mabee, the recommendation to consider the suspension of the program came from himself and John Pierce, vice-provost (teaching and learning). The consultative process is expected to begin in mid-October and run into November.
"Students currently enrolled in the BFA/VA can be assured that the courses and instructors in the program will continue to be supported and their progress to degree completion will not be impacted," Mabee said.
In the 2016 CPR report, three options were brought up for the BFA/VA program.
The first option involved refining the current BFA/VA program, while the second was moving away from the conservatory-style fine arts program. The final option was to discontinue a focused BFA/VA program. After the CPR, most of the work was focused on the first option of refinement of the program.
The University explained that while progress was made, there wasn't a clear direction identified to revitalizing the BFA/VA program.
For students like Abby Gowland, BFA '22, the program has offered her life changing opportunities and networking abilities. She said the BFA program is what inspires her to apply to MFA programs in printmaking.
Gowland told The Journal in an interview an invitation was sent to everyone in the department to discuss the potential of a temporary suspension in program admissions.
She believes the program was not given the adequate resources following the last CPR. Gowland is concerned students applying this year will be apprehensive due to the potential of admissions suspension.
"We've kind of been put on the back burner, because we're such a small program […] Now the next CPR is coming up, there is a frantic effort to figure out what they're going to do," Gowland said.
"That's why they're putting off admissions for this upcoming year—there would be a quarter less students in our building and it would have a huge effect."
Gowland said in the meeting there was mention of moving the fine arts program to buildings across campus, away from Ontario Hall, where the program currently resides.
"Fine art is literally just community networking and having other people to work with who inspire you—it's basically what fine art is," Gowland said.
The BFA/VA program focuses on more traditional aspects of art.
According to Gowland, this was something that drew her into the program at Queen's over other offerings at other institutions like OCAD.
The Co-Presidents of the Fine Arts DSC, Claire Dobbie and Lauren Russo expressed disappointment with the potential of a suspension in admissions.
"The Dean [Barbara Crow] feels the program is not up to par, and that we should go on a one-year suspension so that the program can be fixed before the CPR […] If we pause admissions, then the CPR doesn't have to happen right away, which means we don't look bad right away," Dobbie said in an interview with The Journal.
"We are disappointed at the quickness of wanting to just take a freeze. The concerns have come out of neglect for the fine arts program. We've had the option to fix these things over the past 10 years," Russo said.
Russo added the undergraduate chair has put in significant effort and is having a difficult time getting answers from the FAS.
Both presidents said there was frustration in a lack of representation of their department's views being represented, particularly since a mediator was being brought in—their concern is the lack of representation from an arts background.
"You don't have first-hand experience at how this kind of stuff works and how important certain aspects of the program are," Dobbie said.
Both presidents expressed they had challenges communicating with the head of the department, describing communication as "filtered."
"The head of our program [Warren Mabee] does not come from an arts background—he's a nice guy—he tries to be as neutral as possible, but we need someone to fight for us and nobody's fighting for us," Russo added.
Dobbie said the department needs the CPR to happen, otherwise she believes issues will not be addressed properly.
"If we have the CPR that at least somebody's telling us, we have to fix them," she said.
A principal concern Russo laid out was the lack of tenured teaching staff, and the use of adjuncts to fill positions once faculty retired.
"We've had four tenured professors retire with zero replacements, which has left us with one full time tenured professor and one half time tenured professor—the third is on sabbatical and will retire in three years," Russo said.
"We have been starved in the program with no resources. Our choices for professors are really tiny. We used to have a lot more resources, there's been no effort to be made to keep the program running appropriately."
Another concern Russo and Dobbie have is around the lowering of admissions numbers for the class of 2026 without any consultation.
This is combined with their desire to have the program departmentalized instead of the current floating model—they said a potential home could be the Art History Department.
In a statement to The Journal, Department Head of Art History, Norman Vorano said he is eager to work with the FAS Dean, the BFA/VA program, and students.
"Given our longstanding and close ties, a significant number of our students in the Department of Art History and Art Conservation come from the BFA/VA program," Vorano said.
"We are obviously very concerned by the prospect of a temporary suspension and the impact this might have in our classrooms. The BFA students are amazing and enrich our campus immensely."
Vorano said fine arts are essential for the development of Canadian society as a whole. Vorano said it's more important than ever to not lose sight of the importance of fine arts education.
"This is not only important for Canada's growing creative economy, but of vital importance as we advance our social development goals and build a more inclusive, just society. Visual artists have always been at the centre of societal changes."