Pikmin 3 Opening Week Physical Sales Were Lower On Switch Than Wii U (UK) – Nintendo Life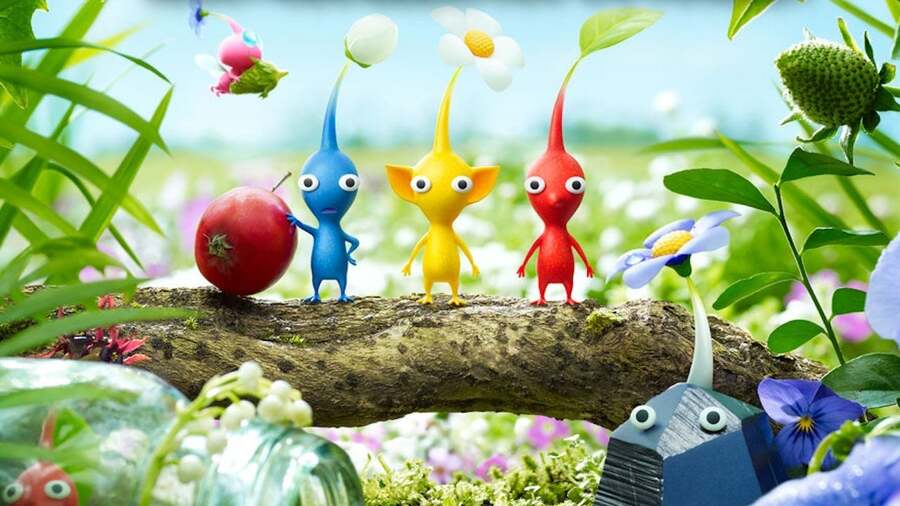 Last Friday saw the launch of Pikmin 3 Deluxe on Nintendo Switch, a new and improved port of Pikmin 3 which originally released on Wii U. In an unusual turn of events, the Switch version hasn't managed to outperform the original game in its opening week sales – in the UK, at least.
Thanks to the Switch's significantly higher install base, we've seen plenty of Wii U ports jumping over to Nintendo's newest console and enjoying great success. As one example, Mario Kart 8 Deluxe on Switch has already sold more than 26 million copies worldwide – with that figure ever-rising – compared to the Wii U version's final total of just 8.45 million.
Pikmin 3 hasn't followed suit, however. GamesIndustry.biz reports that in terms of physical sales in the UK, the Switch version's opening week sales are down 18.5% when compared to the original Wii U release. Physical chart data shows that the game debuted in seventh place, being outperformed by plenty of other Nintendo titles which have been available for some time.
It's worth noting that Nintendo doesn't disclose its weekly digital sales data, and if digital sales were included, that 18.5% gap likely wouldn't be quite as severe. Digital sales are on the up across the board, after all, even more so thanks to the current pandemic, and we're sure plenty of Pikmin fans have chosen to download a copy of the game this time around.
Have you bought a copy of Pikmin 3 Deluxe? Did you buy the original on Wii U? Let us know in the usual place.
Cyber Monday Hisense TV Deals (2020) Reported by The Consumer Post – GlobeNewswire
Hisense TV deals for Cyber Monday, featuring all the best Roku & smart TV discounts
Cyber Monday sales researchers have identified the latest Hisense TV deals for Cyber Monday, featuring all the latest sales on 4K smart & Roku TVs. Links to the best deals are listed below.
Best Hisense TV Deals:
More TV Deals:
Want some more deals? Check out Walmart's Cyber Monday sale and Amazon's Cyber Monday sale to compare even more live savings. The Consumer Post earns commissions from purchases made using the links provided.
About The Consumer Post: The Consumer Post shares news for online shoppers. As an Amazon Associate and affiliate The Consumer Post earns from qualifying purchases.
Contact: Andy Mathews (andy@nicelynetwork.com)
How iPhone 12 Pro Max Compares as a Cinema Camera [VIDEO] – iPhone in Canada
Apple is certainly proud of the camera modules on its latest line of iPhones, and extensive testing has revealed that the iPhone 12 Pro Max outshines its siblings when it comes to snappers.
Just how good is the iPhone 12 Pro Max's camera, though? Former Apple Specialist Michael Tobin sets out to answer this question in his latest YouTube video, seeing how the cream of the iPhone 12 crop stacks up in the world of professional photography/videography.
Michael was thoroughly impressed by Dolby Vision HDR with 10-bit color depth on the Pro Max, which makes for "vibrant, but natural" colors and an immaculate viewing experience, especially on a Dolby Vision-capable screen like the Pro Max's.
The ex-Apple Specialist was, however, quite disappointed by the lack of "Pro" features on a phone that is, quite literally, the "Pro Max" version of the base iPhone 12.
Unlike phones like Samsung's Galaxy Note 20 Ultra or Sony's Xperia 1 II that offer more advanced and in-depth settings in the stock Camera app as compared to their base models, the stock Camera app on the iPhone 12 Pro Max offers the same settings and features as the one on the iPhone 12.
Michael was, in particular, peeved by the lack of an option to adjust the bit rate (or data rate) for captured video. The iPhone 12 varies bit rate during video recording on its own, reaching a peak of 110 MB/s. However, the Pro Max is capable of going all the way up to 140 MB/s, but there is no option in the stock Camera app to crank the bit rate up (or even to set it to a specific value).
Using a third-party camera app like Filmic Pro (which is specially designed for professional photography and videography) will give you the option to increase the bit rate. For example, turning bit rate in Filmic Pro up to "Extreme" will utilize the Pro Max's full 140 MB/s capability.
[embedded content]
Michael urged Apple to bring some actual "Pro" features for power-users or videographers to its Pro line of iPhones, especially the ability to control bit rate for video recording. "You don't even have to call it bit rate — come up with some fancy Apple term for it. You love doing that," said the former Apple employee.
Michael also tested out an intricate lens rig from Beastgrip that adds incredible depth of field to the Pro Max's snapper and makes it almost comparable to a professional camera.
At the end of the day, however, the iPhone 12 Pro Max is still a phone — it does not compare to a cinema camera, and it is not meant to. As far as phones go, the iPhone 12 Pro Max smokes anything on the market right now, and does so in stellar fashion.
Click here to buy your own iPhone 12 Pro Max starting at $1,549 CAD from Apple.ca.
55 & 50 Inch TV Cyber Monday Deals 2020: TCL, Samsung, Roky & LG Smart TV Savings Ranked by Consumer Articles
Cyber Monday 55 & 50 inch TV deals have landed, check out the latest Cyber Monday 4K LED and smart TV discounts below
Cyber Monday 55 & 50 inch TV deals for 2020 are underway. Compare the best discounts on 4K ultra HD TV and Android smart TVs. Links to the best deals are listed below.
Best 50 – 55 Inch TV Deals:
Best TV Deals:
Looking for more deals? Click here to see the entire selection of active deals at Walmart's Cyber Monday sale and click here to shop Amazon's latest Cyber Monday deals. Consumer Articles earns commissions from purchases made using the links provided.
About Consumer Articles: Consumer Articles shares informative e-commerce news. As an Amazon Associate and affiliate Consumer Articles earns from qualifying purchases.
Contact: Andy Mathews (andy@nicelynetwork.com)
Source: – GlobeNewswire